Back to top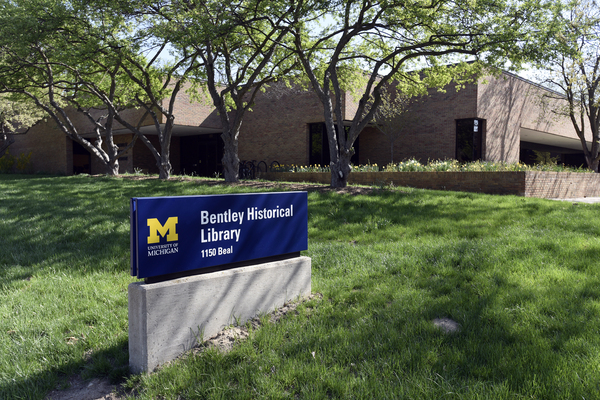 Address

:

1150 Beal Avenue

Ann Arbor, MI 48109-2113, USA
Arthur J. Tuttle Papers, 1849-1958 (majority within 1888-1944)
Using These Materials
---
Restrictions:

The collection is open for research.
Summary
Creator:

Abstract:

U.S. District Court Judge, Eastern District of Michigan; Federal trial court case files, personal and professional correspondence, scrapbooks, University of Michigan student notebooks, and other materials concerning legal activities, Republican Party politics, prohibition, the election of 1924, Sigma Alpha Epsilon affairs; also family materials, including grandfather, John J. Tuttle, Leslie, Michigan, Ingham County official and businessman; and photographs.

Extent:

108 linear feet
1 oversize folder

Language:

English.

Call Number:

86134 Aa 2; UAm; UAx

Authors:

Finding aid prepared by: Aprille Cooke McKay
Background
Scope and Content:

The Arthur J. Tuttle Papers are arranged in 13 series: case files, opinions and jury instructions, topical office files, conciliation commissioners, criminal files, correspondence, letterbooks, scrapbooks, University of Michigan, financial matters, miscellaneous biographical materials, Tuttle family materials, and visual materials.

Biographical / Historical:

Arthur J. Tuttle was born on a farm in Leslie, Michigan, on November 8, 1868, to Ogden Valorius and Julia Elizabeth (McArthur) Tuttle. His grandfather, John J. Tuttle, settled in southern Michigan in 1837, establishing a farm. John Tuttle became a prominent citizen of Ingham County, serving as County Coroner, Justice of the Peace, School Director and Leslie Township Supervisor.

Arthur entered the University of Michigan and graduated with a Ph.B in 1892. He then enrolled in the university's law school and obtained a Bachelor of Laws Degree in 1895. Tuttle joined forty-four fraternal, civic, benevolent, law and scholastic organizations throughout his collegiate and professional life. Among them were: Phi Beta Kappa, Phi Alpha Delta, American and Detroit Bar Associations, Council of American Law Institute, Michigan State Horticultural Society, Detroit Boat Club, Detroit Athletic Club, Detroit Golf Club, Detroit Automotive Club and Rotary Club. For many years he served as bank president for the People's Bank of Leslie and director of the Home Telephone Company.

Tuttle's public life began with his election as Prosecuting Attorney of Ingham County in 1898. Here he gained notoriety for his dogged grand jury investigation of graft in connection with a military board that equipped troops during the Spanish-American War. Tuttle even had a subpoena served on governor Hazen S. Pingree while he was rushing for a train out of Lansing. Two brigadier generals were convicted, but received unconditional pardons from an angry Governor.

On March 11, 1903, Tuttle married Jessie Beatrice Stewart of Harsen's Island. The newlyweds honeymooned in Europe. Jessie gave birth to a daughter, Ruth, in March of 1904 and a second daughter, Esther, in September, 1905. In 1907, he joined the Lansing law firm of McArthur & Dunnebacke, becoming a senior partner. That same year he took a seat in the Michigan State Senate after being elected from the 14th district. He served in Michigan's Senate until 1910. In 1911 President William Howard Taft appointed him U.S. District Attorney for the Eastern District of Michigan. In 1912 he became the federal judge for the eastern district of Michigan.

As congratulatory letters were arriving, Jessie died unexpectedly on August 24th, only twelve days after he was sworn in. She was thirty-four. He never remarried, and raised his two daughters alone. Some of his happiest moments came when his daughters, Ruth and Esther, were admitted to the bar in 1930 after graduating from law school at the University of Michigan, and when they wed in a double ceremony in 1936.

Splitting his time between courtrooms in Detroit and Bay City, the Judge toiled diligently with the backlog of cases left by Judge Alexis Caswell Angell, winning respect for his hard work and dedication. It would be ten years before Congress would create another judgeship in the district to alleviate an ever-burgeoning workload. During that time Tuttle gained a reputation as a stern judge, especially in the sentencing of "white slavers" who through the prostitution trade had violated the federal Mann Act.

Prohibition unleashed a new wave of crime and in 1924 Tuttle sentenced Hamtramck Mayor Peter C. Jezewski, together with the city's former police commissioner and a former police lieutenant, to two years in Leavenworth for their role in a "beer ring". He was lenient on the saloonkeepers, however, saying, "conspiracy with the brain is more culpable than conspiracy with the hands."

When the overworked judge had time off, he would retreat to his family's 160-acre apple farm in Leslie. He was an avid hunter. Deer season often took him to northern Michigan, and his private judicial chambers were filled with trophy mounts.

In 1924, Tuttle and three others -- Republicans Hal H. Smith, Daniel W. Tussing, and Democrat Mortimer E. Cooley -- challenged U.S. Senator James Couzens in the September 9th primary. Tuttle was considered the strongest challenger. Tuttle had the backing of farmers and temperance groups and the endorsement of the Detroit Free Press while Couzens enjoyed the support of labor. Tuttle carried the out-state vote by a close margin, but lost in Detroit where Couzens defeated him by better than 2-1.

Back on the bench, Tuttle continued to work conscientiously. In his first twenty years of service, he was reversed only 35 times. He gained a reputation within the federal judiciary as an expert in patent and admiralty law. In 1927 he presided over hearings in the famous one-million-dollar libel suit brought against auto industrialist Henry Ford by Aaron Sapiro, a leader in the nation's farm cooperative movement. However, after a few months he recused himself upon being charged with bias by Ford's lawyers.

The two biggest and most controversial cases in Tuttle's 32 years on the federal bench came later in his tenure. On November 30, 1937, following the directive of a jury, Tuttle sentenced 38-year-old Polish immigrant Anthony Chebatoris to hang. A career criminal, Chebatoris shot an innocent bystander during a foiled bank robbery in Midland, Michigan. In 1846, Michigan had been the first English-speaking government in the world to abolish capital punishment for murder. State law, however, did not apply because the defendant had violated the National Bank Robbery Act of 1934.

The hanging of Chebatoris at the federal prison in Milan would be the only execution ever to take place within Michigan borders since statehood in 1837. Chebatoris was hanged in Milan at dawn on July 8, 1938. Governor Murphy called it "a blot on Michigan's civilized record."

In 1942, during another high-profile case, Judge Tuttle sentenced German-born Max Stephan, a Detroit restaurant owner, to hang for assisting a Nazi pilot who had escaped a Canadian prisoner-of-war camp. Lieutenant Hans Peter Krug contacted Stephan after crossing the Detroit River in a rowboat. Stephan gave him drinks, food, lodging and the services of a prostitute before paying his bus fare to Chicago. Krug, who was captured in San Antonio on his way to Mexico, testified against Stephan. Stephan was convicted by a jury on July 2, 1942.

The sentence surprised the packed courtroom of several hundred people. Few had expected a penalty of death. Stephan became the first person in the country convicted of treason since the Whiskey Rebellion of 1794. The U.S. Supreme Court refused to intervene three separate times. President Roosevelt., on July 1st, less than twelve hours before the traitor's date with death, commuted the death sentence to life imprisonment. The President stated that Stephan had been "properly convicted of treason," but that death was too harsh a punishment.

Arthur J. Tuttle had served the federal judiciary for 32 years when he took ill in late 1944. Tuttle died at Henry Ford Hospital in Detroit December 3rd at age 76. Judge Tuttle was buried at Woodlawn Cemetery in his native Leslie, Michigan. Hal H. Smith, described Judge Tuttle in an eloquent tribute on behalf of the Detroit Bar Association: "He had what I call a mental integrity, a conscience of the mind. The rule that governed him was his respect for the law as supreme arbiter. He had intense political and social convictions, but when the law and the statute did not square with them, he sternly repressed those convictions. He never let his judgments be swayed by them or his prejudice.

(The above sketch was adapted from "Arthur J. Tuttle: Dean of the Federal Bench" by Aaron J. Veselenak in The Court Legacy Newsletter, April, 1999, published by the Historical Society United States District Court of the Eastern District of Michigan. http://www.mied.uscourts.gov/_historical/newspdf/apr99.pdf)

Acquisition Information:

The major portion of the collection was received in several accessions between 1945 and 1958 from Arthur Tuttle's daughters, Mrs. Thomas H. Bailey and Mrs. H. Blair Freeman (Donor No. 2104 ). Additional materials were received in three accessions in 1958, 1965, and 1985, from Mrs. Tuttle Bailey (Donor No. 3407 ).
Contents
Using These Materials
---
RESTRICTIONS:

The collection is open for research.

USE & PERMISSIONS:

Donor(s) have transferred any applicable copyright to the Regents of the University of Michigan but the collection may contain third-party materials for which copyright was not transferred. Patrons are responsible for determining the appropriate use or reuse of materials.
PREFERRED CITATION:

item, folder title, box no., Arthur J. Tuttle Papers, Bentley Historical Library, University of Michigan