Back to top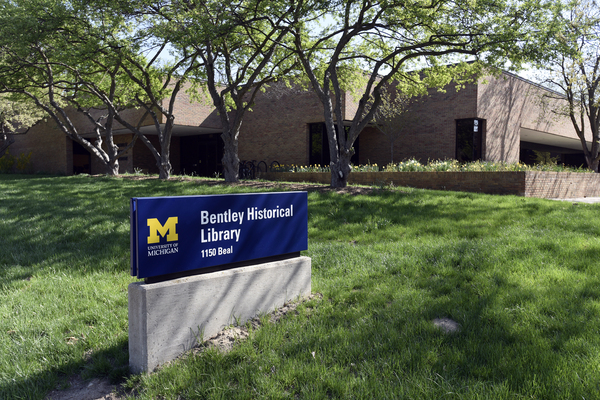 Address

:

1150 Beal Avenue

Ann Arbor, MI 48109-2113, USA
Arthur J. Lacy Papers, 1891-1975
Using These Materials
---
Restrictions:

The collection is open for research.
Summary
Creator:

Abstract:

Detroit, Michigan, attorney and judge, Democratic candidate for governor in 1934. Correspondence, legal case files, family materials, speeches, essays, diary notes, financial materials, newspaper clippings, scrapbooks, photographs, and transcript of oral interview.

Extent:

10 linear feet
2 oversize folders
1 oversize volume

Language:

English.

Call Number:

85824 Aa 2 AC Ac

Authors:

Finding aid prepared by: Michigan Historical Collections staff
Background
Scope and Content:

The Arthur J. Lacy collection consists of correspondence and other papers documenting his political activities within the Democratic party and career as a Detroit attorney. The collection has been divided into the following series: Biographical information; Personal letters; Professional correspondence and related papers; Lacy Family papers; Speeches; Early personal materials; Writings, essays, etc.; Financial files; Miscellaneous; Newspapers clippings; Photographs; and Legal files.

The Lacy Collection documents particularly well Lacy's major legal cases (Wilson vs. White, the Ford Stock Tax Case, Mary A. Rackham Estate) and his transition from conservative Democrat to conservative Republican. His letters home from Valparaiso, Indiana and Ann Arbor and his letters to his future wife Beth Garwick give a detailed picture of college life in the 1890's. Major subjects covered in the public papers are the Detroit Domestic Relations Court, problems of taxation and banking in the depression, Lacy's friendship with James Couzens, and the campaigns of 1932 and 1934. A series of notes Lacy wrote to himself from 1915-1928 and 1946-1956 reveal his political ideals, personal morality, and his relationship to his family.

Within the Professional Correspondence and related papers series, the researcher will find correspondence with many notable political and business figures. These include John W. Anderson, William R. Angell, Art Baker, Arthur A. Ballantine, C.C. Bradner, John V. Brennan, Thomas E. Brennan, Prentiss M. Brown, Wilber M. Brucker, George E. Bushnell, Daniel T. Campau, Harvey J. Campbell, John J. Carson, E.R. Chapin, John S. Coleman, William A. Comstock, Calvin Coolidge, Grace G. Coolidge, Frank Couzens, James J. Couzens, John D. Dingell, Patrick J. Doyle, William J. Durant, Henry T. Ewald, Mordecai J.B. Ezechiel, James A. Farley, Homer Ferguson, Woodbridge N. Ferris, Clara J.B. Ford, Edsel B. Ford, Joseph Foss, Fred W. Green, Alexander J. Groesbeck, Edgar A. Guest, James M. Hare, Herbert C. Hoover, J. Edgar Hoover, Kaufman T. Keller, Stanley S. Kresge, David Lawrence, Arthur F. Lederle, John C. Lehr, Fulton Lewis, Percy Loud, William G. McAdoo, William McKinley, George A. Marston, Eliza M. Mosher, Frank Murphy, George Murphy, William J. Norton, George D. O'Brien, Elmer B. O'Hara, Hazen S. Pingree, Mary A. H. Rackham, Horace H. Rackham, Clarence A. Reid, George W. Romney, Eleanor Roosevelt, Franklin D. Roosevelt, Alexander G. Ruthven, W.M. Skillman, Albert E. Sleeper, Edward D. Stair, Arthur E. Summerfield, William H. Taft, Joseph P. Tumulty, Arthur H. Vandenberg, A. VanderZee, Murray D. Van Wagoner, Henry F. Vaughan, Carl Vinson, Matilda R.D. Wilson, Clarence E. Wilcox, and R.A.C. Wollenberg.

The Lacy Family papers are rich in detail about life in Michigan in the nineteenth and early twentieth century; the surviving letters document family crises and Lacy's role in them as the oldest and most successful child and later, as family leader. Lacy was the family genealogist and he collected and preserved the family correspondence of his uncles and aunt, some of which date back to the 1850's.

Biographical / Historical:

Arthur J. Lacy was born September 30,1876 in Nirvana, a lumbering town in Lake County, Michigan. His family was large and exceptionally close and from an early age, as the oldest living child, he participated in the family businesses. He attended school until he was twelve, but received most of his literary education at home. As a teenager he passed Michigan's school teachers' examination and taught in a one room school for a year. In 1894, he went to seek a law degree at Northern Indiana Normal School at Valparaiso, Indiana (now Valparaiso University), and in two years was admitted to the Indiana bar although he was underage. In 1896, he began the study of law at the University of Michigan which he completed in 1898. In 1899, he and his wife Beth Garwick Lacy settled in Clare, Michigan, where he set up his law practice.

In 1902, he was elected to his first of four terms as mayor. Retiring from that office in 1906, he later sought the office of prosecuting attorney, for which he was defeated. In 1909, he accepted an invitation from Alfred Lucking, Henry Ford's lawyer, to practice law in Detroit. Governor Woodbridge Ferris, with whom he had corresponded since childhood, appointed Lacy judge of the new Detroit Domestic Relations Court in 1913. Lacy under-took initial organization of the court, which had jurisdiction over divorce and family cases. The court was dissolved eight months later in 1914, by the Michigan Supreme Court and Lacy again entered private practice in the law firm of Anderson, Rackham, and Wilcox, replacing the retiring Horace Rackham.

In 1920, he was appointed head of the Detroit Civil Service Commission by Mayor James Couzens, whose private attorney he was until Couzen's death. In 1923-1928, he represented Couzens in the Ford Stock Tax Case, and was instrumental in the settlement of the case in favor of the stockholders. Lacy also wrote for Couzens the instrument of Trust setting up the Children's Fund of Michigan. In 1930, Lacy began a personal campaign to reduce heavy taxes during the depression, which he thought could be done by decreasing the cost of government. In 1932 and 1933, he assisted thirty small Michigan banks in avoiding panic and remaining solvent. He was also deeply involved in the Detroit bank crisis of 1933 and co-author of the Michigan Emergency Banking Act. These public involvements catapulted him into prominence in the Democratic party.

In 1934, Lacy was mentioned as a candidate for U.S. Senator. But only after great persuasion did he enter the Democratic gubernatorial primary to challenge successfully the current governor William A. Comstock. In the November election, he ran against Republican Frank Fitzgerald, but was defeated. Lacy's political decline was apparently rapid. He devoted his time to his legal practice and philanthropic activities that included the Salvation Army, the Boys' Club of Detroit, and the Youth Services of the Knights Templar, Grand Commandery of Detroit. He also began to diverge politically from Franklin D. Roosevelt, recoiling from deficit spending, the welfare state, attempted court packing, and Roosevelt's intention to run for a third term. Lacy, however, was never welcomed as a statesman in the Republican party.

In 1947, Lacy retired from active participation in his law firm and cut back his legal work. He remained involved in income tax cases, a field in which he was considered an expert. Most of his public activities were connected with philanthropy, although he served on the National Sanitation Foundation and on the Board of Directors of the Parker Rust Proof Company. He died in 1975.

Acquisition Information:

The major portion of the collection was donated by the estate of Arthur J. Lacy (donor no. 2601 ) in 1975. Other earlier materials were donated by Mr. Lacy in several different accession beginning in 1975.
Related
Additional Descriptive Data:

Partial Subject Index to Correspondence

Banks and banking--Michigan

Banking crisis in Michigan and Detroit in 1932-1933. [folder 79-98]

Boys Club of Detroit (Mich.)

Confidential report on Boys' Club activities, 1942 [in box 8].

Children's Fund of Michigan

Letter to Board of Trustees, June 7, 1934; letter from William Norton, Aug. 1, 1934; letter to Detroit Historical Society, May 15, 1956; and report on the Couzens' donations creating the Children's Fund [in box 10]

Civil Service

Civil Service reform, especially essays, 192? and Dec. 4, 1920 [in folder 242] and correspondence throughout.

Clare (Mich.)

Clare, Michigan in correspondence throughout.

Cold war

Family correspondence [in folders 198-202] and notes [in folders 250-269].

Crime

Essay, "Crime and Criminals", Feb. 1913 [in folder 241].

Depression--1929--Michigan

See speeches [in folders 221-223]; family papers [in folders 188-194]; and papers [in folders 65-116].

Detroit Bar Association

Papers, Feb. 16, 1945 [in folder 126] and Apr. 2, 1946 [in folder 128].

Detroit Trust Company.

Paper June 2, 1936, "An analysis of Detroit Trust Company [in box 10]; and correspondence throughout.

Detroit (Mich.). Mayor's Committee on Youth Problems.

Letter to George F. Boos, Oct. 5, 1950.

Ford Motor Company.

Relating to the Ford Stock Tax Case [in box 10]

Hawaii

Annexation of Hawaii, especially in debating notes, 1894-1895 [in folder 230].

Hiss, Alger

Letter to Dr. George Kellinger, chairman of the U.S. Parole Board, Nov. 16, 1952.

Juvenile delinquency--Michigan

Essay, "Parental Delinquency, April 1914 [in folder 241]

Labor unions--Michigan

Letter to Mayor C. Wolff, July 11, 1940

League of Nations

Essay, Nov. 16, 1920 [in folder 242]

Michigan. Commission on the Codification of Laws.

Letters to Woodbridge N. Ferris, Apr. 16, 1913 and May 21, 1913; letter to Lacy, June 25, 1913; and Report on the Committee on Codification of Laws, July 14, 1913 [in box 46].

Michigan--Emigration and immigration

Essay, 1913-1914 [in folder 241] and notes, Jan. 9, 1915.

Nixon, Richard M. (Richard Milhous), 1913-

Letter to Arthur Summerfield, Sept. 1952 [in folder 143];
letter to Frank Lacy, Feb. 19, 1951 [in folder 200];
and letter to Robert Moylan, Nov. 5, 1960.

Philippines--History--1898-1946

Extract of letter, May 9, 1899 [in folder 167]

Plunkett, Horace Curzon, Sir, 1854-1932.

Notes, Jan. 20, 1920 and correspondence files during the 1920's.

Prohibition--Michigan

Volstead Act, especially unmarked notes, 1923 [in folder 57]; and correspondence with Louis A. Culliner, Mar. 9, 1927 [in folder 62]

Sit-down strikes--Michigan

Letter to Joseph Garwick, March 15, 1937.

Taxation--Michigan

Speeches, 1930-1932 [in folders 221-223]; essays, 1930-1931 [in folder 243]; and undated notes [in folder 247]

Trusts, Industrial

Speech before the Lewis Cass Club, Dec. 21, 1962 [in folder 217]

United States. Army--History--Punitive Expedition into Mexico, 1916.

See letters to Kenneth O. Garwick, Oct. 1, and Nov. 12, 1916 [in folder 184]

United States. Constitution.

Speeches [in folder 224] and notes throughout

United States. Labor Management Relations Act, 1947.

Letters to Arthur Vandenberg, Homer Ferguson, and George D. O'Brien, Feb. 26, 1949 [in folder 136]

Women's Rights--United States

Letter to his parents, Jan. 3, 1897 [in folder 18]; essay, 1912, "The Dignity of Housework" [in folder 241]; and notes, June 12, 1910.

Women--Suffrage--United States

Letter to Manda Garwicke, 1913 [in folder 45]; letter to Fred M. Butzel, Oct. 22, 1918; correspondence with A.R. Canfield, Apr. 10 and 18, 1923; and debating notes, 1895 [in folder 230].

World War, 1914-1948

Correspondence [in folders 51-53] and notes, Mar. 4, 1915-Oct. 21, 1920.

World War, 1914-1918--Finance--United States

Liberty Loan campaigns during World War I, especially memorandum of addresses during second Liberty Loan Campaign, Oct. 1917.

World War, 1939-1945

Correspondence [in folders 116-125]; family papers [in folders 195-197]; and notes [in folders 248-249].
Contents
Using These Materials
---
RESTRICTIONS:

The collection is open for research.

USE & PERMISSIONS:

Arthur J. Lacy has transferred any applicable copyright to the Regents of the University of Michigan but the collection may contain third-party materials for which copyright was not transferred. Patrons are responsible for determining the appropriate use or reuse of materials.
PREFERRED CITATION:

item, folder title, box no., Arthur J. Lacy Papers, Bentley Historical Library, University of Michigan