Back to top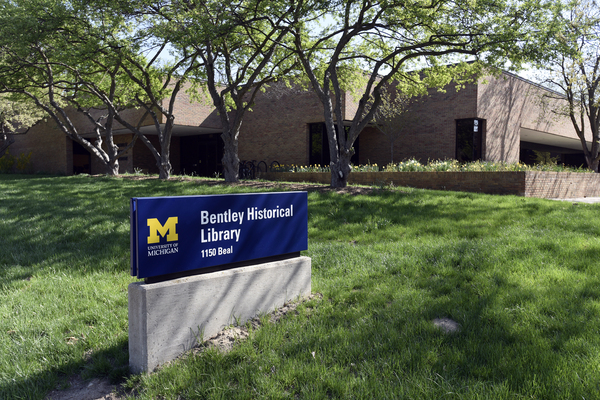 Address

:

1150 Beal Avenue

Ann Arbor, MI 48109-2113, USA
Kenneth C. Welch Papers, 1915-1972
Using These Materials
---
Restrictions:

The collection is open for research.
Summary
Creator:

Abstract:

Grand Rapids, Michigan, architect and planner. Correspondence, writings, working files, and photographs for out-of-state and Michigan projects, primarily in Grand Rapids, Lansing, Flint, and East Lansing; professional materials relating to problems of urban planning, the design of department stores and shopping centers, his general interest in lighting designs, traffic patterns, and parking areas, and to his work with the Lake Michigan Region Planning Committee, the American Institute of Architects and the Michigan Society of Architects; also Welch family materials, including record, 1915-1925, of the Welch Manufacturing Company of Grand Rapids, Michigan.

Extent:

13.6 linear feet (in 15 boxes)

Language:

English.

Call Number:

85520 Aa 2

Authors:

Finding aid prepared by: Jenny Zukowski, 1976
Background
Scope and Content:

The Welch papers include a small amount of biographical and personal material, but the bulk of the collection documents his work on architectural, design and planning projects in Michigan and across the country - many having to do with shopping malls, business districts and urban redevelopment. The collection is arranged in eight series: biographical materials; correspondence; personal, financial, and family materials; professional information files; Michigan project files; out-of-state project files; articles and speeches; and photographs.

Biographical / Historical:

Kenneth Curtis Welch, architect and planner, was born in Sparta, Michigan in 1891. In 1892, he and his family moved to Grand Rapids, where he remained throughout his life. Although Welch was educated as an architect, he spent only a small part of his career in the practice of conventional architecture. He studied briefly at the University of Michigan, but received both his B.S. and M.S. from the University of Pennsylvania in 1915 and 1916 respectively. Equipped with these degrees, he returned to Grand Rapids and began to practice his profession. In partnership with Charles Huggett, he designed twelve large traditional homes, many of which were never built because of World War I.

Confronted with a poor building market after the war, Welch went to work half-time for his father, as Vice-President in charge of planning of the Welch-Wilmarth Company. Welch's father Lyman, the inventor of the "Welch Folding Bed", had moved to Michigan from Vermont in order to manufacture his product. He later expanded into store fixtures and merged with the Wilmarth Show Case Company, also of Grand Rapids. The combined Welch-Wilmarth Company merged again in 1928 with the Grand Rapids Store Equipment Company and assumed that name. Welch served with this company as Vice-President in charge of Design until 1952 when he resigned to devote all of his time to shopping center development.

From his work with store fixtures, Welch learned the marketing and economic analysis skills which were to qualify him for his later work in shopping center planning and urban development. During the early years with his father's company, he also formulated many of his ideas about the relationships between human psychology and architecture. Welch believed that conventional architecture was flawed by self-imposed limitations. Architects were concerned only with visual aesthetics, and often neglected the essential environmental factors of illumination, ventilation and temperature and sound insulation.

Welch incorporated many of his architectural theories into the design of his own home, which was constructed in Grand Rapids in 1948. He heated the house by an early solar energy method which took maximum advantage of sun angles and reflections, and stored the sun's heat in specially constructed floor slabs. Elaborate lighting and sound controls and a forced ventilation system added to the concept of total environmental control. The house, however, was not a success and later became the library of the Kendall School of Design.

Welch's ideas about architecture and psychology were particularly applicable to store design. He wrote a series of articles about the effects of color, illumination and layout on consumer psychology and purchasing patterns. He also participated in a number of conferences on these issues, and throughout his career he was active with the American Institute of Architects and the American Institute of Planners.

Welch's most notable contribution to architecture was in the field of shopping center design and development. In 1953, in recognition of his work in this area, he was made a Fellow of the American Institute of Architects. Welch's first exposure to shopping centers was in 1929 when he designed the interior of a center in Ardmore, Pennsylvania. The Ardmore center was little more than an aggregate of stores; it lacked the unity of design and the regional orientation which characterized the post-World War II shopping centers.

The increased mobility allowed by the automobile radically altered shopping patterns in the United States. Welch recognized the changes early, and foresaw the replacement of small, cohesive neighborhood shopping areas by large, modern, regional shopping centers. One of the first such regional centers was Shoppers' World, built at Framingham, Massachusetts in 1948. As Vice-President of National Suburban Centers, Inc., the company responsible for Shoppers' World, Welch was instrumental in both the planning and the building of the center. The project received much attention from urban planners and architects. In 1963, Welch participated in a conference entitled "The Shopping Center as a Nucleus of Inter-City Activity" at the Harvard Graduate School of Architecture and Design, which used Shoppers' World as one of the models for study.

In the years following the building of Shoppers' World, Welch became one of the nation's leading consultants on shopping center design and planning. His best known works are Shoppers' World in Framingham, and the Mondawmin Center in Baltimore. In Michigan, he worked on Northland in Detroit, and Breton Village in Grand Rapids. Welch was an excellent amateur photographer and used photography--particularly aerial photography--to supplement his market studies and development plans.

As both architect and businessman, Welch was devoted to the concept of the regional shopping center. He believed that shopping centers only failed when the planners, the architects and the merchants involved failed to coordinate their efforts. He further thought that if a shopping center was to contribute to the prosperity of a city or region, it had to be planned and executed as part of the total business activity of the area. Welch's interest in shopping centers was thus closely related to his interest in urban and regional planning.

Welch first became involved in urban planning during World War II. From 1943 to 1948, he served as a member of Detroit's Civic Design Group, the precursor of Eliel Saarinen's Architects' Urban Design Collaborative. After the war, he worked on various urban and state-wide planning projects in Michigan.

Welch's most extensive planning activities were in his home city of Grand Rapids. In 1943, he and several other city residents organized the Grand Rapids City Planning Commission. He served as chairman of this group until 1952, and remained a member until his death. The group was actively involved in the planning of Grand Valley State College in 1960 and 1961, and developed the nationally acclaimed Grand Rapids Parking Plan. He later served as a member of the Kent County Planning Commission and the Lake Michigan Regional Planning Committee, and participated in the Great Lakes District Seminars of the American Institute of Architects.

Welch was always concerned over the role of government in urban planning and renewal. As an associate of the J. and G. Dauerman Architectural and Engineering Company of Grand Rapids, a position he assumed in 1952, Welch worked as a consultant on a series of projects for James W. Rouse, President of Community Research and Development, Inc. and later of the James W. Rouse Company. Rouse, a Baltimore businessman who shared Welch's interest in urban renewal, chaired the Mayor's Committee which developed the widely imitated Baltimore Plan for Slum Prevention, and served on President Eisenhower's Advisory Committee on Housing Policies and Programs. Welch's correspondence with Rouse, and with William Milliken and Gerald Ford, contains much information, from a developer's perspective, on the government's activity in housing and urban development during the 1950's and 1960's.

Kenneth Welch's combination of interests and his innovative techniques are perhaps particularly interesting in retrospect. He always refused to acknowledge architecture, planning and engineering as separate disciplines, and his accomplishments were consistently recognized in all three fields. In combining the traditional field of architecture with the contemporary practices of urban planning and market analysis, he was able to design shopping centers and city plans appropriate not to the past, but to the future.

Acquisition Information:

The collection was donated by Mrs. Kenneth C. Welch (donor no. 5929 ) in 1976.
Contents
Using These Materials
---
RESTRICTIONS:

The collection is open for research.

USE & PERMISSIONS:

Mrs. Welch has transferred any applicable copyright in her husband's papers to the Regents of the University of Michigan but the collection may contain third-party materials for which copyright was not transferred. Patrons are responsible for determining the appropriate use or reuse of materials.
PREFERRED CITATION:

item, folder title, box no., Kenneth C. Welch Papers, Bentley Historical Library, University of Michigan