Back to top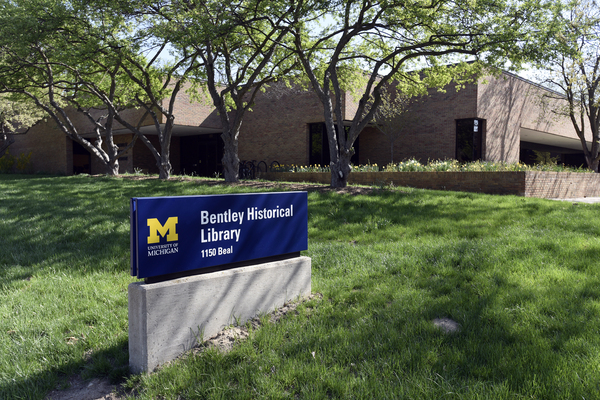 Address

:

1150 Beal Avenue

Ann Arbor, MI 48109-2113, USA
Post Family Papers, 1882-1973
Using These Materials
---
Restrictions:

The collection is open for research. The collection contains audio tapes from which digital copies have been made. Source tapes are for staff use only. Audio files are only available in the...
Summary
Creator:

Abstract:

Battle Creek, Michigan and Washington, D.C. family including C.W. (Charles William) Post, cereal manufacturer, and anti-union activist and founder of Post City, Texas; and his daughter Marjorie Merriweather Post, executive of General Foods Co., wife of U. S. ambassador to the Soviet Union, art collector, philanthropist, socialite, and Washington D.C. hostess. C.W. Post papers, largely concern labor-management relations, unionism, the Postum Company, currency reform, advertising, and matters of food and hygiene; Marjorie Merriweather Post papers document her social activities and travel, philanthropies art collections, and the maintenance and preservation of her homes and other possessions.

Extent:

57 linear feet
77 oversize volumes
1 oversize folder
28.9 GB (online)
1 digital audiovisual file

Language:

English.

Call Number:

85519 AC Aa 2 UAm UAl

Authors:

Finding aid prepared by: Frank Boles (boxes 1-44), 1979. Gary Kwiatek (boxes 45-46), 1981 Nancy Bartlett (boxes 47-48), February 1983. May Davis Hill (boxes 49-55), 1979
Background
Scope and Content:

The Post family collection includes papers of businessman and food processor, C. W. Post, largely relating to labor-management relations, unionism, the Post Company, currency reform, advertising, and matters of food and hygiene; and papers, photographs, and sound recordings of his daughter, Marjorie Merriweather Post, General Foods executive and philanthropist, relating to social activities and engagements, philanthropies, and the maintenance and preservation of her homes and other possessions.

The C.W. Post papers consist of manuscript items and printed works created by C.W. Post and retained by his daughter, Marjorie Merriweather Post. The papers are arranged alphabetically by subject.

Biographical / Historical:

Battle Creek, Michigan and Washington, D.C. family including C.W. (Charles William) Post, cereal manufacturer, and anti-union activist and founder of Post City, Texas; and his daughter Marjorie Merriweather Post, executive of General Foods Co., wife of U. S. ambassador to the Soviet Union, art collector, philanthropist, socialite, and Washington D.C. hostess.

Charles William Post was born in Springfield, Illinois on October 26, 1854. He was educated in the public schools of Springfield and at Illinois Industrial College. At the age of 15, Post left school and joined a military unit.

Completing active service, Post and a boyhood friend, Charles Moody, traveled in Oklahoma and Kansas. As a result of this trip the two borrowed money from Post's mother and established a general store in Independence, Kansas. Post, however, quickly decided to return to Springfield, selling his interest in the store to Moody.

Post's next job was with the Climax Corn Company as a traveling salesman. The company manufactured a mechanical corn planter. In 1877 Post left Climax to work as a traveling salesman for the B.D. Buford Company, which also manufactured agricultural implements.

Post, a constant tinkerer, had worked with A.L. Ide whenever time permitted, attempting to improve upon the equipment he sold. In 1879 the pair were granted their first patent. In 1881 Post combined the business experience he had gained working for Climax and Buford with Ide's and his inventiveness to found his own firm, the Illinois Agricultural Works in Springfield. While the firm was successful, the strain of operating it exhausted Post, and he suffered a complete collapse from nervous exhaustion in August 1885. Without Post's guidance the firm experienced great difficulties and it was eventually liquidated.

When Post had sufficiently recovered to travel, he was advised that a warmer climate might benefit him. So, in the fall of 1886 he and his brother Carroll traveled through Texas, looking for a congenial place to settle. In Fort Worth they discovered both a suitable climate and a real estate development which interested them. They returned to Springfield and relocated to Texas not only their own families, but several other relatives, including their parents.

In Fort Worth Post added to his real estate interests the operation of a woolen mill. He also investigated a process by which paper could be made from cornstalks. Once again, however, the strain of his many activities overcame him, and he suffered an incapacitating collapse. In February 1891, Post, his wife Ella, and his only child, traveled to Battle Creek, Michigan, hoping that Post's health could be restored at the sanitarium maintained by Dr. John Harvey Kellogg.

Post was a patient at the sanitarium from February 6 until November 9, 1891. Kellogg eventually decided Post's case was untreatable and informed Post's wife that there was nothing that could be done for him. Ella Post then introduced her husband to a practitioner of Christian Science, under whose care Post quickly recovered.

Post's recovery led him, in March 1892, to found his own sanitarium in Battle Creek, the LaVita Inn. There he treated patients using the same methods which had cured him. He also wrote extensively. Among his publications of the period is the booklength, I am Well. In addition to his caring for patients and writing, Post continued his experimentation. Rather than mechanical devices, Post's attention now centered upon healthful foods. In particular, he became interested in developing a cereal beverage. After several years he struck upon a mixture of wheat, bran and molasses which satisfied him. In January 1895 he produced the first commercial lot of the beverage, which he called "Postum." To make known his new product, Post launched one of the earliest successful advertising campaigns. Although quickly challenged by imitations and substitutes, Post's national advertising made "Postum" the foundation of his fortune.

As they had in the past, Post's interests quickly expanded into other areas. While working on Postum's advertising campaign, he was also experimenting with a dry food. In 1897 he settled upon a mixture of yeast, barley and wheat, which he called "Grape-Nuts" when it was introduced publicly in January 1898. Again, widespread advertising was used to introduce the new product, which proved very successful. In January 1906, Post introduced a third very successful dry food. While the name he picked for it, "Elijah's Manna," proved a failure when religious groups bitterly protested it, the product itself sold well. It was later renamed "Post Toasties."

In addition to work directly related to the development and marketing of food products Post organized the Battle Creek Paper Company in 1899. In 1901 the Post Tavern, the Post Theater and the Post Office Building were all under construction in Battle Creek. In 1901 Post purchased an 80 acre tract adjoining his Battle Creek factory which was divided into 600 lots and sold to workers for homes at near cost. The development benefited from continual company interest in it.

In 1906 Post returned to Texas where he purchased 213,324 acres of land in Garza, Hockley and Lynn counties, about 250 miles west of Fort Worth. There he developed the DoubleU ranch and laid out a model town called Post City. Post encouraged settlers and established a cotton mill.

Post's financial success made him one of Battle Creek's leading citizens. Increasingly Post spoke out on a variety of public issues. His ideas were presented to the national audience using techniques he developed in selling his food products. Eventually Post became a figure about which national controversy swelled. Most controversial were his ideas regarding laborers. While demonstrating corporate paternalism and professing to believe in the legitimacy of worker organizations, Post stated he was "...deadly opposed to the trust method of the American Federation of Labor."

In the fall of 1913 Post's health again began to fail him. In December he was unable to deliver a major address due to illness. In January newspaper stories appeared claiming he had suffered an incapacitating collapse. From January through March Post stayed at his winter home in Santa Barbara, California. Post's illness worsened, however, and in early March he was rushed east on a special train. On March 10, at the Mayo Clinic in Rochester, Minnesota, he was operated on for appendicitis. The surgery was successful and Post returned to Santa Barbara. Despite the surgery's success Post was extremely depressed, and on May 9, 1914 he took his own life.

Marjorie Merriweather Post led a life of many interests. Her ability to do as she chose was made possible by one of America's largest personal fortunes. In contrast to the great wealth in which she lived most of her life, Marjorie Post was born to parents of modest, if comfortable, means. Her father, Charles W. Post, was a brilliant, but often ill man. Such financial success as he obtained in various speculative enterprises was often lost during his periods of illness. As a part of this pattern of strenuous effort leading to both modest financial success and physical collapse, C.W. Post traveled to Battle Creek in 1891 to regain his broken health. With him went his wife and young child, Marjorie, who had been born to the couple on March 15, 1887. In Battle Creek, Post found not only his health, but the fortune which would be the base of all his daughter's subsequent activities.

Marjorie, as Charles' only child, was one of the principal joys of his life. As his resources grew, he showered her with worldly goods, and more importantly, took a deep personal interest in her education. The young Marjorie was intensively tutored by her father in the ways and means by which he created and maintained his business empire. He sought to instill in her his own set of moral and spiritual values. This education in business and ethics by her father was far more influential than Marjorie Post's formal education at the Battle Creek public schools and Mount Vernon Seminary outside Washington, D.C.

C.W. Post continued to play a major role in his daughter's life until his unexpected death in 1914, this, despite the fact that Marjorie Post married Edward Close in 1905 and had become the mother of two children.

Post's marriage to the socially prominent Close began conventionally. Close enjoyed life as an attorney of independent means who preferred to spend his time as a country squire and Marjorie served as his loving wife, dutiful homemaker and mother of his children. Increasingly, however, Post grew restless as the wife of a country gentleman. At the death of her father her dissatisfaction received a new impetus as she became the principal owner of his twenty million dollar food empire. While the actual operations of the company seem to have been little effected by the passing of the firm to Marjorie Post, she now had the means to live as she desired.

By 1917, when Close left for France to serve in the American Expeditionary Force, Post was acting upon her desires for a new lifestyle. Fire at her and her husband's rustic Connecticut estate gave her an excuse to relocate herself in the heart of New York City. By the time Close returned from Europe the marriage was all but over. While the two remained friends, a divorce was issued in 1919.

Soon after her divorce, Post met Edward F. Hutton. The two were wed in July, 1920. Encouraged by Hutton, Post's desires for a grand lifestyle took on amazing vitality. Before the couple celebrated their first wedding anniversary a large estate on Long Island and a summer retreat in the Adirondacks, Camp Topridge, had been purchased. But purchasing estates was not enough. The Huttons began to build on a princely scale. Camp Topridge was expanded to 40 buildings. An eight million dollar winter home, Mar-A-Lago, was erected near Palm Beach Florida. E.F. Hutton's already substantial yacht was replaced by a custom built, 350 foot, sailing vessel christened Huzzar V (later renamed Sea Cloud).

The Huttons entertained in a style commensurate with their construction projects. Huge parties were given. Elaborate entertainment was common. Entertainment for one party at Mar-a-Lago was a circus. Another gathering was amused by the day's most popular Broadway musical, the cast of which had been transported to Florida for the occasion. The dark days of the depression only slightly affected the couple. No new building projects were undertaken, but all of the property obtained during the prosperous 1920s was kept immaculate. Much of the depression was spent on the couple's yacht, which made frequent voyages to ports around the world.

Hutton and Post parented one daughter. Despite their child and their extravagant lifestyle, the marriage soured. In September, 1935 it ended in divorce. But in December, 1935, Post married for a third time, to Joseph Davies.

Davies, a man of political ambition, reintroduced Post to the Washington social life she had left when she married Edward Close. Through him she also obtained one of the great passions of her life, the collecting of czarist Russian art. Davies served as ambassador to the U.S.S.R. between 1936 and 1938, and Post occupied much of her time in the Soviet Union purchasing art treasures. Returning to Washington on the eve of World War II, the Post-Davies estate, Tregaron, became a Washington social center.

The waning of Davies' political career seems to have affected both his public and private life. The marriage between him and Post grew increasingly fragile and, in 1955, it ended in divorce. Post decided to remain in Washington and continue in her role as one of the city's hostesses. To do so she constructed Hillwood, her Washington residence. In 1958 she married again, to Herbert May. The marriage, however, quickly grew troubled and it ended in divorce.

Throughout her life, business matters seem to have had little fascination for Post. Blessed with great wealth by the time she reached adolescence, her fortune continued to grow throughout her lifetime, especially during the 1920s when the financially astute Hutton used it as the basis upon which he founded General Foods Corporation. Philanthropy, far more than business, interested Marjorie Post.

Post's charities were numerous and expensive. During World War I she equipped a base hospital for troops serving in France. Between 1929 and 1935 Post personally maintained the Salvation Army's soup kitchen in New York City's Hell's Kitchen district. As she grew older, her major interests became music and young people. She was major financial supporter of Washington's national symphony. She also generously contributed to Long Island University. Beyond charity on an institutional level, for which she received numerous awards and citations, Post took a personal interest in a number of individuals. She was reputed to be especially generous to women whose husbands had supported them in comfort who were left financially strapped by the death of their spouse.

Beyond business and philanthropy, Post's most consistent desire seems to have been to surround herself with beauty. Her many homes were examples of what architects and landscape designers might achieve when their client was unconcerned about cost. The interiors of her residences were filled with antique furniture, which she shipped around the world when she traveled, or installed in ocean liners that she reserved accommodations on. She had a penchant for jewelry, especially stones once owned by European royalty. Her collection of Russian art was considered by many the finest outside of the Soviet Union. In such areas she studied assiduously and bought the best.

Marjorie Merriweather Post spent her last years a rich dowager, surrounded by a large staff. Until her health failed she shuttled regularly between Washington, the Adirondacks, and Florida. She died on September 12, 1973.

Acquisition Information:

The papers of the Post Family (Donor No. 6269 ) was the gift of the Marjorie Merriweather Post Foundation of Washington D.C. and came to the library in 1979. Subsequent additions have been received.

Processing information:

In preparing digital material for long-term preservation and access, the Bentley Historical Library adheres to professional best practices and standards to ensure that content will retain its authenticity and integrity. For more information on procedures for the ingest and processing of digital materials, please see Bentley Historical Library Digital Processing Note. Access to digital material may be provided either as a direct link to an individual file or as a downloadable package of files bundled in a zip file.

Arrangement:

The Post Family Papers are organized into two subgroups: C.W. Post and Marjorie M. Post. The C. W. Post subgroup consists of six series. The series represent an intellectual reordering of the papers based in part on subject and physical format. The physical arrangement of files in the boxes retains the original, alphabetical arrangement. The numbers in square brackets in the contents list indicate the box and folder number for the item(s) being described. The Marjorie M. Post subgroup is divided into several series.

C. W. Post

Alphabetical File -- Box 1,4
Post, Charles W., Personal) -- Box 3, 4, 9, 45-46
Employer Organizations -- Box 1-2
Speeches, pamphlets, publications -- Box 3
Letterbooks and scrapbooks -- Box 5-7 and outsize volumes
Journals and Ledgers -- outsize volumes

Marjorie M. Post

Correspondence, Box 10-13
Alphabetical File, Box 14-26
Residences, Box 26-30
Means of transport, Box 30-31
Clippings and Miscellaneous, Box 32-41
Post family materials, Box 42-43
Nettie Major-Sayles Accession, 1981, Box 47
Audio recordings, Box 48
Visual Materials, Box 49-55

Photographs
Photograph Albums

Catalogs
Scrapbooks
Related
Alternative Form Available:

Portions of the Post family papers are available on microfilm.

Digitization: A number of recordings within this collection have been digitized. The resulting files are available for playback online or in the Bentley Library Reading Room according to rights. Original media is only available for staff use.
Contents
Using These Materials
---
RESTRICTIONS:

The collection is open for research.

The collection contains audio tapes from which digital copies have been made. Source tapes are for staff use only. Audio files are only available in the Bentley Historical Library reading room on designated Bentley Library computers.

USE & PERMISSIONS:

Donor(s) have not transferred any applicable copyright to the Regents of the University of Michigan. Patrons are responsible for determining the appropriate use or reuse of materials.
PREFERRED CITATION:

item, folder title, box no., Post Family Papers, Bentley Historical Library, University of Michigan