Back to top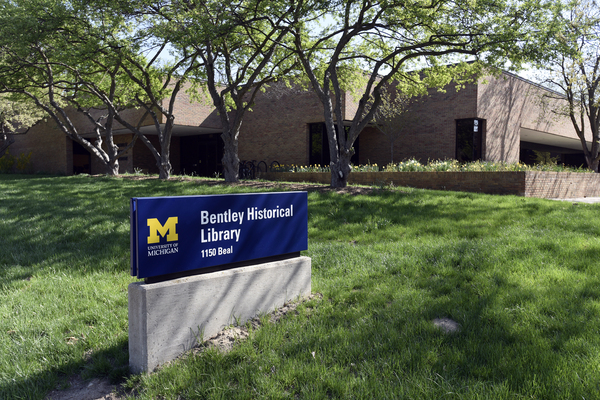 Address

:

1150 Beal Avenue

Ann Arbor, MI 48109-2113, USA
Howard H. Russell Papers, 1840-1946
Using These Materials
---
Restrictions:

The collection is open for research.
Summary
Creator:

Abstract:

A leading figure of the Anti-Saloon movement, founder of the Ohio Anti-Saloon League, first general superintendent of the Anti-Saloon League of America and superintendent of the New York Anti-Saloon League. Papers include manuscript letters, speeches, diaries and miscellaneous material, and photographs. Letters include correspondence with many prominent prohibitionists and other social reformers.

Extent:

3 linear feet

Language:

English.

Call Number:

852272 Aa 2

Authors:

Finding aid prepared by: Bentley Historical Library Staff.
Background
Scope and Content:

The Howard Hyde Russell papers held by the Bentley Historical Library consist of three linear feet of manuscript letters, speeches, diaries and miscellaneous material, and photographs, 1849-1946. The Russell papers include professional correspondence and speeches relating to his work with the Anti-Saloon League, biographical and autobiographical writings, diary entries, notebooks and newspaper clippings and other miscellanea; family correspondence, including papers of his father, Joseph A. Russell, and his wife, and collected historical letters.

In 1977, the bulk of the Russell papers were microfilmed along with one linear foot of correspondence, financial records, and other documents held by the Ohio Historical Society on loan from the Westerville Public Library of Westerville, Ohio. This material when filmed was interfiled with the Bentley Historical Library folders, and includes correspondence dealing with personal, business and temperance matters, 1877-1911; notes for speeches and sermons, undated; congratulatory correspondence on the occasion of Russell's 65th birthday and 40th wedding anniversary, 1920; correspondence and other papers of James B. Merwin concerning Merwin's association with Abraham Lincoln and both Merwin's and Lincoln's connections with the temperance cause; a diary, 1891, of records, 1891-1896, including an account book, notes payable, and cancelled checks; an undated typescript Russell biography and an incomplete typescript autobiography of Russell's father, Joseph A. Russell, 1899. All Ohio Historical Society material are designated "OHS"; Michigan Historical Collections materials are designated "MHC."

Biographical / Historical:

Howard Hyde Russell was the leading spirit in inaugurating the Anti-Saloon League movement. As a founder and the first superintendent of the Ohio Anti-Saloon League, Russell played an influential role in establishing the Anti-Saloon League of America and became the national League's first general superintendent. He later founded the Lincoln-Lee Legion and served as superintendent of the New York Anti-Saloon League.

Russell was born October 21, 1855, at Stillwater Minnesota, where his parents, Joseph and Sarah (Parker) Russell served as missionaries to the Indians. Following two years of study at Griswold College in Iowa (1870-1872) and brief jobs in school teaching and journalism, he decided on a career in law and moved to Corning, Iowa, where he studied with the law firm of Davis and Wells. In 1878 Russell was admitted to the Iowa bar. Two years later he married Lillian Davis, daughter of his law mentor. He practiced law until a revival conversion in 1883 led him to enroll at Oberlin Theological Seminary. During his theological studies at Oberlin, Russell served as pastor in North Amherst and Berea, Ohio. He graduated in 1888 as a Congregational minister and undertook ministerial duties in Kansas City (1888-1891) and at the Armour Mission in Chicago (1891-1893).

Though Russell had been a social drinker, at Oberlin he became interested in the prohibition movement and joined the Oberlin Temperance Alliance. He later explained that the memory of near and dear relatives brought to a premature death through strong drink had prompted his interest in the temperance cause. In 1888 the Oberlin Alliance hired Russell to lead a state-wide campaign for local option. The success of this temporary movement, which resulted in the Beatty local option law, indicated the need for a more permanent state organization. After moving to Kansas City, Russell led in forming the Missouri Anti-Saloon League in 1890. Elected president, he spent two months organizing local chapters throughout the state, but the movement gradually dissolved after he moved to Chicago the following year. Meanwhile Oberlin Alliance leaders were beginning to organize a state-wide non-partisan prohibition league, and in 1893 they invited Russell to direct the formation of the Ohio Anti-Saloon League. During the summer of 1893 Russell began his duties as the full-time salaried superintendent of the Ohio A.S.L., visiting several towns to form local organizations.

For the rest of his life, Howard Hyde Russell's work centered in the Anti-Saloon League. As the League's principal founder, he exerted great influence in the movement, and to a large degree the organization reflected his ideas. Russell believed that the political ineffectiveness of other temperance organizations resulted from their support of such minor parties as the Populist and Prohibition Parties. The A.S.L. therefore took a "nonpartisan" position, supporting whomever of the Republican and Democratic candidates for each office was more favorable toward prohibition. This policy attracted support from temperance advocates who remained dedicated Republicans' far more temperance men were Republicans than Democrats at this time - but it also created conflict with Prohibition Party supporters. The Anti-Saloon League's second major policy was local option, which was to be used as a stepping stone for state and eventually national prohibition legislation. This, too, conflicted with Prohibition Party demands for immediate national prohibition.

Two years after organizing the Ohio A.S.L., Russell joined leaders of the District of Columbia A.S.L. in founding the National Anti-Saloon League (later renamed Anti-Saloon League of America) in December 1895. Hiram Price of the District of Columbia was elected president, and Russell became the national organization's first general superintendent. He served in this position as chief executive officer of the League until 1903, when he resigned to devote more energy to the duties he had assumed in 1901 as superintendent of the New York A.S.L. In 1903 Russell also led in forming the Lincoln Legion, founded as a moral suasion arm of the League. Members signed a temperance pledge for which Abraham Lincoln had once secured signatures. The Lincoln Legion Patriots, composed of boys and girls under 21 years of age, was organized in 1912 as a part of the Lincoln Legion. In 1913, the name was changed to Lincoln-Lee Legion, to honor the two Northern and Southern heroes claimed as model abstainers by temperance leaders.

Russell served as New York A.S.L. superintendent from 1901 to 1909 and as chairman of the national executive committee from 1903 to 1909. In 1909 he became chairman of the financial management committee and general secretary of the Anti-Saloon League of America. To dramatize the need for prohibition, he led the 1915 "water wagon tour" along with the Lincoln Highway from New York to San Francisco. With the "Rail-Splitter Quartet" to provide music, Russell delivered rousing prohibition speeches at numerous stops along the route. In 1919 he helped to organize the World League Against Alcoholism and served as one of its first four joint presidents. One year later, he served as a delegate to this organization's World Congress Against Alcoholism.

Howard Hyde Russell continued to work actively in the fight for prohibition until his death in 1946. From the beginning he had sacrificed personal comfort and financial security in taking low-paying positions in order to advance the temperance cause. Discouraged by the slow progress of reform, despite an outward show of optimism, he revealed in letters to his wife alternating moods of hope and despair, with depression often dominant. Russell frequently longed for the quiet and comfort of the regular ministry. Yet he never wavered from the cause. His long personal friendship with John D. Rockefeller resulted in generous contributions for the League, and after the first discouraging years Russell enjoyed acclaim and recognition as the founder of a powerful organization. He saw the Anti-Saloon League lead the victorious campaign for national prohibition, and even after repeal, he continued to work for the cause to which he had devoted his life.

Acquisition Information:

The collection was donated in 1972 by Thomas H. Reed, Jr. (donor 5233 ), the grandson of Howard H. Russell.

Arrangement:

The Howard R. Russell Papers held by the Bentley Historical Library are arranged in eight series:

Collected Correspondence
Correspondence
Speeches
Miscellaneous Correspondence
Family Papers
Diary Entries
Miscellaneous
Photographs
Related
Additional Descriptive Data:

Selective Index to Correspondents

| | |
| --- | --- |
| Angell, James Burrill, 1829-1916. | |
| Anthony, Susan B. (Susan Brownell), 1820-1906. | Jan. 24, 1884, Dec. 27, 1899 |
| Babson, Roger Ward, 1875-1967. | |
| Baker, Purley Albert, 1858-1924. | Undated, May 16, 1900, May 22, 1907, Apr. 25, 1922 |
| Barrows, John Henry, 1847-1902. | |
| Bashford, James Whitford, 1849-1919. | |
| Booth, Evangeline, 1865-1950. | |
| Brooks, Phillips, 1835-1893. | |
| Bryan, William Jennings, 1860-1925. | |
| Cadman, S. Parkes (Samuel Parkes), 1864-1936. | |
| Capper, Arthur, 1865-1951. | Oct. 12, Nov. 4, Nov. 9, 1931, Feb. 21, 1936 |
| Coolidge, Calvin, 1872-1933. | |
| Cullom, Shelby Moore, 1829-1914. | |
| Daniels, Josephus, 1862-1948. | Oct. 5, 20, 1925, Mar. 31, 1933, May 19, 1934. |
| Daugherty, H. M. (Harry Micajah), 1860-1941. | |
| Dow, Neal, 1804-1897. | |
| Edison, Thomas A. (Thomas Alva), 1847-1931. | |
| Fess, Simeon D. (Simeon Davidson), 1861-1936 | |
| Fosdick, Harry Emerson, 1878-1969. | |
| Foster, J. Ellen (Judith Ellen), 1840- | |
| Hill, Lister, 1894-1984. | |
| Hoover, Herbert, 1874-1964. | |
| Ireland, John, 1838-1918. | |
| Johnson, William E. (William Eugene), 1862-1945 | |
| Kellogg, John Harvey, 1852-1943. | Sept. 6, 1927, Aug. 4, Sept. 25, 1940, Apr. 10, 1941 |
| King, Henry Churchill, 1858-1934. | June 22, 1905, May 25, 1922 |
| Lawrence, David, 1888- | |
| McAdoo, William Gibbs, 1863-1941. | Apr. 5, 1924, Oct. 1, 1925 |
| Pinchot, Gifford, 1865-1946. | |
| Rockefeller, John D. (John Davison), 1839-1937. | Undated, Oct. 14, 1901, Oct. 14, 1903, July 10, 1905, July 11, 1908, July 8, 1910, July 10, 1916, Jan. 2, Sept. 4, 9, 1920, Mar. 3, 1922, Dec. 5, 1931, Apr. 11, 1934 |
| Rockefeller, John D. (John Davison), 1874-1960. | May 20, 1925, Jan. 26, 1933, Mar. 16, 1933, Sept. 7, 24, 1937, Jan. 28, 1938. |
| Russell, Charles Edward, 1860-1941. | |
| Sheldon, Charles Monroe, 1857-1946. | |
| Sheppard, Morris, 1875-1941. | |
| Strong, Josiah, 1847-1916. | |
| Tope, Homer W., 1859-1936. | |
| Wheeler, Wayne Bidwell, 1869-1927. | May 31, 1927, May 9, 1900 |
| White, William Allen, 1868-1944. | |
| Woolley, John G. (John Granville), 1850-1922. | |
Contents
Using These Materials
---
RESTRICTIONS:

The collection is open for research.

USE & PERMISSIONS:

Donor(s) have transferred any applicable copyright to the Regents of the University of Michigan but the collection may contain third-party materials for which copyright was not transferred. Patrons are responsible for determining the appropriate use or reuse of materials.
PREFERRED CITATION:

item, folder title, box no., Howard H. Russell Papers, Bentley Historical Library, University of Michigan