Back to top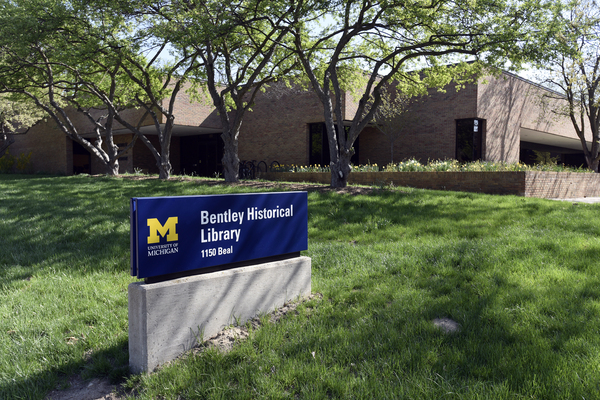 Address

:

1150 Beal Avenue

Ann Arbor, MI 48109-2113, USA
Elly Peterson papers, 1943-2006 (majority within 1961-1980)
Using These Materials
---
Restrictions:

The collection is open for research.
Summary
Creator:

Abstract:

Michigan Republican Party official, 1961-1969, assistant chairman of the national Republican Party, 1963-1964 and 1969-1970, candidate for, U.S. senate in 1964, and co-chair of ERAmerica, a national organization promoting the ratification of the Equal Rights Amendment. Papers consist of correspondence, reports, speeches, organizational records of ERAmerica, scrapbooks and photographs.

Extent:

25 linear feet
4 oversize volumes
1 oversize folder (UAm)

Language:

English.

Call Number:

852153 Aa 2 UAm

Authors:

Finding aid prepared by: Michigan Historical Collections Staff, updated 2009
Background
Scope and Content:

The Elly McMillan Peterson papers document the career of a Republican party activist and official, an advocate of the Equal Rights Amendment, and candidate for the U.S. Senate. The papers, comprised largely of correspondence, reports, and memoranda, are organized into seven series: Republican Party Activities, ERAmerican, Other Organizational Activities, Personal/Biographical, Speeches, Photographs, Scrapbooks/Clippings.

Biographical / Historical:

Elly McMillan Peterson was born in New Berlin, Illinois on June 5, 1914. She was educated at William Woods College in Fulton, Missouri and Northwestern University in Chicago, and was a graduate of Suburban Business College in Oak Park, Illinois. In 1935, she married William M. Peterson. Except for a twenty-two month stint overseas with the American Red Cross during World War II, Peterson worked in a variety of secretarial and office management positions in the Chicago and Kalamazoo, Michigan area from 1933 to 1957. She moved to Michigan sometime around 1950 eventually making Charlotte, Michigan her permanent residence.

Early on in her life, Peterson began taking an interest in Republican Party politics. At age 21, she became a member of the Oak Park Young Republicans. Following her move to Michigan, she worked for the Republican State Central Committee in a number of different capacities, doing secretarial work and performing various campaign assignments. For some of this period of time, roughly 1957 to 1961, Peterson served as an aide to state party chairman, Lawrence B. Lindemer. In 1961, the level of her responsibilities increased when she was appointed Republican field service representative and later Republican state vice chairman. She was re-elected to this two-year position again in 1963. In 1965, she was elected Republican state chairman, the first woman from a major political party to receive that honor. She served until 1969 when she went to work for the national Republican party.

Elly Peterson's rise within the state party had not gone unnoticed by national Republican figures. She was closely associated with the successful campaigns of Governor George Romney, where her organizational skills, especially in enlisting the support of women voters, had propelled the Michigan governor into the national spotlight as a strong presidential possibility. She was selected assistant chairman of the Republican National Committee from 1963 until July 1964 (when she resigned to run unsuccessfully against Philip Hart for his United States Senate seat). She was re-appointed assistant chairman in 1969 serving until December 1970 when she temporarily retired from partisan politics. As assistant chairman, Peterson was responsible for the Action Now program that was established to involve special voter groups in party politics.

During the next several years in the 1970s, Peterson was involved in a number of different women's organizations. Beginning in 1972, Peterson was a member of Delegation for Friendship Among Women and made trips to China and many of the countries of the Middle East. The purpose of each visit was to promote international friendship among women. In 1974, she served as organizational director of the National Center for Voluntary Action; and in 1975, she contributed her talents to the American Women for International Understanding and the National Commission on the Observance of International Women's Year. Among all of the issues of this period, Peterson was undoubtedly most devoted to passage of the Equal Rights Amendment. In 1976, she was made co-chair (along with Liz Carpenter) of ERAmerica, an organization established to "provide a national focus for the ERA ratification campaign and to channel money and resources into the unratified states." At that time, ratification of the amendment was stalled, and one of the purposes of ERAmerica was to pump money and enthusiasm into the ratification process. During her two years as co-chair, Peterson was a tireless speaker and effective advocate of the ERA. In 1978, Peterson resigned as co-chair but continued her advocacy in any way she thought useful.

In 1976, Peterson interrupted her retirement from Republican party politics when she accepted on an interim basis the position of deputy chairman of the President Ford Committee. In this organization set-up to run Gerald Ford's election campaign, Peterson was responsible for organizing special voter groups and group volunteers in the presidential campaign. Peterson resigned as deputy chairman after the nominating convention but continued on with People for Ford, an organization that drew together special interest voting blocs.

At the conclusion of the campaign, Peterson continued working for ERAmerica, and then with the failure of the amendment's passage, she devoted herself to civic and charitable organizational work.

Acquisition Information:

The papers of Elly M. Peterson (Donor No. 4155 ) were acquired by the Bentley Library in various accessions beginning in 1964. Periodic additions have been received.
Related
Additional Descriptive Data:

Selective Index to Correspondents

| | |
| --- | --- |
| Bliss, Ray Charles, 1907-1981. | Nov. 5, 1965, Jan. 17, 1966, Apr. 13, 1966, May 24, 1966, July 25, 1966, Oct. 17, 1966, Nov. 3, 1966, 1968 |
| Bolger, Ray. | |
| Brooke, Edward William, 1919- | |
| Chafee, John H., 1922- | |
| Dirksen, Everett McKinley. | |
| Evans, Daniel J., 1925- | |
| Ford, Gerald R., 1913-2006. | |
| Hart, Philip A. (Philip Aloysius), 1912-1976. | Apr. 16, 1964, Sept. 9, 1964 |
| Morton, Thruston B. (Thruston Ballard), 1907-1982. | Sept. 15, 1964, Mar. 15, 1965, Oct. 28, 1965 |
| Nixon, Richard M. (Richard Milhous), 1913-1994. | Dec. 6, 1965, Jan. 13, 1969 |
| Percy, Charles H., 1919- | Apr. 17, 1967, Apr. 8, 1968 |
| Riegle, Donald W., 1938- | |
| Rockefeller, Nelson A. (Nelson Aldrich), 1908-1979. | Apr. 9, 1964, Apr. 30, 1968 |
| Romney, George W., 1907-1995. | |
| Stassen, Harold Edward, 1907-2001. | Feb. 22, 1966, Jan. 18, 1967 |
| Wilson, Robert Carlton, 1909- | |
Contents
Using These Materials
---
RESTRICTIONS:

The collection is open for research.

USE & PERMISSIONS:

Donor(s) have transferred any applicable copyright to the Regents of the University of Michigan but the collection may contain third-party materials for which copyright was not transferred. Patrons are responsible for determining the appropriate use or reuse of materials.
PREFERRED CITATION:

item, folder title, box no., Elly Peterson Papers, Bentley Historical Library, University of Michigan