Back to top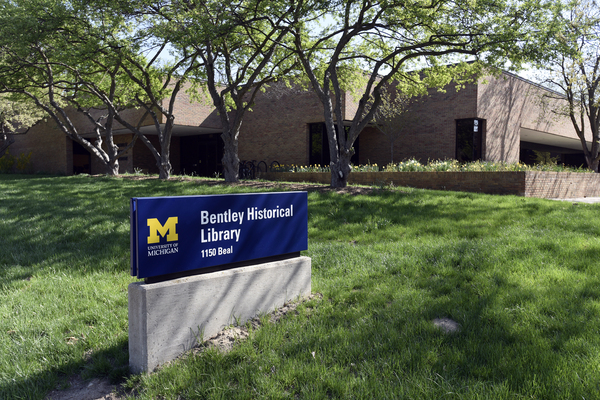 Address

:

1150 Beal Avenue

Ann Arbor, MI 48109-2113, USA
Barbara Bach papers, 1960-2008 (majority within 1975-2007)
Using These Materials
---
Restrictions:

The collection is open to research.
Summary
Creator:

Abstract:

Barbara Bach first worked as a Boston area schoolteacher and creator of television documentaries. After receiving a Master's degree in Education in 1969, she became an Ann Arbor, Mich. businesswoman, networking facilitator, fundraiser, and lifelong educator/mentor to individuals and organizations. The collection includes business records, association newsletters, campaign literature, photographs, and correspondence representing her multiple careers as an entrepreneur, legislative aide, community activist, and executive director in a policy environment promoting economic development in Michigan.

Extent:

9.3 linear feet (in 10 boxes)

Language:

English

Call Number:

2013048 Aa 2

Authors:

Finding aid created by Sandy Kortesoja, 2013
Background
Scope and Content:

The Barbara Bach papers reflect a context of turbulent economic conditions and ground-breaking socio-political events. Some defining highlights of Bach's political efforts include her work with the Ann Arbor Public Schools Title IX Monitoring Committee for gender equality in sports, her nonpartisan campaign work for the county-wide Washtenaw County SAFE House proposal to assist victims of domestic violence, and her Democratic Party campaign work on behalf of Albert H. Wheeler, Ann Arbor's first African American mayor.

However, Bach's business experience and activities on behalf of economic development and job training in the State of Michigan, in connection with the Michigan Community Colleges Association (MCCA) and as Executive Director of the Inventors' Council of Michigan (INCOM), represent the bulk of the collection.

During the 1980s, community colleges were becoming a focal point for job-related training as a precursor to economic development. Organizations such as the Michigan Technology Council (MTC), with support from the University of Michigan, brought together leaders from business, industry, and government in an effort to facilitate technology transfer through commercial applications and new product development.

Economic recession had helped to heighten interest, at all levels of government, in the policy concept of economic development through entrepreneurial successes. Ideally, through teaching, research, and networking assistance, an entrepreneurial "supercenter" would encourage new product and business development, ultimately creating jobs throughout the economy.

Throughout much of her career in Michigan, Barbara Bach was known as Barbara Eldersveld. The collection also includes some materials from her early public service activities in Massachusetts as Barbara Damon.

The collection is organized into eight series: Personal/Biographical, Greater Boston Area, Teaching and Educational Settings, Political, Business and Entrepreneurial, State Government, Inventors' Council of Michigan (INCOM), and Ann Arbor Community Service.

Biographical / Historical:

Barbara Bach graduated from Vassar College in 1956, then completed additional post-graduate coursework at Harvard University. After college, she got married, changed her last name to Damon, and became an elementary school teacher. Bach was an active member of the Greater Boston Area Junior League and, in an era when few career options were available to women, she produced two documentary programs on special education topics for public television station WGBH-TV, Boston, Massachusetts.

By the fall of 1968, when she moved to Ann Arbor to complete her Master's degree in Education from the University of Michigan, she was a single parent with two young children as well as herself to support. After graduating in 1969, she worked as a teacher, tutor, and educational consultant for several years. She also became active in local politics and the Ann Arbor Democratic Party, serving as its chairperson from 1980-1982.

During the mid-1970s, she was married to Samuel J. Eldersveld, Professor of Political Science at the University of Michigan and former Democratic Mayor of Ann Arbor, 1957-1959. She remained Barbara Eldersveld until re-adopting her maiden name, Barbara Bach, in 1992.

In 1977, perhaps inspired by a Women's Conference she attended in Houston, Texas that year, Barbara Bach and a group of Ann Arbor women became entrepreneurs. She was one of five original co-owners of the Moveable Feast, an Ann Arbor restaurant and catering business that continued to grow in popularity after she sold her share of the business in 1979 to the other partners.

From 1979 to 1983, she worked as a legislative aide to Perry Bullard, then the State Representative from Ann Arbor. Bach's personal lobbying efforts and her persuasive writing skills helped to win passage of Bullard's legislative initiatives, including the bill he introduced to boycott South Africa in protest of that nation's apartheid policy.

From April 1983 through August 1984, Bach directed a Lansing-based public service organization called the Michigan Tax Information Council, employing her communication skills there in a monthly newsletter intended to educate citizens of the state about tax policy.

In 1984, Bach accepted a new position as Director, Economic Development and Job Training (ED & JT) Network, Michigan Community Colleges. In this role she acted as a liaison among the presidents of 29 Michigan Community Colleges. She herself also completed state-supported training and became a certified Small Business Development Counselor. In 1985, the role of the ED and JT Network became a more formalized focus of the Lansing-based Michigan Community Colleges Association (MCCA) and by 1986 the MCCA had absorbed the ED and JT Network.

Bach also applied her expertise in bringing people together around an educational goal through occasional employment as a program consultant to the University of Michigan (UM), the city of Ann Arbor, and Washtenaw County, and as a visiting lecturer at Eastern Michigan University (EMU). In 1987, as a consultant with the UM Industrial Development Division (IDD), she completed a pilot project on "Establishing an Invention Evaluation and Inventor Assistance Program...".

In June of 1989, she was offered and accepted a position in Ann Arbor as Executive Director of the Inventors' Council of Michigan (INCOM). At the time, INCOM provided education and networking opportunities for 'inventors,' in the broader sense of 'product developers.' According to its July 1988 Business Plan, INCOM had been operated since 1983 by the University of Michigan Industrial Development Division and was now proposing "to expand its membership to include service providers, corporations, and government sectors concerned with economic development in Michigan."

Bach had worked with INCOM to facilitate its 1987 organizational transition from UM support to private sector support through grants and membership fees. Ed Zimmer, a local entrepreneur, and the Zimmer Foundation provided early support to INCOM then redirected their efforts to focus on an Inventor/Entrepreneur Network Newsletter. As INCOM's new Executive Director, in 1990 Bach helped to negotiate INCOM's organizational affiliation with Detroit's Metropolitan Center for High Technology (MCHT).

However, funding became increasingly scarce and INCOM's affiliation with MCHT ceased as of January 1992. For a time, Bach and other volunteer board and advisory committee members continued to direct INCOM operations but, without consistent funding, INCOM's volunteer board members eventually left to pursue other interests. Some of INCOM's original goals and activities continue to be represented through the monthly meetings of the New Enterprise Forum (NEF), an informal network with a somewhat narrower focus begun in 1986.

Throughout the 1990s and the first decade of the new millennium, Barbara Bach also contributed her energy and expertise to a wide range of Ann Arbor community service activities and advisory boards.

Acquisition Information:

The collection was received from Barbara Bach (donor no. 10556 ) in 2011.

Accruals:

Further additions to the records are expected.

Rules or Conventions:

Finding aid prepared using Describing Archives: A Content Standard (DACS)
Contents
Using These Materials
---
RESTRICTIONS:

The collection is open to research.

USE & PERMISSIONS:

Copyright is held by the Regents of the University of Michigan but the collection may contain third-party materials for which copyright is not held. Patrons are responsible for determining the appropriate use or reuse of materials.
PREFERRED CITATION:

[item], folder, box, Barbara Bach papers, Bentley Historical Library, University of Michigan