Back to top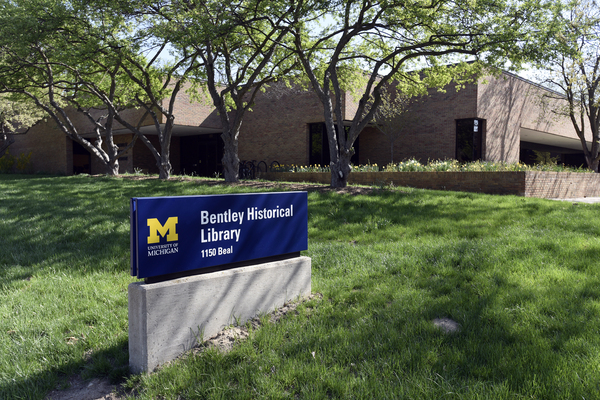 Address

:

1150 Beal Avenue

Ann Arbor, MI 48109-2113, USA
Daniel E. Atkins papers, 1959-2011 (majority within 1985-2004)
Using These Materials
---
Restrictions:

Collection is open for research.
Summary
Creator:

Abstract:

Vice President for Research Cyberinfrastructure at the University of Michigan, dean of the School of Information, Interim Dean and Associate Dean for Research at the College of Engineering. Papers include materials relating to research in technologically-based collaboration, institutional leadership, teaching and service.

Extent:

11.6 linear feet
822 MB (online)

Language:

English

Call Number:

2012139 Aa2

Authors:

Finding aid created by Aprille Cooke McKay, September 2012
Background
Scope and Content:

The Daniel E. Atkins papers document his research and administrative roes at the University of Michigan. The papers include materials relating to research in technologically-based collaboration, institutional leadership, teaching and service,including meetings and activities as Dean of the School of Information. The papers comprise 11.6 linear feet in three major series: University of Illinois, U-M College of Engineering, and U-M School of Information. In addition, there is a series of digital material related to Atkins' work on the U-M IT Council.

Biographical / Historical:

Daniel Ewell Atkins III graduated magna cum laude with a B.S. in Electrical Engineering from Bucknell University in 1965. While a student, he helped form and eventually became director of the first Bucknell computing center supporting an IBM 1620 and edited The Bucknell Engineer. He went on to study at the University of Illinois, working with James Robertson on methods for selection of quotient digits during digital division, and received his M.S. in Electrical Engineering in 1967 and a PhD in 1970. After graduation, he served for six years as a captain of military intelligence in the U.S. Army Reserve.

Atkins joined the College of Engineering at the University of Michigan in the Department of Electrical Engineering and Computer Science in 1972. Initially his research focused on the development of high-performance computer architecture, including work on some of the earliest parallel computers. He collaborated with the Mayo Clinic on development of computer-assisted tomography (CAT) and worked to develop improved arithmetic algorithms. Some of his work in higher-radix division has been widely used in commercial machines, including the Intel Pentium series.

At the College of Engineering, Atkins chaired the committee that established one of the earliest undergraduate computer engineering degree programs. He served as the Associate Dean for Research between October 1981 and December 1988 and was the Interim Dean of the college between January 1989 and August 1990. Between 1985 and 1989 he was the project director of the National Science Foundation (NSF) funded EXPRES project, which laid the foundation for the NSF's FastLane system for conducting NSF business over the Internet. During this period, his research focus began to shift from traditional computer architecture to distributed knowledge environments, and understanding new ways of doing knowledge-based activities. In collaboration with psychology professors Gary and Judy Olson, political science professor Michael Cohen and others, and intrigued by the emerging convergence of computing and communication systems, he began to engage with digital libraries and collaboratories. "Collaboratories" as defined by Atkins and his colleagues, were spaces where researchers could work without regard to physical location, interacting with colleagues, and accessing instrumentation, information and data.

In July 1992, he became dean of the School of Information and Library Studies and led the school through its transformation into the School of Information (SI). SI was the first of the "information schools" aimed at preparing information professionals ready to engage with people-centered systems and institutions. While dean, Atkins was project director of the $8 million U-M Digital Library Project (1992-1997) and helped pilot the Mellon-sponsored JSTOR Project (1992-1995). He was also director of the $5 million NSF-sponsored Upper Atmospheric Research Collaboratory (UARC) (1992-1998), which was renewed in 1998 for three more years under the broader name Space Physics and Aeronomy Research Collaboratory (SPARC).

Under Atkin's leadership, the W.K. Kellogg Foundation funded research to support the transformation of the School of Information and Library Science into the School of Information in the CRISTAL-ED project (Coalition on Reinventing Information Science, Technology and Library Education). Beginning in 1997, Atkins formed and directed a Kellogg-supported Alliance for Community Technology (ACT) to support the use of information technology in service of broader participation in civil society. Another outreach program, the Community Information Corps (CIC), matched SI students with public interest work in a for-credit course, sometimes led by Atkins himself. He has also served as a consultant to Kellogg on the innovative use of information and communication technology for enriching education opportunities for at risk youth in the U.S., and for both rural communities and higher education in southern Africa.

Stepping down as dean of SI in 2002, Atkins served as Chair of NSF's Blue-Ribbon Advisory Panel on Cyberinfrastructure. In early 2003, the panel issued a highly influential report, "Revolutionizing Science and Engineering Through Cyberinfrastructure." Cyberinfrastructure is the IT structure that enables scientific inquiry. It includes computing cycles, networking, massive storage and managed information, measurement tools, shared standards and applications for scientific computation. It also focuses on sharing, collaboration and efficiency. The panel's report, now dubbed "The Atkins Report," received international attention and has served as a guide for strategic planning in academia and research funding agencies. In 2006, Atkins was named to head NSF's newly created Office of Cyberinfrastructure.

Returning to U-M in September 2008, the regents named Atkins the W.K. Kellogg Professor of Community Information (SI's first endowed chair) and appointed him Associate Vice President for Research Cyberinfrastructure, directing the Office of Research Cyberinfrastructure (ORCI). ORCI's mission is to match researchers with advanced computing resources. It provides services such as high-performance computing, cloud computing, a software library, data management, visualization, collaboration and instructional tools.

In addition, Atkins served on panels of the US National Academies exploring such issues as scholarship in the digital age, the future of scholarly communication, and the impact of information technology on the future of higher education. He was a consultant to the International Organization for Economic Co-operation and Development and to the American Council of Learned Societies. Atkins is co-author (with James Duderstadt and Doug Van Houweling) of the 2002 book Higher Education in the Digital Age: Technology Issues and Strategies for American Colleges and Universities.

Acquisition Information:

The papers (Donor No. 10549 ) and digital materials were accessioned in 2011.

Processing information:

In preparing digital material for long-term preservation and access, the Bentley Historical Library adheres to professional best practices and standards to ensure that content will retain its authenticity and integrity. For more information on procedures for the ingest and processing of digital materials, please see Bentley Historical Library Digital Processing Note. Access to digital material may be provided either as a direct link to an individual file or as a downloadable package of files bundled in a zip file.

Accruals:

Periodic additions to the records are expected.

Rules or Conventions:

Finding aid prepared using Describing Archives: A Content Standard (DACS)
Related
Additional Descriptive Data:

Related Material

The series Project Files of Dan Atkins, 1981-1989 (ca. 3 lin. ft.) in the College of Engineering Record Group documents his tenure as associate dean for research. This series contains six subseries: Department of Electrical Engineering and Computer Science, Experimental Research in Electronic Submission Project (EXPRES), Industrial Technology Institute (ITI), Center for Robotics and Integrated Manufacturing (CRIM), Institute of Science and Technology and Provost Search Advisory Committee. In addition, his tenure as interim dean of the College of Engineering (1989-1990) is documented in the Charles M. Vest subseries of the Dean's Files in the College of Engineering Record Group, generally intermixed with Vest's files. The Gary M. Olson papers, also held by the Bentley contain material related to his collaboration with Atkins on the EXPRES project.
Subjects
Click on terms below to find any related finding aids on this site.
Subjects:

Formats:

Names:
Contents
Using These Materials
---
RESTRICTIONS:

Collection is open for research.

USE & PERMISSIONS:

Copyright is held by the Regents of the University of Michigan but the collection may contain third-party materials for which copyright is not held. Patrons are responsible for determining the appropriate use or reuse of materials.
PREFERRED CITATION:

[item], folder, box, Daniel E. Atkins papers, Bentley Historical Library, University of Michigan