Back to top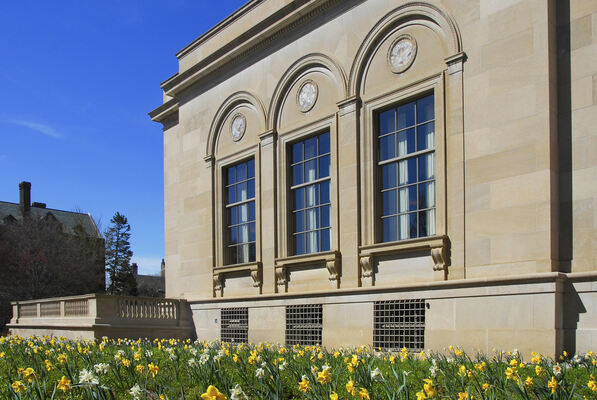 Address

:

909 South University Avenue

Ann Arbor, MI 48109, USA
Louis Miller WWI exhibit materials, 1917-1930, 2018
Using These Materials
---
Restrictions:

The collection is open for research.
Summary
Creator:

Abstract:

The Louis Miller WWI exhibit materials collection is comprised of visual materials and realia displayed in an exhibit to mark the centennial of the Armistice in the autumn of 2018. The bulk of the materials pertain to the American Expeditionary Forces in the First World War.

Extent:

1 volume

Language:

English

Authors:

Collection processed and finding aid created by Louis Miller, December 2019
Background
Scope and Content:

The Louis Miller WWI exhibit materials collection contains visual materials and realia displayed in an exhibit to mark the centennial of the Armistice in the autumn of 2018. The bulk of the materials pertain to the American Expeditionary Forces in the First World War.

The largest part of the collection is postcards and ephemera belonging to Ole Reppe, a Wisconsin soldier who served in the 32nd Division. There are fifty-six postcards, four typewritten pages, and one ticket stub. The postcards date from 1917-1919, and follow Reppe's service in the Wisconsin National Guard and American Expeditionary Forces.

Eight postcards show scenes from Camp Douglas, Wisconsin. Two of these have inscriptions written by Reppe from August 1917 that describe the images. Two more date from 1920, with messages from his future wife Clara, and his mother. Both of these are written in Norwegian. Two postcards depict Janesville, Wisconsin.

Thirteen postcards show military training at an unidentified location. Six postcards date from Reppe's time in Texas in 1917, including a real photo postcard of an unidentified couple with a handwritten caption by Reppe that reveals he found this photograph on the street. This seems to reveal that unlike other WWI soldiers who took home postcards from France as souvenirs, Reppe was already collector before going overseas.

Five postcards date from Reppe's time in France, including one real photo postcard of German soldiers and women. Reppe notes that he found two of these postcards on the battlefield in October 1918, and German soldiers originally owned them. The remaining twenty-two postcards contain images of Koblenz (Coblenz), presumably purchased by Reppe while in the Army of Occupation in 1919.

Four typewritten military documents are in the collection, and date from August 27, 1917 to May 23, 1919. Two of these are leave passes, one is a list of men on guard duty, and one is a memorandum about sanitation at Camp Douglas. These items were all mounted on scrapbook paper, and it appears that Reppe kept these and some of his postcards in a now disbound scrapbook.

There is also a train ticket from 1917 from Stanley, Wisconsin to Chippewa Falls, Wisconsin.

Also included in the collection is a British Lusitania Medal from 1916, with its original box and a paper fragment providing context to the medal. The sinking of the Lusitania by a German U-boat on May 7, 1915, caused the deaths of 1,198 passengers and crew, including 128 Americans. Although Germany protested it had every right to treat the Lusitania as an enemy vessel, the incident led to outrage in the United States and Britain. The medal in the collection is a British copy of a German medal made by the artist Karl Goetz after the incident. Though Goetz had intended his medal as a satire of British outrage over the Lusitania, the British disseminated over 300,000 translated copies of Goetz's work for English-speaking audiences. In spite of the misleading British description of the medal, the damage done by this piece of propaganda led to German authorities confiscating all known copies of the original medal. The German policy of unrestricted submarine warfare, which ended in September 1915 in response to American outrage over the Lusitania, started back up in early 1917 and became a major factor in America's entry into the war.

A 2018 restrike of Kerr Eby's "A Southern Unit" print from the original copper plate is also present. Canadian-American artist Kerr Eby created this powerful image representing the downtrodden state of African-American soldiers in France. Eby's service in the AEF turned him into an ardent pacifist. When America again entered a global conflict in 1941, Eby served in the combat artists program, mainly in the Pacific. He died in 1946 at his home in Norwalk, Connecticut, from a tropical disease contracted while covering the Second World War.

The collection has a photograph of Rosa Heidler Lorenz at the grave of her son Joseph Lorenz, at Suresnes, France, on May 18, 1930. In 1929, after a decade of political debate, President Calvin Coolidge signed a bill allocating five million dollars to subsidize pilgrimages to Europe for the mothers of deceased American soldiers buried overseas. In all, some 6,000 women chose to take the two-week trip to visit their sons' graves. These trips are known as the Gold Star Mothers Pilgrimages, and took place between 1930-1933. In a sad echo of the discrimination African-American soldiers faced more than a decade earlier, African-American mothers were segregated from their white counterparts during their pilgrimages. A significant number of mothers who went overseas were foreign-born and included many Germans. Rosa Heidler Lorenz was one such German immigrant. Her son, Private First Class Joseph Lorenz, was wounded in late July while fighting with the 42nd Division before dying of his wounds at a base hospital on November 21, 1918. In late May 1930, newspapers across the country published this moving image of Lorenz weeping at the grave of her son.

The collection contains a wooden clog painted with an American and French flag, with the inscription, "Souvenir de France." These clogs were a popular type of souvenir that soldiers often sent home to their families. Also included is a printed piece of sheet music from 1917 for the song "Hail! Hail! The Gang's All Here" and a copy of the printed exhibit bulletin from 2018.

Biographical / Historical:

Approximately 2 million men and women served in France as part of the American Expeditionary Forces (AEF) during the First World War. Over 53,000 of them died from combat. The William L. Clements Library exhibit "Over There" With the American Expeditionary Forces in France During the Great War aimed to present the experiences of ordinary Americans who served in France. The exhibit marked the centennial of the Armistice on November 11, 2018, and was on display from November 2, 2018 to April 26, 2019. To view a digital surrogate of the pamphlet that accompanied this exhibit please click this link.

Acquisition Information:

2019. P-2972 .

Rules or Conventions:

Finding aid prepared using Describing Archives: A Content Standard (DACS)
Related
Additional Descriptive Data:

Related Materials

The Clements Library holds numerous collections relating to the American Expeditionary Forces in France. Search the catalog and finding aids with the phrase "World War, 1914-1918."
Subjects
Click on terms below to find any related finding aids on this site.
Subjects:

Formats:

Names:

Places:
Contents
Using These Materials
---
RESTRICTIONS:

The collection is open for research.

USE & PERMISSIONS:

Copyright status is unknown
PREFERRED CITATION:

Louis Miller WWI Exhibit Materials, William L. Clements Library, The University of Michigan