Back to top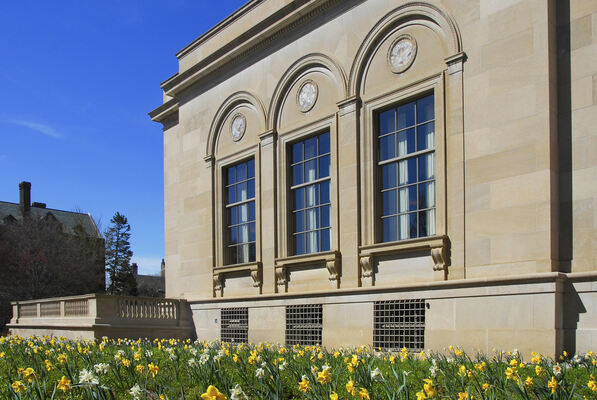 Address

:

909 South University Avenue

Ann Arbor, MI 48109, USA
Anne-Louis de Tousard papers, 1659-1932 (majority within 1777-1820)
Using These Materials
---
Restrictions:

The collection is open for research.
Summary
Creator:

Abstract:

The Tousard papers contain the correspondence of the army officer and military engineer Anne-Louis de Tousard, relating to his plantation in Saint-Domingue (Haiti), military service, and family life.

Extent:

3.75 linear feet

Language:

French
English

Authors:

Collection processed and finding aid created by Shannon Wait, February 2011
Background
Scope and Content:

The Correspondence and Documents seriescontain 3.75 linear feet of material, arranged chronologically, and spanning 1659-1932 (bulk 1778-1820). The collection contains both incoming and outgoing letters, covering Tousard's service in the American Revolutionary War, his management of a coffee plantation in Haiti, family life, settlement in the United States beginning in 1793, and military activities in Haiti and America. The majority of the material is in French, with a few scattered items in English. Most of the letters have been translated into English; quotes in this finding aid draw from those translations.

After a 1659 inventory of property owned by "M. Touzard," an ancestor of Louis Tousard, the collection opens with several letters pertaining to Tousard's time in North America during the American Revolution. These include several lengthy letters items by Tousard himself with commentary on his French and American Army officers, the progress of the war, his attempts at learning English, and his impressions of several cities. In a long letter dated August 3, 1777, he noted the capture of Fort Ticonderoga by the British and the desire of Americans to put General Philip Schuyler on trial for its surrender. He also stated that everything in Philadelphia cost "a dreadful price" and that "the money here is discredited." In the same letter, he discussed the major generalship that had been promised to, and later taken from, Philippe Charles Tronson de Coudray and called the Americans "vain, disunited, envying and detesting the French." Tousard's relatives, including his mother, wrote the bulk of other letters during the period. These primarily share news of the Tousards' social circle in France and occasionally make brief reference to political turmoil there.

Beginning in 1786, the focus of the collection shifts to the courtship and eventual marriage partnership of Marie-Reine St. Martin, a young widow and native of Saint-Domingue, and Louis Tousard. Their affectionate sequence of letters begins December 23, 1786. In addition to revealing details of their personalities and relationship, the letters also shed light on their shared management of several coffee plantations and dozens of slaves. Louis' letters to Marie discuss politics in Haiti and France, show the difficulty of importing desired goods to Haiti, and express regret that he must frequently spend time away from her. The couple frequently articulated the idea that together they formed an effective partnership; in a letter of January 26, 1788, Louis wrote, "On my arrival I shall tell you my plans. You will tell me yours and from the two we shall make a single one." In another letter, he stated his dependence "entirely on [Marie's] good judgment" in managing their coffee workforce (May 3, 1789). The letters also provide details of plantation life, including the preciousness of wine and bacon and difficulties of obtaining them (June 20, 1787), Marie's hobbies and entertainments on the plantation (May 3, 1789), and the difficulties of feeding the slaves and workmen (April 3 and 6, 1789).

In their letters, the couple also wrote frankly about their slaves. Escape seems to have been a frequent occurrence; after a particular incident, Louis urged Marie not to become discouraged and assured her that "[t]he slaves will soon stop running away…. Try to make them be afraid of me" (December 28, 1787). In another letter, presumably after a similar event, Louis wrote to tell Marie that he had sent "two collars to help the Maroon negroes to walk in the woods or at least able to feel their stupidity in creating enduring shame for themselves" ([No month] 27, 1787; filed at the end of 1787). The Tousards also complained that their slaves stole from them ([1787]) and inspired each other to rebellion (January 17, 1788). In addition to doling out punishments to them, Louis and Marie also sometimes expressed affection for various slaves, and presented them with gifts of clothing and food. In one incident, Marie went further and defended a slave, referred to repeatedly as "The African": "The poor African was beaten by a driver. I have complained, but I could not obtain justice" (January 10, 1793). Louis also commonly worked alongside the slaves that he oversaw, and sometimes even noted, "I worked like a slave," as in a letter of May 3, 1789. The letters are especially valuable for the detailed information they provide on the complexities of the master-slave relationship.

Although Tousard's regiment attempted to put down the Haitian Revolution, the collection contains only a handful of references to fighting. The most direct, dated "September 1791," likely refers to an engagement at Port-Margot. On the subject, Tousard wrote, "I gave a lesson to the cavalry. I taught them to charge. Two cannon shots were fired at us and they had not time to fire again. In one minute we were upon them and cut them down." Thereafter, the collection documents Tousard's imprisonment in France and contains some material concerning his later military career and family life, including letters between Tousard, his daughters, and their husbands. Also among the later items are a small number relating to his consular appointments in Philadelphia and New Orleans. Two letters concern the quarantine imposed on ships arriving in Philadelphia during the yellow fever epidemic of 1798, the first of which (Timothy Pickering to Tousard; June 27, 1798) informs Tousard of the decision of Congress to prevent ships from Saint-Domingue landing at Philadelphia, ordering him to stand by in his capacity as Major of Artillery. The second is a copy of orders to Stephen Decatur to prevent the landing of a ship manned by "Frenchmen and Negroes," the latter of whom "have discovered a Disposition to outrage" (June 28, 1798). Tousard's letter of July 25, 1814, includes a detailed discussion of the attitudes of the French residents of New Orleans toward the Bourbons. Suffice it to say that Tousard, the Royalist, elicited the negative attention of the "Jacobins" of New Orleans. The collection closes with letters between Tousard's daughters, Caroline and Laurette, and several items concerning his death on March 4, 1817.

The Tousard papers also contain many undated items, which have been placed at the end. These include a significant number of letters by Marie, who frequently left date information off her letters, as well as a small printed portrait of Tousard. Also present is an uncut bookplate, showing Tousard's coat-of-arms, motto, liberty cap, artillery, and the right arm that he lost during the Battle of Rhode Island in 1778. Also of interest is a biographical sketch of Tousard, written by one of his nieces sometime after his death.

The Account Book series includes one account book with entries dated from 1813 to 1816. Louis and Laurette Tousard appear several times throughout the volume.

The Printed Items series contains two items, Histoire des Six Dernières Années de l'Ordre de Malte (1805) and Justification of Lewis Tousard Addressed to the National Convention of France. Written and Published from the Bloody Prisons of the Abbaye, by Himself. The 24th of January, 1793 (Philadelphia: Daniel Humphreys, 1793).

Biographical / Historical:

Anne-Louis de Tousard was born in Paris, France, on March 12, 1749, the second son of French general Charles Germain de Tousard and his wife, Antoinette de Poitevin de la Croix. A 1765 graduate of the artillery school in Strasbourg, he was commissioned a second lieutenant in the French Royal Artillery Corps. He resigned his commission in 1776 in order to enter into the American Revolution, and with the assistance of Caron de Beaumarchais, traveled to America where he received a position on Washington's staff in June 1777. He served with distinction during the War, first with Philippe Tronson De Coudray and later as an aide-de-camp to Lafayette. He lost his right arm in an attempt to seize cannon during the Battle of Rhode Island on August 29, 1778, and for his war time service, was granted a lieutenant colonelcy and a life pension by Congress.

In 1784, Tousard was commissioned lieutenant colonel in the Regiment du Cap, an elite French unit stationed in Saint Domingue (present-day Haiti). He soon purchased land for coffee cultivation in the districts of Vallière and Jérémie. On February 19, 1788, he married Marie-Reine St. Martin, née Joubert, (ca. 1765-1794), the widow of a Saint-Domingue planter. She had a young daughter, Martine (b. 1785). Together, Louis and Marie had two children: Caroline (b. 1788) and Laurette (b. 1791). Louis frequently traveled around the island with the regiment, leaving Marie to manage the plantations and slaves on her own. During the early stages of the Haitian Revolution, he led soldiers in the suppression of the slave rebellion in engagements at Port-Margot (September 1791) and Fort-Dauphin (November 1791). In 1792, Tousard protested the imprisonment of his commanding officer and was himself arrested and imprisoned in France in December 1792.

Tousard remained there until February 1793, when American diplomats negotiated for his release; he aided his case through the publication of a defense of his actions in Haiti, entitled Justification of Lewis Tousard. In April of that year, he settled with his wife and children in Wilmington, Delaware, where Marie died in July 1794. The next year, he married Anna Maria Geddes (b. 1775). Tousard soon secured a commission as Major of the 2nd Artillery, and helped plan and supervise the construction of fortifications at Fort Mifflin, Pennsylvania, and at West Point, New York. After the 2nd Artillery was disbanded in 1802, Tousard returned to civilian life and in 1805, was appointed French vice-consul in Philadelphia, later serving as consul at New Orleans (1811-1815). He returned to Paris a year before his death on March 4, 1817.

Acquisition Information:

1955; 1956; 1968; 1977; 2004. M-976; M-980; M-999; M-1438; M-1784; M-4410 .

Processing information:

Cataloging funded by the National Endowment for the Humanities (NEH) and the "We the People" project.

Arrangement:

The Tousard papers are arranged chronologically, with undated items at the end, followed by an account book and printed items.

Rules or Conventions:

Finding aid prepared using Describing Archives: A Content Standard (DACS)
Related
Additional Descriptive Data:

Related Materials

The Alexander Thompson family papers contain two letters from Tousard to Thompson (July 9, 1795; July 15, 1795) and one from Thompson to Tousard (July 18, 1795).

Other bodies of Louis de Tousard papers are located at the Historical Society of Pennsylvania, the Library of Congress, and the Hagley Library.

Bibliography

Burke, Michael A. "Tousard, Anne-Louis." In American National Biography Online.
Subjects
Click on terms below to find any related finding aids on this site.
Subjects:

Formats:

Names:

Places:
Contents
Using These Materials
---
RESTRICTIONS:

The collection is open for research.

USE & PERMISSIONS:

Copyright status is unknown
PREFERRED CITATION:

Anne-Louis de Tousard Papers, William L. Clements Library, The University of Michigan