Back to top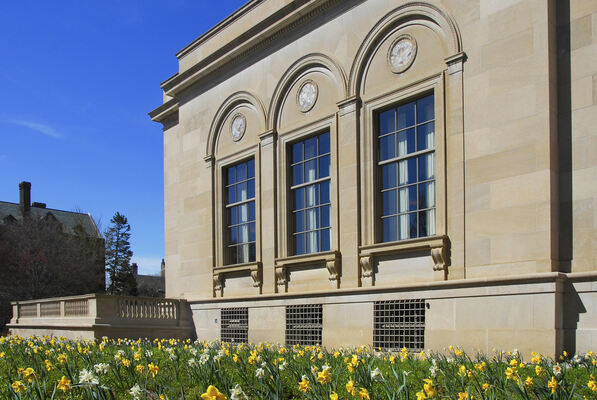 Address

:

909 South University Avenue

Ann Arbor, MI 48109, USA
William Tecumseh Sherman collection, 1813-1888 (majority within 1861-1882)
Using These Materials
---
Restrictions:

The collection is open for research.
Summary
Creator:

Abstract:

A miscellaneous collection of letters and a volume of telegrams, by or relating to William Tecumseh Sherman, collected by Clinton H. Haskell.

Extent:

52 items

Language:

English

Sponsor:

Clinton H. Haskell Collection

Authors:

Collection processed and finding aid created by Shannon Wait, March 2011
Background
Scope and Content:

The William Tecumseh Sherman collection consists of 51 letters written by or relating to Sherman, 1813 to 1888 (bulk 1861-1882), and a volume of outgoing telegrams that he wrote, 1882-1884. The collector Clinton H. Haskell gathered these materials.

The Correspondence and Documents series is a miscellaneous collection of letters and documents, primarily written by Sherman to various correspondents. The earliest letters in the collection include one from Sherman's father Charles about a desired appointment as collector of internal revenue (August 24, 1813), and several by Sherman concerning several aspects of his early career in the west. Sherman wrote 13 letters in the collection during his Civil War service, and they span 1861 to 1865, with 1864 covered in the greatest depth (5 letters). In a letter of January 20, 1863, he wrote about plans for the capture of Vicksburg and called it "a great if not the greatest task yet undertaken in this war." In other letters, he recommended the strengthening of Fort Donelson (March 27, 1864), discussed troop positions at the beginning of the Atlanta Campaign (May 5, 1864), invited Colonel Absalom Markland and his wife to a social gathering in Savannah (January 3, 1865), and planned to move on Raleigh, North Carolina, after the capture of Richmond, Virginia (April 3, 1865). Also included is a set of special field orders, no. 20, dated February 18, 1864, which call for troop movements after Vicksburg and specify that "Buildings must not be burned on the return march…unless they are used as a cover to the enemy, from which to fire at our men." Special field orders no. 22 are also present (February 28, 1864).

The collection also includes several personal letters written during the Civil War period. In one of these, dated September 23, 1864, Sherman wrote to his foster father, Thomas Ewing, discussing money raised by his hometown of Lancaster, Ohio, to buy him a new horse. In it, he also noted that three of his horses had died during the war, with one shot out from under him, and commented on the training, care, and gaits of war horses. He wrote to his wife Ellen, describing souvenirs that he had sent home to her (April 6, 1865). Included are several letters concerning, but not addressed to, Sherman. In one, General Ormsby MacKnight Mitchel complains about Sherman's division of Mitchel's forces and the assignment of different leadership to part of the division (October 21, 1861).

The postwar letters in the collection mainly focus on Sherman's career as the commanding general of the United States Army. They pertain to such matters as personnel and appointments, the hiring of Edmund Palmer to sketch Native Americans on the plains (July 11, 1875), Civil War memorials (May 16, 1878), the construction of railroads (September 1, 1882), and other topics. Also present is an essay dated January 16, 1888, by William C. Shaw, entitled "What I Saw on Sherman's March to the Sea," in which he described participation in the campaign, including foraging, the destruction of railroad tracks in Georgia, and the slaves and slave quarters he encountered.

The Telegram Book contains 28 telegrams sent and received by Sherman in his official capacity as commanding general of the United States Army. The telegrams span June 19, 1882, to April 7, 1884. Many of the items concern routine matters of scheduling or personnel, but a few refer to larger issues. On April 19, 1883, Sherman wrote a telegram to General John Schofield, concerning the joint operations of the U.S. and Mexican troops in pursuit of "hostile Apaches depredating on both sides of the national border." Several telegrams also discuss governmental actions toward the Creek Indians (April 9, 1883; May 26, 1883).

Biographical / Historical:

William Tecumseh Sherman was born February 8, 1820, in Lancaster, Ohio, the son of Charles Sherman and Mary Hoyt. After Charles Sherman's sudden death in 1829, Mary and her 11 children were left impoverished, and William went to live with the family of a prominent Ohio politician, Thomas Ewing. In May 1836, through Ewing's influence, Sherman received an appointment as a cadet at the United States Military Academy at West Point, where he graduated sixth in his class. He served as a second lieutenant in the Second Seminole War and took an administrative post in California during the Mexican-American War. In 1850, he married Eleanor ("Ellen") Ewing, the daughter of Thomas and Maria Ewing; they had eight children. From 1853 to 1857, he managed a bank in San Francisco, and following this, he served as superintendant of the Louisiana Military Seminary, the forerunner of Louisiana State University.

During the Civil War, Sherman rejoined the Army as colonel of the 13th Infantry, and was soon promoted to brigadier general of volunteers. After a promotion to major general of volunteers, he assumed command of the Memphis defense and served in the Vicksburg and Chattanooga campaigns. In 1864, he gained command of the Union armies in the West, and was promoted to major general of the Union Army. He earned fame and notoriety for his "total war" tactics and his destructive march across Georgia to the sea. Postwar, Sherman held the position of commanding general of the United States Army from 1869 to 1884. He died on February 14, 1891.

Acquisition Information:

Donated by Clinton H. Haskell, 1949 and 1950. M-732, M-783.1 .

Processing information:

Cataloging funded by the National Endowment for the Humanities (NEH) and the "We the People" project.

Arrangement:

The items are arranged into two series: Correspondence and Documents and Telegram Book.

Rules or Conventions:

Finding aid prepared using Describing Archives: A Content Standard (DACS)
Related
Additional Descriptive Data:

Related Materials

The James S. Schoff Civil War Letters and Documents collection contains letters by Sherman for the following dates:

November 1, 1862
January 5, 1863
February 21, 1864
April 2, 1864
April 4, 1864
April 23, 1864
May 10, 1864
May 15, 1864
May 16, 1864
May 20, 1864
May 28, 1864
June 3, 1864
June 21, 1864
June 22, 1864
July 17, 1864
July 20, 1864
September 28, 1864
October 2, 1864
October 21, 1864
March 20, 1865
April 21, 1865 (2 letters)
April 27, 1865
May 6, 1865
January 2, 1866
November 25, 1870
May 30, 1883

Bibliography

Marszalek, John F. "Sherman, William Tecumseh" in American National Biography Online. Accessed March 18, 2011.
Subjects
Click on terms below to find any related finding aids on this site.
Subjects:

Formats:

Names:

Places:
Contents
Using These Materials
---
RESTRICTIONS:

The collection is open for research.

USE & PERMISSIONS:

Copyright status is unknown
PREFERRED CITATION:

William Tecumseh Sherman Collection, Clinton H. Haskell Collection, William L. Clements Library, The University of Michigan