Back to top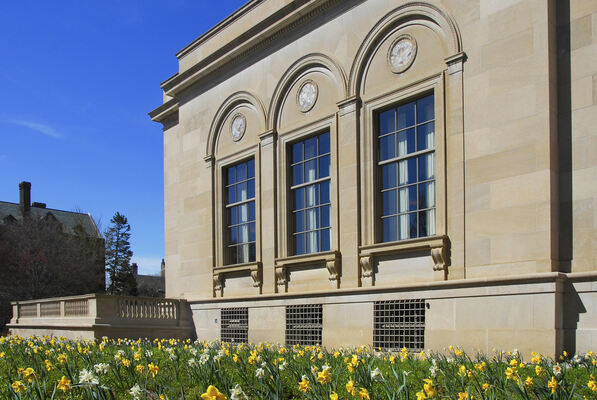 Address

:

909 South University Avenue

Ann Arbor, MI 48109, USA
Owen Lovejoy papers, 1828-1943 (majority within 1830-1930)
Using These Materials
---
Restrictions:

The collection is open for research.
Summary
Creator:

Abstract:

Owen Lovejoy (1811-1864), brother of Elijah Parish Lovejoy, was a prominent abolitionist and congressman who staunchly supported President Lincoln during the Civil War. His papers primarily contain correspondence, speeches, and writings related to his family life, ministerial duties, and congressional activities, with additional materials from his descendants.

Extent:

261 items (0.75 linear feet)

Language:

English

Authors:

Collection processed and finding aid created by Emiko Hastings
Background
Scope and Content:

The Owen Lovejoy papers primarily consist of the correspondence, speeches, and writings of Owen Lovejoy, with additional material from his descendents. The collection contains 170 letters, 13 land records and indentures, a diary, 3 documents and 10 checks, 27 speeches and writings, 3 images, 11 commemorative items, and 26 newspaper clippings. The correspondence of Owen Lovejoy includes 71 letters written by him, mostly to his wife and children, and 40 letters received from family and friends. The other correspondence in the collection is primarily that of his son, Elijah Parish Lovejoy, II.

The earliest letters, from Owen Lovejoy's student days at Bowdoin College, include affectionate advice from his parents and news from his siblings. He received 8 letters from his parents between 1830 and 1837. His mother's letters are filled with religious references, and her strong faith is clear from her writing. She wrote passionately against the "crying sin of slavery," and also supported the temperance cause (14 July 1836). Sister-in-law Sarah Moody Lovejoy wrote two letters to him in 1836, filled with news of the family and church. His sister Elizabeth, who ran a school, kept him informed about her endeavors and news of the family in three letters from 1836. Brothers Joseph and John also wrote occasional letters to Owen. The collection also contains three love letters written by Owen Lovejoy as a young man, including a poem he wrote entitled "Autumn pale fading autumn."

The family was worried about Elijah Parish Lovejoy, the eldest brother, whose antislavery activities were becoming increasingly dangerous. His mother wrote to Owen in 1836, "you doubtless know what outrages they have committed in regard to destroying the types in that affair" (14 July 1836). His sister Elizabeth wrote, "E.P. does not write us at all why not I cannot divine & I wish I was there now" (30 July 1836).

A number of friends came to the aid of the Lovejoy family after Elijah Parish Lovejoy's death in November 1837. Rev. Edward Beecher, the son of Lyman Beecher and brother of Harriet Beecher Stowe, wrote a letter to Owen Lovejoy, in which he urged him to "collect and file all documents which have a relation to you brother's life & efforts since he acted upon his course as editor…They will be read with interest in future ages" (14 November 1837). In 1838, Beecher wrote his best-known work, Narrative of Riots at Alton, on the subject. Owen and Joseph Lovejoy, meanwhile, were working on their own book commemorating their brother. Joseph wrote to Owen in December 1837, "The death of P. has made a very deep & strong sensation through this & indeed through all the country. A great many sermons have been preached & meetings are held in almost every village through the land" (7 December 1837). Owen also corresponded with his other siblings during this time.

Correspondence from a later period in Owen Lovejoy's life reflects his growing involvement in politics. A letter from Abraham Smith in 1846 describes the activities of the Liberty party, of which Owen Lovejoy was a leader. Owen also corresponded with Gerrit Smith, an abolitionist and founding member of the Liberty party.

Owen Lovejoy's letters from 1854 onward were addressed to his wife and children, while he was away from home on political business, usually in Washington, D.C. From October to November 1861, he wrote a number of letters to his family from the Missouri battlefield, having received a commission as colonel under General Frémont in the Western Department of the army. After returning to Washington, D.C., he wrote to his younger children of the death of Abraham Lincoln's son: "I have just been up to the White House to see the President. He feels very much the loss of his little boy Willie who is about the age of Parish…His father says he was a very gentle and amiable boy" (23 February 1862).

The correspondence of Elijah Parish Lovejoy, II, Owen Lovejoy's son, includes 36 letters written and received by him regarding his genealogical research on the Lovejoy family. He received a number of inquiries from others about his family history, and also conducted his own research. A number of his letters are correspondence with C.E. Lovejoy, the author of The Lovejoy Genealogy with Biographies and History, 1460-1930, published in 1930. He assisted C.E. Lovejoy with research and loaned him some materials from his own collection for the publication. The miscellaneous correspondence series includes the letters of other Lovejoy family members, as well as a few apparently unrelated letters. (For a listing of Owen and Elijah Lovejoy's correspondents, see the Additional Descriptive Data.)

The Butler Denham business papers contain 12 records of land purchases and an indenture contract with a young boy. Denham was the first husband of Eunice Storrs Denham, who married Owen Lovejoy after Denham's death in 1841.

A small pocket diary, dated 1857, contains appointments, expenses, personal notes, and what appear to be notes for a speech. The documents series includes Owen Lovejoy's call from the Hampshire Colony Church in 1839, his certificate of admission to the Illinois Bar in 1857, a note to his son E.P. Lovejoy for five dollars, and several checks written in 1862 and 1863.

Speeches and writings by Owen Lovejoy comprise three sermons, pamphlets of six political speeches, several printed copies of "An Agricultural Poem," written in 1859, and a copy of his last public prayer in Princeton from 1863. Excerpts from all of these have been republished in a comprehensive collection of his speeches entitled His Brother's Blood: Speeches and Writings, 1838-64. A draft of a poem entitled "The Wild Horses," is also included. The collection also contains writings about Owen Lovejoy, including articles and speeches written after his death, such as "Addresses on the Death of Hon. Owen Lovejoy" and "The Great Anti-Slavery Agitator Hon. Owen Lovejoy as a Gospel Minister." Also included are the recollections of Parker Earle on the nomination of Owen Lovejoy to Congress.

The scrapbook (29 disbound pages) includes newspaper clippings, articles, pamphlets, memorials, and manuscripts pertaining to various members of the Lovejoy family, particularly Elijah Parish Lovejoy (1802-1837) and Owen Lovejoy (1811-1864). The items about Elijah P. Lovejoy concern his death, his religious beliefs, and his memorial at Alton, Illinois. The scrapbook also has contemporaneous articles about Owen Lovejoy's abolitionist work and about Illinois politics around the time of the Civil War. Other articles, biographies, speeches, memorial programs, and memorial poems concern the lives and deaths of Owen G. Lovejoy, Lucy Lovejoy, Charles P. Lovejoy, Eunice Storrs Lovejoy, and members of allied families. One article describes Helsinki, Finland.

The collection is rounded out by three printed images of Owen Lovejoy, materials regarding memorials and commemorations for Owen Lovejoy and his brother Elijah Parish Lovejoy, and newspaper clippings about Owen Lovejoy and his descendents. Several of the commemorative materials pertain to the Lovejoy Monument Association, including a booklet of music for the dedication ceremonies of the Lovejoy Monument. The Lovejoy papers also contain correspondence and an inventory regarding the Lovejoy collection located at the Bureau County Historical Society of Illinois.

Biographical / Historical:

Owen Lovejoy (1811-1864), brother of Elijah Parish Lovejoy, was a prominent abolitionist and congressman who staunchly supported President Lincoln during the Civil War. Born in Albion, Maine, to Daniel and Elizabeth Pattee Lovejoy in 1811, he was one of eight children. He grew up on the family farm in Maine and enrolled in Bowdoin College in 1830, but left in 1833 when his father died.

Elijah Parish Lovejoy, Owen's eldest brother, was a Presbyterian minister, editor of a newspaper, and an antislavery leader in Illinois. Three of his printing presses were destroyed by proslavery mobs, and Elijah was killed defending the fourth press from an attack in 1837. Owen and his brother Joseph wrote a memorial volume for Elijah, commemorating his courage in defending abolitionism and freedom of the press. This book, Memoir of the Rev. Elijah P. Lovejoy; who was murdered in defence of the liberty of the press, at Alton, Illinois, Nov. 7, 1837, became important propaganda for the antislavery movement, and made Elijah Lovejoy's name famous as a martyr for the cause.

Owen Lovejoy's commitment to abolition was influenced by his mother's strong religious convictions and solidified after his brother's death. He famously vowed that he would "never forsake the cause that has been sprinkled with my brother's blood." In 1838, advised by the Rev. Edward Beecher, he moved to Princeton, Illinois, the county seat for Bureau County, where he was appointed supply minister to Hampshire Colony Congregational Church. He remained with the church for 17 years and frequently spoke against slavery from the pulpit, honing his oratory skills.

In Princeton, Owen Lovejoy boarded with the widow Eunice Storrs Denham, whom he married in 1843, and with whom he had seven children. Eunice's first husband was Butler Denham, with whom she had three daughters. The Denhams lived on a 1300-acre farm, which was one of the principle depots on the Underground Railroad. When Eunice married Owen Lovejoy, they continued to offer the farm as a refuge for runaway slaves. In 1843, Owen was tried for harboring fugitive slaves, but was acquitted. His mother, who lived with them, was an active leader in the local women's antislavery organization.

An early organizer of the Republican Party, Owen Lovejoy was elected to the Illinois state legislature in 1854, and won a seat in Congress in 1856 as a Republican, where he served four terms. Involved with antislavery legislation, he also became an ardent supporter of Abraham Lincoln, whom he befriended in 1858. He actively campaigned for Lincoln during the presidential campaign of 1860, giving over one hundred speeches for him.

Determined to end slavery and achieve more rights for African Americans, Lovejoy vigorously supported the Civil War and the Emancipation Proclamation, although he did not live to see the passage of the Thirteenth Amendment in 1865. After his death in March 1864, Lincoln called him "the best friend I had in Congress."

Acquisition Information:

1948, 1952, 1953. M-689; M-711.2; M-897; M-957 .

Custodial History:

Gift of E. P. Lovejoy, 1948.

Processing information:

Cataloging funded by the National Historical Publications and Records Commission (NHPRC). This collection has been processed according to minimal processing procedures and may be revised, expanded, or updated in the future.

Arrangement:

The collection has been organized into the following series:

Series I: Correspondence

Sub-series I: Correspondence of Owen Lovejoy
Sub-series II: Correspondence of Elijah Parish Lovejoy, II
Sub-series III: Miscellaneous Correspondence

Series II: Butler Denham Business Papers
Series III: Diary
Series IV: Documents
Series V: Speeches and Writings

Sub-series I: Speeches and Writings by Owen Lovejoy
Sub-series II: Writings about Owen Lovejoy

Series VI: Scrapbook
Series VII: Images
Series VIII: Memorials and Commemorations
Series IX: Newspaper Clippings
Series X: Bureau County Historical Society

Rules or Conventions:

Finding aid prepared using Describing Archives: A Content Standard (DACS)
Related
Additional Descriptive Data:

Related Materials

Owen Lovejoy collection, Bureau County Historical Society, Princeton, Illinois.

Held by the Clements Library:

Lovejoy, Joseph C. and Owen. Memoir of the Rev. Elijah P. Lovejoy; who was murdered in defence of the liberty of the press, at Alton, Illinois, Nov. 7, 1837. New York: John S. Taylor, 1838.

Lovejoy, Owen. The Barbarism of Slavery. Speech of Hon. Owen Lovejoy, of Illinois, delivered in the U.S. House of representatives, April 5, 1860. Washington: Buell & Blanchard, 1860.

Lovejoy, Owen. Confiscation of rebel property. Remarks of Hon. Owen Lovejoy, of Illinois, in reply to Messrs. Crittenden and Wickliffe, of Ky., delivered in the House of representatives, April 24, 1862. Washington, D.C.: Scammell, 1862.

Bibliography

Lovejoy, Clarence E. The Lovejoy Genealogy with Biographies and History, 1460-1930. New York: The author, 1930.

Lovejoy, Owen. His Brother's Blood: Speeches and Writings, 1838-64. William F. Moore and Jane Ann Moore, eds. Urbana: University of Illinois Press, 2004.

Magdol, Edward. Owen Lovejoy, Abolitionist in Congress. New Brunswick, N.J.: Rutgers University Press, 1967.

Correspondents of Owen Lovejoy

Beecher, Edward
Benedict, S.W.
Dana, Charles Anderson
Denham, Lucy Storrs
Denham, Elizabeth S.
Denham, Mary B.
Greenleaf, E. A.
Johnson, Eliza
Lovejoy, Charles P.
Lovejoy, Daniel
Lovejoy, Elijah Parish, II
Lovejoy, Elizabeth Pattee
Lovejoy, Eunice S. D.
Lovejoy, John W. E.
Lovejoy, Joseph C.
Lovejoy, Mary
Lovejoy, Owen Glendower
Lovejoy, Sarah Moody
Lovejoy, Sybil P.
Randolph, Eliza S.
Seriter, Elizabeth Lovejoy
Smith, Abraham
Smith, Gerrit
Turner, Asa, Jr.
Ward, G. L.
Washburn, Judith
Yates, Richard
Harriet

Correspondents of Elijah Parish Lovejoy, II:

Adams, Frank L.
Barnes, Gilbert H.
Cropley, Sarah E.
DuVall, Grace B.
James, Edmund J.
Kenny, W. W.
Lovejoy, C. E.
Lovejoy, Frederick B.
Norton, W. T.
Reeve, Darlene
Steele, Richard
Weber, Jessie Palmer
Winkler, E. F.
Subjects
Click on terms below to find any related finding aids on this site.
Subjects:

Abolitionists--United States--Political activity.
Illinois--Politics and government--To 1865.
Liberty Party (U.S.)
United States--Politics and government--1849-1861.

Formats:

Checks (bank checks)
Diaries.
Indentures.
Poetry.
Printed ephemera.
Scrapbooks.
Speeches.
Speeches.
Sheet music.

Names:

Lincoln, Abraham, 1809-1865.
Lovejoy, Owen, 1811-1864.
Beecher, Edward, 1803-1895.
Denham, Butler, d. 1841.
Lovejoy family.
Lovejoy, Clarence E. (Clarence Earle), 1894-1974.
Lovejoy, Daniel, 1776-1833.
Lovejoy, Elijah P. (Elijah Parish), 1802-1837.
Lovejoy, Elijah Parish, II, b. 1850.
Lovejoy, Elizabeth Pattee, 1772-1857.
Lovejoy, John Ellingwood, 1817-1891.
Lovejoy, Joseph C. (Joseph Cammet), 1805-1871.
Lovejoy, Owen Glendower, 1846-1900.
Lovejoy, Sarah Moody.
Contents
Using These Materials
---
RESTRICTIONS:

The collection is open for research.

USE & PERMISSIONS:

Copyright status is unknown
PREFERRED CITATION:

Owen Lovejoy Papers, William L. Clements Library, The University of Michigan