Back to top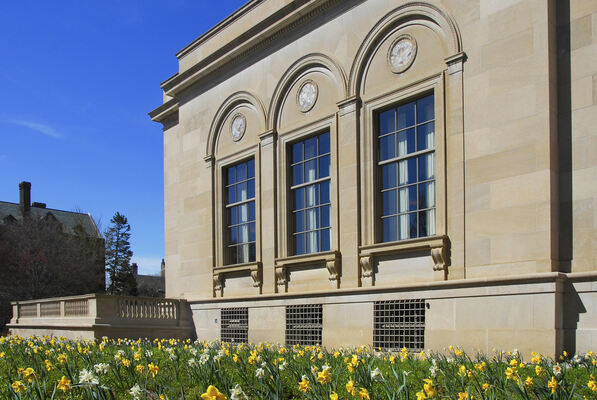 Address

:

909 South University Avenue

Ann Arbor, MI 48109, USA
Grace D. Banker collection, 1918
Using These Materials
---
Restrictions:

The collection is open for research.
Summary
Creator:

Abstract:

The Grace D. Banker collection contains letters, photographs, and newspaper clippings written by or relating to Grace D. Banker, a telephone operator who served during World War I as part of the U.S. Army Signal Corps in Europe with the American Expeditionary Forces.

Extent:

4 items

Language:

English
French

Authors:

Collection processed and finding aid created by Garrett Morton, November 2017
Background
Scope and Content:

The Grace D. Banker collection contains letters, photographs, and newspaper clippings written by or relating to Grace D. Banker, a telephone operator who served during World War I as part of the U.S. Army Signal Corps in Europe with the American Expeditionary Forces.

Banker sent two letters to Georgette Poulard, an American immigrant of French origin. On April 8, 1918, in French, Grace Banker informed her friend that she did not see any submarines on the voyage to France, described her appreciation for the French countryside, and gardens, and assured her that she did not carry a revolver as she was not in danger. On September 10, 1918, Banker wrote about the news of her father's death, the picturesque quality of her surroundings, and her current lodgings in a French home. Accompanying the letters are three empty envelopes addressed to Poulard, one containing a newspaper clipping about Banker's decoration and some plant material in a small envelope labelled "My Four and Five and six/leaf clovers/Georgette/Poulard."

The collection includes a silver gelatin portrait photograph of Grace Banker in uniform, mounted in a separated trifold photo mat. A contemporary newspaper clipping, "First Passaic Girl to join the Army," includes a newsprint reproduction of the portrait; it is pasted on the damaged mat.

Biographical / Historical:

Grace D. Banker

Grace D. Banker was born October 25, 1892, in Passaic, New Jersey, to parents Mr. and Mrs. William B. Banker. She had at least one sister and one brother (Eugene Banker). She pursued an undergraduate education at Barnard College, and after graduating in 1915 joined AT&T as a telephone switchboard instructor.

When in November 1917 the U.S. Army Signal Corps called for women fluent in French to serve as telephone operators in Europe (where her brother Eugene was serving in the Army), Banker volunteered. She was accepted and chosen to lead the first unit of "Hello Girls" as their chief telephone operator. With the 33 women under her authority, Banker sailed for Europe in March 1918, first to England and then to France.

After arriving in France, Grace Banker spent five months in Chaumont before transferring to the First Army headquarters at Ligny-en-Barrois, where she and six other operators supported the American assault on German-held St. Mihiel. A month later, the small group moved to Bar-le-Duc, where they helped provide communications for the Meuse-Argonne offensive. When an armistice brought a halt to combat operations on November 11, 1918, Banker returned to Paris, where she oversaw telephone operations for President Wilson's temporary residence.

She found Paris dull, and when given the chance chose to transfer to the Army of Occupation at Coblenz, Germany. While stationed there, she was awarded the Distinguished Service Medal, one of only 18 Signal Corps members to receive the commendation. In September of 1919, after 20 months of service, Banker received her discharge and returned home to the United States.

After the war, she married and had four children. Like the other telephone operators who served with the Signal Corps, Banker was not considered by the Army to have served as a soldier, but merely a civilian under contract, making her ineligible for veteran status or benefits (despite receiving the Distinguished Service Medal). She died in Scarsdale, New York, on December 17, 1960, 17 years before the Army eventually accorded her and the other female telephone operators the status of Army veteran.

The "Hello Girls" of the U.S. Army Signal Corps

In the early months of United States involvement in World War I, General John J. Pershing, commander of the American Expeditionary Forces (AEF), was frustrated by the French telephone network (less extensive than the American one even before wartime damage) and the inexperience of its operators. In November 1917, Pershing requested that the U.S. Army Signal Corps, responsible for the maintenance of communications, recruit skilled female American telephone operators (switchboard operation was an overwhelmingly female occupation) fluent in French to operate the AEF's telephone network.

The Signal Corps responded quickly, putting out a call for women to volunteer to serve with the Army in France and working with AT&T to provide training courses for volunteers with less telephone experience. By early 1918, 7,600 applications had been received of which 150 were selected for special training and 400 were retained for potential future training. By the end of the war, 450 women had undergone this training, of whom 223 had been sent abroad.

The first unit of these operators, led by Grace Banker, sailed for Europe in March of 1918, the first of what would eventually be six units sent overseas. The Hello Girls, as they came to be known, worked in varied locations in varied environments, from ad-hoc facilities only several miles from the front lines to the sheltered communications hub in Tours. The communications enabled by these expert operators was instrumental in the prosecution of the St. Mihiel and Meuse-Argonne offensives, and the mere presence of American women had a decidedly positive impact on troop morale. While most returned home after the end of the war, some remained into 1919 with the occupational army in the Rhineland.

Upon returning home from the war, where they had worn uniforms, been under Army authority and discipline, and been privy to highly sensitive military information, the Hello Girls discovered that they were considered neither soldiers nor veterans. In the eyes of the U.S. Army, they had been civilian "contract employees," despite having never signed nor been offered contracts of employment. They were not, the Army told them, eligible for veterans' benefits or recognitions.

In the decades that followed the war, a number of Hello Girls campaigned vigorously for recognition of their service in France, most prominent among them Merle Egan Anderson. Military leadership and Congress stubbornly resisted their efforts. Over fifty bills granting them veteran status were rejected in Congress before one eventually passed in 1977. Even so, another two years passed before this provision of the G.I. Bill Improvement Act of 1977 was implemented. Only 18 of the 223 Hello Girls were still alive.

Acquisition Information:

2017. M-6070.3 .

Arrangement:

The Grace D. Banker collection is arranged chronologically, with one undated item at the end.

Rules or Conventions:

Finding aid prepared using Describing Archives: A Content Standard (DACS)
Related
Additional Descriptive Data:

Bibliography

Cobbs, Elizabeth. The Hello Girls: America's First Women Soldiers. Cambridge, MA: Harvard University Press, 2017.

Gavin, Lettie. American Women in World War I: They Also Served. Niwot: University Press of Colorado, 1997.

Rauch, Steven J. "Banker, Grace (1892-1960)" in Military Communications: From Ancient Times to the 21st Century, edited by Christopher H. Sterling, 54-5. Santa Barbara, CA: ABC-CLIO, 2008.
Subjects
Click on terms below to find any related finding aids on this site.
Contents
Using These Materials
---
RESTRICTIONS:

The collection is open for research.

USE & PERMISSIONS:

Copyright status is unknown
PREFERRED CITATION:

Grace D. Banker Collection, William L. Clements Library, The University of Michigan