Back to top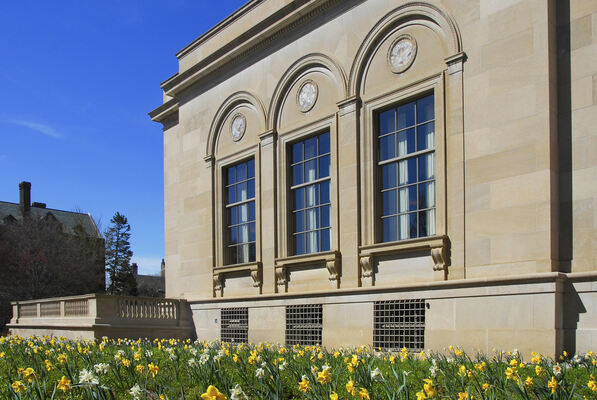 Address

:

909 South University Avenue

Ann Arbor, MI 48109, USA
Charles Garth letterbook, 1758-1760, 1762-1766
Using These Materials
---
Restrictions:

The collection is open for research.
Summary
Creator:

Abstract:

The Charles Garth letterbook contains letters from Sir James Wright, South Carolina's agent to parliament from 1758-1760, and letters from Charles Garth, South Carolina's agent to parliament from 1762 through 1766.

Extent:

358 pages

Language:

English

Authors:

Collection processed and finding aid created by Philip Heslip, June 2010
Background
Scope and Content:

The Charles Garth letterbook (358 pages and 6 blank pages) contains 20 pages of copied letters from Sir James Wright, South Carolina's agent to parliament from 1758-1760, and 336 pages of copied letters from Charles Garth, South Carolina's agent to parliament from 1762 through 1766.

The volume begins with 12 letters from Sir James Wright, addressed to members of parliament, commissioner of the treasury, and the lord high admiral of Great Britain. These largely relate to trade policies between South Carolina, England, and Europe. Wright discussed the trade of rice, salt, and hemp; he was also concerned with debts incurred during the French and Indian War between Virginia, North Carolina, and South Carolina, from1754 to 1758. Of note is a petition to the British treasury, in which Wright described South Carolina's interactions with the Cherokee, Creeks, and Chickasaws, all of whom expected expensive presents in order to maintain peaceful relations (pages 5 verso-6 verso).

Charles Garth is the letterbook's primary author, contributing letters spanning from May 19, 1762, (when he was appointed South Carolina agent) to March 10, 1766. As agent, Garth's primary focus was on commercial matters, particularly concerning trade between South Carolina, England, and Europe. He communicated frequently with the British parliament, the commissioners of the treasury, the Commons House of Assembly of South Carolina, as well as other colonial agents and independent merchants.

Garth discussed commercial matters in depth, including regulations for imports and exports, such as exporting rice and indigo to England, and importing salt from Spain and Portugal. He also discussed taxes and financial matters: he debated the share of taxes that South Carolina needed to pay for the war with France, and, particularly in 1764, he debated questions concerning paper money value manipulation and South Carolina's right to control its monetary policies. Garth repeatedly attempted, without success, to secure public funds from the Grenville administration. Other important matters include ongoing border disputes with Georgia and North Carolina, and efforts to attract immigration from Ireland, England, Scotland, and Hamburg to the province.

Many of the entries from 1764 and 1765 concern the decision to enact the rights and privileges of the colonies. Garth argued against the burden of internal taxes, imposed by England on South Carolina, such as the Stamp Act. In one petition to Parliament, Garth listed the South Carolinian's many disadvantages: "Their situation is dangerous & at the same time weak, surrounded by numerous Tribes of Indians from without, & exposed & lyable to the Insurrection of their own Slaves from within, their climate hot & unhealthy, such inclement seasons to Struggle withal..." (pages 150 verso-151). He constantly advocated for colonial rights over parliament's control over financial matters.

Items of note include:

A "Report on Petition relating to the Exportation of Rice from Carolina" with testimonies from James Crockatt, William Middleton (a planter), James Gordon, and Georgia agent William Knox, arguing that Carolina should be able to trade rice freely with Madeira. The report states that "the general Exports are Rice, Indigo, Deer Skins, Naval Stores, & some slaves: the Deer Skins are purchased from the Indians" (56-57 verso). This entry is followed with a copy of an act that encouraged Carolina's production of indigo, and indigo export accounts for 1756-1762 (pages 58-59).
A lengthy plea to the Earl of Egremont to let South Carolina, not Georgia, annex land south of the Altamaha River, July 5, 1763 (pages 64 verso to 67 verso).
Communications with Baron Jeffery Amherst, including a return of troops per colony that were furnished with pay and clothes, and the actual number of troops raised per colony in 1761 (page 69).
Premiums for exporting wine, olive trees, raisins, sarsaparilla, barilla, hemp, silk, cinnamon trees, cochineal (red dye), and sturgeon to England (pages 89-90 verso).
An itemized account of the monies "received and disbursed" by Garth in 1763 and 1764 (pages 138-141 verso).
A report To the Committee of Correspondence: Against the sugar act, February 17, 1765 (pages 149 verso-150).

Biographical / Historical:

Charles Garth (ca.1734-1784) was born to Rebecca Brompton and John Garth, in Devizes, England. He was educated at Merton College, Oxford, and was called into the bar at Inner Temple in 1758. Garth was the British agent for South Carolina (1762-1766) and also briefly represented Georgia (1765) and Maryland (1767). During his time as parliamentary agent, Garth argued, on behalf of the colony, for broader trading freedoms (specifically for exporting rice), for greater control over domestic paper currency, and against the Stamp Act and the Sugar Act. Garth succeeded his father as M.P. for Devizes and was elected to parliament in 1768, 1774, and 1780, though he left parliament to become the HM Commissioner for Excise shortly after the 1780 election. Garth married Francis "Fanny" Cooper of Cumberwell in 1764. They had at least one child named Thomas, who joined the Royal Navy. Charles Garth died in Walthamstow, England, in 1784.

Sir James Wright (1716-1785) was born in London, England, to Robert Wright and Isabella Pitts. His family moved to Charlestown, South Carolina, in 1730, where Wright studied law. In 1739, Wright became the colony's attorney-general. In 1757, he was sent to London to serve as South Carolina's agent to parliament, a position he held until 1760, at which time he replaced Henry Ellis as lieutenant-governor of Georgia. He became governor of Georgia in 1761, and served in that position for 21 years. During the Revolutionary War, Wright was forced to return to England. He died in London in 1785.

Acquisition Information:

1991. M-4379 .

Processing information:

Cataloging funded by the National Endowment for the Humanities (NEH) and the "We the People" project.

Rules or Conventions:

Finding aid prepared using Describing Archives: A Content Standard (DACS)
Related
Additional Descriptive Data:

Related Materials

The Clements Library's William Petty, Lord Shelburne papers contain two letters concerning Garth dated June 3, 1763, and July 11, 1767.

The New York Public Library and the South Carolina Historical Society hold small collections of Garth papers.

Bibliography

Portions of the Garth letterbook have been published in the following journals:

The following item, also held at the Clements Library, is related to Garth: A Representation of Facts, Relative to the Conduct of Daniel Moore, Esquire; Collector of His Majesty's Customs At Charles-Town, In South-Carolina: From the Time of His Arrival In March, 1767, to the Time of His Departure In September Following. Transmitted by the Merchants of Charles-town, to Charles Garth, Esquire, In London, Agent for the Province of South-Carolina; And, Recommended In a Letter From the Honourable the Committee of Correspondence. Charles-Town, South Carolina: Printed by Charles Crouch, at his printing office in Elliott-street, 1767.

Cashin, Edward J. "Wright, Sir James, first baronet (1716-1785)." Oxford Dictionary of National Biography, Oxford: Oxford University Press, 2004.
Subjects
Click on terms below to find any related finding aids on this site.
Subjects:

Formats:

Names:

Places:
Contents
Using These Materials
---
RESTRICTIONS:

The collection is open for research.

USE & PERMISSIONS:

Copyright status is unknown
PREFERRED CITATION:

Charles Garth Letterbook, William L. Clements Library, The University of Michigan