Back to top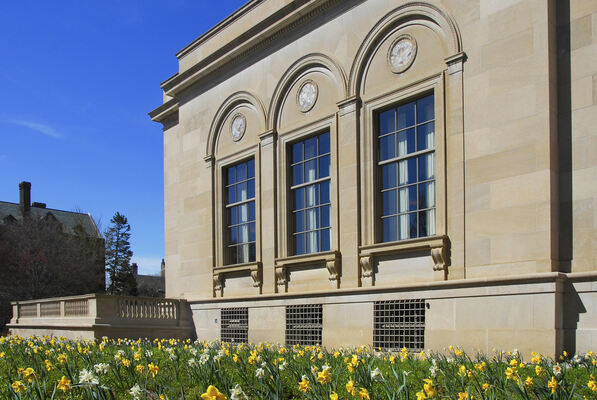 Address

:

909 South University Avenue

Ann Arbor, MI 48109, USA
Henry A. S. Dearborn collection, 1801-1850 (majority within 1814-1850)
Using These Materials
---
Restrictions:

The collection is open for research.
Summary
Creator:

Abstract:

The Henry A. S. Dearborn collection (176 items) contains the correspondence of the Massachusetts politician and author Henry Alexander Scammell Dearborn, son of the Revolutionary War General, Henry Dearborn. The papers largely document his career as the collector of the Boston Customs House and include letters from prominent government officials in Boston, New York, and Washington, D.C. The papers also include 16 speeches, orations, and documents pertinent to Dearborn's horticultural interests, Grecian architecture, politics, and other subjects.

Extent:

176 items

Language:

English

Authors:

Collection processed and finding aid created by Philip Heslip, April 2010
Background
Scope and Content:

The Henry A. S. Dearborn collection contains correspondence (160 items) and speeches, reports, and documents (16 items) of the Massachusetts politician, and author, Henry Alexander Scammell Dearborn. The bulk of the Correspondence Series documents Dearborn's career as the collector at the Boston Customs House. Dearborn corresponded with government officials in Boston, New York, and Washington D.C. These letters largely concern his management of the customs department and political matters. Of particular interest are 22 letters from the French émigré, Louis Dampus, which constitute a case history of customs problems (May to November 1814). Most of these are in French. Also of interest are 11 letters between Dearborn and Thomas Aspinwall, United States consul to London. They discussed exchanging political favors, purchasing books in London, and, in the July 11, 1817 letter, President James Monroe's tour of New England and the North West Territory.

Other notable letters to Dearborn include those written by the following people:

James Leander Cathcart, United States diplomat, on the state of commerce on the Black Sea and his career as a diplomat with the Ottomans (June 8 and 12, 1818).
Fiction writer and scholar William S. Cardell, regarding his election as member of American Academy of Language and Belles Lettres (October 30, 1821).
Colonel Nathan Towson, paymaster general of the United States, on John C. Calhoun's political fortunes as a presidential candidate and the political ramifications of raising taxes (December 22, 1821).
Harvard University Overseer and Massachusetts Senator, Harrison Gray Otis, on "St. Domingo's" (Hispaniola) terrain, agriculture, export potential, its white and black populations, and its importance, as a trade partner, to the French. Otis supported bolstering the United States' trade relationship with the island (January 17, 1823).
Nathaniel Austin, regarding an enclosed sketch of "Mr. Sullivan's land," located near Charlestown, Massachusetts (April 13, 1825).
Federalist pamphlet writer, John Lowell, about his illness that him unable to contribute to [Massachusetts Agricultural Society] meetings (June 5, 1825).
Massachusetts Senator, James Lloyd, concerning funding the building of light houses in the harbor at Ipswich, Massachusetts (April 11, 1826).
H. A. S. Dearborn to state senator and later Massachusetts governor, Emory Washburn, regarding the American aristocracy. He accused the Jackson administration of putting "the Union in jeopardy," and dishonoring the Republic with an "unprincipled, ignorant and imbecile administration" (May 22, 1831). Dearborn also summarized many of his ideas on the political and social state of the Union.
Abraham Eustis, commander of the school for Artillery Practice at Fort Monroe, commenting that the "dissolution of the Union is almost inevitable. Unless you in Congress adopt some very decided measures to counteract the federal doctrines of the Proclamation, Virginia will array herself by the side of South Carolina, & then the other southern States join at once" (December 27, 1832).
The botanist John Lewis Russell, about a charity request for support of the Norfolk Agricultural Society (February 6, 1850).

The collection contains several personal letters from family members, including three from Dearborn's mother, Sarah Bowdoin Dearborn, while she was in Lisbon, Portugal (January 29 and 30, 1823, and January 27, 1824); two letters from his father, General Henry Dearborn (May 25, 1814, and undated); and one from his nephew William F. Hobart (November 8, 1822).

The collection's Speeches, Reports, and Documents Series includes 15 of Henry A. S. Dearborn's orations, city or society reports, and a copy of the Revolutionary War roll of Col. John Glover's 21st Regiment. Most of them were not published in Dearborn's lifetime. The topics of these works include the art of printing (1803), Independence Day (4th of July, 1808 and 1831), discussion about the establishment of Mount Auburn Cemetery (1830), education, religion, horticulture, Whig politics, and the state of the country. See the box and folder listing below for more details about each item in this series.

Biographical / Historical:

Henry Alexander Scammell Dearborn (1783-1851) was born to Dorcas Osgood and Henry Dearborn, the famous Revolutionary War figure and Secretary of War under Jefferson. He graduated from William & Mary in 1803 and practiced law in Salem, Massachusetts. In 1806, he was appointed superintendant of new fort construction in Portland, Maine. During the War of 1812, Dearborn served as brigadier general of the local militia, and served as collector of customs in Boston until his removal in 1829, during the Jackson administration. He held several offices in local government, such as state representative from Roxbury, member of the Governor's Council, and delegate to the state constitutional convention, and served one term in the U. S. House of Representatives (1831-1832). Dearborn was appointed adjutant general of Massachusetts from 1834 to 1843, and was elected mayor of Roxbury, Massachusetts, in 1847, a position he held until his death in 1851. In addition to his political pursuits, Dearborn was president of the Massachusetts Horticultural Society, and was the author of several books. He died in Portland, Maine, in 1851.

Acquisition Information:

1942-2023. M-436, M-462, M-618, M-1027, M-1126, M-1383, M-1626, M-1888, M-1910, M-2012, M-2662m, M-2701a, M-4758.5, M-7344, M-7819.3 .

Processing information:

Cataloging partially funded by the National Endowment for the Humanities (NEH) and the "We the People" project.

Arrangement:

The collection is arranged in two chronological series:

Correspondence
Speeches, Reports, and Documents

Rules or Conventions:

Finding aid prepared using Describing Archives: A Content Standard (DACS)
Related
Additional Descriptive Data:

Related Materials

The following Clements Library collections contain material related to Henry A. S. Dearborn (1783-1851):

Appleton-Aiken papers: 8 letters from Sarah Bowdoin Dearborn to Elizabeth Appleton: July 8, 1812 to December 3, 1819.
Loammi Baldwin papers: 48 letters from Dearborn.
Book Collectors collection: a letter from John Gorham Palfrey to Dearborn: December 27, 1830.
Benjamin Bussey papers: 3 letters from Dearborn to Bussey: April 14, 1819; April 14, 19, 1828; and December 27, 1847.
Lewis Cass papers: a letter from Cass to Dearborn: April 12, 1833.
Letters, Documents, & Other Manuscripts, Duane Norman Diedrich Collection: a letter from Henry Dearborn to his son, Henry A. S. Dearborn: March 15, 1807.
Charles Morris papers: two letter from Morris to Dearborn, April 16, 1813; May 28, 1834.
The Winfield Scott papers: 3 letters from Scott to Dearborn: August 20, 1822; December 27, 1840; and March 20, 1843.
The Joseph Story papers: 9 letters from Dearborn.
The War of 1812 collection: 8 letters from Henry Dearborn including one addressed to his son Henry A. S. Dearborn: July 14, 1806; April 19, 1808; October 20, 1808; September 5 and 28, 1812; July 11, 13, 1813; December 23, 1814.

The Clements Library also has collections with material related to General Henry Dearborn (1751-1829):

Bloomfield-Pike letterbook contains copies of letters sent to Major General Henry Dearborn.
David Harris collection: Thomas Tinger to Major General Henry Dearborn, January 10, 1813
The James Taylor papers include 4 letters written to Henry Dearborn.
Hubert S. Smith Naval collection: 3 letters from Major General Henry Dearborn to William Bainbridge (December 23, 1824, October 30, 1826, and August 15, 1831).

Bibliography

The following items speeches and books, written by Henry A. S. Dearborn, are held at the Clements Library:

Putnam, G. An address, delivered before the city government and citizens of Roxbury: on the life and characters of the late Henry A.S. Dearborn, mayor of the city. September 3d, 1851. Roxbury: Norfolk county journal press. Thomas Prince, 1851.
Contents
Using These Materials
---
RESTRICTIONS:

The collection is open for research.

USE & PERMISSIONS:

Copyright status is unknown
PREFERRED CITATION:

Henry A. S. Dearborn Collection, William L. Clements Library, The University of Michigan