Back to top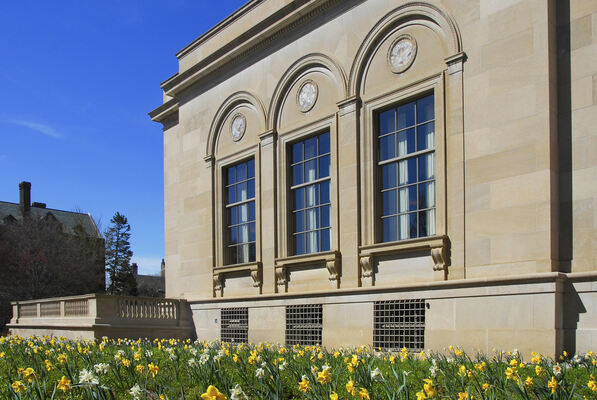 Address

:

909 South University Avenue

Ann Arbor, MI 48109, USA
Binney family papers, 1809-1894
Using These Materials
---
Restrictions:

The collection is open for research.
Summary
Creator:

Abstract:

The Binney family papers, compiled by Boston real estate agent Amos Binney in the late 1800s, contain correspondence, documents, newspapers, and photographs related to his ancestors John Binney, Amos Binney, and Horace Binney, Jr. John and Amos Binney served in the War of 1812, and Horace was a lawyer in Philadelphia. The collection also includes a published copy of Genealogy of the Binney Family in the United States, with manuscript annotations and enclosures.

Extent:

57 items

Language:

English

Authors:

Collection processed and finding aid created by Meg Hixon, November 2011
Background
Scope and Content:

Amos Binney, a Boston real estate agent, compiled the Binney papers (57 items) in the late 1800s. They include correspondence, documents, newspapers, and photographs related to his ancestors John Binney, Amos Binney, and Horace Binney, Jr.

The Correspondence and Documents series, originally housed in a red leather file folder, consists of several thematically distinct groups of material. The first is a series of six letters that Captain John Binney wrote to his brother Amos between 1809 and 1811, about his military service near Wiscasset, Maine. He defended his honor against recent defamations, discussed supplies for the forts under his command, and commented on the international tension immediately preceding the War of 1812. This group also includes an indenture for land Binney purchased in Plymouth County, Massachusetts (October 18, 1813).

The next group of items is a pair of legal documents concerning Horace Binney, Jr., and a transaction involving land in Philadelphia, Pennsylvania. The documents list payments made between 1844 and 1852. The third group is a set of three letters between the younger Amos Binney and the United States auditor of the treasury concerning the Binney family genealogy. Binney requested information about Amos and John, his ancestors (particularly their military service), and received responses from Samuel Blackwell (August 18, 1894) and F. M. Ramsay (September 5, 1894). The series also holds an undated letter written by John A. Binney and a map showing property bordered by North, East, Bridge, and Short Streets in an unknown town.

The Newspapers series consists of the following items, each related to the elder Amos Binney:

Nonconsecutive issues of the Boston Castigator, bound together (August 7, 1822-October 2, 1822)
The Independent Bostonian (October 5, 1822)
American Statesman and Evening Advertiser, with several additional clippings pertaining to Amos Binney's service as navy agent in Boston (November 18, 1822)
Bostonian & Mechanics' Journal (November 23, 1822)
Boston Patriot & Daily Mercantile Advertiser (November 25, 1824)

The third series is a printed, annotated copy of Genealogy of the Binney Family in the United States , which includes enclosures compiled by the younger Amos Binney in the 1890s. Several entries, such as those on Amos and John Binney, have margin notes. The annotations and loose items provide additional information on the family's history, and include family trees, letters between the younger Amos Binney and his uncle, and photographs of Binney family residences and graves.

Biographical / Historical:

Amos Binney was born in Hull, Massachusetts, on April 15, 1778, and was a descendant of Mayflower passenger Constance Hopkins. He served as lieutenant colonel in the 1st Massachusetts Militia Regiment in the early years of the 19th century, and as navy agent for the port of Boston from January 23, 1812, to May 6, 1826. He married Hannah Dolliver (1779-1847) on February 21, 1799, and they had 11 children, of whom 5 survived to maturity. He died in Boston on January 11, 1833.

John Binney, Amos's brother, was born on February 23, 1780. From December 12, 1808, to April 30, 1814, he served as a captain in the 4th United States Infantry Regiment, and commanded several posts near Wiscasset, Maine. He later moved to Boston, where he became a merchant. His first wife, Sarah Ann Callendar, died in 1814, and he married Judith Cooper Russell in 1818. He had five surviving children with Sarah and four surviving children with Judith. He died on April 16, 1838.

Horace Binney, Jr., was born in Philadelphia on January 21, 1809, and was distantly related to Amos and John Binney. He attended Yale College between 1824 and 1828. Following his graduation, he returned to Philadelphia, where he became a prominent lawyer. He served as the president of the Sanitary Commission and Union League during the Civil War. He and his wife, Eliza Frances Johnson, had seven children. He died on February 3, 1870.

The younger Amos Binney, also a distant relative, was born in Massachusetts in September 1857, and worked as a real estate agent. He and his wife Julia lived in Boston until at least 1900.

Acquisition Information:

2004. M-4362 .

Processing information:

Cataloging funded by the National Historical Publications and Records Commission (NHPRC). This collection has been processed according to minimal processing procedures and may be revised, expanded, or updated in the future.

Arrangement:

The collection is arranged in the following series:

Series I: Correspondence and Documents
Series II: Newspapers
Series III: Genealogy of the Binney Family in the United States

The first two series are arranged chronologically.

Rules or Conventions:

Finding aid prepared using Describing Archives: A Content Standard (DACS)
Related
Additional Descriptive Data:

Related Materials

Amos Binney (1778-1833) contributed to the following collections and volumes:

Bibliography

Binney, Charles J. F. Genealogy of the Binney Family in the United States. Albany, N. Y.: Joel Munsell's Sons, 1886.
Subjects
Click on terms below to find any related finding aids on this site.
Subjects:

Formats:

Names:

Places:
Contents
Using These Materials
---
RESTRICTIONS:

The collection is open for research.

USE & PERMISSIONS:

Copyright status is unknown
PREFERRED CITATION:

Binney Family Papers, William L. Clements Library, The University of Michigan