Back to top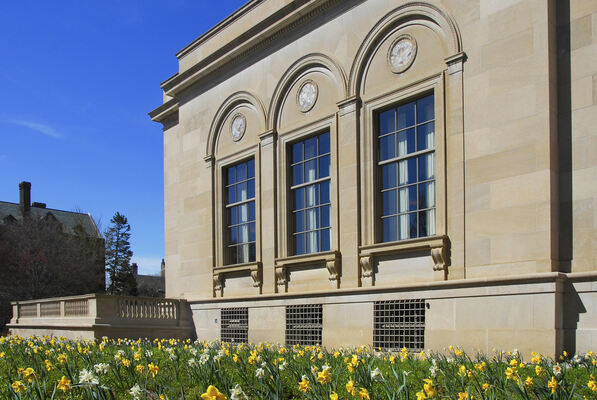 Address

:

909 South University Avenue

Ann Arbor, MI 48109, USA
Green Clay collection, 1753-1818 (majority within 1813)
Using These Materials
---
Restrictions:

The collection is open for research.
Summary
Creator:

Abstract:

The Green Clay collection contains letters and administrative documents related to the Kentucky militia under General Green Clay in the War of 1812. Included are letters and orders from General Samuel South, Colonel William Dudley, and Lewis Cass.

Extent:

45 items

Language:

English

Authors:

Collection processed and finding aid created by Philip Heslip, February 2010
Background
Scope and Content:

The Green Clay collection (45 items) contains letters and administrative documents related to the Kentucky militia under General Green Clay during the War of 1812. The collection consists of 20 letters, 8 military orders, 9 military documents (such as muster rolls, supplies and baggage disbursement, disciplinary actions, and receipts), 7 legal and financial documents, and 1 map.

The bulk of the collection consists of letters and orders documenting administrative decisions related to Clay's Kentucky militia. Several items are letters between Clay and General Samuel South (1767-1833), who lead the Kentucky Mounted Volunteers during the War of 1812. Clay also communicated orders to Colonel William Dudley, commander of the 13th regiment of the Kentucky Militia. These discuss raising and managing the militia, and relaying information on supplies and concerns over baggage train logistics, such as letters from the Brigade Quarter Master David Trimble and Colonel William E. Boswell (April 17, 1813 and April 20, 1813 respectively). An undated item describes the clothing supplies for 2000 militiamen. Three items concern military disciplinary actions. The first is a court martial summons for Lieutenant John Henderson of Captain Cushing's artillery company, who was accused of behavior unbecoming of an officer (August 1, 1813). The other two are letters discuss the court martial charges of John McCurtry for desertion. In the letter from November 10, 1814, John's brother, Joseph McMurtry, explains to General Clay that an injury kept John from marching with the militia to Ohio, and in the letter from June 16, 1815, Joseph McMurtry argues that the desertion charges were politically motivated. Another notable item is Clay's letter resigning from the 2nd Division of the Kentucky Militia, in order "to give place to younger men, more capable to bear the fateagues of a campaign in distant Regions" (June 14, 1814).

In addition to letters and orders, the collection holds 6 muster rolls that document the 10th and 13th Kentucky regiments. These items contain officer lists, dates of commissions, general remarks, and basic data on sick leave and discharges.

The map is of Jersey Field in Montgomery County, New York, and is entitled: Patent dated April 12th 1770 deed of partition of 94,000 acres of land on the north side of the Mohawk River in the county of Tryon. This item is located in the Clements Library Map Division.

The collection also contains six documents that are not related to the Kentucky militia or the War of 1812, including letters regarding payments of debts, transfers of land deeds, and a testimony in a land dispute between James Hendricks and Green Clay (April 16, 1807). Another notable item is a letter from Lewis Cass, governor of the Michigan Territory, discussing the return of a man named Tanner after his capture by Native Americans (September 30, 1818).

Biographical / Historical:

Green Clay (1757-1828) was a militia general, a wealthy Kentucky landowner, and the father of abolitionist Cassius Clay. Born in Powhatan County, Virginia, Clay trained as a surveyor and explored Kentucky as a member of a surveying team from 1777 to 1780, at which time he became deputy surveyor of Lincoln County, Kentucky, for the state of Virginia. His first military experience was as a militia lieutenant for George Rogers Clark's 1782 expedition against the Shawnee Indians in Ohio. He became justice of the peace and a commander of the militia in Madison County, Kentucky, in 1785.

Clay represented Madison County in the Virginia House of Delegates in 1788-1789 and, as a participant in the state's constitutional ratifying committee, voted against approving the document. After Kentucky became a state, Clay represented Madison County in the Kentucky House of Representatives from 1793-94, and in the State Senate from 1795-1798 and 1802-1808. He was Kentucky speaker of the Senate from 1807-1808 and left state politics after losing the governor's race in 1808.

During the War of 1812, Clay was commissioned major general in charge of a contingent of Kentucky militia in support of Commander William Henry Harrison's forces in Ohio. On May 5, 1813, Clay and his militia came to the aid of Harrison's beleaguered troops at Fort Meigs, which was under siege by British and Native American forces. The enemy retreated on May 9th, and Clay took command of Fort Meigs until the end of his enlistment.

Clay was one of the richest men in Kentucky; he owned vast tracts of land in the state and had investments in farming, a Tennessee resort in Estill Springs, warehouses, 2 distilleries, and several taverns where he sold bourbon whiskey. In 1795, Clay married Sarah (Sallie) Ann Lewis; they had six children, including the anti-slavery politician, Kentucky congressman, and Russian diplomat, Cassius Marcellus Clay (1810-1903).

Acquisition Information:

1941-1997. M-421; M-1164g; M-2209; M-2935; M-3259.4; M-3413 .

Processing information:

Cataloging funded by the National Endowment for the Humanities (NEH) and the "We the People" project.

Arrangement:

This collection is organized chronologically with undated items at the end.

Rules or Conventions:

Finding aid prepared using Describing Archives: A Content Standard (DACS)
Related
Additional Descriptive Data:

Alternate Locations

The following map is housed in the Clements Library Map Division: A Map of Jersey Field

Related Materials

Combs, Leslie. Col. Wm. Dudley's defeat opposite Fort Meigs: May 5th, 1813. Official report from Captain Leslie Combs to General Green Clay. Cincinnati: Printed for William Dodge [by] Spiller & Gates, 1869.

Greene, David C. White Hall state shrine, home of General Green Clay and his son General Cassius Marcellus Clay. Richmond, Ky.: the author, 1972.

The Clements Library's Forgeries Collection holds one related item: Simon Kenton to Green Clay, November 30, 1810

The Clements Library's Christopher Van Deventer papers hold several copies of orders by Green Clay, March 19, April 5, 9, 12, 17 (2), 21, 1813

Bibliography

Ward, Harry M. "Clay, Green." American National Biography Online. Oxford: Oxford University Press, 2000.

Partial Subject Index

Bradley, Andrew.
Courts-martial and courts of inquiry.
Deeds-Land Titles.
Ellis, L.M.
Communications, military – equipment and supplies.

1813, April 17
1813, April 20

Kentucky Militia--War of 1812--Campaigns--Regulations.

1808, November 29
1813, February 16 (rough draft)
1813 February 19 (final draft)

Hamilton, Major.
Hamilton, Otho.
Hawkins, Thomas. L.
Hollins, A. W.
Howard, Samuel.
Key, James.
Logan, William.
Map.
McMurtry, Joseph.

1814, November 10
1815, June 16

Mountjoy, Thomas.

1813, June 21
1813, July 5

Muster Reports.

1813, April 13
1813, April 26
1813, April 29
1813 May 8
1813 September 10
1813, April 20
1816, April 1
n.d.
n.d.

Perkins, Col.
Pierce, Benjamin.
Requisition, Military.
Smith, Hubbard.
Therbrook, Lt. General.
Writ of Debt.
Subjects
Click on terms below to find any related finding aids on this site.
Subjects:

Formats:

Names:

Places:
Contents
Using These Materials
---
RESTRICTIONS:

The collection is open for research.

USE & PERMISSIONS:

Copyright status is unknown
PREFERRED CITATION:

Green Clay Collection, William L. Clements Library, The University of Michigan