Back to top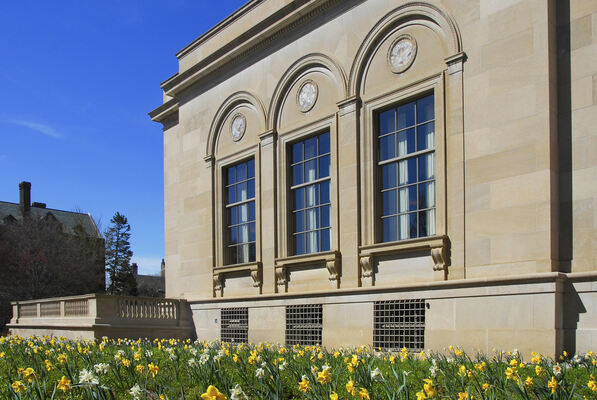 Address

:

909 South University Avenue

Ann Arbor, MI 48109, USA
Tyler family papers, 1735-1888
Using These Materials
---
Restrictions:

The collection is open for research.
Summary
Creator:

Abstract:

The Tyler family papers contain correspondence, documents, and writings relating to four generations of the Tyler family, who were Quakers and tanners in Salem, New Jersey, and Philadelphia, Pennsylvania.

Extent:

1.25 linear feet

Language:

English

Authors:

Collection processed and finding aid created by Shannon Wait, June 2010
Background
Scope and Content:

The Tyler family papers contain 877 items, arranged into the following series: Correspondence; Documents and Financial Records; School Papers; Poetry, Notes and Other Writings; and Printed Items. Items in the collection span 1735-1888.

The Correspondence series consists of 235 letters to and from four generations of the Tyler family of New Jersey and Pennsylvania, covering 1748-1888. Much of the earliest correspondence is business-oriented and relates to Samuel and William Tyler's tannery and the sale of leather. Thomas Barnes, a frequent client and associate, wrote approximately 15 of the letters, which provide details on prices and the arrangement of transactions. Other early correspondence of the period relates to the activities of family members and neighbors, including a letter from Noah Bowson, an immigrant to Nova Scotia, who described his experiences there and recommended that the Tylers join him because of a leather shortage and favorable prices, (September 15, 1767).

Most letters between the 1790s and 1825 are the incoming correspondence of William and Catharine Tyler, primarily from family members. Letters tend to be fairly personal in nature, describing family news, religious thoughts, and health. During this period, Catharine and her sister, Ann Low, exchanged a series of letters, several of which included original poetry. Another sister, Hannah Gillespie, was also a frequent correspondent, and provided ongoing details about a "malignant fever" epidemic in Philadelphia in 1820, during which she considered seeking asylum in New Jersey. She described medical treatments, including "Jamestown weed" and blistering of the chest (August 14, 1821), as well as a strange incident regarding the autopsy of a friend who was pregnant with a "perfect Made child" that many believed she had carried for 14 to 17 years (June 11, 1820). Catharine's nephew, Joseph Elkinton, also wrote a letter, dated August 3, 1817, concerning his work teaching Native American children in Tunesassa, Pennsylvania.

In the mid 1820s, the focus of the collection shifts to Dorothea Hoskins and her future husband, John Mason Tyler, whom she would marry in 1832. Both received many letters from friends and relatives, revealing details about their social circle and families. Barclay Smith, an inmate at Friends Asylum in Philadelphia wrote two letters to Dorothea in 1823, informing her of the number of patients there and of his activities. A few letters relate to business matters; like his father and grandfather, John worked as a tanner. Beginning in the 1840s, John and Dorothea's children, William Graham Tyler and Catharine Low Tyler, contributed much of the collection's correspondence. In 1856-1857, William wrote a number of letters from Haverford College, describing his studies, classmates, and improvements made to the campus and buildings. Upon graduating, he expressed feeling torn between farming and pursuing a more intellectual career (December 13, 1857), and was chided by his father for his "indifference" toward agriculture (January 14, 1859). During the Civil War, William volunteered for a non-combatant role, working in the commissary at Hampton Hospital. He wrote several letters to his family during this period, and received many from his father, who shared his interest in contrabands, and gave information on friends involved in the war. The 11 post-war letters are primarily addressed to William, and contain updates on college friends and family members.

The Documents and Financial Records series spans 1735-1792, and contains seven subseries. The Salem County, New Jersey, Documents shed light on Samuel Tyler's work and duties as a constable in Salem, New Jersey, in the late 18th century. The William Richmond Estate Documents and James Tyler, Jr., Estate Documents record the dispersal of these estates between 1773 and 1799. The John Vanculin Accounts document transactions for groceries and other goods, 1786-1788. The Dorothea (Hoskins) Tyler Receipts record four of her purchases in 1832. The Other Legal Records subseries contains land indentures; a 1740 power of attorney document; a 1760 marriage certificate signed by 34 witnesses; and several apprentice indentures, relating to various members of the Tyler family. The Other Financial Records subseries, 1735-1881, includes a 1735 bill of lading for a ship called the Monmouth Hope; numerous receipts relating to the tanning business; records of debts; bills for laying pipes and for water from the Schuylkill River (1827); and other miscellaneous items.

The School Papers series, spanning 1765-1856, contains copybooks, an 1848 report card for Catharine Tyler, and an examination schedule and report card for William Graham Tyler at Haverford College, 1855-1856. Undated items include school essays on government, history, philosophy and metaphysics, and the classics. One essay, entitled "The cause of the extinction of the aborigines of this country," and likely written by William Graham Tyler, blames injustice, disease, and rum for the demise of Native Americans.

The Poetry, Notes and Other Writings series contains 31 items, all undated, and mainly unattributed, on a number of topics. The poetry includes a piece called "On Sugar," which characterizes sugar as "Steep'd in a thousand Negroes tears" and criticizes its use. Other poems include "On Marriage," "To Health," "On the Choice of a Wife," and several sentimental poems addressed to family members. The writings and notes comprise several religious musings, a genealogical essay, and instructions on how to "stop holes in iron."

The six items in the Printed Items series include several poems, clippings, and fliers, and other miscellaneous items, 1765-1880.

Biographical / Historical:

Samuel Tyler was born in Salem, New Jersey, on October 26, 1723, the youngest child of William Tyler and Mary Abbott, who were Quakers. In 1741, he apprenticed himself to tanner Benjamin Acton, and eventually became an important producer and seller of leather and a constable in Salem. In 1751, he married Ann Mason, and they had several children, including William Tyler (1752-1823).

William inherited the tannery upon his father's death in 1778. In 1792, he married Beulah Ridgway, and after her early death, married Catherine Low in 1796. William and Catherine had several children, including John Mason Tyler (b. 1797), Hannah Gillespie Tyler (b. 1798), and Hugh Low Tyler (b. 1800). John was adopted by his uncle, John Tyler, whom he succeeded in business. In 1832, he married Dorothea Graham Hoskins (1796-1879), and they had two children: Catherine Low Tyler (1833-ca. 1862) and William Graham Tyler (b. ca. 1835), who attended Haverford College and enlisted as a Union nurse.

Acquisition Information:

2001. M-4161.2 .

Processing information:

Cataloging funded by the National Endowment for the Humanities (NEH) and the "We the People" project.

Arrangement:

The papers are arranged into five series:

Correspondence

Documents and Financial Records

Salem County, New Jersey, Documents
William Richmond Estate
James Tyler, Jr., Estate
John Vanculin Accounts with Parrot & Cattell
Dorothea (Hoskins) Tyler Receipts
Other Legal Records
Other Financial Records

School Papers
Poetry, Notes, and Other Writings
Printed Items

Rules or Conventions:

Finding aid prepared using Describing Archives: A Content Standard (DACS)
Subjects
Click on terms below to find any related finding aids on this site.
Subjects:

Formats:

Names:

Places:
Contents
Using These Materials
---
RESTRICTIONS:

The collection is open for research.

USE & PERMISSIONS:

Copyright status is unknown
PREFERRED CITATION:

Tyler Family Papers, William L. Clements Library, The University of Michigan