Back to top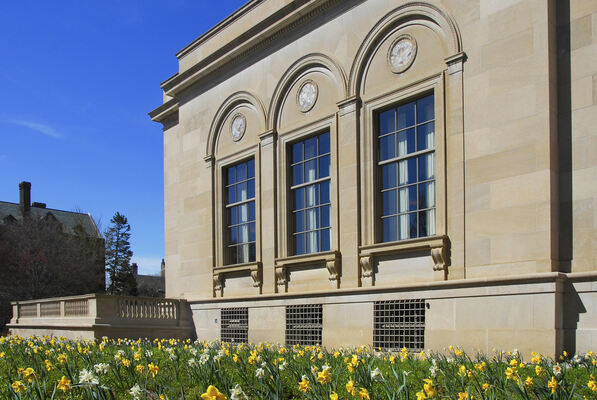 Address

:

909 South University Avenue

Ann Arbor, MI 48109, USA
John Baker Holroyd, Earl of Sheffield papers, 1801-1819
Using These Materials
---
Restrictions:

The collection is open for research.
Summary
Creator:

Abstract:

The Sheffield papers contain incoming correspondence of John Baker Holroyd, first earl Sheffield, for 1803, 1807-1809, and 1814-1819, mainly on political and social topics.

Extent:

341 items (0.5 linear feet)

Language:

English

Authors:

Collection processed and finding aid created by Shannon Wait, June 2010
Background
Scope and Content:

The Sheffield papers contain 338 letters to John Baker Holroyd, 1st earl of Sheffield, as well as 3 printed items. The items span 1801-1819, but center around 1803, 1807-1809, and 1814-1819; the collection contains no items for 1804-1806 and 1810-1813. Over 100 correspondents are represented in the collection, and wrote on topics such as parliamentary matters, local elections, Irish politics, agriculture, trade, the Napoleonic Wars, patronage, and family affairs.

Several of Sheffield's brothers-in-law, who were also political colleagues, wrote the largest portions of the correspondence. The collection's most prolific contributor is Thomas Pelham, 2nd earl Chichester, who wrote over 20 letters to Sheffield. Chichester was the brother of Sheffield's deceased wife Lucy and a Member of Parliament for Sussex, 1780-1801. He wrote to Sheffield on both personal and political topics, including a proposed bill to abolish slavery that he believed would pass (February 8, 1807), candidates in local elections (September 25, 1812), political appointments, mutual acquaintances, and updates on his family. Frederick North, 5th earl Guilford, the brother of Sheffield's third wife Anne wrote approximately 20 letters to Sheffield, including several while serving as Governor of Ceylon (Sri Lanka) in Colombo. In a letter dated [July] 14, 1802, he responded to the news of the death of his older brother George, 3rd earl Guilford, and stated that the "Native Headmen" were in "deep mourning" over it. He also praised his own efforts to help them "retain their Authority" and defended himself against criticisms of his governance, which he had heard from the Secretary of State.

Several other writers commented extensively on foreign affairs. Prominent merchant Robert Milligan described the British reliance on American ships for trade, and speculated on the likelihood that this could continue (March 4, 1807), and trader E.G. Lutwyche wrote about the preponderance of American smuggling (February 25, 1809). An 1808 series of letters from correspondents in Gothenburg and Stockholm, Sweden, relate news on the Finnish War between Sweden and Russia. Correspondence throughout the collection references the Napoleonic Wars, and a letter of March 11, 1803, by Charles Lennox, 4th duke of Richmond, discusses methods of avoiding conflict and the threats posed by Napoleon to Britain.

A significant portion of the collection's correspondence concerns Sheffield's family. His granddaughter, Isabella Stanley, wrote two letters describing masquerade balls she attended (February 25, 1815; February 4, 1817). A letter from "A. Carver," dated September 18, 1809, notifies Sheffield of the drowning of four girls and women, including his granddaughter Elfrida. Sheffield's wife Anne received four letters in the collection, which relate to personal matters. Later letters in the Sheffield papers increasingly reference agriculture, including Sheffield's growing involvement in agricultural societies (March 23, 1816), and economic and agricultural problems in Devon (November 21, 1816).

The collection's three printed items are an advertisement for Ruff's Guide to the Turf, a list of subscribers for remunerating Sir John Sinclair's public services, and an undated flier concerning a Sussex election.

Biographical / Historical:

John Baker Holroyd, first earl of Sheffield, was born in Ireland on December 21, 1735, the second son of lawyer Isaac Holroyd (1707-1778) and Dorothy Baker (d. 1777). In 1760, he joined the army, rising to the rank of captain in the regiment of light dragoons known as the Royal Foresters. Shortly after the death of his older brother Daniel in 1762, he spent three years traveling Europe; in Lausanne, Switzerland, he made a lifelong friend in Edward Gibbon, whose autobiography and posthumous works he later edited and published. In 1768, he succeeded to the estate of his mother's brother, Jones Baker, and a year later purchased Sheffield Park in Sussex, which he developed into a successful farm. He entered politics in 1780, winning a seat in Parliament for Coventry, which he held for four years. He sat again for Bristol from 1790 to 1802. Although he did not hold high office, Sheffield was a frequent speaker in Parliament, being particularly knowledgeable in the areas of agriculture, trade, and finance. He wrote 15 pamphlets expressing his views on a variety of commercial and political topics, including slavery, the Corn Laws, the Poor Laws, and Irish and American foreign relations. He was president of the Board of Agriculture in 1803 and made president of the Board of Trade and appointed to the Privy Council in 1809.

In 1767, Sheffield married Abigail Way. They had two daughters, Louisa and Maria, before Abigail's 1793 death. In 1794, he married Lucy Pelham, daughter of Thomas Pelham, 1st earl Chichester; she died three years later. In 1798, he married Lady Anne North (1764-1832), daughter of Frederick North, 2nd earl Guilford, and they had a daughter Anne and a son George. Holroyd was created 1st baron Sheffield, of Dunamore, County Meath (Ireland) in 1781; 1st baron Sheffield, of Sheffield, Yorks County in 1802; and 1st earl of Sheffield (Ireland) in 1816. He died May 30, 1821.

Acquisition Information:

1939, 1941. M-404, M-415 .

Processing information:

Cataloging funded by the National Endowment for the Humanities (NEH) and the "We the People" project.

Arrangement:

The Sheffield papers are arranged into two series: Correspondence and Printed Items.

Rules or Conventions:

Finding aid prepared using Describing Archives: A Content Standard (DACS)
Related
Additional Descriptive Data:

Related Materials

Several collections at the Clements Library contain items to or from Sheffield:

William Knox papers: 1783 July 3, Sheffield to Knox

Henry Clinton papers:

1786 Dec. 21, Sheffield to Clinton
[1787] Aug. 17, Clinton to Sheffield
[1789] Oct. 8, Clinton to Sheffield
1794 May 27, Clinton to Sheffield
[1794] Sheffield to Clinton
n.d., Clinton to Sheffield
n.d., Clinton to Sheffield
Clinton to Sheffield (after 1797)

George Canning papers: 1808 July 8, Canning to Sheffield
Pitt family papers: 1805 Dec. 20, William Pitt (1st Earl of Chatham) to Sheffield
John W. Croker papers, letter book: 1812 July 31-1817 April 25, Croker to Sheffield

Bibliography

Books written by John Holroyd, 1st Earl of Sheffield include:

Alternative Form Available:

This collection has been microfilmed.
Subjects
Click on terms below to find any related finding aids on this site.
Subjects:

Formats:

Names:

Places:
Contents
Using These Materials
---
RESTRICTIONS:

The collection is open for research.

USE & PERMISSIONS:

Copyright status is unknown
PREFERRED CITATION:

John Baker Holroyd, Earl of Sheffield Papers, William L. Clements Library, The University of Michigan