Back to top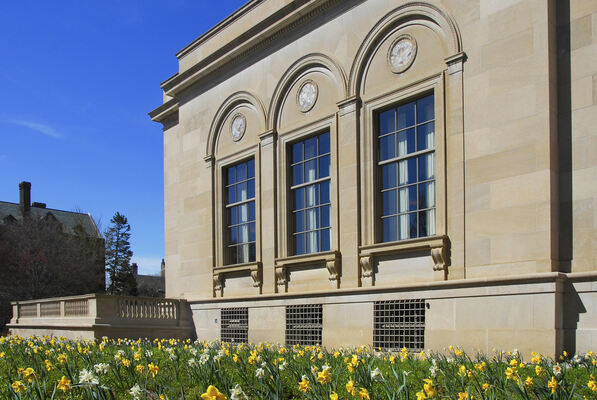 Address

:

909 South University Avenue

Ann Arbor, MI 48109, USA
John W. Clark papers, 1822-1831
Using These Materials
---
Restrictions:

The collection is open for research.
Summary
Creator:

Abstract:

The John W. Clark papers describe early 19th-century frontier life and the growth of Buffalo, New York following construction of the Erie Canal.

Extent:

76 items

Language:

English

Authors:

Collection processed and finding aid created by Robin Champieux, 2003
Background
Scope and Content:

The 74 letters and 2 documents of the John W. Clark papers offer a dynamic illustration of early 19th-century frontier life in western New York. The early years of the collection, beginning in 1822 and ending in 1824, consist of 43 letters to and from Dr. Bryant Burwell, a physician and Clark's brother-in-law, and 2 letters to Dr. Clark's sister Ann Burwell (1823 December 15, 1824 February 18). The 30 letters to Dr. Burwell and the 2 letters to Ann convey Clark's emphatic faith in the prospects of Buffalo, and his wish for the Burwells to join him there. Clark's letters describe the success of his medical practice, specific operations and cases, and the growth of the village and surrounding areas. The Erie Canal and the opportunities it promises play an important role in many of the letters. Clark periodically adopts a philosophical tone. He addresses the education of women (1823 December 15, 1824 February 13) and Universalism (1824 July 6, 1827 February 14), for example.

Dr. Bryant Burwell's 13 letters to Clark suggest a more tempered and conservative character than that of his brother-in-law. Burwell is reluctant to abandon the familiarity and comfort of Norway, N.Y. He accepts Clark's praise of Buffalo in stride; hesitancy and planning preface the Burwells' move to Buffalo in the fall of 1824. Bryant Burwell does not abandon his conservatism when he decides to move; several of his letters urge Clark to be frugal in his preparations for the family's arrival (1824 August 15). Clark acknowledges his penchant for elegance and promises to plan modestly (1824 August 25). Notes and greetings from Clark's sisters, Ann and Sarah, are often included in Burwell's letters (1824 April 21, 1824 June 5, 1824 July 23, 1824 September 29).

Notable and unusual instances in Clark and Burwell's correspondence include: an Indian medical student whom Clark describes as an intelligent gentleman (1823 April 29, 1824 February 15), the introduction of stomach pumping (1824 May 26), the Buffalo Literary and Scientific Academy (1824 Aug 3), and the death of Dr. Burwell's youngest son and Clark's namesake (1824 March 2, 1824 September 29). Four letters from Clark to his parents also belong to these years of the collection.

The latter half of this collection includes 27 letters from Dr. Clark to his parents in Newport, NY. Two are addressed to his mother, Sally Clark (1824, February 13, 1827 February 14), and two include notes to his sisters (1827 September 22, 1829 August 6). Dr. Clark's letters between 1825 and 1831 demonstrate his waning interest in medicine and his growing enthusiasm for the more lucrative enterprise of Buffalo real estate. Unintentionally, the letters are comically self-assured. Clark repeatedly predicts his boundless financial success, though there is no evidence of it. Clark's letters to his parents portray the growth of Buffalo. He celebrates the influx of Europeans to Buffalo, and enthusiastically offers evidence of the city's potential (1831 September 29); census and city directories of the time corroborate his descriptions. Mentions of road planning, bank and business openings, and civic happenings and constructions accompany Clark's accounts of his real estate ventures. His letters often include the price of properties, and rents.

Much of the family's genealogy is gleaned from the second half of the collection. Noteworthy letters and instances include Clark's views on bigotry and education (1830 August 22), the Buffalo Female Seminary (1830 August 22), and the anticipated visit of Charles X to Buffalo (1830 September 22). This collection also includes two documents Clark created that describe the location and worth of his properties. A letter from Dr. Burwell to Stephen Clark (1825 August 1), John's father, and a letter to Nathan Burwell (1827 August 26) are also included in the collection.

Biographical / Historical:

John W. Clark was a doctor and graduate of Fairfield Medical College who moved to Buffalo New York to seek his fortune. At the time of the creation of this collection, Buffalo, New York, was a growing frontier town. Surveyed and laid out by the Holland Land Company in 1801, Buffalo grew slowly until the advent of the Erie Canal in 1819. John W. Clark arrived in Buffalo in 1823, at the beginning of Buffalo's population explosion. As a single young doctor, educated at Fairfield Medical College in western New York, Dr. Clark recognized in the growing village of Buffalo an opportunity to establish himself as successful doctor and businessman.

Clark's hopes for Buffalo were not foolhardy; in 1822, the canal commissioners decided to make Buffalo the western end of the Erie Canal. This decision and the completion of the Canal in 1825 insured Buffalo's transformation from an isolated village to an important center of commerce. In 1825, Buffalo's population was 2,412 and by 1830 it had grown to 8,668. The village offered Dr. Clark and his first partner, Dr. Chapin, abundant business. They profited from the needs of the growing population and often solicited work from the Native American groups in the area. Nevertheless, Clark soon abandoned medicine for real estate. In 1825, Clark began buying land in Buffalo, often developing and then selling the properties. Clark's letters and city directories imply that he was also active in civic affairs. In 1828, the Buffalo Literary and Scientific Academy was established, and Clark became the treasurer and a trustee. Many of his letters include passages about the creation of municipal buildings and centers of learning.

It seems that Clark's enthusiasm for Buffalo was contagious; many of his sisters and their families moved to the area. A large part of this collection consists of the correspondence between Clark and his brother-in-law and fellow graduate of Fairfield, Dr. Bryant Burwell. When the Burwell's moved to Buffalo in 1824 they shared a house with Clark. Dr. Burwell and his son George would eventually open a medical practice on Pearl Street in downtown Buffalo, and Clark's sister Anjulina and her husband Dr. Green lived not far away in Lodi.

Evidence of Buffalo's prosperity in the 19th century is clear: the population exceeded 10,000 in 1832. Five newspapers circulated in the city, and over 3000 vessels passed through Buffalo annually. The 1832 Buffalo city directory notes seven houses of worship, two banks (including a Federal Bank) and three firehouses. Located in the city's center were several taverns and hotels. Clark's success is not as obvious, however. Unlike Dr. Burwell, He does not appear to hold any civic appointments after 1832. His letters never affirm the financial triumphs he so often promises, and later issues of the city directories indicate that he began practicing medicine again.

Acquisition Information:

1998. M-3470 .

Rules or Conventions:

Finding aid prepared using Describing Archives: A Content Standard (DACS)
Contents
Using These Materials
---
RESTRICTIONS:

The collection is open for research.

USE & PERMISSIONS:

No copyright restrictions.
PREFERRED CITATION:

John W. Clark Papers, William L. Clements Library, The University of Michigan