Back to top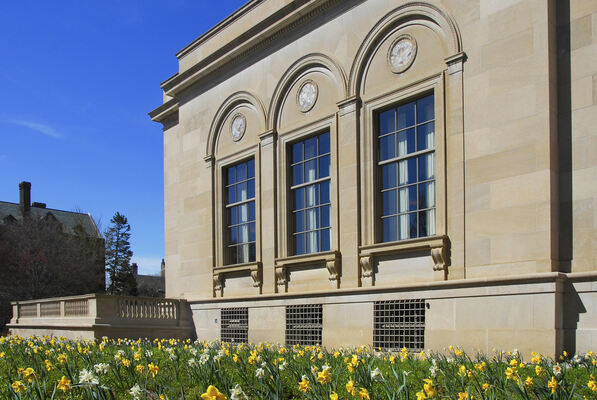 Address

:

909 South University Avenue

Ann Arbor, MI 48109, USA
Peter Warren papers, 1738-1764 (majority within 1744-1751)
Using These Materials
---
Restrictions:

The collection is open for research.
Summary
Creator:

Abstract:

The Peter Warren papers are the letters, documents, and financial papers of Admiral Peter Warren, the British naval officer who led the siege of the French fortress at Louisbourg in 1745. The collection primarily contains material related to the Louisburg expedition in 1745 and the British occupation of the outpost. The Peter Warren papers were originally part of the Thomas Gage papers.

Extent:

1.25 linear feet

Language:

English
French

Authors:

Collection processed and finding aid created by Philip Heslip, April 2010
Background
Scope and Content:

The Peter Warren papers (268 items) are the letters, documents, and financial papers of Admiral Peter Warren, the British naval officer who led the siege of the French fortress at Louisbourg in 1745. The collection primarily contains material related to the Louisburg expedition in 1745 and the British occupation of the outpost. Included are communications with navy commissioners and treasury officials; monthly pay lists of carpenters, masons, smiths, and laborers; accounts of fuel and building materials purchased for the strengthening of Louisburg; and Warren's accounts with his London agents, Samuel and William Baker. Many of the letters and accounts are directed or attributed to both Peter Warren and General William Pepperrell who also commanded at Louisbourg.

The Correspondence series (72 items) is comprised primarily of letters written to Warren concerning trade and money lending interests in London and the colonies, the siege in Louisbourg and its aftermath, and supplying and paying the British navy. Warren received letters from contacts in London, Boston, and Philadelphia. Several letters mention his success in Louisbourg and provide details about his personal accounts and finances. The series contains four memorials concerning troops who fought in Louisbourg and payments made to Warren and Pepperrell by the British Treasury.

Of note:

A series of 12 letters from merchants Samuel and William Baker of London, in which they discussed commerce opportunities, details on loans, and news from London.
May 26, 1744: the description of the plight of a widow of a "regularly bred" officer who drowned in Antigua.
November 2, 1745: A report to Warren concerning the shortage of sailors willing to work on British navy ships. Many of the men impressed into service had fled to Rhode Island.
December 14, 1745-May 17, 1746: An 18-page, 21-letter booklet containing "Joint Letters By Admiral Warren and General Pepperrell at Louisburg To be entered in the Admiral's Letter Book." The volume contains letters addressed to several colonial governors (Governor William Shirley of Boston, Governor John Wentworth of New Hampshire, Lieutenant Governor Paul Mascarene of Nova Scotia, Governor George Clinton of New York, Thomas Penn of Pennsylvania, Lewis Morris of New Jersey, Thomas Bladen of Maryland, and William Gooch of Virginia), and merchants Apthorp and Sparhawk. Topics discussed include intelligence on the French Navy, requests for troop provisions and quotas, a description of the inhabitants of Nova Scotia, and news of expected British reinforcements arriving from Gibraltar.
October 20, 1747: Reports on the capture of the ship Vigilant and inventories of the stores and guns on board the ship.
March 5, 1749: A letter from Warren to William Montague about a dispute over the prize for the ship Union.

The Documents series (35 items) contains legal documents, requests made by the Boston Council of War, estimates for the proposed construction of barracks at Louisbourg, plans relating to attacking French forces in Canada, and meeting notes from the Massachusetts House of Representatives. The series also contains lists of ships in Warren's squadron, and lists of ships under Sir Edward Hawkes and Duke D. Enville's command.

Of note:

September 9, 1745: Orders from King George for holding courts martial on Cape Breton Island.
September 10, 1745: A signed copy of the council of war held at the Citadel of Louisbourg concerning intelligence on a French squadron reported in the seas around Cape Sable.
January 6, 1746: Approval of Warren and Governor Shirley's plan to move on the French forces of Quebec.
June 6, 1746: Instructions from the Council of War ordering Warren to take a small group of ships to the Mouth of the St. Lawrence River to blockade French ships from supplying Canada.
September 10, 1746: Reports on the wreck of the ship Shirley during a violent storm at Annapolis Royal.
September 21, 1746: A request from the Council at Boston for Warren to protect the town from the French navy.
October 13, 1746: A request from the Council at Boston to Warren and his ship Bien Amie to defend the fort at Annapolis Royal against the French.
Undated: "Signals by Night and Day" for ships in Warren's squadron.

The Financial Records series (161 items) is comprised of the accounts for operations at Louisbourg, including account books, bills of lading for incoming shipments, pay lists for laborers, and other financial records. Also present are items documenting Warren's personal accounts and his interests in money lending.

The Account Books subseries (9 volumes) contains Warren's naval and personal account books.

These include:

Account Book 1: August 22, 1738-December 21, 1751: Personal accounts for Warren with Samuel and William Baker and other financiers, accounts for victualling Warren's ships, Navy Commission debts, prize inventories for the ships Vigilant, St. Francis Xavier, La Charmonte, La Notre Dame de la Deliverence, Le Suprenant, Les Deua Amis, La Marie de Grace, St. Andrew (64 pages).
Account Book 2: July 15, 1745-May 31, 1746: "Account Of the Disbursements for the Repair and other public Expense of the Garrison of Louisbourg &c." This account includes the names and pay of workers at the fort (22 pages).
Account Book 3: July 22, 1745-October 15, 1745: "Second Attested Copies of Accounts for Fuel. Book No. 1." This account volume includes descriptions of orders and lists of the laborers who loaded wood and fuel at Louisbourg (61 pages).
Account Book 4: August 2, 1745-September 18, [1745]: "An Account of the Deliverance's Cargo," a prize ship brought to Louisbourg (7 pages and 10 loose documents).
Account Book 5: August 31, 1745-May 2, 1746: "Second attested Copies of Accts. for Contingencies. Book No. 3." This account contains the names and occupations for workers at Louisbourg. Laborers worked at the Royal Hospital, mines, and repairing the city and fort after the siege. Others were paid for guarding captives from the Cape Sable (Micmac) Indians (96 pages).
Account Book 6: September 6, 1745-May 21, 1748: "Accounts for Contingencies. Book No. 3." This volume contains accounts and descriptions of supplies and labor for projects in Louisbourg, including taking care of the sick and repairing the city. Also present is a list of the sailors on board the ship Vigilant, captained by Sir James Douglas (40 pages).
Account Book 7: September 6, 1745-August 20, 1748: "Accts. for Contingencies. Book No. 3." This volume largely duplicates the previous volume but covers accounts into August 1748 (58 pages).
Account Book 8: November 18, 1745-May 30, 1746: "Second attested Copies of Acct. for Fuel. Book 2." A continuation of account book three, this volume includes descriptions of orders and lists of the laborers who loaded wood and fuel at Louisbourg (55 pages).
Account Book 9: April 27, 1749-December 18, 1764: Peter Warren and Lady Warren's personal cash account book (40 pages).

The Bills of Lading subseries (3 volumes, 93 bills) consists of bills documenting cargo arrived on board ships sent from Boston to Louisbourg. Many of these items are partially printed forms with details on the inventory and crew filled out by hand. See the additional descriptive data for a list of ships and their masters.

The Pay Lists subseries (35 items) contains pay lists for overseers and laborers who worked at Louisbourg. Labor included hauling cannons; repairing roofs, chimneys, and other parts of military and public buildings; constructing pickets, bridges, and gates; and digging wells. Lists are organized by date and by regiment or work group.

The Other Financial Records subseries (123 items) is comprised of content similar to the supply and labor accounts in the Account Book series. Many items are labeled "Second Original" and have signatures from Warren and Pepperrell. These are accounts concerning supplies, such as wood, boards, shingles, and glass, as well as payments to workers for repairing and cleaning barracks, storehouses, guardhouses, gates, and other public buildings at Louisbourg.

Warren left Louisbourg in 1746. The financial records from 1747-1750 document his interests in money lending in Massachusetts and England, and his and his wife's personal accounts. Also present are shipping invoices for the ships Willing Mind, Lydia, and Robert & Molly, and reimbursements to Massachusetts Bay for expenses incurred during the siege and occupation of Louisbourg. Of the 18 undated items is an extract for provisioning troops sailing from Gibraltar to Louisbourg.

Biographical / Historical:

Peter Warren (1703/4-1752) was born in Ireland to Michael Warren and Catherine Aylmer. He entered the navy in 1716, became a lieutenant in 1723, and by 1728 he was captain of the Grafton. In his early career he served in the waters off Ireland and in the Atlantic between North Africa and the West Indies. From 1728 to 1740, the navy stationed Warren in Halifax, Boston, New York, and Charleston, South Carolina. In 1731, Warren married Susannah DeLancey, daughter of Stephen DeLancey of New York; they had six children.

During the war between Britain and Spain, Warren captained ships at St. Augustine, Florida, and Jamaica, and commanded a small squadron based at Antigua. After the outbreak of war with France in 1744, Warren and his squadron captured many French ships in the West Indies. His success brought him notoriety in England and a sizable fortune from prize money. In 1745 his squadron, along with a small contingent of ships from New England, blockaded and eventually captured the French fortress at Louisbourg on Cape Breton Island. After the victory, Warren was promoted to rear admiral and was appointed Governor of Cape Breton, a post which he left in June 1746. That summer he collaborated on a plan with Massachusetts Governor William Shirley to attack French forces in Canada. In 1747 he returned to England and was promoted to vice admiral, but ill-health kept him from the sea. France and England started peace talks before his plan to take Quebec could be realized. The city of Westminster elected him to parliament later in 1747. By this time, he was one of the richest men in England and owned land in London, Hampshire, Manhattan, and on the frontier of New York (which was managed by his nephew William Johnson). Warren was also an active moneylender in New York and New England. He used his wealth for charitable causes in England and America, including building churches and hospitals. He died in Dublin in 1752.

Acquisition Information:

1937. M-341 .

Custodial History:

Sir Peter Warren's papers, along with William Skinner's papers, were passed to Susanna Maria Skinner, wife of Henry Gage, 3rd Viscount Gage and daughter of Susannah Warren. These were part of the Thomas Gage papers that came to the Clements Library from William L. Clements' estate in 1937.

Processing information:

Cataloging funded by the National Endowment for the Humanities (NEH) and the "We the People" project.

Arrangement:

This collection is organized into three series:

Series I: Correspondence
Series II: Documents
Series III: Financial Records

Subseries I: Account Books
Subseries II: Bills of Lading
Subseries III: Pay Lists
Subseries IV: Other Financial Records

Series and subseries are ordered chronologically.

Rules or Conventions:

Finding aid prepared using Describing Archives: A Content Standard (DACS)
Related
Additional Descriptive Data:

Alternate Locations

The following two maps are now located in the Clements Library Map Division:

Related Materials

The following three collections were originally part of the Thomas Gage papers:

The George Clinton papers contain 34 letters to and from Peter Warren.

The James Douglas papers contain material related to the Siege of Louisbourg.

The Louisbourg Siege collection documents the New Hampshire contingent of the Louisbourg expedition led by Sir William Pepperrell and Sir Peter Warren in 1745 and 1746.

The Clements Library Graphics Division has a portrait of Peter Warren.

The Sussex Archaeological Society holds 375 items related to Peter Warren, including private letters, and items concerning the Warren estate.

The New York Historical Society and the East Sussex Records Office also have Peter Warren materials.

Bibliography

Gwyn, Julian. "Warren, Sir Peter (1703/4--1752)." Oxford Dictionary of National Biography , Oxford University Press, 2004.

Contributors:

Apthorp, Charles Ward.
Auchmuty, Rober.t
Baker, Samuel.
Baker, William.
Barker, Pentecost.
Blanckley, T.R.
Bogdani, W.
Bollan, William.
Brett, John.
Brockwell, Charles.
Calmady, Warwick.
Clinton, George.
Corbett, Thomas.
Cotton, Sir Lynch.
Cushing, Thomas.
De Berdt, Dennys.
Edward, Richard.
Elliott, George.
Fonnereau, Abel.
Franklin, Apthorp, and Hancock.
Garrish, George.
Great Britain, Board of the Treasury.
Great Britain Ordnance.
Griffiths, George.
Hancock, Thomas
Hawke, Edward Hawke, 1st Baron.
Hore, Daniel.
Innes, Alexander.
Knowles, Sir Charles, 1st Bart.
Lee, Sir George.
Mascarene, Jean Paul.
Massachusetts Bay Assembly and General Court.
Middlin, John.
Montagu, William.
New York Council Chamber.
Osborn, John.
Pepperrell, Sir William, 1st Bart.
Richards, Paul.
Sherburn, Joseph.
Shirley, William.
Sparhawk, Nathaniel.
Thomas, James.
Walley, Thomas.
Warren, Sir Peter.
Warren, Thomas.
Wentworth, Benning.
Willard, Josiah.
Woods, J.

Bills of Lading: Ship Names and Ship Masters:

Book 1, part 1

Three Sisters : Thomas Gould
Diamond : William Burding
Endeavour : Robert Gordon
Mary & Elizabeth : Thomas Moore
Unicorn : Joseph Doan
Sarah : Joseph Thent
Sea Flower : John Stephenson
Endeavour : Robert Gordon
Island Sabel Galley : John Collion
Fish Hawk : Thomas Saniford
Panther : Richard Stanney
Success : Thomas Roads
Diamond : William Burding
Gloster : Samuel Bowden
New Castle : Jeremiah Haywood
Mary & Elizabeth : Thomas Moore
Annapolis Galley : Jonathan Davis
Abigail : Peter Groves
Lydia : Joseph Hatch
Susannah : John Jones
Endeavour : Robert Gordon
Britania : James [Sawier]
Sarah & Betty : Isaac Hatch

Book 1, part 2

Sarah : Joseph Kent
Medford : Daniel McCarty
Lookout : Nathaniel Newman
Tryall : [Jesse] Stephenson
Sea Flower : John Stephenson
Endeavour : Robert Gordon
Sarah & Elizabeth : William Branscomb
Charming Betty : Morris Hobbs
Prosperous : Luke Mills
Success : Howard Henderson
Susanna : Abner Lowell
Thankfull : Richard Stevens
Adventure : Edward Grow
Samuel & Martha : Samuel Parsons
Three Sisters : Thomas Gould
Speedwell : Samuel Williams
Lydia : Josiah Hatch
Louisburg : Philip Delamotte
Leopard : Thomas Church
Dolphine : James Mitchele
Luciana : James Jones
Greyhound : William Worling
Rush : Daniel Malcomb
Louisburg : Joseph Richardson
Robert & Isabella : Joseph Watts

Volume 2

Thankful : John Stevens
Sea Flower : Joseph Young
Elizabeth & Mary : Thomas Moore
Elizabeth : John Hanselber
Thankful : John Stevens
Diamond : Samuel McCluer
Swan : David Daman
Prosperous : Jeremiah Sayward
Subjects
Click on terms below to find any related finding aids on this site.
Subjects:

Formats:

Names:

Places:
Contents
Using These Materials
---
RESTRICTIONS:

The collection is open for research.

USE & PERMISSIONS:

Copyright status is unknown
PREFERRED CITATION:

Peter Warren Papers, William L. Clements Library, The University of Michigan