Back to top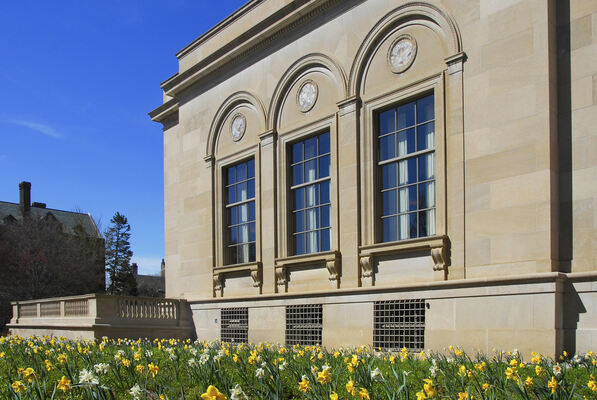 Address

:

909 South University Avenue

Ann Arbor, MI 48109, USA
William Skinner papers, 1768-1779 (majority within 1778)
Using These Materials
---
Restrictions:

The collection is open for research.
Summary
Creator:

Abstract:

The Skinner papers consist primarily of bills and receipts from London merchants addressed to Colonel William Skinner for assorted household expenses. The William Skinner papers were originally part of the Thomas Gage papers.

Extent:

227 items (0.5 linear feet)

Language:

English

Authors:

Collection processed and finding aid created by Catalina Oyler, May 2008
Background
Scope and Content:

The Skinner papers consist of Skinner's financial records from the last decade of his life. Primarily the collection contains his bills and receipts from London merchants, though tax records and lottery tickets are also included in the collection.

Skinner's accounts with London merchants cover many aspects of life for a wealthy Londoner in the 1770s. His diet is documented through accounts with butchers, grocers, tea dealers, "oylmen," barmen, dealers in bran and oats, and cheesemen. Each account lists the individual items Skinner purchased from cuts of meat to types of tea.

Skinner's wardrobe is also described on many of the receipts, as he visited various linen-drapers, mercers, hatmakers, leather workers, button makers, shoemakers and others. Other accounts include various household expenses, such as for snuff, newspapers, coal, candles, soap, and services including watch repair, washing, and lamp lighting.

Skinner also maintained a carriage and horses. Accounts from John Write describe in detail a carriage he made for Skinner, including two receipts for a carriage tax (folders 21 & 24). In addition, other accounts are for straw and hay, as well as the care of horse and livery stables. A receipt from Thomas Bedford "Sadler & Cap Maker" lists "Sponges for y. Coachman" (folder 1) and other accounts describe livery for coachmen and footmen.

In addition to owning a stable, Skinner maintained a house at Number 13 Wimpole Street in London and possibly additional properties. His accounts document building materials purchased, and they frequently identify the work done by various builders. A receipt from John Clark is for a "½ Day Work Tining top of a Manger & Bottom rail of Rack & fixing 2 Rock Staves in one of the Standing in Stable & Cutting 2 Wine Casks to Make tules" (folder 3). Another receipt from Thomas Cranfield, a bricklayer, is for "Altering the kitchen Range and taking down the Oven and Resetting ditto" (folder 4).

Additional building materials came from the merchant represented most frequently in the collection, "Moody & Meader, Wharfingers," who, between 1773-1779, sent Skinner 50 accounts. The most common item purchased of the wharfingers was timber, including decorative wood and laths and, on one receipt, Moody & Meader are identified as "Timber Merchants" (folder 13). Additional receipts from Moody & Meader reflect a variety of goods bought mostly in bulk, including coal and oats, butter by the firkin, and beer by the hogshead.

Three doctor's accounts for Skinner, as well as other members of Skinner's household, are from "Stale and Coleman." One account lists medical fees over the course of ten years, 1768-1778, and includes a range of services such as "A Draught and Mixture of Butter," "Cinnamon Water and Bottle," "Salt of Tarter," "Bleeding and Eye Water," and "A Journey: Bleeding and Blister Foot" (folder 18).

While most accounts are addressed to Skinner and for goods or services he purchased, his mother-in-law Lady Warren and daughter Miss Skinner are mentioned on some receipts. Others are addressed to or for goods purchased by Mr. Farmer and other men, who may have been extended family members or employees in Skinner's household.

In addition to documenting the purchases of one man, the accounts are also representative of receipts from the 1770s. The receipts are on a variety of sizes of paper and vary in style, with some including personal notes. An account from John Roberts is on the same page as a letter to Skinner, which includes news of the Revolutionary War (folder 16). Many of the merchants had printed letterheads on their accounts, some of which include advertisements for products. S. Brunt who sold "Mineral Waters Wines &c." included his account on a sheet printed with a list of his wares and prices (folder 2). Edward John's bill is written on the back of a printed list of metal items sold, including "Copper Kitchen Furniture," silverware, ranges, and "Japanned Tea Urns" (folder 9).

Merchants also advertised themselves on their accounts, such as John Shearwood, whose printed header described him as "Hatter to their Majesties, his Royal Highness the Prince of Wales and Princess Amelia" (folder 17). Other merchants included illustrations representing the names of their shops, such as the "Plume of Feathers" (folder 3) the "Golden Ball" (folder 15) or "The Good Woman," for which the letterhead portrayed a woman without a head (folder 4).

Miscellaneous expenses include receipts for land, window and carriage taxes; pew rentals, taxes to the Parish of Mary-le-Bone, a Tithe of Westbury, rent for water (folder 24), and four lottery tickets. (folder 25).

Biographical / Historical:

Colonel William Skinner (c.1730-1780), resident of London, England, was a distinguished officer in the English Army. Skinner's father, Reverend William MacGregor, left Scotland for America after taking part in the unsuccessful Jacobite Rising of 1715, and changed his family name from MacGregor to Skinner. In America, Reverend Skinner settled in Perth Amboy, New Jersey, and became rector of St. Peter's Church, a position he held until his death. In Perth Amboy, Rev. Skinner married Elizabeth Cortlandt, daughter of former New York mayor Stephanus Van Cortlandt. The Skinners had five children, of whom William Skinner, Jr., was the fourth. Skinner's eldest brother, Cortlandt Skinner (1728-1799), rose to fame as the Attorney General of New Jersey before the Revolution, and commanded a corps of loyalist soldiers during the war.

Col. William Skinner, like his younger brother John, sought a career in the Army. Skinner joined Col. Schuyler's regiment in 1755 and took part in the Seven Years War in North America. In 1756 Skinner was taken prisoner by the French following the surrender of Fort Oswego, and he was sent to France. However, he was soon released on parole and sent to England in 1757. Skinner continued his service in the Army, gaining promotions as he took part in various actions throughout Europe. He eventually earned the rank of colonel, a title he would keep for the rest of his life.

In 1767 Col. Skinner married Susanna Warren (d. 1772). Susanna was the daughter of Sir Peter Warren, a noted naval officer, and granddaughter of Anne Van Cortlandt, who was a sister of Skinner's mother Elizabeth. Skinner and Susanna had one child, a daughter named Susanna Maria, who in 1789 married Henry Gage, later 3rd Viscount Gage. Skinner died in 1780, leaving his estate to his daughter.

Acquisition Information:

1937. M-341 .

Custodial History:

William Skinner's papers passed to his daughter Susanna Maria Gage wife of Henry Gage, 3rd Viscount Gage. Skinner's papers, as well as those of his father-in-law, Sir Peter Warren, were part of the Gage papers that came to the Clements Library from William L. Clements' estate in 1937.

Arrangement:

The Skinner collection has been arranged alphabetically by the merchant's name on each account. Other records, including lottery tickets and tax receipts, are at the end of the collection.

Rules or Conventions:

Finding aid prepared using Describing Archives: A Content Standard (DACS)
Related
Additional Descriptive Data:

Related Materials

The following three collections were originally part of the Thomas Gage papers:

A number of letters from Skinner are included in the American Series of the Thomas Gage papers.

Bibliography

Whitehead, William A. Contributions to the Early History of Perth Amboy Country, with Sketches of Men and Events in New Jersey During the Provincial Era. D. Appleton & Company, New York, 1856.
Contents
Using These Materials
---
RESTRICTIONS:

The collection is open for research.

USE & PERMISSIONS:

Copyright status is unknown.
PREFERRED CITATION:

William Skinner Papers, William L. Clements Library, The University of Michigan