Back to top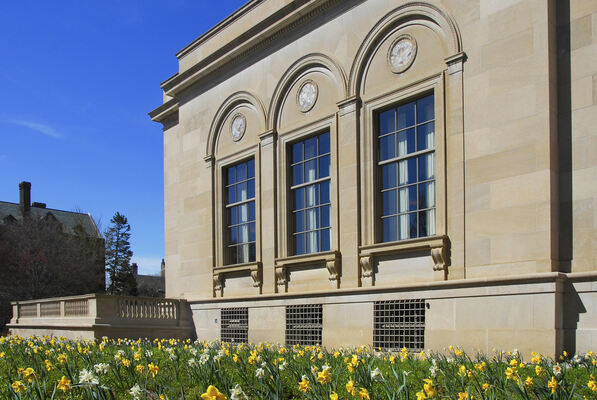 Address

:

909 South University Avenue

Ann Arbor, MI 48109, USA
Clark-McCreary papers, 1815-1936 (majority within 1846-1919)
Using These Materials
---
Restrictions:

The collection is open for research.
Summary
Creator:

Abstract:

The majority of this collection consists of correspondence related to the families of David B. McCreary and his daughter, Sophia McCreary Clark ("Sophy"), both of Erie, Pennsylvania. David and his wife, Annette, corresponded with family and acquaintances throughout the mid- to late 19th century, including the Civil War era and the Spanish-American War era. The letters of Sophy, her husband Henry, and their daughter Annette span the late 19th and early 20th centuries.

Extent:

4 linear feet

Language:

English

Authors:

Collection processed and finding aid created by Meg Hixon, January 2012
Background
Scope and Content:

This collection (4 linear feet) consists primarily of correspondence related to the family of David B. McCreary of Erie, Pennsylvania. The earliest item is a letter signed and attested by various military officials declaring Henry Clark of Private Taylor's company unfit for military duty (June 2, 1815-July 8, 1815). The bulk of the collection begins in 1846, with most early material consisting of personal correspondence addressed to (and between) David B. McCreary and Annette Gunnison of Erie, Pennsylvania. Many of these letters contain personal and family news and document the social history of antebellum Erie, as well as David's time at Washington College and in Kentucky. Between 1858 and 1860, much of the correspondence is addressed to Chauncy G. Clark of Harbor Creek, Pennsylvania, including several letters from Homer J. Smith of Palo, Michigan, and his wife, who provided news of their family.

Throughout the Civil War, much of the correspondence relates to the 145th Pennsylvania Infantry Regiment, such as letters that David B. McCreary received from soldiers' wives and other family members regarding their loved ones in the regiment. He and his wife Annette also received personal letters that occasionally mentioned aspects of the war. Two letters from Jonas Gunnison concern names of drafted men (October 19, 1862) and the presumed death of "Charley," a soldier who had gone missing (December 20, 1862). David McCreary also wrote to his daughter Sophy during the war. David and Annette McCreary continued to correspond between themselves and with others after the war. They wrote several letters to their son Wirt during his time at the United States Naval Academy and received one letter from Wirt about his service on the USS Dorothea in 1898, just before an anticipated assignment in Cuba.

Much of the post-Civil War correspondence concerns Sophy McCreary, Henry A. Clark, and their children. In the mid-1870s, Sophy wrote a lengthy series of letters to Harry Beatty of Harrisburg, Pennsylvania, that continued sporadically into the early years of her marriage. During this period, Henry A. Clark was beginning his legal career in Fall River, Massachusetts, and received many letters from "Fred," an acquaintance from Harvard. The collection also has business correspondence dated after Clark's return to Pennsylvania, which concerns his work with the Edison Electric Light Company and other firms, as well as his various judicial and political offices. Incoming letters to Annette McCreary Clark, the daughter of Sophy McCreary and Henry A. Clark, are also present, as are letters from the younger Henry Clark to Sophy McCreary Clark, his mother. In addition to newspaper clippings, advertisements, memorial service programs, and other ephemera enclosed in letters, the collection has a series of personal and commercial postcards.

Biographical / Historical:

David Barclay McCreary was born in Millcreek Township, Pennsylvania, on February 27, 1826, the son of Joseph F. McCreary and Lydia Swan. He lived in Erie, Pennsylvania, and attended the Erie Academy before moving to Washington, Pennsylvania, where he studied at Washington College (now Washington & Jefferson College) in 1848 and 1849. After leaving Washington, he became a teacher and worked in Pennsylvania and Kentucky before moving to Philadelphia in the 1850s. There, he became a lawyer and helped raise the 145th Pennsylvania Infantry Regiment during the Civil War. He mustered out in 1865, after serving with the regiment as a lieutenant colonel and brevet brigadier general. Following the war, McCreary was a prominent resident of Erie, serving several terms in the Pennsylvania State Legislature and as adjutant general of Pennsylvania. He died on February 4, 1906. He and his wife, Annette J. Gunnison (b. 1832), married on September 17, 1851, and had two children, Sophia Gertrude ("Sophy") (b. 1852) and Wirt. Wirt attended the United States Naval Academy in Annapolis, Maryland, and became a lieutenant in the United States Marine Corps. He saw action in the Spanish-American War and in China during the Boxer Rebellion.

Sophy McCreary married Henry Alden Clark (1850-1944) on July 18, 1878, and had two children, Annette (b. 1880) and Henry (b. 1889). Clark attended the Pennsylvania State Normal School between 1865 and 1866 and the Willoughby Collegiate Institute between 1866 and 1867. He graduated from Harvard College in 1874 and from Harvard Law School in 1877. Following his graduation, he practiced law in Fall River, Massachusetts, primarily for the Edison Electric Light Company. He and Sophy moved to Erie, Pennsylvania, in 1882, where he continued his legal practice and served in many local political offices. Later, he was elected to the Pennsylvania State Senate (1911, 1913, 1915) and the United States House of Representatives (1917-1919).

Acquisition Information:

1994. M-3057.7 .

Processing information:

Cataloging funded by the National Historical Publications and Records Commission (NHPRC). This collection has been processed according to minimal processing procedures and may be revised, expanded, or updated in the future.

Arrangement:

The collection is arranged chronologically, with undated items and postcards placed at the end.

Rules or Conventions:

Finding aid prepared using Describing Archives: A Content Standard (DACS)
Related
Additional Descriptive Data:

Related Materials

Pennsylvania State University has a collection of McCreary Clark family letters.

Bibliography

"Clark, Henry Alden." Biographical Directory of the United States Congress.

Rodearmel, William. Portraits of the Heads of State Departments and Portraits and Sketches of Members of Legislature of Pennsylvania, 1893-4. Harrisburg: E. K. Meyers Printing House, 1893.
Subjects
Click on terms below to find any related finding aids on this site.
Subjects:

Formats:

Names:

Places:
Contents
Using These Materials
---
RESTRICTIONS:

The collection is open for research.

USE & PERMISSIONS:

Copyright status is unknown
PREFERRED CITATION:

Clark-McCreary Papers, William L. Clements Library, The University of Michigan