Back to top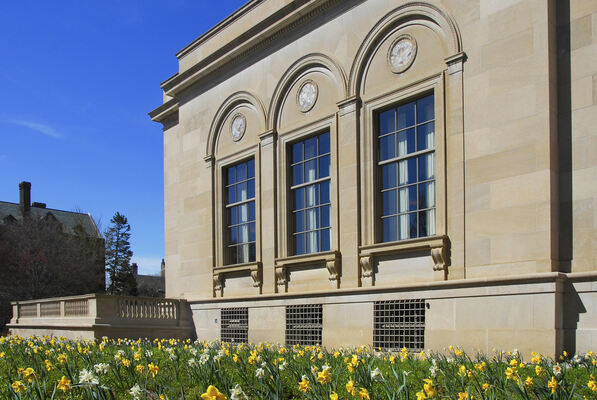 Address

:

909 South University Avenue

Ann Arbor, MI 48109, USA
William S. Burns papers, 1860-1864;1886
Using These Materials
---
Restrictions:

The collection is open for research.
Summary
Creator:

Abstract:

The William S. Burns papers consist of correspondence and a scrapbook that document Burns' time as a well-connected Union officer during the Civil War.

Extent:

64 items

Language:

English

Sponsor:

James S. Schoff Civil War Collection

Authors:

Collection processed and finding aid created by Rob Cox
Background
Scope and Content:

The collection includes a series of 57 letters and documents written by Burns to his brother, Charles, plus a scrapbook assembled for his son, Ned, in December, 1886. The scrapbook includes a mounted albumen photographic portrait of Burns, and consists of a series of articles written by Burns for a newspaper. These articles include excerpts of his war-time letters (some included in the collection), but are more fleshed out, including more anecdotes and information than the surviving correspondence. They appear to be very faithful accounts of his experiences, based on first-hand notes. Among the better accounts in the scrapbook are lengthy descriptions of the Battles of Pea Ridge and Pleasant Hill, a good narrative of the Meridian and Red River Campaigns. For Pleasant Hill and the Red River Campaign in general, Burns comments extensively on the course of the battle and where blame for the defeat should lie, suggesting that despite the best efforts of Smith, Banks lost the day.

Strongly committed to the Union cause, but not an abolitionist, Burns had the unusual benefit of high level connections that allowed him to negotiate fairly effectively for military appointments that suited his tastes and abilities. Burns appears to have been very highly regarded by his superior officers and his subordinates, and maintained very high standards that led him to be a harsh critic of the military inefficiency of several "political generals," particularly Samuel Curtis and Nathaniel Banks. His high standards did not preclude foraging (stealing) food from civilians, though he was repulsed - not to the point of taking disciplinary action - at the summary execution of guerrillas and at being ordered by A.J. Smith to burn the residence of Jacob Thompson, Secretary of the Interior during the Buchanan administration, in retaliation for offences committed by Lee's army in Virginia. Burns was not keen to set fire to Thompson's house, but after allowing the removal of personal and family items, he followed orders.

Burns seems either to have loved or hated his commanding officers, and was as fixated on them as he was critical. He comments extensively on the performance of Union generals under whom he served, reserving his highest praise for A.J. Smith and Sherman, a sort of bemused appreciation of Asboth, and scorn for any who crossed them.

Biographical / Historical:

Burns, William S., b. 1833

Rank: Lieut., Capt.

Regiment: 4th Missouri Cavalry Regiment (Frémont Hussars) (1861-1865)

Service: 1861 August-1864 September 20

At the outbreak of the Civil War, William S. Burns was working with the Kansas Relief Committee in Atchison, Kansas, helping distribute food supplies to famine victims. Born into a wealthy family from Bath, N.Y., and a graduate of Hobart College, Burns was sophisticated and well-traveled and had connections at the highest levels in Republican political circles. He could boast Thurlow Weed among his personal friends, and he was close enough to the seat of power to pay a call on Abraham Lincoln on the New Year's day following the election of 1860. Burns found Mrs. Lincoln feeling all the importance of being the president's wife, and Mr. Lincoln all the weight.

When the famine in Kansas began to abate and the war began to escalate, Burns decided to return home to New York to obtain a military appointment. Though calling on his old friend Weed for assistance, Burns was unwilling to wait for the gears of cronyism to creak forward. While awaiting word from Weed in Washington, he learned that an acquaintance, Alexander Sandor Asboth, had been appointed to Frémont's staff in Missouri and was forming a cavalry regiment. Against the wishes of his family, Burns accepted Asboth's offer of a commission as 2nd Lieutenant in the Frémont Hussars, later the 4th Missouri Cavalry, under the command of George E. Waring.

In August, the Hussars began drilling and several companies were sent into the field in September, though Burns remained in camp as adjutant, helping to drill the remaining companies. Joining his company at Rolla in December, he did not truly experience field service until New Years day, 1862, when his regiment left on an expedition to Lebanon, Mo. In the early days of the war, with Sterling Price's Confederates looming, the expeditions of the 4th Missouri Cavalry (as they were designated, beginning in February, 1862) were somewhat tentative, though more often than not they found no resistance and little luck in locating the enemy. Under Franz Sigel's command, they finally caught up with Price near the old Wilson's Creek battlefield, pressing him into an engagement at Sugar Creek and, a few days later, at Pea Ridge. While the battle was a clear victory for the Union, Burns reserved severe criticism for the cowardice of Major Emeric Meszaros, whom, he claimed, ordered a retreat unnecessarily and who disappeared from the scene at critical junctures. Burns and other officers of the regiment attempted to have the Major court-martialed, but while Meszaros was arrested and found guilty of disobedience, he was not found guilty of cowardice. The Major resigned from the 4th Missouri Cavalry in July, 1862, but returned to the service later in the war with the 1st Florida Cavalry. Burns was also very critical of the actions of one of his commanding generals, Samuel Curtis, whom he felt was overly timid in pressing the Union advantage.

In April, 1862, Burns was promoted to acting Captain of his company while they were stationed at Forsyth, Mo. He volunteered to act as a spy in June, gathering information alone in northern Arkansas, but otherwise participated in all of the exhausting campaigns of the 4th Missouri Cavalry in Missouri and northern Arkansas until his health began to give out in February, 1863, and he was sent to hospital at Ironton, Mo. Burns was discharged from the hospital one month later, but when he was not cleared for field service by his physician, he accepted an appointment under an old friend, James Dwight, Deputy Provost Marshall for the District of Missouri. Burns was only too happy to leave his regiment because he was one of the last American officers in an all-"German" regiment (actually comprised of Germans, Hungarians and other German-speaking central Europeans). For the same reason, in June, 1863, when Asboth offered Burns a position as Judge Advocate for the District of Columbus, Ky. - a position for which he was eminently unsuited - he was grateful to accept, and in July, he accepted the move to a more suitable position as Acting Assistant Inspector General for the 16th Corps.

Under Smith and Sherman, Burns participated in the Meridian Campaign, a limited success in his eyes, during which they drove the enemy before them and took away large numbers of contrabands, but with the failure of William Sooy Smith's forces to link up with Sherman, the ultimate objective of the campaign could not be attained. Embarking next on the Red River Expedition, Burns was present at the reduction of Fort DeRussy, was present but not engaged at Sabine Cross Roads, and was fully involved in the disastrous Battle of Pleasant Hill. Reduced nearly to tears by the defeat, Burns laid full blame on Gen. Banks, whom he remarked should be executed for his role in the matter. In the ensuing operations in northern Mississippi, guarding Sherman's rear during the drive to Atlanta, Smith's division repulsed Nathan Bedford Forrest at Tupelo in July. Burns wished for the opportunity to join in the Atlanta Campaign, but his new wife, Sophie, objected to his reenlistment. Though he indicated that he would continue in the service if the nation were in peril, he opted to muster out with his regiment on September 20th, 1864.

Acquisition Information:

1994. M-3007.2 .

Arrangement:

The collection is arranged chronologically.

Rules or Conventions:

Finding aid prepared using Describing Archives: A Content Standard (DACS)
Related
Additional Descriptive Data:

Partial Subject Index

African-American cooks.
Asboth, Alexander Sandor, 1811-1868.

1861 November 23
1862 January 7-9
1862 April 14-30

Atchison (Kans.)

1861 March 3
1861 March 24

Banks, Nathaniel Prentiss, 1816-1894.
Border warfare.
Brothers.
Camps (Military)--Missouri.
Chancellorsville, Battle of, 1863.
Christmas.
Civilians--Missouri--Civil War, 1861-1865.
Civilians--Tennessee--Civil War, 1861-1865.
Cotton.
Courage.
Cowardice.

1862 April 14-30
1862 May 10

Curtis, Samuel Ryan, 1817-1866.

1862 April 14-30
1862 May 10

Davidson, John Wynn, 1823-1881.
Democratic Party.
Deserters, Military.
Dogs.
Drought--Kansas.
Elections--Kansas--1861.
Famines--Kansas.

1861 March 3
1861 March 24

Fatigue.
Fayetteville (Ark.)
Fiances.
Forrest, Nathan Bedford, 1821-1877.

1864 August 3
1864 August 30
p. 64-69

Fort DeRussy (La.)--Capture, 1864.
Franklin, William Buel, 1823-1903.

1864 April 13
p. 40, 47-51

Fremont, John Charles, 1813-1880.
Grant, Ulysses Simpson, 1822-1885.
Guerrillas--Arkansas.
Guerrillas--Missouri.
Guerrillas--Tennessee.
Halleck, H. W., 1815-1872.
Kansas Relief Committee.

1861 March 3
1861 March 24
1861 April 18

Kansas--History--Civil War, 1861-1865.
Kansas--Politics and government--Civil War, 1861-1865.
Lake Chicot (Ark.), Skirmish at, 1864.
Lane, James Henry, 1814-1866.
Lebanon (Mo.)
Lebanon (Mo.), Skirmish at, 1862.
Lincoln, Abraham, 1809-1865.

1860 November 19
1861 January 14

Lincoln, Mary Todd, 1818-1882.
Marches--Missouri.

1862 January 7-9
1862 November 23-24

Marriage.

1861 December 31
1863 November 29

Mental illness.
Meridian Campaign, 1864.
Meszaros, Emeric.

1862 April 14-30
1862 May 10
p. 11-15, 19, 20

Missouri.
Missouri--History--Civil War, 1861-1865.

1861 May 3
1861 November 23

Murder.
Officers' wives.

1863 November 29
1864 March 3

Osterhaus, Peter Joseph, 1823-1917.
Pea Ridge, Battle of, 1862.

1862 April 14-30
p. 10-15

Pleasant Hill, Battle of, 1864.
Poisoning.
Political prisoners.
Polk, Leonidas, 1806-1864.
Pomeroy, Samuel Clarke, 1816-1891.

1861 March 3
1861 March 24
1861 April 10

Pony Express.
Presidents--United States--Election--1860.
Prisoners of war--Confederate States of America.

1862 January 7-9
p. 25-26

Red River Expedition, 1864.

1864 March 7
1864 March 30
1864 April 13
p. 36-61

Refugees.
Revenge.
Secession--Missouri.
Sherman, William Tecumseh, 1820-1891.
Sigel, Franz, 1824-1902.

1862 January 7-9
1862 April 14-30
1862 August 30
p. 8, 13-14

Slavery--Arkansas.
Slavery--Louisiana.
Smith, Andrew Jackson, 1815-1897.

1864 April 13
p. 28, 45-58

Southern states.
Spies.
Strong, William Kerly, 1805-1868.

1861 November 23
1861 December 10

Sugar Creek (Ark.), Skirmish at, 1862.
Thompson, Jacob, 1810-1885.
Tupelo, Battle of, 1864.
United States. Army--Appointments and retirements.
United States. Army--Cavalry.
United States. Army--Enlistment.
United States. Army--Generals.

1862 May 10
1863 March 24
1864 April 13

United States. Army--Leaves and furloughs.
United States. Army--Promotions.

1861 December 31
1862 August 30

United States. Army--Regiments--Relations.
United States--History--Civil War, 1861-1865--Causes.
United States--History--Civil War, 1861-1865--Participation, African-American.

1861 November 23
1861 December 31
1862 April 14-30
1862 November 23-24
1863 April 10
p. 14, 18, 20, 31, 35, 70
p. 29, 65-69

United States--History--Civil War, 1861-1865--Participation, Indian.
United States--History--Civil War, 1861-1865--Participation, German-American.

1862 August 4
1862 September 25
1862 November 3
1863 March 24
p. 23

United States--History--Civil War, 1861-1865--Scouts and scouting.
Waring, George Edwin, 1833-1898.
Weed, Thurlow, 1797-1882.

1863 March 14
1863 March 24
p. 2

Women--Missouri.
Foraging--Missouri.
Yellow Bayou, Battle of, 1864.
Subjects
Click on terms below to find any related finding aids on this site.
Subjects:

Formats:

Names:

Places:
Contents
Using These Materials
---
RESTRICTIONS:

The collection is open for research.

USE & PERMISSIONS:

Copyright status is unknown.
PREFERRED CITATION:

William S. Burns Papers, James S. Schoff Civil War Collection, William L. Clements Library, The University of Michigan.