Back to top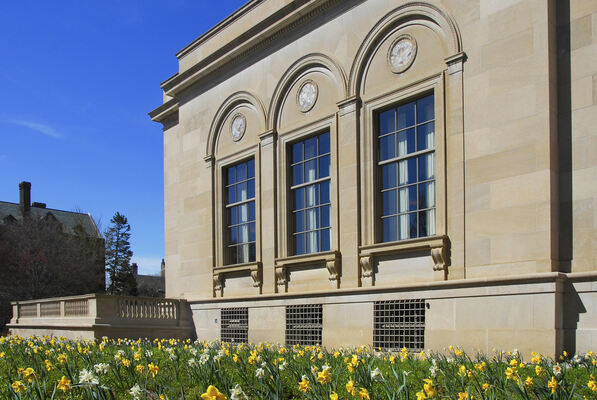 Address

:

909 South University Avenue

Ann Arbor, MI 48109, USA
William Elgin journal, 1862-1864
Using These Materials
---
Restrictions:

The collection is open for research.
Summary
Creator:

Abstract:

The William Elgin journal is an account by Elgin about his Civil War service, including serving as chaplain for a regiment of African American soldiers.

Extent:

1 volume

Language:

English

Sponsor:

James S. Schoff Civil War Collection

Authors:

Collection processed and finding aid created by Rob S. Cox, July 1993
Background
Scope and Content:

Though reflecting the paternalistic views of many of his progressive contemporaries, Elgin was genuinely concerned for the mental, moral, and physical well-being of the men in his regiment and was genuinely aware of the toll that racism and slavery had inflicted upon African-Americans. Most importantly, he considered it his duty to educate the soldiers, to teach them to read and write, before bringing them to religion. He considered the soldiers, at least in some respects, to be equal to whites, though suffering the effects of long oppression. "Some reflections upon the capacity and past disadvantages of the negroe race have today made new impressions upon my mind," he wrote, "respecting the possibility of bringing this people up to a high and satisfactory state of culture. And so strong is my faith in the practicability of these ideas that I feel assured some future day will witness the fullfillment of this opinion" (p. 69). Elgin's emphasis on education, respect and self-respect are felt throughout the journal.

Elgin's "journal", which, at least in part, may be an immediate post-war transcript, consists of five sections. In the first 10 leaves of the journal, he includes newspaper clippings relating to the performance of African American soldiers during the war. The first 9 clippings, dated July 28th, 1868 and following, comprise a serial publication, titled "Colored troops in the war," and are effectively an autobiographical account by Thomas J. Morgan, Col. of the 14th U.S. (Colored), of his experiences in becoming one of the first officers to raise and lead a Colored regiment in battle. Morgan's articles provide great insight into life in the 14th U.S.C.T., and are particularly valuable in understanding the recruitment of the 14th, 42nd, and 44th regiments, and the role of the 14th at the battles of Dalton, Pulaski, and Nashville. Five additional articles clipped between 1874-76, and laid in loosely to the front of the journal, concern books about Africa, freedmen, and James Walker's huge panoramic painting of the Battle Above the Clouds.

The second section of the journal is a transcription of a speech, titled "Discourse on Fast Day," apparently delivered by Elgin to the troops on August 4th, 1864. The address is an unusually direct and clear expression of the attitudes of a white officer in an African-American regiment. In the speech, Elgin discussed the themes of race and religious duty, arguing that African-American soldiers should be humble before God for His mercy, and grateful for the concern He showed to their race during their long years of oppression. He went on, however, to acknowledge the impact the decision to arm African-Americans had on the men, and, optimistically, to claim that "the manhood of your race has been fairly recognized and hereafter you are to take your place among the nations as a people worthy of respect" (p. 16). Typically for him, Elgin stressed the importance of education to freedmen, of freeing the intellect as well as the body.

The third section of the journal consists of a three pages dated 20 October, 1863, titled "Evidences of the truth of the Christian religion," in which Elgin set down arguments along rationalistic lines for the reality of the basis of Christian faith.

Fourth is the journal proper kept by Elgin while Chaplain of the 14th U.S. Colored Infantry, consisting of 43 pages of sporadic entries from November 10th, 1863, when he transferred to the 14th U.S.C.T. to December 7th, 1864, during the Franklin and Nashville Campaign. The entries, most of which are fairly brief, document Elgin's numerous duties as chaplain and teacher to the regiment -- as he put it, his attempts "to do my utmost toward the mental, moral and spiritual culture of the men" (p. 35) -- as well as the activities of the regiment in the field. The journal is particularly interesting for reflecting Elgin's own doubts about his abilities and the direction of his life. Simultaneously elated and frustrated by his attempts to bring education and religion to his men, and troubled by insecurities, Elgin somehow managed never to waver in his belief in the men themselves or the moral correctness of his duties. The journal takes on added significance in that the 14th U.S.C.T. was an unusually active "fighting" regiment, displaying unusual courage and discipline during the period of their service.

The last section of the journal is a 7 page memoir written by Elgin, describing his enlistment and service in the 70th Indiana. The interest in the memoir lies primarily in its detailed description of his attempts to garner a chaplaincy in the regiment, and of his thorough description of the duties and activities while acting as regimental postmaster.

Biographical / Historical:

Elgin, William b. 1838

Rank: Chaplain

Regiment: 70th Indiana Infantry Regiment. Co. I (1862-1865);United States. Army--Infantry Regiment (Colored), 14th (1863-1866)

Service: 1862 August 8-1865 May 15

At the outbreak of the Civil War, William Elgin was a student at Franklin College of Indiana and preached on alternate Sundays at the Baptist Church in Southport, Ind. Following Lincoln's call for 300,000 troops in July, 1862, he enlisted with his peers at Franklin College in Co. I of Benjamin Harrison's 70th Indiana Infantry. At the time of his enlistment, Elgin was being considered for ordination by the church council at Southport which, if approved, would have allowed him to apply for a commission as chaplain. He was, however, denied ordination, apparently over doctrinal disputes, but was informed that if he could secure a Chaplain's commission, ordination would follow. Despite presenting a petition signed by 33 of the 40 officers in the regiment supporting him, the church council refused to reconsider, leaving him "in the lurch," and Rev. Allen was commissioned chaplain instead.

Elgin served as a private with the 70th Indiana for 15 months, mostly on detached service as regimental postmaster, but resigned from the regiment in October, 1863, to accept a chaplaincy in the 14th U.S. Colored Infantry. The 14th U.S.C.T. was raised among teamsters, cooks, servants and camp followers in Gallatin, Tenn., under the command of Thomas J. Morgan, the Lieutenant of Elgin's Company, and an ardent supporter of forming Colored regiments. Unlike many other Colored regiments, the 14th was recruited to be a fighting regiment, receiving intensive drill and training to that end. They were commonly held up as an example of the high level of discipline and ability that could be achieved among "Colored" soldiers. Like Morgan, Elgin was a staunch, anti-slavery Republican, a Baptist with a strong moral sense, and a believer in the education and intellectual equality of African-Americans.

After receiving ordination in December, 1863, Elgin officially mustered in to the 14th U.S.C.T. on January 1st, 1864. The regiment was stationed initially at Chattanooga, where they became the first Colored regiment to be seen by most of the Army of the Cumberland. There, Elgin pressed forward with an ambitious effort to teach the soldiers the basics of reading and writing as well as the Bible. "I must educate before I can successfully impart religious truth to them," he wrote, "Their minds must be awakened and disciplined" (p. 62). Within two weeks of arriving at Chattanooga, Elgin had taught 380 men the alphabet, and the number of those able to read somewhat had increased from 10 to 127. He later attempted to establish a school near Chattanooga for the education of freedmen.

In March, 1864, the regiment performed their first military duty, a scouting expedition to Sparta, Tenn., on which they covered over 400 miles on foot in less than four weeks. Carrying heavier knapsacks than white troops, Elgin noted that some men were permanently disabled by the march, and that others would die from overexertion, but in so doing, in his mind, they proved their mettle as soldiers and men.

At the same time as he stressed education and self-advancement for the soldiers in his ministry, Elgin suffered from serious doubts about his own abilities as a chaplain, about his education and the direction of his life. He was contemplating leaving the regiment to resume his education on August 15th, 1864, when the regiment took part in their first major action, at the battle at Dalton, Ga., where they lost one man and had two more seriously wounded. Thereafter the 14th participated in the Union counter movements to Wheeler's Raid of August-September, 1864, covering 500 miles in 12 days by rail, but not firing a shot, and skirmished with Forrest's Cavalry at Pulaski, Tenn., on September 27th. They also saw significant action in the battle of Decatur, Ala., October 29th (where they lost 3 officers and 50 enlisted men), and near Nashville during the Franklin and Nashville Campaign of December 1864-January, 1865. At the start of the Franklin campaign, the 14th was rushed to the works surrounding Nashville. In maneuvering around the city, the 44th U.S.C.T. and several companies of the 14th were trapped in a blockhouse, managing their escape in the dead of night only with heavy loss. The 14th performed reconnaissance duty and were engaged several times in skirmishes around the defences of Nashville, acquitting themselves well throughout.

Off the battlefield, the regiment also saw action of sorts. The men of the 14th Infantry were involved in a racially-motivated riot on November 13th, 1864, started during a disagreement with an Illinois Artillery Company. As the men of the regiment defended themselves, shots were fired, and when the affair ended, two white and one African-American soldiers were dead, and three men were wounded. Elgin wrote, "The engaged very likely became aware of the fact that the men of this Regt have pride enough in their manhood to defend themselves -- at least in their own camp" (p. 68).

Elgin resigned his commission on May 15th, 1865, and apparently returned to Indiana. The 14th U.S.C.T., like many Colored regiments, remained in the service long after the war officially ended, mustering out on March 26th, 1866.

Acquisition Information:

1993. M-2940.3 .

Rules or Conventions:

Finding aid prepared using Describing Archives: A Content Standard (DACS)
Related
Additional Descriptive Data:

Bibliography

Merrill, Samuel. The Seventieth Indiana Volunteer Infantry in the War of the Rebellion. (Indianapolis, 1900).

Partial Subject Index

African American schools.
African American soldiers--History--19th century.
African Americans--Education--History--19th century.
African Americans--Social conditions.
Atlanta Campaign, 1864.
Chetlain, Augustus Louis, 1824-1914.
Dalton (Ga.)--History--Civil War, 1861-1865.

53
See newspaper clippings

Davis, Morgan, d. 1864.
Dead.
Decatur (Ala.)--History, Military--19th century.
Harrison, Benjamin, 1833-1901.
Military chaplains--United States--History--19th century.

10-19, 33-75, 79-81 (see esp. 40-41, 43, 47-48, 50-51, 59, 66, 71-72)

Morgan, T. J. (Thomas Jefferson), 1839-1902.
Nashville, Battle of, Nashville, Tenn., 1864.
Race relations--History--19th century.
Race riots--History--19th century.
Sabbath.
Slavery.
Soldiers--Religious life.
United States--History--Civil War, 1861-1865--Participation, African-American.

10-19, 33-75
See also newspaper clippings

United States--History--Civil War, 1861-1865--Postal service.
United States--History--Civil War, 1861-1865--Scouts and scouting.
United States. Army--African American troops--History--19th century.

10-19, 33-75, See newspaper clippings

United States. Army. Infantry Regiment, 14th.

33-75
See newspaper clippings
Subjects
Click on terms below to find any related finding aids on this site.
Subjects:

Formats:

Names:

Places:
Contents
Using These Materials
---
RESTRICTIONS:

The collection is open for research.

USE & PERMISSIONS:

Copyright status is unknown.
PREFERRED CITATION:

William Elgin Journal, James S. Schoff Civil War Collection, William L. Clements Library, The University of Michigan