Back to top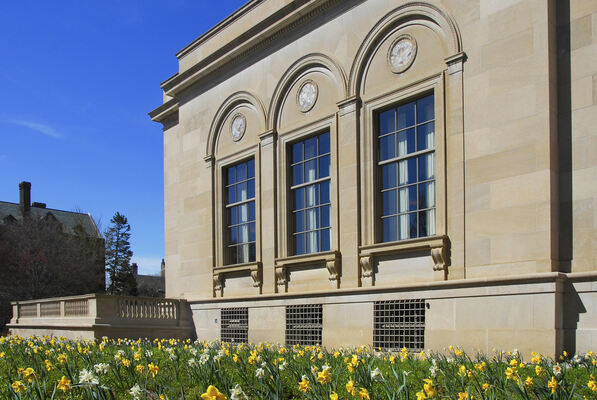 Address

:

909 South University Avenue

Ann Arbor, MI 48109, USA
George Albert Thomas papers, 1829-1847
Using These Materials
---
Restrictions:

The collection is open for research.
Summary
Creator:

Abstract:

The George Albert Thomas papers consist of the personal letters and writings of George Albert Thomas of Portland, Maine. The letters revolve around art, politics, philosophy, and cultural activities in Portland.

Extent:

0.5 linear feet

Language:

English

Authors:

Collection processed and finding aid created by Philip Heslip, August 2010
Background
Scope and Content:

The George Albert Thomas papers (283 items) consist of the personal letters and writings of George Albert Thomas of Portland, Maine. The letters relate to art, politics, philosophy, and cultural activities in Portland.

The Correspondence series (226 items) consists largely of letters written to George A. Thomas by his brothers, Charles, Edward, and John; his sister Charlotte; his mother Elizabeth; and college mates. George wrote a few of the letters. The Thomas family and their friends were interested in the pursuit of education and the cultivation of the mind, and their correspondence revolves around the currents of the intellectual life and the social bonds among the educated elite. Letter topics include the state of national and regional politics; current events and movements, such as anti-slavery and temperance; education at Bowdoin College and elsewhere; and contemporary literature, poetry, music, and opera. Thomas was also involved with organizing concerts at the Third Parish of Portland and at St. Stephen's Church. George Thomas wrote his letters while he was studying law in Portland; he described his studies and his interest in his new career. Charlotte Thomas typically wrote about family matters and her education. This series contains 24 undated letters.

Letters of note include:

1833 to 1836: eleven letters written by Samuel Longfellow, brother of Henry Wadsworth Longfellow, while a student at the Portland Academy.
October 26, 1836: a letter addressed to the President explaining "why emigration to this country ought not to be tolerated."
October 20, 1837: a letter from a friend explaining the curriculum at Bowdoin College.
February 1, 1843: a letter describing the cultural amenities of Boston, and a sketch of the Boston Millerite tabernacle.
July 19, 1843: a letter containing a short four-voice religious tune composed by the letter writer, Edward Howe, Jr.
March 10, 1844: a letter from Daniel Webster Fessenden, a Portland lawyer who was active with the Underground Railroad, scolding Thomas for sneaking off to Harvard.
January 11, 1849: a letter from a friend named Enriquo, describing the music culture in Havana, including opera and,band performances, as well as the performers and composers in the city. Also in the letter is an account of the women of Havana and the celebration of the Epiphany: "King's Day" or "the day of kissing hands," when the "'colored poppelation' turned out for a frolic, male and female, dressed in fantastic, grotesque, and native african costumes, armed with tin & wood spears & swords with musical instruments of native manufacture."

The School Essays series (19 items) contains Thomas' writings from his time at Bowdoin College, 1840 to 1841, with 14 undated items. These essays include poetry and literary criticism, a defense of capital punishment, an essay on chivalry's place in history, an assessment of the author Richard Cumberland, and thoughts on the worth of such intellectual pursuits as the study of art and philosophy.

Other important essays are entitled:

On the probable continuation of the present United States of America as one undivided nation
A stray leaf from my Journal: War should be abolished for the following reasons…
Causes which affect the National Taste -- in regard to Art or Literature

The Writings and Extracts series (10 items) consists of handwritten excerpts of poetry and prose from Goethe, Percy Shelley, Voltaire, and others. Of note is a four-page account of Thomas' "serenades" of 1835-1837, which are accounts of feasting, drinking, and socializing with friends in Philadelphia.

The Documents, Printed Items, and Ephemera series (28 items) contains 12 miscellaneous items from Thomas' time at Bowdoin College and Harvard Law School, including tickets of merit, printed event programs, and library lending permissions. Also present are 16 items related to church congregations and businesses in Portland, Maine.

Biographical / Historical:

George Albert Thomas (1819-1907) was born in Portland, Maine, to Elizabeth Widgery and Elias Thomas. He attended the Portland Academy, graduated from Bowdoin College in 1841, and received a degree from Harvard Law School in 1844. Though he worked in the offices of Judge Howard and was admitted to the Cumberland bar, Thomas never practiced law. He left Maine in 1850 to prospect during the California gold rush and worked in mines near San Francisco until 1855, when he returned to supervise his family's estates in Portland. Thomas became involved with the anti-slavery movement and supported the Underground Railroad in Maine. He never married and lived with his sister Charlotte Julia Thomas. Thomas was known locally for his musical talents and served as a choirmaster at the Third Presbyterian Church of Portland, and as the musical director of St. Stephen's Church. Later in life, Thomas was the director of the Aged Brotherhood and Citizens' Mutual Relief Associations. He died in 1907.

Acquisition Information:

1992. M-2886.2 .

Processing information:

Cataloging funded by the National Endowment for the Humanities (NEH) and the "We the People" project.

Arrangement:

This collection is organized into 4 series:

I: Correspondence
II: School Essays
III: Writings and Extracts
IV: Documents, Printed Items, and Ephemera

Each series is ordered chronologically with undated items at the end.

Rules or Conventions:

Finding aid prepared using Describing Archives: A Content Standard (DACS)
Related
Additional Descriptive Data:

Related Materials

The Clements Library's Weld-Grimké family papers contain two items written by Samuel Longfellow: 1852-1862 and June 21, [1880].

Bibliography

Obituary Record of the Graduates of Bowdoin College and the Medical School of Maine , Journal Print Shop, Lewiston, Maine, 1911.
Subjects
Click on terms below to find any related finding aids on this site.
Subjects:

Formats:

Names:

Places:
Contents
Using These Materials
---
RESTRICTIONS:

The collection is open for research.

USE & PERMISSIONS:

Copyright status is unknown
PREFERRED CITATION:

George Albert Thomas Papers, William L. Clements Library, The University of Michigan