Back to top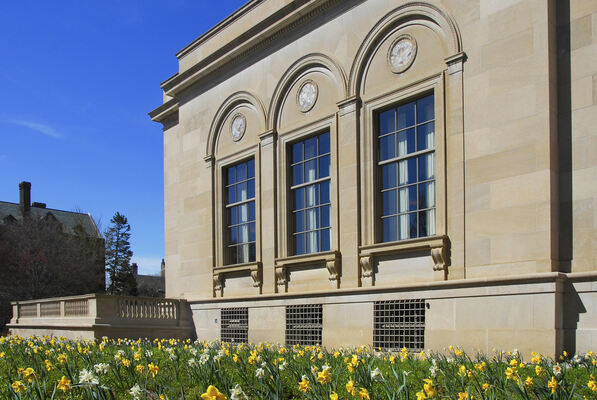 Address

:

909 South University Avenue

Ann Arbor, MI 48109, USA
Devereux papers, 1822-1872
Using These Materials
---
Restrictions:

The collection is open for research.
Summary
Creator:

Abstract:

The Devereux papers consist primarily of essays and speeches written by the progressive philosopher and politician George H. Devereux between about 1840 and 1870 in Massachusetts. The collection also contains book reviews, biographies, fiction, and poetry by Devereux, along with a small number of his letters, legal documents, and printed items related to his sons' service in the Civil War.

Extent:

205 items (1 linear foot)

Language:

English

Authors:

Collection processed and finding aid created by Clements Staff and Philip Heslip, October 2009
Background
Scope and Content:

The Devereux papers (205 items) consist primarily of essays and speeches written by the progressive philosopher and politician George H. Devereux between about 1840 and 1870 in Massachusetts. The collection also contains book reviews, biographies, fiction, and poetry by Devereux, along with a small number of his letters, legal documents, and printed items related to his sons' service in the Civil War.

The Correspondence series consists of 5 items including a four page letter from George Devereux's son John Forrester from on board the frigate Constitution, describing Arthur's and his movements with the army (April 26, 1861). George Devereux copied a portion of a letter from his son Arthur that gave an account of his regiment saving the old frigate Constitution from the rebels in Annapolis. Another item is a brief undated letter from Nathaniel Bowditch (1773-1838) to his cousin John Forrester, inviting him to meet the President.

The Legal Documents series contains 2 items. First is a deed of sale transferring the late Reverend Thomas Carlile's "Chaise, Plate, and all the house-hold Furniture" to John Forrester from a group of Salem merchants. This document inventories every object of the house room by room. The second document is an 1866 quit-claim deed to George H. Devereux from Nathaniel Silsbee, husband of Marianne Cabot Silsbee, Georges' sister.

The Essays, Speeches, Poems, and Other Writings series contains 189 items and comprises the bulk of the Devereux Collection. The series consists of essays, speeches, poems, and works of fiction, written by George H. Devereux, between about 1840 and 1870. These reflect his deeply held political and social progressive viewpoints. Devereux wrote an extensive, mulit-part work on the French Revolution and Emperor Napoleon I; 7 essays are on historical topics (including two on the Civil War written during the war); 13 are on philosophical topics (common sense, time, mythology, human nature); and several minor essays are on a wide range of topics, including abolitionism, modern science, spiritualism, Unitarianism, proper names, and woman's rights. He wrote orations for the Children's Friend Society, and on topics of free thought, the forest, and the Massachusetts Legislature (pre-Civil War). While in Maine, Devereux wrote an essay on Moosehead Lake, and composed another on Maine's climate.

Other writings include book and literature reviews concerning Roman and Greek literature, both popular and modern literature; biographical sketches on Lord Byron and Colonel Timothy Pickering; and poetry, of which the most substantial item is Camillus, A Roman Legend, a poem in two parts with illustrations. Many of Devereux's poems are based on Aesop's Fables, such as The Frogs, The Dog and Bone, The Crow and Urn, The Wolf and the Crane, and other animal-themed verses. Other poem titles are: The Sun and the Wind, The Two Curses, The Youthful Wanderer (1836), and The Retrospect (1859). Several of the poems have multiple drafts. Some fragments of untitled prose and one 32-page work entitled Zeke Cutter are writings of fiction. Finally, this series includes three undated and untitled pages of writing and manuscript instructions for card tricks.

The Printed Material series holds three items:

The Weal = Reaf The Record of the Essex Institute Fair Held at Salem: September 5-8 (1860), which describes the vendors and activities, and features contributions from Nathaniel Hawthorne and his son.
A copy of Our Roll of Honor, a collection of poems written by John Forrester Devereux. These poems commemorate his friends from the Salem Light Infantry who died in the war.
A pamphlet reprint of the Essex Institute's October 1963 article, "The Nineteenth Massachusetts Regiment at Gettysburg," by Hugh Devereux Purcell, which describes Colonel Arthur Devereux's role at Gettysburg.

The Graphics and Realia series consists of one photograph, a carte-de-visite of John Forrester Devereux in the 11th Massachusetts Infantry, taken by Childs and Adam, Marblehead, and a of a pair of his epaulets.

Biographical / Historical:

George Humphrey Devereux was born in Salem, Massachusetts, on December 1, 1809, to Humphrey Devereux and Eliza Dodge. Having studied law with Leverett Saltonstall, Devereux (Harvard, class of 1829) was admitted to the Essex County Bar in 1831. About a year later, he married Charlotte Stony Forrester (1811-1873), a daughter of one of Salem's most prosperous merchants, John Forrester. They had 10 children: George Forrester, John Forrester, Arthur Forrester, Charles Upham, Walter Forrester, Marianna Silsbee, Edward Forrester, Charlotte Story Forrester, Francis Bohun, and Eliza Dodge.

Devereux was elected twice to the Massachusetts House of Representatives (1834 and 1835), before moving to Cherryfield, Maine, where he stayed for 10 years to manage lumber operations. Remaining active in politics while in Maine, Devereux was selected as a delegate to the Whig convention of 1840,. After returning to Salem in 1846, he commanded the Salem Light Infantry and was appointed by Governor Briggs to serve as adjutant general of Massachusetts (1848-51). He was re-elected to the state legislature in 1856.

Devereux was a popular public speaker and a contributor to a number of publications, including the North American Review and The Christian Examiner. He often passionately defended his deeply held Whig convictions. Devereux died on October 24, 1878.

His two sons, John Forrester and Arthur Forrester, attained some prominence as soldiers during the Civil War. John (1835-1883), a Harvard graduate, served as a private in the Salem Zouaves, part of the 8th Regiment of the Massachusetts Militia. At the end of 1861, he was promoted to captain in Co. F in the 11th Massachusetts Infantry, and fought in every major battle with the Army of the Potomac. He was promoted again in November 1864 to captain of the 6th U.S. Colored Troops, and was mustered out on September 25, 1865. After the war, John practiced law for a time in Marblehead, Massachusetts. In the 1870s, he tried unsuccessfully to establish farms in Kansas and Nebraska. He lived with his brother Charles at Red Oak, Iowa, for a few years and died in 1883. Arthur (1838-1906), a Harvard and West Point graduate, commanded the Salem Light Infantry and was a captain in the 8th Massachusetts Infantry. He served with distinction in many of the major Civil War battles including Yorktown, Fredericksburg, Antietam (where he was wounded), and Gettysburg. He died in Cincinnati, Ohio, in 1906.

Acquisition Information:

1992. M-2835 .

Processing information:

Cataloging funded by the National Endowment for the Humanities (NEH) and the "We the People" project.

Arrangement:

This collection is organized into 5 series:

Series I: Correspondence
Series II: Legal Documents
Series III: Essays, Speeches, Poems, and Other Writings
Series IV: Printed Materials
Series V: Graphics and Realia

Rules or Conventions:

Finding aid prepared using Describing Archives: A Content Standard (DACS)
Subjects
Click on terms below to find any related finding aids on this site.
Subjects:

Formats:

Names:

Places:
Contents
Using These Materials
---
RESTRICTIONS:

The collection is open for research.

USE & PERMISSIONS:

Copyright status is unknown
PREFERRED CITATION:

Devereux Papers, William L. Clements Library, The University of Michigan