Back to top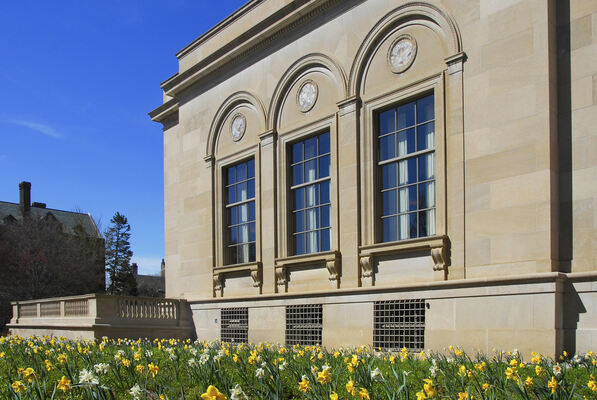 Address

:

909 South University Avenue

Ann Arbor, MI 48109, USA
Mary Wait and Alden Scovel collection, 1820-1888
Using These Materials
---
Restrictions:

The collection is open for research.
Summary
Creator:

Abstract:

This collection contains incoming letters to Alden Scovel and a group of diaries kept by Mary Wait Scovel. The Scovels were related by Mary Wait's marriage to Alden Scovel's cousin, Hezekiah Gould Scovel.

Extent:

1.5 linear feet

Language:

English

Authors:

Collection processed and finding aid created by Maura Seale; Richard C. Bates, 2006; and Kay Miller and Meg Hixon, November 2013
Background
Scope and Content:

This collection contains material related to Alden Scovel and Mary Wait Scovel. The Scovels were related by Mary Wait's marriage to Alden Scovel's cousin, Hezekiah Gould Scovel.

The Alden Scovel Correspondence (69 items) consists of Scovel's incoming personal correspondence, dated April 24, 1820-April 29, 1850 (primarily 1820-1824). He received letters from family members, including his brother Ashley and his uncle Sylvester, who provided news from Albany, New York, and Williamstown, Massachusetts, and from other acquaintances. Charles F. Stuart described his life in Aurora, New York, and Samuel Bradstreet wrote several letters about legal issues related to disputed land holdings in northern New York State. Additional items include an invitation to a Yale alumni reunion (May 20, 1836), a certificate regarding funding that Scovel received from the General Assembly of the Presbyterian Church in the United States of America Board of Missions (April 29, 1850), and a report about the Albany Juvenile Bible Society (undated).

The Mary Wait Scovel Papers are divided into several series. The Correspondence and Documents subseries (7 items) includes letters that she received from S. Wait in Albany, New York (March 22, 1867); C. Johnston in Memphis, Tennessee (October 7, 1870); and G. [Foierson] in Columbia, Tennessee. Her correspondents discussed personal news, Mary's order of printed cards, and the estate of James M. [Elrea?]. Other items include a patent deed (April 25, 1870), a brief undated note to Mary, and blank forms regarding membership in a lodge of the Grand United Order of Odd Fellows and the payment of fuel rations.

The Diaries, Account Books, and Commonplace Books subseries (16 volumes) consists primarily of journals dated August 27, 1838-March 16, 1885, including an unbroken series of diaries kept by Mary Wait Scovel between June 15, 1864, and March 16, 1885 (14 volumes). Scovel wrote primarily about her social life; charitable work; daily activities in Nashville, Tennessee; and travel in Arkansas and Florida. She occasionally commented on current events: several Civil War-era entries concern war news and related events, and her entry of April 30, 1875, describes a lynch mob. In addition to diary entries, the first 4 volumes contain financial records, poetry, essays, genealogical notes, and medical recipes. Volumes 6-16 include records of Mary Wait Scovel's incoming and outgoing correspondence. Some of the pre-printed diaries used by Mary Scovel were originally intended for use by military medical personnel. Enclosures include clippings, additional pages of notes, and plant material.

The Programs, Pamphlets, and Ephemera subseries (76 items) consists largely of programs from charity concerts, theatrical presentations, and celebrations, often held in support of and in honor of schools and other institutions in Nashville, Tennessee. Other items include advertisements and business cards, a menu, an unused memorandum book, and a calendar for January 1874-August 1875. The series contains a list of suggested candidates for an election held in January 1868, several advertisements regarding the benefits of sending children to kindergarten, and an advertisement for The Spirit of Arkansas, which features an illustration of a Native American man riding a grasshopper and chasing another man, with the caption "They have no G. Hoppers and Indians there!"

The Newspaper Clippings subseries (5 items) includes pages and excerpts from the Nashville Whig ([1846]), Nashville Union (April 24, 1862), The Wright County Times (Monticello, Minnesota, February 2, 1888), and the Nashville Banner (April 21, 1888), as well as a published compilation of Clippings from the Tennessee Papers with Other Interesting Items ([April 1865]). The Nashville Whig featured a printed illustration of businesses along Nashville's public square, including H. G. Scovel's storefront.

Biographical / Historical:

Alden Scovel was born in Peru, Massachusetts, on April 4, 1801, the son of Jonah Scovel (1777-1859) and Sarah Brigham; the family later moved to Albany, New York. Alden had two brothers, Ashley (b. 1799) and John Brigham (b. 1808). After preparing for college under Reverend Moses Hallock in Plainfield, Massachusetts, he graduated from Yale College (1826) and Princeton Theological Seminary (1829). He led Presbyterian congregations in Hudson (now Stockport), New York, and Bordentown, New Jersey, before becoming headmaster of a school in Bloomington, Illinois. He retired to Chicago, Illinois, in 1873. He and his wife, Elizabeth B. Hutchinson, married in the late 1820s and had eleven children: Sarah Elizabeth, Alden Cortland, Philip Spencer, William Chester, Harriet Hutchinson, Catherine Cornelia, Jonah Sylvester, John Coombs, Robert Hutchinson, Edward Combs, and Anna Leland. Alden Scovel died in Chicago on July 16, 1887.

Mary Wait was born in Albany, New York, on November 9, 1816. She married Hezekiah Gould Scovel (1816-1897), a cousin of Alden Scovel, on November 7, 1843, and they had seven children: George Wait, Mary Louisa, Anna Wait, Spencer Gould, Elizabeth Jones, Altheia Lapsey, and William Wait. The Scovels moved to Nashville, Tennessee, around the time of their marriage; there, Hezekiah owned a drugstore and later became a real estate agent. Mary Wait Scovel died on December 9, 1890.

Acquisition Information:

1992-1997. M-2813, M-3242, M-3359.12 .

Processing information:

Cataloging funded by the National Historical Publications and Records Commission (NHPRC). This collection has been processed according to minimal processing procedures and may be revised, expanded, or updated in the future.

Arrangement:

The collection is arranged in the following series:

Series I: Alden Scovel Correspondence
Series II: Mary Wait Scovel Papers

Subseries I: Correspondence and Documents
Subseries II: Diaries, and Account Books, and Commonplace Books
Subseries III: Programs, Pamphlets, and Ephemera
Subseries IV: Newspaper Clippings

Each series and subseries is arranged chronologically, with undated items placed at the end.

Rules or Conventions:

Finding aid prepared using Describing Archives: A Content Standard (DACS)
Related
Additional Descriptive Data:

Related Materials

The Bradstreet Family Papers consist largely of correspondence regarding the legal affairs of Martha and Samuel Bradstreet.

Bibliography

Haines, Selden. A Biographical Sketch of the Class of 1826, Yale College. Published in Accordance with a Resolution Adopted at the Meeting of the Class in 1846. Utica, N.Y.: Roberts, Book and Job Printer, 1866.

Holley, Jennie M. Scoville and Homer Worthington Brainard. Arthur Scovell and His Descendants in America, 1660-1900. Rutland, Vt.: The Tuttle Publishing Company, Inc., 1941.

Obituary Record of Graduates of Yale University Deceased During the Academical Year Ending in June, 1889. Including the Record of a Few Who Died Previously, Hitherto Unreported.

Additional information about this collection, including extensive genealogical research, is available in the Manuscripts Division.
Subjects
Click on terms below to find any related finding aids on this site.
Subjects:

Formats:

Names:

Places:
Contents
Using These Materials
---
RESTRICTIONS:

The collection is open for research.

USE & PERMISSIONS:

Copyright status is unknown
PREFERRED CITATION:

Mary Wait and Alden Scovel Collection, William L. Clements Library, The University of Michigan