Back to top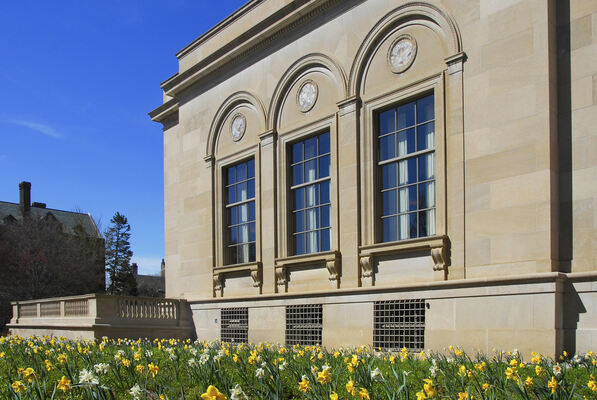 Address

:

909 South University Avenue

Ann Arbor, MI 48109, USA
Charlotte Pettibone Winslow papers, 1834-1910 (majority within 1834-1851)
Using These Materials
---
Restrictions:

The collection is open for research.
Summary
Creator:

Abstract:

This collection contains correspondence that Charlotte Henrietta Winslow (née Pettibone) received in the mid-1800s. She corresponded with several potential suitors in the latter half of the 1840s, including her future husband, Horace Winslow. Other correspondence includes personal letters she received from family and friends, as well as letters addressed to her sister-in-law, Philinda Winslow. Other items include poems and religious notes.

Extent:

1 linear foot

Language:

English

Authors:

Collection processed and finding aid created by Rob S. Cox, October 1996; Clements Staff, September 1997; and Meg Hixon, May 2012
Background
Scope and Content:

This collection (1 linear foot) contains over 500 letters related to Charlotte Henrietta Winslow (née Pettibone), as well as poetry, religious notes, and other items. In the mid-1800s, Charlotte Pettibone Winslow received letters from potential suitors, family members, and friends. The collection also contains letters written and received by her husband, Horace Winslow, as well as letters received by her sister-in-law, Philinda Winslow. Most of the correspondence concerns social life in New York City and Connecticut in the early 19th century.

The bulk of the collection consists of correspondence that Charlotte Pettibone Winslow received both before and after her marriage to Presbyterian and Congregational pastor Horace Winslow. She received 3 letters from Delia Bacon between 1844 and 1845 related to her desire to study under Bacon, as well as letters from friends and family members describing their social lives in New York City and in Connecticut towns such as Norfolk and Hartford. Many of the letters discuss courtship and marriage; multiple correspondents also mentioned their acquaintances' visits to Niagara Falls.

Charlotte Pettibone corresponded with several potential suitors in the mid- to late-1840s, and the collection contains many letters she received from suitors, as well as her responses, which include both original items and contemporary copies that Pettibone transcribed herself. Two letters are apologies to potential suitors with whom she did not wish to engage in correspondence and courtship (February 18, 1843 and January 1, 1848). The collection contains 3 letters that Sanford Horton wrote to Pettibone between 1845 and 1846, regarding the possibility of correspondence and the potential for mutual affections, as well as her responses. She also received 4 similar letters from William Long, to whom she responded 3 times. The letters between Pettibone and Long often relate to religious views and to Charlotte's religious studies; the final 2, written in December 1846, discuss the discontinuation of their correspondence.

Other suitors included Harvey Loomis (23 letters and 12 responses, 1847-1848); Nat B. Stevens (7 letters and 2 responses, 1846-1847); and J. H. W. Wing (2 letters and 6 responses, 1848). Horace Winslow wrote 3 letters to Charlotte during their courtship, and 13 during the first two years of their marriage, expressing his affections and providing news of his health and activities.

Charlotte Pettibone Winslow also received letters from her mother, Fanny Pettibone, who provided news from Norfolk, Connecticut, and from her extended family. Fanny Pettibone received several letters from Jeffrey O. Phelps between 1876 and 1877, most of which concern finances. Charlotte Pettibone Winslow received 4 letters from her niece, Molly P. Phelps, about her studies at Amherst College between 1838 and 1840. Winslow also wrote to her sister-in-law, Philinda Winslow, after 1850, and wrote to other friends and family members throughout the early 1800s.

Philinda Winslow received social letters from friends and family members, including 19 from her brother Horace. Friends, cousins, and other correspondents discussed social news; her most frequent correspondent, Corinna A. Fisher, wrote 50 letters between 1845 and 1853, most from Lansingburg, New York. On April 17, 1862, Corinna A. Shearer responded to news of Horace Winslow's appointment as chaplain to the 5th Connecticut Volunteer Regiment, and wrote of the sacrifice of lives for the preservation of the Union. Two other items relate to Horace Winslow's Civil War service, including a paper listing his name and regiment and an undated printed form for declaring "Arrears of Pay."

The collection also contains a letter written to Timothy Stanley from a woman's rights convention held in Connecicut in 1854, in which the author claimed that women possessed superior qualities to men, advocated that women retain their surnames after marriage, and discussed women's civil rights.

Additional materials include a colored picture of a flower, miscellaneous fragments and notes, and a document respecting Charlotte Pettibone's performance at Miss Hillyer's School. The collection also contains 12 poems and poetic fragments, 13 sets of notes on sermons and Bible verses, a receipt, a printed letter that Horace Winslow addressed "For the Freedmen," a program for the Fourth Annual New England Conference of Christian Workers, and an advertisement for religious tracts.

Biographical / Historical:

Charlotte Henrietta Pettibone, the daughter of Jonathan Pettibone and Fanny Rosanna Phelps, was born in Simsbury, Connecticut, in 1824, and graduated from the Hartford Female Seminary at the age of 16. On May 8, 1850, she married Horace Winslow (1814-1905), who had attended Auburn Theological Seminary and Union Theological Seminary, and was ordained in North River, New York, in 1842. Horace Winslow served at the Presbyterian Church in New Windsor, New York (1842-1843); the Second Presbyterian Church at Lansingburg, New York (1843-1845); the Congregational Church of Rockville, Connecticut (1845-1852); the First Congregational Church of New Britain, Connecticut (1852-1858); the Congregational Church at Great Barrington, Massachusetts (1858-1862); the 5th Connecticut Infantry Regiment (1862-1863); the Congregational Church in Binghamton, New York (1863-1869); and the Congregational Church of Willimantic, Connecticut (1869-ca. 1888). Horace and Charlotte Pettibone Winslow had three children: Fanny, Lillian, and Mary. Charlotte Pettibone Winslow died in 1905.

Acquisition Information:

1991, 1997. M-2662a9, M-3342.3 .

Processing information:

Cataloging funded by the National Historical Publications and Records Commission (NHPRC). This collection has been processed according to minimal processing procedures and may be revised, expanded, or updated in the future.

Arrangement:

The collection is arranged in the following series:

Series I: Correspondence
Series II: Poetry
Series III: Religious Notes
Series IV: Miscellaneous

The Correspondence series is arranged chronologically.

Rules or Conventions:

Finding aid prepared using Describing Archives: A Content Standard (DACS)
Related
Additional Descriptive Data:

Related Materials

The Bacon family papers contain material related to Delia Bacon.

The Duane Norman Diedrich Collection includes a letter from Philinda Winslow to Horace Winslow respecting her studies, dated March 14, 1843.

The Simsbury Historical Society holds sermons by Horace Winslow, in addition to other papers related to Charlotte and Horace Winslow and their family.

The Connecticut Historical Society holds a diary Charlotte Pettibone Winslow kept between 1841 and 1842.

Bibliography

Commemorative Biographical Record of Hartford County, Connecticut. Chicago: J. H. Beers & Co., 1901
Subjects
Click on terms below to find any related finding aids on this site.
Subjects:

Formats:

Names:

Places:
Contents
Using These Materials
---
RESTRICTIONS:

The collection is open for research.

USE & PERMISSIONS:

Copyright status is unknown
PREFERRED CITATION:

Charlotte Pettibone Winslow Papers, William L. Clements Library, The University of Michigan