Back to top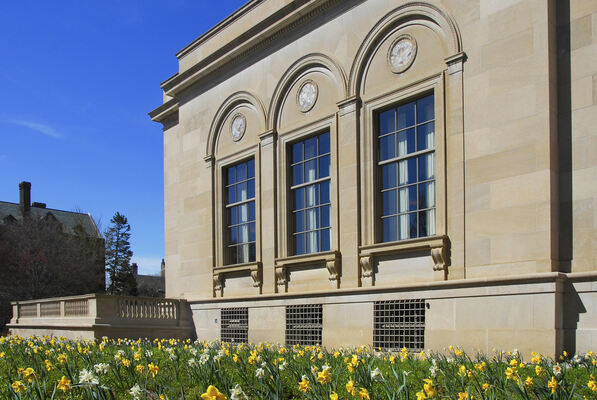 Address

:

909 South University Avenue

Ann Arbor, MI 48109, USA
A. R. Pierce and A. L. Rankin papers, 1873-1880
Using These Materials
---
Restrictions:

The collection is open for research.
Summary
Creator:

Abstract:

A. R. Pierce and A. L. Rankin papers consist of letters filled with detailed information on the buildings, people, and religious life of Tulare, California.

Extent:

10 items

Language:

English

Authors:

Collection processed and finding aid created by Rob S. Cox, 1991
Background
Scope and Content:

Adam Lowry Rankin's lengthy letters to his friend in Vermont, A.R. Pierce are filled with detailed information on the buildings, people, and religious life in Tulare during the turbulent years of the 1870s. Rankin provides unusually detailed descriptions of both of the houses in which he lived, including a floor plan of one, of his garden, the church being constructed for him, and the town.

The true heart of the collection, however, is the protracted struggle between Rankin and his rivals. Rankin's early enthusiasm for his mission was met with a wall of apathy by the residents of Tulare, who seem always to have been more concerned with malicious gossip and grudges than salvation. Rankin comments at length on his failing ministry, on the religious and social tensions in town, and on the friction resulting from those whom Rankin considered as moral backsliders. Rankin's financial difficulties his relationship with both the Congregational Church hierarchy and the American Home Missionary Society also figure throughout the collection.

Biographical / Historical:

Rev. Adam Lowry Rankin accepted a call to become pastor of the Congregational Church in Tulare, Calif., in January, 1873, and under the partial sponsorship of the American Home Missionary Society, moved out to the eastern foothills of California's Great Valley to join the small and seemingly indifferent flock. In 1873, Tulare lacked the social coherence expected in a more settled community. A small, primarily agricultural community situated on the Union Pacific line between Bakersfield and Fresno, it was entering into a period of rapid growth and social disorganization as the Valley entered into a major phase of economic expansion as rail lines linked farm to market with increasing efficiency. Adam Lowry Rankin, the son of renowned abolitionist minister, John Rankin, thus appeared primed to continue in the family's benevolent tradition of working for the moral cause and of ministering to those most in need.

Rankin's first duties in Tulare included building a suitable house for himself and making improvements to the existing church and Sabbath school, tasks he and the townspeople took to with some enthusiasm. Within a year, though, Rankin had begun to alienate a portion of the population -- particularly those whom he refers to as "spiritualists," gamblers and rum sellers -- and he became a target for the seemingly inexhaustible supply of "malicious tongues" in town. Adding to his problems, Rankin faced open, unrestrained competition from rival ministers, and his low and sporadic pay from the Congregational Church Committee in San Francisco led him deeply into debt. The Methodists constituted Rankin's biggest bloc of sectarian foes and Rankin, at least, felt that the local Methodist preacher went out of his way to discredit and embarrass him. In turn, Rankin considered Methodism to be "worse than Japanese heathenism." Other opposition to Rankin took a variety of forms, including an unsuccessful move by spiritualists to prevent having a Christmas tree placed in the Sabbath school. Though Rankin claimed optimistically that the numbers of pupils in his Sabbath school remained high and constant throughout his tenure in Tulare, his ministry clearly suffered.

Discouraged and in debt, Rankin considered leaving Tulare at the end of his second year, but was persuaded to remain, providing certain conditions were met, the most important of which were a raise in pay (to $1,000 per annum) and the construction of a new church and parsonage. With the financial assistance of the Union Pacific Railroad, construction got under way, but soon became the focal point of complaint for Rankin's antagonists. Rival ministers, who Rankin said "care more for sect than for Christ," along with the "rum sellers" and all of his other opponents accused Rankin of "stealing a meeting house" and "stealing" a new house for himself. In 1878, these opponents attempted to set up a rival ministry in town, and although their attempt was unsuccessful, the damage to Rankin's ministry was irreparable. Rankin decided to leave Tulare and accept a new call at an indebted church in Soquel, Santa Cruz Co., claiming the he could no longer "stomach" Tulare.

Acquisition Information:

1991. M-2662a28 .

Rules or Conventions:

Finding aid prepared using Describing Archives: A Content Standard (DACS)
Related
Additional Descriptive Data:

Related Materials

The African American and African Diaspora Collection contains several letters and an autobiographical manuscript of John Rankin, Adam Lowry Rankin's father. One of the letters, written in December, 1845, was sent from father to son.

Partial Subject Index

American Home Missionary Society

1873 October 27
1876 March 29

Christmas trees
Churches--California
Congregational Churches--Clergy--California

1873 October 27
1874 January 2
1874 June 7
1874 August 19-20
1875 January 30
1875 June
1876 March 29
1878 August 28
1880 January 29

Congregational Churches--Clergy--Salaries, etc.--California

1875 January 30
1880 January 29

Congregational Churches--Missions--California
Diphtheria--California
Gardens--California

1874 June 7
1874 August 19-20
1878 August 28

Gossip
Houses--California--Tulare

1873 October 27
1874 August 19-20

Methodist Church--Clergy--California
Methodists--California

1874 August 19-20
1875 January 30

Railroads--California
Real property--California
Redwood
Sabbath schools--California

1874 January 2
1874 August 19-20
1875 January 30

Schools--California
Sierra Nevada Mountains (Calif.)--Description and travel
Spiritualists--California
Tulare (Calif.)--Description

1873 October 27
1874 August 19-20
1878 August 28

Tulare (Calif.)--History--1873-1877
United Brethren Church--California
Weddings--California
Wells--California
Subjects
Click on terms below to find any related finding aids on this site.
Contents
Using These Materials
---
RESTRICTIONS:

The collection is open for research.

USE & PERMISSIONS:

Copyright status is unknown.
PREFERRED CITATION:

A. R. Pierce and A. L. Rankin Papers, William L. Clements Library, The University of Michigan