Back to top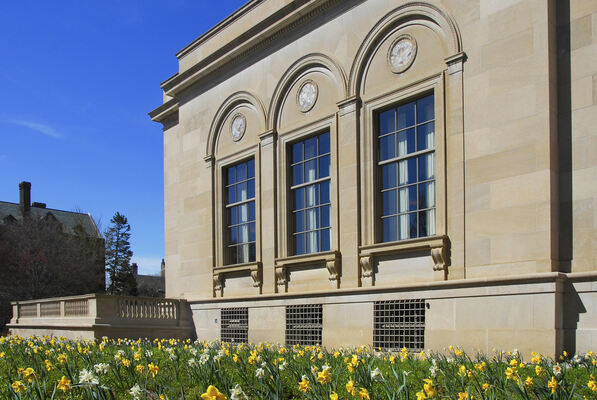 Address

:

909 South University Avenue

Ann Arbor, MI 48109, USA
John Gorham papers, 1744-1772 (majority within 1748-1750)
Using These Materials
---
Restrictions:

The collection is open to research.
Summary
Creator:

Abstract:

The Gorham collection consists primarily of materials pertaining to the military career of John Gorham in Nova Scotia. Gorham organized a very successful military unit called the Rangers who were known for their unorthodox tactics.

Extent:

24 items (0.25 linear feet)

Language:

English

Authors:

Collection processed and finding aid created by Rob S. Cox
Background
Scope and Content:

Material in this collection is concentrated in the years 1748-1750, when Gorham was in the vicinity of Halifax, N.S. With the exception of two deeds (dated 1772, from his son, Solomon) and one letter (1749 June) that concern the sale of property, and of the genealogical material, all items in the collection pertain to John Gorham's military career in Nova Scotia. Seven letters relate to his military activities around Fort Sackville in the Fall of 1749, describing his efforts and attempting to gain support among members of the government. Four letters include attempts to get back pay owed the Rangers.

Biographical / Historical:

John Gorham represented the fourth generation of Gorhams in America to serve in the military: his great-grandfather, John, rose to the rank of Colonel in a Massachusetts Regiment during King Phillip's War, dying of exposure following the Narragansett Swamp fight (1675); his grandfather, also named John, participated on the ill-fated expedition to Quebec in 1690; and his father, Shubael, became Colonel of the 7th Massachusetts Regiment during the Louisburg expedition of 1745.

Born at Barnstable, Mass., on December 12, 1709, John Gorham began working on ships operating out of the port before he had turned twenty, trading at various ports in Canada, and he was occasionally involved in land speculation in Nova Scotia and Maine. Following the family pattern, however, he entered into military service before 1741. At the outbreak of King George's War in 1744, Gorham organized a group of about 50 Rangers in New England that was sent to reinforce the garrison at Annapolis Royal, N.S. Gorham's Rangers, mostly Mohawks or persons of mixed-blood, were a highly successful free-ranging unit that employed "unorthodox" tactics -- i.e., those not commonly employed by British regulars -- including the applied use of terror. Their arrival at Annapolis Royal shifted the military balance in favor of the English, and for this, Gorham received wide recognition. His Rangers rapidly gained a fearsome reputation among the French and indigenous populations. Early in 1745, Gorham returned to Massachusetts to recruit additional Rangers, and was persuaded by Governor Shirley and William Pepperell to join the expedition against Louisburg and Isle Royale. At their request, Gorham accepted a commission as Lt. Col. of the 7th Massachusetts Regiment commanded by his father. John Gorham organized the landing at Gabarus Bay on April 30, 1745 and, along with Lt. Col. Arthur Noble, led the failed assault on the Island Battery on 23 May. With his father's death on February 20, 1745/46, he was promoted to Colonel of the 7th Massachusetts and remained in effective command of New England forces at Louisburg until April 1746.

The Louisburg victory, however, did not prove as beneficial as Gorham had wished. First, rivalries with other officers cost him the opportunity to deliver news of the victory personally to George II, effectively denying him a measure of recognition and monetary reward; second, his troops were not allowed to plunder the area around Louisburg as they had been promised, depriving him of a large, and fully expected source of compensation. Finally, Gorham and his troops never received any direct compensation from the crown for their services. The lack of financial support from the British government became an issue that occupied much of Gorham's time and energy during the last five years of his life.

Throughout the remainder of 1746 and 1747, Gorham and his Rangers enhanced their reputation as being "far more terrible than European soldiers," and came to be viewed as the most effective fighting unit in the Province. It was said that their reputation was such that neither French nor Indians would meet with them, and the arrival of Gorham's Rangers was usually sufficient cause for attacking parties to disperse.

After the defeat of Arthur Noble by French forces at Grand Pré, January 1747, Gorham returned to New England and received permission to form a much larger company of Rangers (about 100 men). With the support of the Duke of Newcastle and George II in England (gathered on a brief trip to London), and of Paul Mascarene and Gov. Shirley in the colonies, the defense of the entire province of Nova Scotia fell de facto into Gorham's hands. Following the peace treaty with France, the Rangers continued to play a vital role in furthering British interests in Nova Scotia. In 1748, Mascarene order Gorham to subdue French settlers along the disputed St. John River and to impose the Oath of Allegiance. In addition, he helped to establish Fort Sackville as a means of protecting the newly founded Halifax, and his Rangers were often involved in quelling disturbances of the Micmac and St. John Indians.

Gorham's career reached its apex in July 1749 when he was appointed to the Nova Scotia Council, on which he served until August 1751. But beginning with the appointment of Edward Cornwallis as Governor in July 1749, his fortunes began to decline. Cornwallis and Gorham shared a mutual antipathy perhaps stemming from Cornwallis' feeling that Gorham had already received adequate compensation for his efforts and that the constant requests for additional payment were exorbitant.

In 1751, Gorham traveled to England in an attempt to satisfy his financial claims. He died of smallpox in London in 1751.

Acquisition Information:

1985. M-2440 .

Custodial History:

All material except for the muster roll were separated from the Whittemore-Low family papers.

Rules or Conventions:

Finding aid prepared using Describing Archives: A Content Standard (DACS)
Related
Additional Descriptive Data:

Partial Subject Index

| | |
| --- | --- |
| Aldridge, Christopher, d.1760 | |
| Anson (Ship) | |
| Bair, John | |
| Canada--English-French relations | |
| Canada--French-English relations | |
| Canada--History--To 1763 | |
| Clapham, William | |
| Cod fishing--Nova Scotia | |
| Colonization--Nova Scotia | |
| Cornwallis, Edward, 1712/3-1776 | |
| Deeds--Massachusetts | |
| Du Pont Duvivier, Joseph, 1707-1760 | |
| Fort Sackville (N.S.) | |
| Gorham Family | |
| Gorham, John, 1709-1751 | |
| Gorham, John, d. ca.1677 | |
| Gorham, Joseph, d. 1790 | |
| Gorham, Shubael, 1686-1745 | |
| Gould, King | |
| Great Britain--Foreign relations--France | |
| Great Britain. Army--Colonial regiments--Gorham's Rangers | |
| Great Britain. Army--Colonial regiments--Pay, allowances, etc. | |
| Great Britain. Army--Colonial regiments--Recruiting, enlistment, etc. | |
| Great Britain. Army--Colonial regiments--Supplies and stores | |
| Halifax (N.S.)--Civil defense | |
| Halifax (N.S.)--Description | |
| How, Edward, ca.1702-1750 | |
| Indians of North America--Wars--1600-1750 | |
| Kilby, Christopher | |
| King George's War, 1744-1748, | |
| Knowles, Charles, d. 1777 | |
| Mascarene, Paul, 1684 or 1685-1760 | |
| Military intelligence | |
| Minas (N.S. ) Expedition, 1747, | |
| Murder--Nova Scotia | |
| Muster rolls | |
| Nova Scotia--Civil defense | |
| Nova Scotia--Description and travel | |
| Nova Scotia. Council | |
| Oath of allegiance | |
| Phillips, Richard, 1661-1750 | |
| Rangers (Military) | |
| Real property--Maine | |
| Real property--Massachusetts | |
| Roman Catholics--Canada--Social conditions | |
| Russell, John, fourth Duke of Bedford, 1710-1771 | |
| Saint John Indians | |
| Shirley, William, 1694-1771 | |
| Taxation--Nova Scotia | |
| Warren (Ship) | |
| Whaling--Nova Scotia | |
Subjects
Click on terms below to find any related finding aids on this site.
Contents
Using These Materials
---
RESTRICTIONS:

The collection is open to research.

USE & PERMISSIONS:

No copyright restrictions.
PREFERRED CITATION:

John Gorham Papers, William L. Clements Library, University of Michigan