Back to top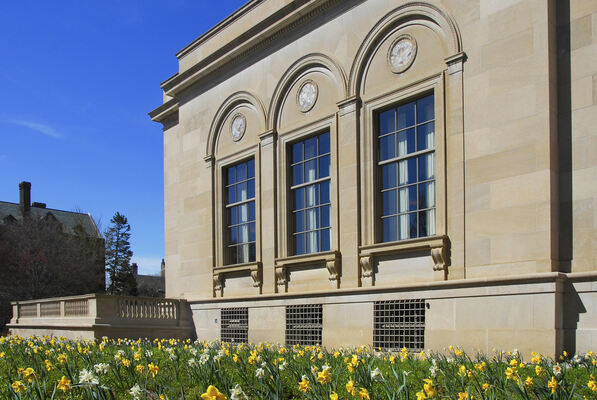 Address

:

909 South University Avenue

Ann Arbor, MI 48109, USA
David McKinney papers, 1776-1921 (majority within 1863-1865)
Using These Materials
---
Restrictions:

The collection is open for research.
Summary
Creator:

Abstract:

The David McKinney papers consist primarily of letters written by McKinney while serving as a quartermaster during the Civil War and include detailed descriptions of his work.

Extent:

82 items

Language:

English

Sponsor:

James S. Schoff Civil War Collection

Authors:

Collection processed and finding aid created by Rob Cox
Background
Scope and Content:

The bulk of the McKinney papers, 57 items, consists of letters written by David McKinney to his sister, Jeanette, and other siblings between June 25, 1863, and December 9, 1865, covering most of the period of his military service. As quartermaster, McKinney had little combat experience, though his descriptions of conditions during the siege of Vicksburg (13) and the battles of Sabine Cross Roads and Pleasant Hill (30) are detailed and colorful. He comments frequently and forthrightly about generals, generalship, and Copperheads and often alludes to the French presence in Mexico. McKinney's letters are perhaps most noteworthy for the interesting and unusual glimpse they offer into the workings of the Quartermaster's Department. Particularly in his letters from Mouth of White River (47-63), McKinney provides detailed discussions of his responsibilities and his brushes with the ubiquitous profiteers. In a later letter (66), he describes his personal role in the reconstruction of the South -- the hiring of a former Rebel colonel as a teamster.

The remainder of the collection, 24 items, consists of miscellaneous materials relating to various members of McKinney's family. Among these items are two Revolutionary-War-era letters (1, 2), a will from 1796 (3), and a series of five letters of recommendation written for David McKinney by his professors at Jefferson College (5). In the post-war period, three items relating to Abraham Smith McKinney's involvement with the Ingleside Plantation are noteworthy (70-72), as are three short letters written by David McKinney just prior to his death (78). Genealogical charts and material regarding the provenance of the papers are located in the last folder of the collection (82).

The most important of these family letters is one written in December, 1859, that includes a discussion of the role of Chambersburg, Pa., as headquarters for John Brown's forces prior to the raid on Harper's Ferry, and an account of the fate of some of the insurrectionists (11).

Biographical / Historical:

McKinney, David, 1829-1903

Rank: 1st Lieutenant; Captain

Regiment: 77th Illinois Infantry Regiment (1862-1865)

Service: 1862 September 3-1865 December

Born on September 5, 1829, in Newburg, Pa., David McKinney was the eldest of the nine children of Abraham Smith McKinney, Sr. (1791-1872) and his wife Margaret Reynolds McKinney (1801-1886). McKinney's father was a successful and respected farmer, tanner, and surveyor, and a veteran of the defense of Baltimore during the War of 1812. The stature and respect accorded to the elder McKinney eventually earned him several years of service in the Pennsylvania state legislature.

David McKinney attended Jefferson College in Canonsburg, Pa., impressing his professors with his intelligence, good nature, and integrity. Graduating in 1849, he began to pursue a career in teaching, a profession that he shared for a time by his younger brother, Abraham Smith McKinney, Jr. (1834-1921), but in 1856, the family moved to Peoria, Ill., to begin a new life in the west.

With the crisis of the Civil War upon them, David McKinney assisted his friend, and later brother-in-law, David Perkins Grier, in organizing a volunteer infantry regiment. The 77th Illinois was mustered in to the federal service on September 3, 1862, and on September 12, McKinney received a staff commission as first lieutenant, assuming the duties of regimental quartermaster. Ordered to take part in the campaigns to wrest control of the Mississippi Valley and divide the Confederacy, the 77th Illinois took part in the Vicksburg Campaign and subsequent capture of Jackson, Miss., and later in the Red River Campaign and other operations in northern Louisiana and Texas. It was in September, 1863, when flush with the victory of Vicksburg, "Perk" Grier took the opportunity to marry McKinney's sister, Anna.

A Democrat, politically, McKinney distanced himself from the conservative wing of the war-time Party. Considering himself above politics, and above the divisions that he saw dividing the north and imperiling the war effort, he argued that national unity, rather than partisanship, ought to be the overriding concern of all Americans. "I am very sorry indeed," he wrote to his sister, whom he felt was fraternizing with dissidents, "that you have any sympathy with those called Copperheads of the North -- they are a dangerous & disloyal set of men... They may be Democrats or abolitionists, I care not what, but they are not true Union men, & therefore I don't like to see them receiving any sympathy or continuance -- I don't know & do not want to know anything about party down here or elsewhere until this rebellion is put down" (1863 August 9).

Honest and capable, McKinney was called upon to fill increasingly responsible positions as a quartermaster following the Red River Campaign. When Grier was promoted to the command of the 2nd Brigade, 10th Division, XIII Corps, McKinney was appointed Acting Assistant Quartermaster on brigade staff, later serving in the same position on the staff of Brig. Gen. George F. McGinnis (3rd Brig., 3rd Div., XIX A.C.). Just as he was about to rejoin his regiment in New Orleans in December, 1864, McKinney was ordered to assume the position of post Quartermaster for the important Union supply depot at Mouth of White River, Ark. As Master of River Transportation, McKinney effectively controlled all military and commercial traffic passing the post down either the White or Mississippi Rivers -- a position that he noted was important and, in the wrong hands, could be used for personal profiteering.

In March, 1865, McKinney was rewarded with a promotion to captain, and shortly thereafter was appointed Assistant Quartermaster of the Department of Arkansas, in which position he supervised several supply depots and a large staff. He longed to remain in the service, and was willing to take on any post that would further that goal. Long after the close of the war in the West and the demobilization of his regiment, McKinney continued to perform valuable service for the army, organizing public sales of surplus military stores, however his application to transfer into the regular army was denied, and he was finally discharged in December, 1865.

McKinney's post-war activities are less clear. His brother, Abraham, became a successful businessman and banker in Peoria, after an abortive attempt to profit from running a plantation in Mississippi with a family friend, David Keighin. David McKinney never married, but seems to have enjoyed a successful career and comfortable life, as he was able to afford a variety of treatments for the illness which eventually claimed his life on January 10, 1903, in Peoria.

Acquisition Information:

Donated by Frances McKinney Gamble, 1987. M-2352 .

Arrangement:

The collection is arranged chronologically.

Rules or Conventions:

Finding aid prepared using Describing Archives: A Content Standard (DACS)
Related
Additional Descriptive Data:

Related Materials

The letters of Charles Otto Henthorn, another soldier represented in the Schoff Collections, provide a different perspective on the 77th Illinois, written by a motivated private directly involved in the drudgery of war.

Bibliography

Bentley, William H.History of the 77th Illinois Volunteer Infantry ... (Peoria, 1883).

Partial Subject Index

African-American domestics.
African-Americans--Mississippi.
Banks, Nathaniel Prentiss, 1816-1894.

1864 April 17
1864 April 26

Brown, John, 1800-1859.

1859 December 14
1864 September 12

Chambersburg (Pa.)--History.
Copperhead (Nickname)--Illinois.

1863 August 9
1864 July 2
1864 September 12
1864 September 22

Copperhead (Nickname)--Pennsylvania.
Cotton.
Death.
Dysentery.
Education--Pennsylvania.

1849 July 16-August 1
1852 March 24

Elmwood Academy (Elmwood, Ill.)
Finance, Personal.

1864 December 6
1864 December 19

Floods.

1865 March 28
1865 April 13
1865 June 15

Fourth of July celebrations.
Garrison duty--Louisiana.
Grier, David Perkins, d. 1891.

1863 November 24
1863 November 30
1863 December 4
1864 May 22
1864 August 7
1864 September 5
1864 December 21
1865 March 21

Harpers Ferry (W.Va.)--History--John Brown's Raid, 1859.
Jackson (Miss.), Battle of, 1863.
Jefferson College.
Kagi, John Henry, 1835-1859.
Lincoln, Abraham, 1809-1865.

1863 August 9
1864 September 22

Louisiana--Description and travel.
Loyalty.
Marches--Louisiana.
Matagorda Bay (Tex.)

1864 January 23
1864 February 7

McClellan, George Brinton, 1826-1885.

1864 September 12
1864 September 22

McGinnis, George Francis, 1826-1910.

1864 December 1
1864 December 6
1865 January 30

Mobile Campaign, 1865.
Morgan, Charles Hale, 1834-1875.
Motion sickness.
Officers' wives.
Plantations--Louisiana.
Plantations--Mississippi.

1866 February 8
1867 November 15
1867 December 27

Pleasant Hill, Battle of, 1864.
Presbyterian Church--Clergy.

1864 October 10
1865 January 30

Presidents--United States--Election--1864.

1864 September 12
1864 September 22

Prisoners of War.
Reconstruction--Mississippi.

1865 November 14
1866 February 8
1867 November 15

Red River Campaign, 1864.

1864 March 9
1864 March 25
1864 April 17
1864 April 26
1864 May 22
1864 May 28

Religious gatherings.
Riots--Illinois--Decatur.
Sabine Cross Roads, Battle of, 1864.
Shaler, Alexander, 1827-1911.
Smallpox.
Smith, Andrew Jackson, 1815-1897.

1864 March 25
1864 April 17
1864 April 26

Soldiers--Religious life.
Steamboat travel--Gulf of Mexico.
Teamsters.
Texas Coast Operations, 1863.
Texas--Description and travel.

1864 January 23
1864 February 7

Thanksgiving Day.
United States--History--Civil War, 1861-1865--African-Americans.

1863 November 10
1865 August 14

United States--History--Civil War, 1861-1865--Prisoners and prisons.
United States--History--Civil War, 1861-1865--Songs and music.

1863 November 16
1864 July 11

United States--History--Civil War, 1861-1865--Women.

1863 August 9
1863 November 10
1864 October 10

United States. Army of the Potomac.
United States. Army--Appointments and retirements.
United States. Army--Bands.

1863 November 16
1864 July 11

United States. Army--Corrupt practices.

1865 February 9
1865 June 15
1865 July 21
1865 August 14

United States. Army--Pay, allowances etc.
United States. Army--Promotions.

1864 December 6
1864 December 26
1865 March 21

United States. Army--Quartermasters.

passim, but see:
1862 September 12
1865 January 23
1865 February 9
1865 March 21
1865 March 28
1865 April 13
1865 June 15
1865 July 21
1865 August 14

United States. Army--Regiments--Relations.
United States. Army--Supplies and stores.

1865 November 1
1865 November 24

Vallandingham, Clement Laird, 1820-1871.
Vicksburg (Miss.)--History--Siege, 1863.
Wills--Illinois.

1869 June 17
1880 April 1

Women prisoners.
Women's Union League.
Women--Conduct of life.

1863 August 9
1865 October 27

Wood, Fernando 1812-1881.
Subjects
Click on terms below to find any related finding aids on this site.
Subjects:

Formats:

Names:

Places:
Contents
Using These Materials
---
RESTRICTIONS:

The collection is open for research.

USE & PERMISSIONS:

Copyright status is unknown.
PREFERRED CITATION:

David McKinney Papers, James S. Schoff Civil War Collection, William L. Clements Library, The University of Michigan