Back to top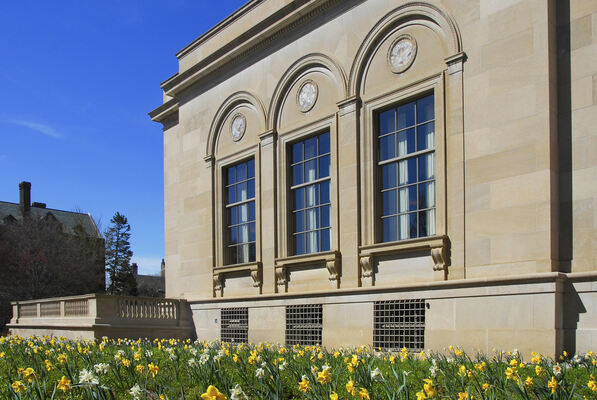 Address

:

909 South University Avenue

Ann Arbor, MI 48109, USA
Leopold Mayer family collection, 1864-1970 (majority within 1885-1909)
Using These Materials
---
Restrictions:

The collection is open for research.
Summary
Creator:

Abstract:

This collection is made up of letters, documents, genealogical research, and other items pertaining to Leopold Mayer of Chicago, Illinois, and his descendants. The materials concern family news, courtship, and the history of Chicago's Jewish community.

Extent:

0.25 linear feet

Language:

English
German

Authors:

Collection processed and finding aid created by Clements Staff, 1987, and Meg Hixon, January 2013
Background
Scope and Content:

This collection is made up of over 25 items pertaining to Leopold Mayer of Chicago, Illinois, and his descendants. Items in the Correspondence series (17 items) concern Leopold Mayer and his family members, particularly his daughter Amelia and her husband, Jacob Henry Mahler. In a letter dated November 10, 1864, Leopold expressed condolences to Mrs. M. M. Spiegel after learning of the death of her husband, a colonel, during the Civil War. The series also has 2 manuscript letters, 1 manuscript postcard, and 2 typescripts of letters that he wrote to his daughters, son-in-law, and grandchildren from 1885-1902. Most of these contain Mayer's moral advice on topics such as marriage (July 10, 1885) and his later reflections on his life and his wife (February 27, 1902; December 24, 1902).

Most of the remaining items in the series pertain to Amelia Mayer and Jacob Mahler. These include 2 personal letters from Mahler to Mayer (July 14, 1885, and August 26, 1896); 2 German-language letters by members of Mahler's family (January 13, 1892, and August 29, 1896); and 2 personal letters to Amelia from "Jennie," a friend in Milwaukee, Wisconsin (March 15, 1885), and from Ida, her sister, then traveling in Europe (August 27, 1906). Jacob Mahler received a letter about hotel rates in Wisconsin (May 24, 1896) and a birthday greeting from his son Felix in 1898, and wrote 2 friendly notes to Felix (September 22, 1903, and undated). The final item in the series is a typed letter that Arthur M. Oppenheimer wrote to Leopold Mayer's descendants in 1962, with an excerpt about Mayer from Deborah Pessin's History of the Jews in America.

Leopold Mayer's Journal, "From Land to Land, From Port to Port," concerns his visit to Germany and Switzerland in the summer of 1895. Included are a typed journal transcript (35 pages, June 1, 1895-August 3, 1895) and manuscript journal (29 pages, [August 1, 1895]-August 24, 1895, and 1 page, undated). Mayer and his daughter Flora traveled to various cities and towns, saw several Alpine mountains, and met with acquaintances.

The Speech transcript (5 pages) records Leopold Mayer's address to the Council of Jewish Women in November 1899, marking the 25th anniversary of Chicago's Sinai Congregation. Mayer recounted some of his personal history in Chicago, and remarked on the development of the city's Jewish community and institutions.

Financial and Legal Documents relate to Leopold Mayer's estate and to his son-in-law, Jacob Henry Mahler. Mahler received a bill from a laborer dated July 23, 1901, and completed a partially-printed income tax form for himself and his wife on February 19, 1917. Three printed legal documents (December 28, 1903; June 1, 1909; and [1927]) pertain to the settlement of Leopold Mayer's estate and to legal disputes among his heirs. The latter item includes copies of 2 versions of Mayer's will.

The Poetry, Printed Items, and Genealogy series concerns several generations of the Mayer family. The programs document confirmation services held by the North Chicago Hebrew Congregation on May 26, 1901, and a production of the 3-act play The Mayer Saga, presented in Glencoe, Illinois, on December 31, 1925. The extended Mayer family published a newsletter, Unter Uns, on December 25, 1902, with poetry, news articles, and advice columns by Leopold Mayer's children and their spouses. A small packet of typed poems dedicated to Amelia Mayer Mahler accompanies a printed invitation to Mahler's 90th birthday celebration, hosted by her grandchildren on April 18, 1953. The final 2 items are genealogies and a memorial dedicated to Leopold Mayer and his descendants. The memorial was initially issued on March 3, 1927, with genealogical revisions made in 1941. One copy has manuscript genealogical notes dated as late as 1970.

Biographical / Historical:

Leopold Mayer was born in Abenheim, Germany, on March 3, 1827, the son of Aaron Mayer (d. 1871). After attending a Catholic seminary (despite being Jewish), he taught school from 1846-1849. In November 1849, he left with his father and sister for the United States, and they arrived in Chicago, Illinois, in April 1850. There, Mayer taught languages and religion, helping to found a religious school and the Hebrew Benevolent Society. He supported the establishment of the reform congregation that became the Chicago Sinai Congregation in 1861, and he served as county supervisor from 1868-1869. In 1854, Mayer became a bank clerk, and he established a firm with O. R. W. Lull in 1855; the business later became Leopold Mayer and Son, which merged with the Garden City Bank and Trust Company in 1900. On December 4, 1853, Leopold Mayer married Regina Schulz (December 25, 1833-February 7, 1893), a native of Flomersheim (or Mannheim), Germany, who had also immigrated to Chicago. They had eight children: Nancy (November 6, 1854-November 29, 1891), Nathaniel A. (October 30, 1856-December 29, 1924), Rose (February 15, 1859-January 9, 1929), Grace Aguilar (May 27, 1861-January 17, 1923), Amelia (b. April 21, 1863), Julia (February 13, 1865-January 1866), Ida (b. August 12, 1867), and Flora (b. November 2, 1869). Leopold Mayer died on December 15, 1903.

Amelia Mayer married Jacob Henry Mahler (January 14, 1853-May 4, 1917), who owned a meat and seafood supply store in Chicago. They had three children: Felix J. (b. October 18, 1886), Elsie (b. April 28, 1889), and Regina (b. December 11, 1894).

Acquisition Information:

Donated, 1986. M-2281 .

Processing information:

Cataloging funded by the National Historical Publications and Records Commission (NHPRC). This collection has been processed according to minimal processing procedures and may be revised, expanded, or updated in the future.

Arrangement:

The collection is arranged in the following series:

Series I: Correspondence
Series II: Journal
Series III: Speech
Series IV: Financial and Legal Documents
Series V: Poetry, Printed Items, and Genealogy

Rules or Conventions:

Finding aid prepared using Describing Archives: A Content Standard (DACS)
Related
Additional Descriptive Data:

Bibliography

Brinkmann, Tobias. Sundays at Sinai: A Jewish Congregation in Chicago. Chicago: University of Chicago Press, 2012.

Eliassof, Herman, and Emil Gustav Hirsch. The Jews of Illinois: Their Religious and Civic Life, Their Charity and Industry, Their Patriotism and Loyalty to American Institutions, from Their Earliest Settlement in the State Unto the Present Time. [Chicago: Bloch & Newman, 1901].
Subjects
Click on terms below to find any related finding aids on this site.
Subjects:

Formats:

Names:

Places:
Contents
Using These Materials
---
RESTRICTIONS:

The collection is open for research.

USE & PERMISSIONS:

Copyright status is unknown
PREFERRED CITATION:

Leopold Mayer Family Collection, William L. Clements Library, The University of Michigan