Back to top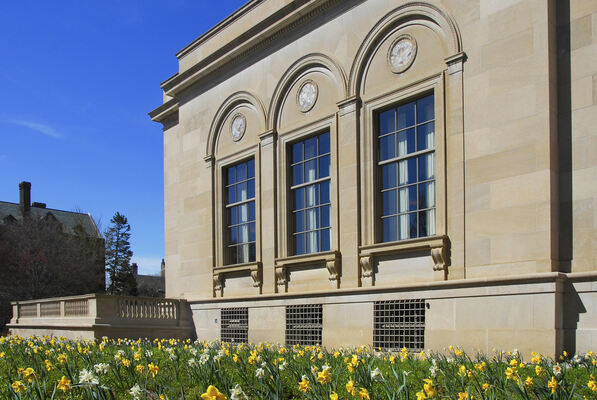 Address

:

909 South University Avenue

Ann Arbor, MI 48109, USA
Michael Warner papers, 1805-1950
Using These Materials
---
Restrictions:

The collection is open for research.
Summary
Creator:

Abstract:

The Warner papers consist of letters relating to the Warner family including Michael Warner III's Civil War service.

Extent:

84 items

Language:

English

Authors:

Collection processed and finding aid created by Rob S. Cox, 1991
Background
Scope and Content:

The main interest in the Warner papers is likely to be found in one of two sets of documents. The first concerns the Civil War experiences of Michael Warner III. While only a few individual letters are interesting in themselves (most being filled with routine requests for food or other goods), the letters concerning Warner while he was missing in action are, as a group, the highlight. These letters underscore the confusion of battle and the organizational difficulties inherent in any military campaign, and the many conflicting interpretations of the battlefield fate of Warner are an interesting commentary on the Union army's ability to deal with MIAs.

Of secondary interest are a series of 10 letters concerning a dispute over a fence constructed on the Warners' land by Frederick Dawson. The remarkable aspect of these letters is that the argument over the placement of the fence was protracted over 20 years even though both parties agreed the fence was illegally placed. Dawson's underhanded intransigence in the matter, and Warner's increasing level of frustration is almost comical.

Other non-war material includes a few interesting letters written by friends to Michael Warner, Jr., while he was at college (c.1812-1816), family documents, and some photographs of the Warner (?) home in Maryland probably taken during the 1890's.

Biographical / Historical:

Michael Warner III was born into a wealthy Baltimore family in 1829. His father, Michael Warner, Jr., was President of the Mechanics Bank of Baltimore from ca.1860 to at least 1866, and served as a representative in the Maryland House of Representatives in 1861. Unfortunately, little is known about Michael Warner III's life during the pre-war period: he was one of five children born to his father's first marriage, and he had seven half-siblings by his father's second marriage. Like his father, he appears to have received a formal collegiate education.

In August, 1863, Michael Warner III traveled to Boston and enlisted in Company B of the 16th Massachusetts Infantry. He and the other recruits were ordered to northern Virginia to augment regiments that had suffered tremendous losses in the summer campaigns: Co. B, Warner noted, had only four effectives after being 'very much cut up.' To add to his worries, Warner was robbed of all his money on the way south, a crime he suspected was perpetrated by his fellow soldiers, whom he considered to be "all hard cases & graceless scamps...any quantity of New York pickpockets & blacklegs, murderers & thieves amongst them."

After a year of comparatively uneventful service, Warner was wounded in the arm and eye at the Battle of Spotsylvania, 18 May 1864, and was left on the battlefield as his comrades were driven from the field by Confederate troops. Captured almost immediately, Warner was placed under the care of a surgeon who was forced to amputate his right arm. When the 16th regrouped, and his body was unaccounted for, Warner was listed as missing in action, setting off a several month effort by his father and brother-in-law, John Derr, to try to ascertain exactly what had transpired at Spotsylvania. Some 'witnesses' to the engagement claimed that Warner had been killed, others that he was merely wounded, and one thought he might have been totally unharmed and merely separated from his unit. In the ensuing confusion, Derr and Warner's father contacted hospitals and relief organizations, and attempted to pull strings with officials, but without success: Warner was pronounced dead in September, 1864. In reality, Warner was still alive at that time, and was held as a prisoner in some of the 'more extreme' Southern prison camps. He was paroled and returned to Annapolis in November, 1864, however his fragile health failed him, and he died of chronic diarrhea on December 4.

Acquisition Information:

Donated by Thornton Woodward Zeigler, Sr., 1985. M-2254 .

Rules or Conventions:

Finding aid prepared using Describing Archives: A Content Standard (DACS)
Related
Additional Descriptive Data:

Partial Subject Index

African-Americans--Employment--Maryland

1804 September 9-1806 October 26

Athletes--Photographs
Aunts--Death
Baltimore and Ohio Railroad Company
Baltimore Athænian Society, Baltimore, Md.
Baptismal certificates--Maryland
Battle casualties

1864 May 24
1864 May 25
1864 June 22
1864 June 26
1864 September 22

Birthdays--Poetry
Blunt, Nelson
Celibacy
Chloroform
Christmas--Maryland
Conduct of life
Dawson, Frederick

1853 November 10
1853 November 10
1854 October 25
1871 November 8
1872 July 5

Dawson, Robert
Derr, John P.
Diarrhea
Dogs
Episcopal Churches--Maryland--Cumberland--Photographs
Essence of ginger
Executors and administrators--Maryland
Fences--Law and legislation--Maryland

1853 November 10
[1853 November 10]
1853 November 10
1854 October 12 and 25
1854 October 25
1868 March 20
1868 April 6
1868 April 18
1871 November 8
1871 November 27
1872 July 5

Freemasons--Maryland
Frisk, William
Gardens--Pennsylvania--Philadelphia
Gloves
Hancock, Winfield Scott (1824-1886)
Lindweaver, John N.
Loans, Personal--Maryland--Baltimore
Maps, military

1863 September 21
1863 October 3
1863 November 17

McClellan, George Brinton (1826-1885)
McDowell, Irvin (1818-1885)
Mothers and sons
Oysters
Pensions, Military--United States--Civil War, 1861-1865

1864 December 15
1864 December 23
1865 March 20

Perine, D. W.
Photography--Interiors
Photography--Portraits
Picket duty
Pickpockets
Poetry
Pope, John (1822-1892)
Postage stamps--Collectors and collecting
Rowles' Red Pepper Rub
Sciatica
Shipley, Otho
Sigel, Franz (1824-1902)
Soldiers--Alcohol
Spotsylvania, Battle of, 1864
United States. Army.Massachusetts Infantry Regiment, 16th
United States. Army--Civil War, 1861-1865

1862 September 5
1863 September 2
1864 May 30

United States. Army--Criminals
United States. Army--Officers
United States. Army--Pay, allowances, etc.

1863 September 13
1863 November 17

United States. Army--Recruiting, enlistment, etc.--Civil War, 1861-1865
United States--History--Civil War, 1861-1865--Communications
United States--History--Civil War, 1861-1865--Missing in action

1864 May 20
1864 May 30
1864 June 4
1864 June 4
1864 June 11
1864 June 11
1864 June 22
[1864 June?]

United States--History--Civil War, 1861-1865--Prisoners and prisons

1864 June 14
1864 June 14
1864 November 23
1864 November 25
[1864] December 6

Universities and colleges--Societies, etc.
Universities and colleges--Students
University of Pennsylvania--Students
Vacations--New Jersey

1851 July 17
1851 July 21

Warner, Alice V.
Warner, John H. R.
Warner, Julia A.
Warner, Michael
Warner, Michael (1829-1864)

1864 May 20
1864 May 24
1864 May 25
1864 May 30
1864 May 30
1864 June 4
1864 June 4
1864 June 11
1864 June 11
1864 June 22
1864 June 26
[1864 June?]
1864 September 22
1864 November 23
1864 November 29
[1864] December 6
1864 December 15
1864 December 23
1865 March 20
1869 January 20
1809-1879

Warner, Michael (1829-1864)--Death

1864 December 15
1864 December 22

Warner, Michael (d. 1848)
Warner, Susan C.
Wedding Photography--Maryland
Weddings--Invitations
Widows' allowance
Wills--Maryland--Baltimore
World War, 1939-1945--Italy
Zeigler, Thornton Woodward--Photographs
Subjects
Click on terms below to find any related finding aids on this site.
Contents
Using These Materials
---
RESTRICTIONS:

The collection is open for research.

USE & PERMISSIONS:

Copyright status is unknown.
PREFERRED CITATION:

Michael Warner Papers, William L. Clements Library, The University of Michigan