Back to top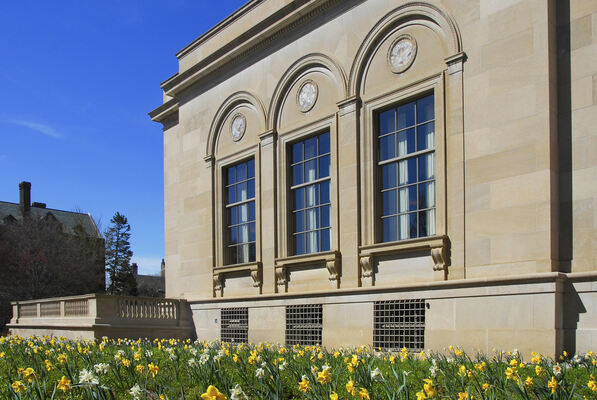 Address

:

909 South University Avenue

Ann Arbor, MI 48109, USA
Myrick family papers, 1845-ca. 1900
Using These Materials
---
Restrictions:

The collection is open for research.
Summary
Creator:

Abstract:

The Myrick collection contains personal, business, and legal papers of a family engaged in the business of manufacturing gravestones and monuments in western New York State. Content includes New York State politics, gold rush California, land speculation, and the Civil War.

Extent:

3.25 linear feet

Language:

English

Authors:

Collection processed and finding aid created by Manuscript Division Staff
Background
Scope and Content:

The Myrick papers document the personal, business, and legal affairs of a major mid-Victorian purveyor of grave stones and monuments from western New York state. The central figures in the collection, Albert G. Myrick, his son, William W., and brother John William, engaged in an active and highly successful business manufacturing stone monuments for graves and other purposes, but their varied interests took them into the world of New York state politics, Gold Rush California, western land speculation, and the Civil War. Only a small portion of the collection has been catalogued at the item level, with the remainder organized into series.

Box 1 of the collection contains items that have been catalogued individually, arranged in chronological order, 1845-1889. Many of the letters were written by John William Myrick to his brother Albert, describing his myriad schemes to make a fortune in California. More literate than many 49ers, John's letters offer an intriguing social and political perspective on California during the Gold Rush, notably the violence and lawlessness prevalent in the gold fields. His letters also describe the journey across the Isthmus of Panama and then by ship to California.

The Civil War content in the collection is less extensive, but Albert Myrick corresponded with several men who were more directly affected by the war than he, either as soldiers or in other capacities. Of particular interest are John's letters describing California politics during the war (1:76, 80, 90, 114), Edward C. Boyle's letters on military and political affairs in Kentucky (1:82-83, 92), and Christ Siminger's account of the terror to which Democrats were subjected following Lincoln's assassination (1:117). Among the miscellaneous items of interest are James Tibbits' letter announcing his divorce from a wife of ill repute (1:124), and Sophia Myrick's letter dispensing a dose of motherly of guilt upon Albert, "my once beloved son" (1:78).

The bulk of the collection, boxes 2-4, consists of correspondence, accounts, and receipts kept by Albert and William Myrick. The greatest proportion of material in these boxes is comprised of the business records of the Myricks' monument company, providing a wealth of detail about their operations, from the purchase of raw marble to the production of stones and the handling of customer orders and complaints. The correspondence between the Myricks and their many agents enables a fairly thorough reconstruction of their sales techniques and their methods for keeping track of potential customers. The accounts, while not complete, provide valuable information on costs for various grades of marble and for shipping, and, of course, on customer orders.

Also included in Box 2 are some personal accounts of the Myricks and a series of accounts with and relating to the town of Palmyra, including tax records, documents relating to the local cemetery, and records of work performed for the town.

Box 4 contains additional family, personal, political, and legal correspondence. Albert's family correspondence, in particular, often goes beyond the usual familial exchange of pleasantries, particularly in the case of Mary G. Myrick, who became embroiled in a scandal when an attempt was made to take her daughter from her. These letters suggest how deeply Albert was influenced by his participation in Freemasonry, his significant role in the American Party, in the formation of the Constitutional Union Party, and in the Democratic Party, and his entanglement in a legal battle dating from his days in the New York Canal Department. A small clutch of letters from family members who had settled in the west provides some interesting descriptions of life in Michigan and in the upper Midwestern states.

Biographical / Historical:

Albert G. Myrick and his brothers Samuel and John William were raised by their mother, Sophia, in Palmyra, N.Y. By the mid-1840s, Albert had begun to build up a substantial business designing and producing stone monuments for graves, and thanks to an impressive network of agents, his business soon extended from New York state to as far away as Kentucky and Michigan. Like many antebellum New Yorkers in his position, he furthered his financial position by speculating in lands in Michigan. By the mid-1850s, he had carved out a secure position in the economic and social elite of Palmyra, cemented through his Masonic ties and business contacts.

As a prominent and wealthy man living in a political and social hotbed, Myrick was almost inevitably drawn into politics. He was one of local movers in helping to found and rally support for the nativist American (Know-Nothing) Party during the mid-1850s, and when that party foundered, he helped to support the Constitutional Union Party. When that, too, dissolved, Myrick turned his allegiance to the Democratic Party, remaining in the Democratic fold for the remainder of his life. More an organizer than a figurehead, Myrick held only a few political offices in his life, most notably a position with the New York Canal Department in the 1850s and 1860s, but he never rose to greater prominence than mayor of Palmyra (ca.1861). Albert died in about 1875.

William W. Myrick, the son of Albert and his wife, Hellen, joined his father's monument business in about 1870. After several years as partners, Albert left the business -- whether due to death or retirement is unclear -- leaving William as sole proprietor. William was a capable manager, and oversaw the business into at least the late 1890s, like his father, investing in real estate to augment his income. An honest and apparently unassuming man, William's lone controversial business dealing appears to have been his use of a pneumatic marble-cutting tool which violated patent law. He had a wife, Mary.

Albert's younger brother, John William Myrick, also engaged in the monument business, though without attaining the same degree of success of his brother and nephew. Called "Will" by family members, he was a precocious young man, reaching his majority in 1845. However, within a few years of assuming responsibilities with the firm, the youthful entrepreneur immersed himself in debts, and in 1849, leaving his financial problems for Albert to solve, made the journey to California in search of easier wealth. John did enjoy some short-lived success in the gold mines, but lost much of his money when his partner embezzled the profits of a general store and ferry boat he had hoped to carry him to riches.

Embittered by his failures and feeling that his family and friends had deserted him, John turned to farming in the Napa Valley during the 1850s in the hopes of restoring himself to good standing. By the 1860s, he was working as a stockbroker in California and earning a strong, steady income, and by 1889, he had returned to the marble business. In that year, John established a firm in Spokane Falls, Washington Territory, that supplied stone for construction of the Cascade Locks on the Columbia River. Like his relatives, John allied himself with the progressive wing of the Democratic Party, supporting the war effort during the Civil War and even favoring Lincoln's reelection in 1864. He and his wife Ellen (d. 1870) married in 1852 and had three children, Percy, Ella, and William Albert.

Acquisition Information:

1985-1986. M-2251, M-2297, M-2313 .

Rules or Conventions:

Finding aid prepared using Describing Archives: A Content Standard (DACS)
Related
Additional Descriptive Data:

Partial Subject Index

Advertising
African Americans--Suffrage
American (Know-Nothing) Party
Apprentices
Buchanan, James, 1791-1868
California--History--Civil War, 1861-1865
California--Gold discoveries

1:5-10, 12-24, 26, 32, 35, 41, 70

Cascade Locks (Columbia River)
Constitutional Union Party
Copperhead (Nickname)--New York (State)
Debtor and creditor--New York (State)
Democratic Party

1:46-47, 64, 76, 85, 93, 102, 104, 117
3:10

Embezzlement
Freemasons
Greeley, Horace, 1811-1872
Guardian and ward--New York (State)
Illinois Central Railroad
Kentucky--History--Civil War, 1861-1865
Knights of the Golden Circle
Lincoln, Abraham, 1809-1865
Marriage--New York (State)
Mexico--History
Michigan--History

1:64, 75, 79, 88
2:5
3:3, 24

New York (State)--Politics and government
Palmyra (N.Y.)
Palmyra (N.Y.)--Politics and government
Panama--History
Parent and child
Pierce, Benjamin, 1804-1869
Prentiss, Benjamin, 1819-1901
Presidents--United States--Election--1852
Presidents--United States--Election--1856
Presidents--United States--Election--1864
Presidents--United States--Election--1868
Republican Party

1:70, 72, 76-77, 79, 81, 84-85, 102, 104, 121

Revivals
Sacramento (Calif.)
San Francisco (Calif.)
Secession
Sepulchral monuments--Retail trade

1:4, 11, 58, 60, 80, 90, 110, 117, 119, 123, 127
2:1-4, 6-14
3:5, 15-18

Squatters
Trent Affair
United States--History--Civil War, 1861-1865--Economic aspects

1:86, 88, 91, 99, 106, 112-113

United States--History--Civil War, 1861-1865--Hospitals
Wisconsin--History
Subjects
Click on terms below to find any related finding aids on this site.
Subjects:

Formats:

Names:

Places:
Contents
Using These Materials
---
RESTRICTIONS:

The collection is open for research.

USE & PERMISSIONS:

Copyright status is unknown.
PREFERRED CITATION:

Myrick Family Papers, William L. Clements Library, The University of Michigan.