Back to top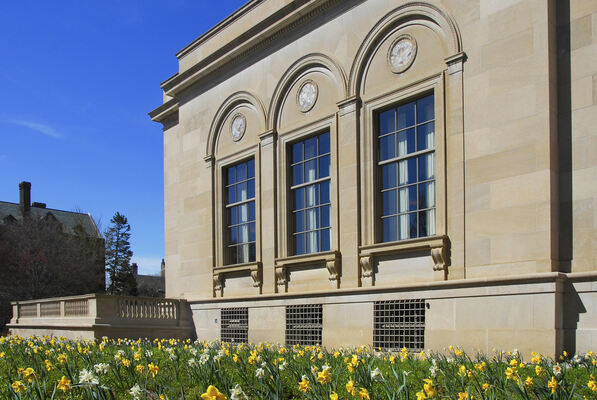 Address

:

909 South University Avenue

Ann Arbor, MI 48109, USA
Richard Whitworth papers, [1765]-1836
Using These Materials
---
Restrictions:

The collection is open for research.
Summary
Creator:

Abstract:

The Richard Whitworth papers contain letters and documents relating to explorers Robert Rogers and Jonathan Carver and several of their moneymaking ventures in North America, which Whitworth oversaw and encouraged.

Extent:

1 volume

Language:

English
French.

Authors:

Collection processed and finding aid created by Shannon Wait and Meg Hixon, January 2011
Background
Scope and Content:

The Richard Whitworth papers contain 32 documents, 7 letters, and 3 notes, bound by Richard Whitworth into an 80-page volume. The collection primarily concerns Jonathan Carver's and Richard Roberts' money-making ventures in North America, several of which they proposed while in England, and about which they consulted Whitworth during his tenure as a Member of Parliament.

The volume opens with four pages of accounts, written in an unknown hand and covering 1814-1815. They record transactions involving wheat, barley, peas, iron, and other items. Following this is a document entitled "An Account of the Situation, Trade and Number of Hunting Indians at Lake Pepin in the Mississippi, North America" (pp. 7-10), written by Carver to Whitworth in 1773. In it, Carver proposed the opening of a distillery near Lake Pepin (about 70 miles southeast of present-day Minneapolis) in order to sell rum and brandy to the local Native Americans, requiring an initial investment of £4000 and about 32 workers. He also described the activities and numbers of Native American hunters in the area, and gave a detailed description of the land, including terrain, trees, and opportunities for settlement by Europeans. The volume also contains two documents related to Carver's request to the King to grant him mining rights to large swaths of northeastern North America, in effect giving him a monopoly on precious metals produced in those areas. Included is a draft of his petition (p. 12), which gives the boundaries of the desired land and the specifics of the proposed agreement.

Other documents relate to the exploration for the Northwest Passage, and the attempts to secure payment for such an expedition, including one entitled "Memorandum for Mr. Whitworth," which proposed "rather an expedition by Water than otherwise," (p. 14); it provided many details of what Carver envisioned as a successful journey, including the types of men to hire, and supplies, pack animals, and weapons to bring. An additional document gives information on pay and the necessity of cooperation from the "Commanding Officers of Posts in the Interior part of the Country" (p. 22). Two printed copies of a petition from Rogers to the King (pp. 57-64), dated February 11, 1772, call the search for the Northwest Passage a "Great National Object," and claim that a small number of "Adventurers" could undertake such an endeavor for a "very moderate Sum." Also included is a document signed by Rogers, listing three pages of "Necessaries" for such an expedition (pp. 46-48), and a list of American tree seeds (p. 51).

Another highlight of the collection is a 1775 copy of a "land deed" fabricated by Carver, which he claimed documented a transfer of territory to him from the Naudowessie Indians in 1767. Oddly, the land purportedly granted, located in Wisconsin, belonged not to the Naudowessie, but rather to their enemies, the Ojibwe (Chippewa). The document includes the falsified pictographic signatures of "Hawnopawjatin" (turtle) and "Ottotongomlishea" (snake).

Biographical / Historical:

Jonathan Carver

Jonathan Carver was born in Weymouth, Massachusetts, on April 13, 1710, the son of local government official, David Carver, and his wife, Hannah Dyer. As a child, he moved with his family to Connecticut, and there, he married Abigail Robbins in 1746 and worked as a shoemaker. They later settled in Montague, Massachusetts, and had at least seven children. In 1755, Carver joined the colonial militia and he subsequently fought in the French and Indian War, serving in engagements at Crown Point, Lake George, Fort William Henry (where he was briefly imprisoned), and Fort Edward. In 1763, he left the Army and set out to explore the territories newly acquired from the French, armed with some knowledge of drafting, mathematics, and trade. By this time, he had befriended the popular solider and frontiersman, Major Robert Rogers.

In August 1766, Carver traveled to Fort Michilimackinac in Michigan, where Rogers, who was commander there, contracted him to search for the Northwest Passage and to encourage Native Americans to conduct their trading at Michilimackinac. Carver traveled to Green Bay, Wisconsin, and up the Fox and Wisconsin Rivers to the Mississippi River. In the winter of 1766-1767, he lived among the Naudowessie Indians and encouraged them to engage in fur-trading at Michilimackinac. In the spring of 1767, Carver awaited supplies to be sent by Rogers, but the latter had come under suspicions of plotting treason with France against England, and was arrested in December 1768, leaving Carver with little to show for his two years of exploration.

Carver left for England in 1769 to petition the British government for payment to cover his expedition to find the Northwest Passage, and eventually received about £1300. Needing additional funds, he fabricated a land grant by the Naudowessie Indians for property actually owned by their enemies, the Ojibwe, in Wisconsin. In 1774, despite having a wife in America, he married a British woman, Mary Harris, with whom he had two children. In 1778, he published Travels through the Interior Parts of North America in the Years 1766, 1767 and 1768, based on the journals he kept during his journey. He died in 1780.

Robert Rogers

Robert Rogers was born in Methuen, Massachusetts, on November 7, 1731, the son of Irish parents, James Rogers and Mary McPhatridge (sometimes spelled McFatridge or McPhetridge). Rogers grew up primarily in Dunbarton, New Hampshire, and worked as a trader until charged with counterfeiting; he escaped prosecution by enlisting in the New Hampshire regiment in the French and Indian War in 1755. Roberts moved up the ranks of the army, first serving as a captain in the Crown Point expedition, and then gaining fame as the commander of a group of 600 irregular troops, called "Rogers' Rangers," who used guerrilla-like tactics and worked individually and in small groups to oppose the French. In 1761, he married Elizabeth Browne, daughter of Reverend Arthur Browne. In the same year he fought the Cherokees in South Carolina, and in 1763-1764, served in Pontiac's War.

In 1765, Roberts traveled to England in order to obtain money to pay off debts he had incurred in North America. There, he published his journals and a work entitled A Concise Account of North America, and wrote a play about Pontiac, Ponteach. After an audience with King George III, who had read his works on North America, Roberts obtained the post of commander at Fort Michilimackinac in present-day Michigan, and an assignment to find a passage to Pacific Ocean. In December 1768, Robert was arrested and court-martialed on suspicion of intrigue with the French. He was acquitted, but imprisoned for debt upon his return to England in 1769. He again traveled to America in 1775, where he raised the Queen's American Rangers regiment and served as a spy for the British. In 1778, his wife divorced him; two years later, he returned to London, where he died in 1795.

Richard Whitworth

Richard Whitworth was born in England in 1734. He attended Eton and subsequently graduated from Trinity College, Cambridge, in May 1752. Whitworth was a man of some financial means; he oversaw a large estate at Bathacre Grange, Stafford, and acted as a landlord for a number of tenants in the area. By many accounts a strongly opinionated, fierce individual, Whitworth was involved in local political affairs and offices throughout his life, serving as sheriff of Staffordshire from 1758-1759 and again from 1791-1792. Whitworth successfully stood for Parliament in 1768, representing Staffordshire in the House of Commons until 1780. For the early part of his career, Whitworth voted primarily with the opposition, but by 1774 he was considered a supporter of the government; by 1779 he was receiving a secret service pension from Lord North. Whitworth had a strong fascination with inland navigation, evidenced by a series of private canals he constructed on his property, as well as his efforts, in 1774, to persuade Parliament to fund a scheme of his friends, Jonathan Carver and Robert Rogers, to explore the Northwest Passage. After his time in Parliament, Whitworth was involved in a number of legal disputes, leading him to fortify his home with guns and a martello tower, leading to its nickname, "Castle Whitworth." Whitworth died in 1811.

Acquisition Information:

1985. M-2250 .

Processing information:

Cataloging funded by the National Endowment for the Humanities (NEH) and the "We the People" project.

Rules or Conventions:

Finding aid prepared using Describing Archives: A Content Standard (DACS)
Related
Additional Descriptive Data:

Related Materials

The Rogers-Roche papers contain numerous letters written by Robert Rogers.

The Thomas Gage papers and Jeffrey Amherst papers contain many references to Robert Rogers.

The Thomas Gage papers also contain a letter from Gage to Jonathan Carver, dated May 2, 1768 (American Series).

The British Library has Carver's manuscript journals of his travels around North America.

The William Salt Library of the Staffordshire and Stoke-on-Trent Archive Service has a set of Richard Whitworth papers concerning financial, legal, and personal topics.

Bibliography

Carver, Jonathan, and John Coakley Lettsom. Three Years' Travels Through the Interior Parts of North-America.... Philadelphia: Printed and sold by Joseph Crukshank, in Market-Street, and Robert Bell, in Third-Street, 1784.

Carver, Jonathan, and John Parker. The Journals of Jonathan Carver And Related Documents, 1766-1770. Bicentennial ed. St. Paul: Minnesota Historical Society Press, 1976.

Parker, John. "Carver, Jonathan." In American National Biography Online. Accessed January 12, 2011.

Russell, Henry. "Rogers, Robert." In National Biography Online. Accessed January 12, 2011.
Subjects
Click on terms below to find any related finding aids on this site.
Contents
Using These Materials
---
RESTRICTIONS:

The collection is open for research.

USE & PERMISSIONS:

Copyright status is unknown
PREFERRED CITATION:

Richard Whitworth Papers, William L. Clements Library, The University of Michigan