Back to top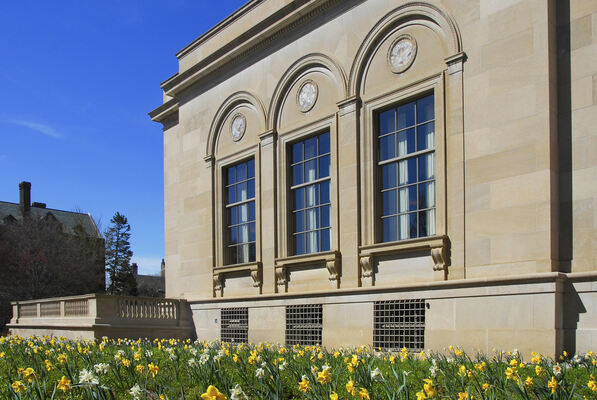 Address

:

909 South University Avenue

Ann Arbor, MI 48109, USA
Peter Turner papers, 1774-1789
Using These Materials
---
Restrictions:

The collection is open for research.
Summary
Creator:

Abstract:

The Peter Turner papers contain 21 incoming letters concerning Revolutionary War service, medicine, and family matters.

Extent:

1 volume

Language:

English

Sponsor:

James S. Schoff Revolutionary War Collection

Authors:

Collection processed and finding aid created by Shannon Wait, February 2011
Background
Scope and Content:

The Peter Turner papers contain 21 incoming letters, received by Peter Turner between 1774 and 1789. His friend and fellow army surgeon, Samuel Tenny, wrote 14 of the letters, while his half-brother, Jabez Campfield, contributed 4. Turner's brother, Daniel Turner; nephew, William Campfield; and fellow soldier, Charles Greene, wrote the remainder of the correspondence. The letters primarily pertain to Revolutionary War medicine and surgery, soldier life, and family news.

Many of the letters describe camp life, conditions, and the everyday experiences of Army surgeons Samuel Tenny and Jabez Campfield, as well as several major events of the Revolutionary War. In a letter of September 9, 1774, Daniel Turner referenced the Powder Alarm, which had taken place in Boston the previous week, calling it a "Bloody engagement" and noting that many had lost their lives and that the city had been damaged. He also wondered how Rhode Island would fare in "these Times of Tyranny & Opresion." Later letters express a great deal of dissatisfaction with the conditions, organization, and compensation of army life. In one, Tenny complained about the meager food, the "vile Whiskey," and the rarity of seeing women, and wrote, "This is not living--tis barely existing" (April 23, 1778). In another, he stated his objection to the army hierarchy, which he accused of rewarding rank rather than merit, and noted that he looked forward to telling the officers "how sincerely I despise them" (October 19, 1780). On July 31, 1781, he described his attempt to write a letter amidst the din of camp life: "such a ceaseless Buzz of Tongues assails my Ears, that my thoughts are much confus'd, as a Swarm of Bees, amidst the Clattering of a Spoon & Fryingpan." The collection also contains brief commentary on the Benedict Arnold treason (October 19, 1780) and the Pennsylvania Line mutiny (January 16, 1781).

Samuel Tenny and Jabez Campfield, in their roles as surgeons, also commented on the medical profession and on the health of the men under their care. On February 18, 1778, Tenny wrote that many men were sick in his regiment and dying at the rate of one per week, noting, "they relapse & rerelapse & relapse two or three times more." In another letter, he humorously described a "Pop-Gun," employed for performing enemas, as a piece of "ordnance" and discussed its use (December 17, 1780). Also mentioned is the inoculation of soldiers for smallpox (April 3, 1782) and the difficulty of starting a medical practice in cities already populated with doctors (March 20, 1782).

The correspondence contains several references to women and Turner family affairs. In a letter dated September 9, 1774, Daniel Turner informed his brother that Jabez Campfield disapproved of his attachment to a young woman and related the importance of a woman's virtuous reputation. Samuel Tenny also discussed his marriage prospects and lamented his "faint heart" for such matters (December 19, 1781). The volume closes with a letter dated May 16, 1789, that gives an account of the killing and scalping of Captain Zebulon King, Sr., by Native Americans near Marietta, Ohio (May 16, 1789).

Biographical / Historical:

Peter Turner was born September 2, 1751, in Newark, New Jersey, son of Dr. William Turner (1712-1754) and Mehitable Foster (b. 1715). In 1754, Peter's father died, and Peter was placed in the care of his half-brother, Dr. Jabez Campfield (1737-1821), who was his mother's son with the deceased Benjamin Campfield. On March 17, 1776, he married Eliza Child and they had at least four children: Daniel, Henry, Mehitable, and James. In 1777, Turner volunteered as a surgeon in the 1st Rhode Island regiment under Colonel Christopher Greene (1737-1781), serving for three years, including at Red Bank, Rhode Island, and Valley Forge, Pennsylvania. Postwar, he ran a large surgical practice in East Greenwich, Rhode Island. He died following a stroke on February 14, 1822.

Jabez Campfield was born December 24, 1737. According to his own statement made when applying for a federal pension in 1818, he was appointed surgeon of Colonel Spencer's Continental Regiment on January 1, 1777. He continued in this position until June 1780, when he became surgeon of the Light Infantry under Colonel Matthias Ogden, and served until early 1781. His commission as surgeon of the Second Continental Light Dragoons was dated August 17, 1781; he served in this regiment until the close of the war, June 15, 1783, and was discharged at Danbury, Connecticut. Campfield married Sarah Wood, and by 1818, he lived in Morristown, New Jersey. He died there on May 20, 1781.

Samuel Tenny served as surgeon's mate of Gridley's Regiment of Massachusetts Artillery, June to December 1775. He was surgeon of the 11th Continental Infantry in 1776, and the next year, appointed surgeon of the 2nd Rhode Island Infantry. He served through the end of the war with this regiment, being retained by Olney's Rhode Island Battalion in April 1783. He was discharged December 25, 1783, and died February 6, 1816.

Acquisition Information:

1985. M-2246 .

Processing information:

Cataloging funded by the National Endowment for the Humanities (NEH) and the "We the People" project.

Arrangement:

The letters are arranged chronologically within one volume.

Rules or Conventions:

Finding aid prepared using Describing Archives: A Content Standard (DACS)
Related
Additional Descriptive Data:

Related Materials

The Nathanael Greene papers contain several letters written by Peter Turner: June 9, [1778]; September 5, 1785; and May 31, 1784
Subjects
Click on terms below to find any related finding aids on this site.
Subjects:

Formats:

Names:

Places:
Contents
Using These Materials
---
RESTRICTIONS:

The collection is open for research.

USE & PERMISSIONS:

Copyright status is unknown
PREFERRED CITATION:

Peter Turner Papers, William L. Clements Library, The University of Michigan