Back to top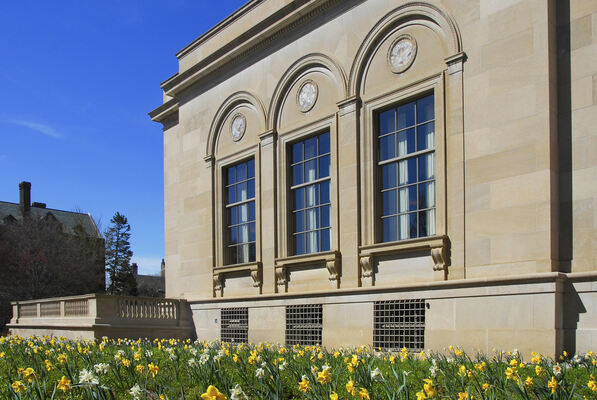 Address

:

909 South University Avenue

Ann Arbor, MI 48109, USA
Handy family papers, 1670s-1980s
Using These Materials
---
Restrictions:

The collection is open for research.
Summary
Creator:

Abstract:

[NB: This is a TEMPORARY finding aid for an IN-PROCESS collection; some restrictions apply]. The Handy Papers document the lives and professional activities of four generations of the Handy Family of Virginia, Maryland, and Delaware. The collection largely revolves around James Henry Handy (1789-1832), Isaac William Ker Handy (1815-1878), Moses Purnell Handy (1847-1898), Sarah Matthews Handy (1845-1933), Frederick Algernon Graham Handy (1842-1912), Egbert G. Handy (1858-1938), Rozelle Purnell Handy (1871-1920), Sarah V. C. Handy (1876-1963), and H. Jamison Handy "Jam Handy" (1886-1983). The Handy family were largely educated, politically active, literary southerners, who were a part of many of the social and intellectual currents of especially the mid- and late-19th century. The papers offer resources for study of the Civil War, particularly its effect on Virginia civilians and southern prisoners of war at Fort Delaware; the history of southern families; late nineteenth-century American politics; Presbyterian history; late nineteenth-century newspaper journalism; the World's Columbian Exposition in Chicago, 1892-93; and genealogy. In its current, temporary housing, the papers include 30 boxes of correspondence, 27 boxes of family papers and topics files, six boxes of World's Columbian Exposition papers; eight boxes of photographs, plus separately housed images; four boxes of newspapers and newspaper clippings; 12 boxes of Jam Handy and Jam Handy Organization papers; 60 boxes of scrapbooks; and six boxes of books and serials (plus many loose books and other printed items).

Extent:

77 linear feet

Language:

English

Authors:

Collection processed and finding aid created by Galen Wilson, Vincent Longo, and Cheney J. Schopieray
Background
Scope and Content:

[NB: This is a TEMPORARY finding aid for an IN-PROCESS collection. This current scope note pertains almost entirely to Handy family papers acquisitions of the 1980s (an estimated 60-65 boxes of the total 153 boxes). Among the in-process materials are 60 boxes of scrapbooks, largely kept by Rozelle P. Handy and Sarah V. C. Handy].

The Handy Papers document the lives and professional activities of four generations of the Handy Family of Virginia, Maryland, and Delaware. The collection largely revolves around James Henry Handy (1789-1832), Isaac William Ker Handy (1815-1878), Moses Purnell Handy (1847-1898), Sarah Matthews Handy (1845-1933), Frederick Algernon Graham Handy (1842-1912), Egbert G. Handy (1858-1938), Rozelle Purnell Handy (1871-1920), Sarah V. C. Handy (1876-1963), and H. Jamison Handy "Jam Handy" (1886-1983). The Handy family were largely educated, politically active, literary southerners, who were a part of many of the social and intellectual currents of especially the mid- and late-19th century. The papers offer resources for study of the Civil War, particularly its effect on Virginia civilians and southern prisoners of war at Fort Delaware; the history of southern families; late nineteenth-century American politics; Presbyterian history; late nineteenth-century newspaper journalism; the World's Columbian Exposition in Chicago, 1892-93; and genealogy.

In its current, temporary housing (see the box listing in this finding aid), the papers include 50 boxes of correspondence, 26 boxes of family papers and topics files, six boxes of World's Columbian Exposition papers; eight boxes of photographs, plus separately housed cased images; four boxes of newspapers and newspaper clippings; 12 boxes of Jam Handy and Jam Handy Organization papers; 60 boxes of scrapbooks; and six boxes of books and serials (plus many loose books and other printed items).

The following is a former description by Curator of Manuscripts Galen Wilson, for the Handy Family Papers acquisitions of the 1980s (50-60 boxes of materials):

"Isaac Handy's fondness for history led him to the belief that he lived at an important moment in the life of the nation, and every wrinkle of the sectional crisis of the 1850s and 60s seemed to confirm. His correspondence and diaries from the eve of the war through its conclusion are a reflection of a well-educated southerner's reaction to the events unfolding about him and provide insight into the development of his political sympathies. Even after his arrest in July 1863 and his incarceration at Fort Delaware, Handy remained conscious of being part of "history in the making," not only continuing his twenty-five-year habit of keeping a diary, but in planning for a future book on Fort Delaware, soliciting memoirs of war service from his fellow prisoners. Handy saved these manuscripts, plus the correspondence he received while in prison (much of it from Confederate civilians), pasting them into two large scrapbooks. These have been disbound and the material cataloged item-by-item and interfiled chronologically in the collection's correspondence. Drafts and copies of the book which Handy wrote about his confinement, United States Bonds, are present in the collection.

Among the many individual areas of American Civil War interest are Isaac W. K. Handy's description of the battle between the ironclads Monitor and Merrimac, and the journal which Moses Handy kept during his service in the Confederate army in 1865. The soldiers' reminiscences collected by Isaac Handy at Fort Delaware include several exceptional accounts, including biographical and autobiographical sketches of M. Jeff Thompson, the mayor of St. Joseph, Missouri, turned "Swamp Rat" militia commander. Thompson played a major role during the summer of 1861 in defending Missouri's slave system from John C. Frémont's emancipation proclamation.

Other Civil War war-related materials include Isaac Handy's 1861 sermon on "Our National Sins" and fast-day sermons from the same year. The reminiscences of a myriad of former Confederate officers are scattered throughout Handy's correspondence of the late 1870s, all intended to be used in a history of the war planned by the Philadelphia Times. Also present is some documentation of Frederick A. G. Handy's father-in-law, Edwin Festus Cowherd, a Confederate soldier.

While the Handy collection provides thorough documentation of life among the eastern Handys, it also contains a significant body of correspondence from the westward sojourn of Isaac and Mary Jane Handy from 1844 to 1848. Isaac and his wife wrote over 100 letters from Missouri, in which they described the powerful ideological lure of the west, their family's adjustment to new surroundings, and the social and political climate of the old southwest. An index to these letters, prepared by Isaac Handy, is present, along with an original binding. Isaac's diary for the years spent in Missouri provides a valuable point of comparison for the letters.

Political and social commentary flows throughout most of the collection, from Jesse Higgins' campaign for reform of the federal legal and judicial systems, 1805-1806, through the fin de siècle political interests and involvements of Moses Handy.

The political impact of Reconstruction plays a major role in the collection, particularly in the letters of Congressman Samuel Jackson Randall (1828-1890) of Pennsylvania. The election of 1896 is well documented and the collection includes much correspondence with the Republican President-maker Mark Hanna. For his efforts on behalf of the Republican Party in this election, Moses Handy had hoped to net a foreign consulate through Hannah but was disappointed. Handy's transition from Confederate soldier to Republican politico is subtly documented and provides an interesting case study in political opportunism.

The Handy Family Papers are an important resource for the history of the Presbyterian Church during the 19th century. The 2nd Presbyterian Church in Washington, D.C., was a major focus of James Henry Handy's life, and the early history of this congregation is well documented in correspondence dating from the 1820s. Rev. Daniel Baker was the first pastor of the congregation, and although Baker's tenure was controversial, James remained a close friend of Baker's for the rest of their lives. The collection thus contains items concerning Baker and his relationship with the 2nd Church, and several letters written by him after he left to assume a pastorate in Savannah, Georgia.

Isaac Handy's vocation as a Presbyterian minister and his avocation as an historical researcher merge in this collection, deepening the documentation of the church. Perhaps spurred by being asked to contribute some biographical sketches to William B. Sprague's Annals of the American Pulpit, Handy sought out primary documents relating to the colonial Presbyterian clergy and congregations. Aspects of his own career in the church is documented through a scattered series of letters from former parishioners--many of which were received during his imprisonment at Fort Delaware--and in letters written by Isaac to his sons. A thick file of Isaac's sermons is present, several of which were published. Among these sermons is "The Terrible Doings of God" (23:31), which concerns the Yellow Fever Epidemic near Portsmouth, Virginia, in 1855. He delivered this eulogy at a Baptist church for members of several different Portsmouth churches. Handy earned acclaim during the crisis by staying to help the victims rather than fleeing to safer ground.

Isaac Handy's literary flair was inherited by Frederick and Moses, and both pursued careers in newspapers. Moses' career is more thoroughly documented than Frederick's, and much of the correspondence written between 1869 and 1890 concerns Moses' efforts in the newspaper business. There are several folders of general newspaper correspondence dating from 1865 to 1897, an entire box of unsorted clippings by and about the Handys, and boxes of mounted clippings of Moses, Sarah, and Rozelle Handy's published writings. Journalistic endeavors of other family members are also present.

One of Moses Handy's greatest claims to fame was his role as chair of Department O (Publicity and Promotion) for the Columbian Exposition in Chicago, 1893. His involvement with the Exposition is documented in correspondence, reports, financial papers, brochures, photographs, and memorabilia. The advertising campaign begun in 1890 has been cited as the prototype of modern publicity strategies, and the Handy Papers offer an unparalleled view into the inner workings of the key department. The collection also contains information about the San Francisco Mid-Winter Exposition (1893), a sort of subsidiary event to the main Chicago attraction, and the general correspondence for 1891-93 contains some references to the World's Fair.

Isaac Handy's lifelong ambition was to publish "The Annals and Memorials of the Handys and their Kindred." Beginning in the 1850s, he gathered genealogical data on all descendants of "Samuel Handy, the Progenitor," an Englishman who emigrated to Maryland to farm tobacco. Three drafts of this work, in increasing thickness, were completed in 1857, 1865, and the 1870s. Isaac was prepared to publish the work in the 1870s and had an advertising flier printed, but when subscriptions did not meet expectations and Handy died in 1878, the project foundered. The manuscript then passed to Moses Handy, whose own intentions for publishing the book never reached fruition, possibly due to his untimely death at the age of fifty. In 1904, Isaac's youngest surviving son, Egbert, acquired the manuscript from Moses's widow, Sarah Matthews Handy, but his publication plans did not gather momentum until 1932.

With a great deal of vigor, Egbert attempted to update the manuscript, now sixty years out of date, and had a new advertising circular printed. Again, death removed the Annals' main advocate. The manuscript remained in the possession of Egbert's widow, Minerva Spencer Handy, and in the 1940s she gave it to Frederick A. G. Handy's widow, Lelia Cowherd Handy, then living in Arlington, Virginia. Before her death in 1949, Leila entrusted the material to her granddaughter Mildred Ritchie. The Clements Library acquired the manuscript from Mrs. Ritchie along with other family papers. A century and a third after Isaac began the project, the Annals were published by the Clements Library in 1992. The Handy Family Papers contain various drafts of the manuscript, plus many notes and letters concerning its publication."

[NB: This is a TEMPORARY finding aid for an IN-PROCESS collection. This current scope note pertains almost entirely to Handy family papers acquisitions of the 1980s (an estimated 60-65 boxes of the total 153 boxes). Among the in-process materials are 60 boxes of scrapbooks, largely kept by Rozelle P. Handy and Sarah V. C. Handy].

Biographical / Historical:

[NB: This is a TEMPORARY finding aid for an IN-PROCESS collection; some restrictions apply. Biographical notes on several key individuals are yet to be written. Among them, for example, are Sarah A. Matthews Handy, Sarah V. C. Handy, and Rozelle P. Handy].

James Henry Handy was born on May 20, 1789, at Handy Hall, the family's ancestral home near Salisbury, Maryland. Although his father Isaac Handy (1762-1791) died when James was only two years old, his mother Elizabeth Gale Graham Handy (1766-1840) remained at Handy Hall for many years, providing a stable home for the young man. As a youth, James was sent to acquire business skills with local merchant James Ritchie, and, according to his biographer-son, was put to physical labor which "served to modify a somewhat effeminate nature." After his family's removal to Washington, D.C., in 1809, James formed a partnership with his brother, Edward, to run a grocery business, but during the War of 1812 a shipment of their goods from the West Indies was seized by the British, and the loss sent the firm under.

James H. Handy secured a clerkship in the Treasury Department, which began a twenty-year career in government, finishing as a clerk in the fourth auditor's office of the Navy Department. He became personally acquainted with each president from Madison to Jackson, maintaining a reputation for integrity that may have saved his job during Jackson's administration, when drastic cutbacks on staffing eliminated many other clerkships.

On June 29, 1812, James married Maria Ann Pitts Gilliss (1794-1839), the daughter of Levin and Margaret Nutter Gilliss of Somerset County, Maryland, and together the two had eight children. Sadly for the couple, four of these children died in infancy and three others died before the age of thirty-five. For many years, their eldest son, Isaac, was the family's only survivor. The church was one constant in James' life. A devoutly religious man, he joined the rapidly growing Bridge Street Presbyterian Church shortly after arriving in Washington in about 1810. A few years later, he helped organize the Second Presbyterian Church in the city. The church held its early meetings in the Old Treasury Building before finally erecting a structure of its own on New York Avenue in 1823. Handy was a well-respected elder of the church for many years.

Short and slender, James Handy's hair was brown, his eyes blue-gray. He was known as a quick walker, but always carried a cane. He built two homes in Washington, D.C., first on I Street and later on 17th Street in the city's up-and-coming west end. He was a public-spirited man, a noted promoter of education who supported or served as trustee of the Western Academy, the Howard Society, and, in 1822, of the "public schools" in Washington. He was also a pioneer in introducing the Lancastrian educational system to the city. His public service included duty as a captain of the District of Columbia light infantry militia, six terms as a councilman representing the First Ward in Washington, and a period as city auditor from 1818 to 1822. Handy had two enslaved domestic workers.

On July 22, 1832, James Handy died at the home of his brother's father-in-law Rev. John Brackenridge after an eleven-week illness. His funeral was held the following day at the 2nd Presbyterian Church, and he was buried in Holmead Cemetery, Washington. Maria Gilliss Handy survived her husband seven years, dying in Cambridge, Massachusetts, on December 29, 1839, where she had gone for medical treatment. She was buried at Mt. Auburn Cemetery, Cambridge.

Isaac William Ker Handy, the eldest son of James and Maria, was born in Washington, D.C., on December 14, 1815. He began his formal education at the age of four under the tutelage of Rev. Joshua T. Russell and received elementary-level schooling under a succession of teachers at various schools, including the one operated by Salmon P. Chase while he was studying law between 1826 and 1829. Isaac's parents sent him to the Charlotte Hall Academy in Maryland, but his education was interrupted by his father's death in 1832. He and his siblings were left to the guardianship of Mr. Williamson of Georgetown. Unimpressed with Isaac's scholarship and aware of the small size of James's estate, Williamson encouraged the teenager to pursue a career in business. However, six months later Isaac enrolled at Jefferson College to pursue his true interest, the ministry.

After graduating from Jefferson in 1834, Isaac attended Princeton Theological Seminary and earned his degree in 1838. He was licensed to preach by the Presbytery of the District of Columbia in April 1838 and accepted the pastorate at the Buckingham Church in Berlin, Maryland. There, Isaac met Mary Jane Rozelle Purnell (1821-1848), a member of the congregation, and the encounter blossomed into marriage on October 28, 1839. The couple had four children: Maria Virginia Handy (1840-1872), Frederick Algernon Graham Handy (1842-1912), Gertrude Eccleston Handy (1844-1883), and Moses Purnell Handy (1847-1898).

In 1844, Isaac W. K. Handy resigned his charge in Maryland to work as a missionary in Missouri. He settled at an interdenominational congregation in Warsaw, a small town midway between Jefferson City and Kansas City. When his wife died on February 29, 1848, he returned with her body to Maryland, and accepted a call to the joint pastorate of the Port Penn and Drawyers congregations in Delaware. Soon thereafter, he was instrumental in the erection of a new brick sanctuary for the 1st Presbyterian Church in Middletown, Delaware, and assumed its pulpit. During these years he also served as a trustee of Delaware College.

Isaac Handy's return to the east plunged him into the middle of the New School Presbyterian strife over slavery and the church. Opposed to slavery in principle, but a southerner by heritage, Handy opted for region over principle. He supported southern interests so ardently that he debated the anti-slavery advocate Albert Barnes (1798-1870) in Synod. For a time in the early 1850s, Handy served as Moderator of Synod, and worked extensively as a traveling evangelist on the Delaware-Maryland peninsula. He married a second time, on June 7, 1850, to Sarah Selby Martin (d. 1853) of Snow Hill, Maryland, with whom they had James Henry Martin Handy (1851-1881). Rebecca Dilworth (1825-1913), the third Mrs. Handy, married Isaac on December 6, 1855. They were the parents of Dilworth Trugen Handy (1856-1862), Egbert Gilliss Handy (1858-1938), Eliza Frances Gordon Handy (1859-1889), Isaac Levin Charles Handy (1861-1893), and Louisa Sophia Nutter Handy (b. 1863).

In 1854, Isaac Handy became pastor of the First Presbyterian Church of Portsmouth, Virginia. As a delegate to the General Assembly of the New School Presbyterian Church in Cleveland, Ohio, 1857, he was a prominent member of the southern flank which seceded from that body to form the United Synod. His originally unionist politics slowly altered in the late 1850s, and by the time that war broke out in 1861, he had become an ardent secessionist, arguing that the election of Lincoln made peaceful union an impossibility. He followed when the New School General Assembly united with the southern portion of the Old School Presbyterians to form the Presbyterian Church of the Confederate States (later the Presbyterian Church in the United States), and his two eldest sons both served in the Confederate army. After the Union army occupied Portsmouth in 1862, Handy received a pass from General Dix to visit his in-laws in New Castle, Delaware, but he was soon arrested for expressing his southern sympathies too adamantly. He was remanded to Fort Delaware Prison, where he carried on evangelistic work among his fellow prisoners.

With the end of the war in 1865, Isaac W. K. Handy became pastor of the churches at Orange Court House and Gordonsville, Virginia, and left there five years later to assume charge of the Old Augustus congregation of Fort Defiance, Virginia. Still bitter over his imprisonment, he wrote a memoir of his experiences at Fort Delaware, which was published under the provocative title United States Bonds : or Duress by Federal Authority (Baltimore: Turnbull Brothers, 1874). Isaac worked extensively on another publication project, a genealogical treatise on his family which he intended to call "The Annals and Memorials of the Handys and their Kindred." Handy never saw his project completed, dying in Philadelphia on June 14, 1878, while visiting his son Moses. The attempts of two succeeding generations of Handys to complete the work did not result in a publication. The book was eventually revised, updated, and published in 1992. Isaac W. K. Handy was buried in the Old Stone Church Cemetery, Fort Defiance, Virginia.

Frederick Algernon Graham Handy, son of Isaac and Mary Jane Handy, was born at Berlin, Maryland, on March 22, 1842. Frederick Handy was only six years old when his mother died. Subsequently, his family returned east and Frederick was sent to stay with William Purnell, an uncle in Baltimore, until his father remarried. He was sent to stay with Purnell again when his stepmother died in 1853. Frederick entered Maryville College in Tennessee in 1858, graduating just as the Civil War erupted. Lacking his father's consent, Frederick was declined a first lieutenancy in a Confederate company raised in Maryville, but he occupied himself by drilling in a Tennessee regiment. In 1862, he joined the James River Squadron of the signal corps in Virginia, remaining near the James throughout the war, stationed on gunboats or nearby on shore. In his post-war days, Frederick, like his younger brother Moses, was known as "Major" Handy.

After the war, Frederick taught school in Baltimore and dabbled in journalism, for a time as part owner (with his brother Moses) of the Richmond Inquirer. He married Lelia Cowherd (1851-1949) in 1872, with whom he had four children: Frederick C. Handy, Algernon Lee Handy, Walter K. Handy, and Margaret Handy. Establishing his family at "Hay Farm," in Gordonsville, Virginia, Frederick acted as congressional correspondent for various newspapers, including titles from New York, Philadelphia, Baltimore, Richmond, Norfolk, New Orleans, and Chicago. He was a charter member of the National Press Club and the newspaper-related Gridiron Club. At his death he had for several years been employed by the U. S. Treasury, where he oversaw the destruction of retired paper money.

In later years Frederick moved to Arlington, Virginia, where he was an elder in the Presbyterian Church. He died at his summer home in rural Virginia on January 12, 1912, and was buried in Oak Hill Cemetery, Washington, D.C. His body was later moved to Columbia Gardens Cemetery in Arlington County, where his widow joined him on July 11, 1949.

Isaac and Mary Jane's third son, Moses Purnell Handy, was born in Warsaw, Missouri, on April 14, 1847. Moses spent most of his youth in Portsmouth, Virginia, and began his studies at the Virginia Collegiate Institute under the guidance of N. B. Webster. When Portsmouth was evacuated in the face of the Union advance in 1861, Moses was sent to live with his uncle William H. Purnell, Baltimore postmaster and a colonel in the Union army. He was able to continue his education at the Rugby Institute in Baltimore, but when his father was confined at Fort Delaware, Moses moved to Delaware City to be near him. He supported himself by clerking for an apothecary, taking over as acting manager when the proprietor, a Confederate sympathizer, was arrested.

Upon his father's release from prison, Moses, still only seventeen, declined his uncle's offer of a northern education and ran the blockade into the Confederacy. Arriving in Richmond at the end of 1864, he immediately volunteered on the staff of General Walter Husted Stevens, and remained in the Confederate capitol until the fall of the city in April 1865. His written account of that event became his first journalistic sale when The Watchman of New York bought the story and published it serially between February and April 1866. After the war, he remained in Richmond, employed as a mail clerk for the Christian Observer and as Virginia merchandiser of The Life of Stonewall Jackson. His journalistic break came in the spring of 1866, when the Richmond Dispatch dispatched him to Orange Court House to cover a speech of Congressman Henry Wilson. A second such article reporting an address by Horace Greeley earned him a permanent position with the Dispatch.

Even while connected with the Richmond Dispatch, Moses Handy continued to serve as correspondent for other newspapers, including the New York World, and was general manager for the southern states of the American Press Association. In 1873, the New York Tribune sent him as a special correspondent to Key West, Florida, where he gained national attention as the only reporter to witness the transfer of the steamer Virginius from Spanish authorities to the U. S. government, which narrowly averted a war between the two countries. Handy's articles on the transfer of the Virginius prompted the Tribune to offer him a position, and he joined its editorial staff in 1874. He traveled extensively as correspondent, covering the woman's temperance movement in Ohio and political affairs in the South. His articles in September 1874 exposed shady monetary arrangements among carpetbagger politicians in Louisiana, causing several of the principals to retire temporarily from public life.

In October 1875, Moses P. Handy resigned from the New York Tribune to become editor-in-chief of the Richmond Enquirer, of which he became one-third owner. Internal strife at the Enquirer began almost immediately, culminating in the summer of 1876, when Handy was absent in Philadelphia, working as United States Centennial Commissioner for Virginia (similar to an office he held three years previously at the International Exhibition at Vienna, Austria). He accepted an offer to become associate editor of the Philadelphia Times and remained with that newspaper until late 1880, when he became managing editor of the Philadelphia Press. In his years with the Press, its circulation rose from 10,000 to 60,000. Shortly after working for James G. Blaine's presidential campaign in 1884, Handy purchased and became editor of the Philadelphia News. His health broke in 1887 and after several months' recuperation he was for a short time managing editor of the New York World before resigning to join Benjamin Harrison's campaign staff for the 1888 election.

Moses P. Handy's health failed again after the election, and he went to Europe to recuperate. He declined the consulship to Egypt in 1891 in favor of an appointment as Chief of the Department of Publicity and Promotion for the World's Columbian Exposition at Chicago, the first of the exposition's departments to be organized. In 1891, he returned to Europe as one of five commissioners sent to drum up enthusiasm for the Fair. During the Exposition, 1892-1893, Handy weathered severe attacks on the financial integrity of his department but was able to resign honorably at the Fair's conclusion. From 1894 to 1895 he acted as special correspondent for the New York Mail and Express and the Chicago Inter-Ocean, while living in New York. In 1895, he returned to Chicago as political writer and editor-in-chief of the Times-Herald, where his column, "Major Handy's Point of View" established his reputation as a minor political prophet.

While on the staff of the Times-Herald, Handy was an organizer of the American Honest Money League (1896) and the National Business League (1897). He campaigned for William McKinley in 1896 but was denied a patronage position with a foreign consulate. In 1897, he accepted an appointment as Special Commissioner of the United States to the Paris International Exposition of 1900 and spent the fall of that year in France. When Moses fell seriously ill in November, he and his wife returned to America, planning to winter in the warm climate of Augusta, Georgia. He died in Augusta on January 8, 1898.

Handy married Sarah Ann Matthews, the daughter of George Hancock and Ann Martha Miller Matthews, in Cumberland County, Virginia, on April 15, 1869. Together, they became the parents of seven children: William Matthews Handy (1870-1925), Rozelle Purnell Handy (1871-1920), Agnes Gordon (b. 1873), Sarah Virginia Chaillé Handy (1876-1963), Moses Purnell Handy, Jr. (1878-1897), Cora Macon Handy (1882-1958), and Henry Jamison Handy (1886-1983). Sarah Handy survived her husband by over thirty years. For many years, she wrote a newspaper advice and household-hints column under the pen name of Helen Oldfield, and contributed to magazines targeting American housewives, including Ladies' Home Journal and Godey's Lady's Book. Shortly after Moses' death, she purchased land near Berlin, Maryland, from her mother-in-law's family, the Dilworths. Here, in 1899 and 1900, she built "Anchuka," where she lived until her death on August 2, 1933. She was buried beside her husband in the Buckingham Presbyterian Church Cemetery, Berlin.

Henry Jamison Handy, "Jam Handy" (1886-1983), was born on March 6, 1886. Handy was the seventh and youngest child born to Major Moses Purnell Handy and Sarah Ann (Matthews) Handy in Philadelphia, Pennsylvania. All of Moses and Sarah's children became journalists in one way or another. Handy's primary schooling included a combination of public schooling in the Detroit, Michigan, area and "on the job" training during the World's Columbian Exposition at Chicago (under his father who led the publicity and promotion department).

After graduating from high school, the sixteen-year-old Handy enrolled at the University of Michigan in the Fall of 1902 but had only a brief and troublesome tenure as a student. Handy acted as a student correspondent for the Chicago Tribune, where his brother William was an editor. On May 8, 1903, the Tribune published an article Handy wrote about oratory Professor Thomas C. Trueblood's Elocution 2 class, which taught students how to perform "masterpieces of oratory." Handy's article satirically described the focus of class not as the art of performing plays, but as "lessons in love making" and proposing to women. Trueblood and University President James B. Angell felt the article ridiculed the University and one of its most esteemed faculty (a celebrated performer of dramatic readings and one of Michigan's highest paid professors). And this at a time when Angell was trying to improve the university's clout with the Michigan state legislature. The Chicago Tribune made matters worse for Handy's situation. Finding the story immensely popular, the Tribune ran another satirical article four days later about Trueblood which described his "worn out . . . trousers," resulting from the class. On May 18, a group of faculty members in the Literary College voted unanimously to suspend Handy for a year citing that he published "false and injurious statements affecting the character of the work of one of the Professors." President Angell wrote Handy's mother to explain the decision and to request that she make sure that her son left Ann Arbor.

University of Michigan President James B. Angell personally assured that H. Jamison Handy did not rejoin academia, even outside of Michigan. Handy reapplied to the University of Michigan for the Fall 1904 term but was denied. He also recalled receiving rejections from other Big Ten and Ivy League schools after Angell allegedly told them he was "an agitator." Handy eventually gained admission to the University of Pennsylvania, but the school asked him to leave two weeks into the semester after the university's president corresponded with Angell.

H. Jamison Handy then returned to Chicago at the invitation of the head editor of the Chicago Tribune, where he began working full time. He labored in many different departments, starting as a press room clerk. He eventually held editorships in drama, syndication, science, and education, and generally pushed for the paper to publish more images and photographs. Handy showed a particular interest in and penchant for advertising and served as the assistant advertising manager. Handy then took charge of the paper's newspaper advertising of motion pictures and began training motion picture salesmen in promotion techniques. Handy was also involved in other small publications, including the Workers Magazine, which featured articles about different available jobs and sought to help workers advance their careers.

Jam Handy combined his experiences in and knowledge of advertising and employee training with a growing interest in industrial and sales training when he started the first of what would be a series of companies. Handy left the Tribune in 1908 and partnered with two newspapermen, James Keeley and Herbert Kaufman, to start two companies specializing in producing training materials describing how to use newly released products. In 1918, Handy founded the Jam Handy Organization (JHO) on the same premise as his previous companies, but especially focused on the use of audiovisual media for training and education. The idea was inspired by the National Cash Register Company (NCRC), one of Handy's clients at his earlier companies. NCRC's president John H. Patterson was an inventor who, among many things, specialized in using magic lantern slides to train his employees in time management and efficiency.

The JHO eventually became a prolific producer of content for the federal government (military and highway construction), schools, churches and religious organizations, farms and commercial industries (including Coca-Cola, General Motors, and U.S. Steel). The popularity of JHO films stemmed from the firm's innovative animated technical drawings and the use of a new film strip technology. Unlike other commercial systems, projectionists could pause JHO's film strips and projector system at any particular frame. This allowed instructors to have more control when they wanted to explain a concept or image at greater length or use it for discussion. The JHO used this technology to introduce important inventions including the cash register, the calculator, the coin-operated telephone, and the diesel engine. Handy also regularly experimented with projector technology, trying to develop portable projector systems that salespeople could carry and project anywhere easily.

The JHO did not gain its initial success until near the end of World War I, at which time the company perfected their film strip technology. The United States Military contracted JHO to make film strips training soldiers how to use artillery weapons and electrical equipment, as well as combat literacy and promote "Americanization." The JHO's work with the military subsequently led to contracts with companies including Delco Light Generators, Frigidaire, and Chevrolet, who wanted similarly structured training programs for its employees.

The JHO operated out of Chicago until 1930, when Handy moved the company's headquarters to Detroit. The organization's ties with the auto industry expanded greatly in the Motor City, and General Motors, in particular, became one of the company's most frequent and lucrative clients. Jam Handy was personally and professionally close to Chevrolet's General Sales Manager R. H. Grant. By this point, the JHO and its sizable team of filmmakers and crew produced a variety of training materials including brochures, manuals, pamphlets, films, audiovisual presentations, and elaborate business meetings. They also produced commercials directly screened for consumers at movie theaters. The JHO's goals included: "conveying information quickly, simplifying instructions, and making meetings more effective." Handy cited educator Freidrich Froebel, Jesus Christ, Thomas Edison's "educational" motion pictures, and circus entrepreneurs John Ringling and P.T. Barnum as his company's inspiration. The JHO also produced exhibits for the 1933 and 1938 World's Fairs.

During World War II, the JHO produced an estimated 7,000 motivational and educational films for the U.S. military. Handy also personally consulted for the U.S. government. The JHO claimed during this time to have developed two especially important cinematographic techniques, one for mounting motion picture cameras on war planes and the other for using motion pictures for film simulation and practice. The JHO also developed a video game-like training device which used 16mm film to train artillery gunners. In 1945, Handy helped develop the "Jam Handy Eye School," which sought to develop ways of measuring the effectiveness of visual aids in schools--in part as a way to market the company's own materials. The JHO produced and distributed educational kits, including film strips, to elementary and high schools on topics including science, machine shop, and first aid, among others. In 1969, Handy sold the JHO (then under the name Jam Handy Productions) to the New York based company Teletape and began his retirement.

Handy's work with the government and the JHO earned him a variety of awards during his lifetime. Among others, the JHO received several Army-Navy "E" awards for mass producing instructional materials from 1943 to 1946. U.S. President Harry Truman awarded Handy a Presidential Certificate of Merit in 1948. He also won education awards from the Freedoms Foundation at Valley Forge and from film festivals. The city of Detroit named November 27, 1961, "Jam Handy Day." In 1957, the Detroit Institute of Technology awarded him an honorary Doctorate of Education, and Eastern Michigan University followed suit in 1975. In 1980, the Detroit Chamber of Commerce presented him with a Summit Award for "his pioneering efforts in the field of industrial films."

Jam Handy was an avid and innovative swimmer throughout his life. During his youth he trained at the Chicago YMCA, where he returned after his short stint at college. Handy took special pride in developing or introducing new strokes and techniques into American swimming. He joined the United States Olympic team in 1904 and won the bronze medal in the 440-yard breaststroke at the 1904 Olympics in St. Louis. He later set world records in the backstroke, breaststroke, and freestyle swimming. Handy also held the national title in long distance swimming from 1907 to 1909. He returned to the Olympics at age 38 as a member of the American water polo team during the 1924 Paris Olympics. Alongside future Tarzan actor, Johnny Weissmuller, Handy's team won the bronze medal. Jam Handy continued to swim into his 90s, was inducted into the Swimming Hall of Fame, and served as the chair for the design and construction of the Hall of Fame's Fort Lauderdale Museum. Handy became an advocate of temperance and vegetarianism in his forties, modeling his beliefs after Henry Ford, George Romney, and Billy Graham.

H. Jamison Handy married Ethel Sarah Tremain (1890-1973) on June 27, 1911--the same year he started the JHO. The couple had four children, including Chaillé Virginia Handy (b. 1913), Jamison Handy, Jr. (b. 1914), Sara "Sallie" Rozelle Handy (b. 1916), and Mary Handy. The couple eventually divorced. In 1931, Handy married Helen Hoag, and they had one daughter, Danna Handy (b. 1932) Jam Handy died on November 13, 1983, in Detroit, Michigan.

Acquisition Information:

1985, 1986, 1987, 1991, 1992, 2007. M-2229, M-2285, M-2306, M2317, M-2350, M-2363, M-2765, M-2883, M-4585 .

Custodial History:

The earliest manuscripts in the Handy Family Papers, including the papers of James Henry Handy (1789-1832) and his sister Mary Gale Handy (1783-1858) were collected by Isaac W. K. Handy, who also gathered sources for Presbyterian history. To these he added his own papers and, upon his death in 1878, most of this collection was acquired by his son Moses P. Handy. After Moses died in 1898, the papers remained with his widow, Sarah Matthews Handy, in Chicago until her move to "Anchuka" in Maryland about 1901. The collection was divided in 1904, when a portion of the manuscripts were sent to Egbert G. Handy in New York. The papers that Egbert had in his possession were subsequently divided between his heirs and his sister-in-law, Lelia Handy, widow of Frederick A. G. Handy. The Clements Library acquired parts of the collection from Frederick's grandchildren in Virginia and Alabama.

Moses Handy's papers, meanwhile, remained at "Anchuka" until they were divided between two of his children, Cora Handy Benson (1882-1958) and Henry Jamison Handy "Jam Handy" (1886-1983). The Clements acquired these materials from the children of Cora and Jam Handy. Frederick Handy's surviving papers were acquired from his granddaughter in Alabama. In the 1990s and 2000s, additional materials were added to the collection by Handy descendants.

Arrangement:

The Handy Family Papers organization is in process. See box and folder listing for the temporary arrangement.

Rules or Conventions:

Finding aid prepared using Describing Archives: A Content Standard (DACS)
Related
Additional Descriptive Data:

Alternate Locations

Handy Family Papers materials are also located in the Clements Library's Graphics and Book Divisions.

Bibliography

Handy, Isaac W. K. Annals and Memorials of the Handys and Their Kindred. (Ann Arbor, Mich.: Clements Library, 1992).
Contents
Using These Materials
---
RESTRICTIONS:

The collection is open for research.

USE & PERMISSIONS:

Copyright status is unknown
PREFERRED CITATION:

Handy Family Papers, William L. Clements Library, The University of Michigan