Back to top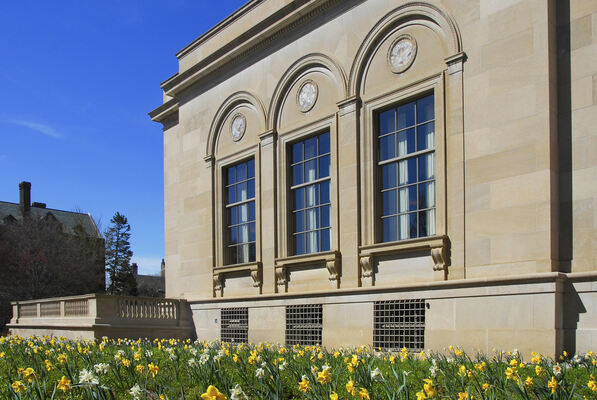 Address

:

909 South University Avenue

Ann Arbor, MI 48109, USA
Horace Mann papers, 1823-1876 (majority within 1823-1857)
Using These Materials
---
Restrictions:

The collection is open for research.
Summary
Creator:

Abstract:

The papers of Horace Mann (1796-1859), lawyer, congressman, and educational reformer, contain correspondence and documents spanning his early legal career to the years before his death, as well as miscellaneous quotations, notes, and photographs.

Extent:

162 items (0.5 linear feet)

Language:

English

Sponsor:

Duane Norman Diedrich Collection

Authors:

Collection processed and finding aid created by Cheney J. Schopieray, October 2007
Background
Scope and Content:

The Horace Mann papers date from his early career as a lawyer until 1857, two years before his death (plus a single outlying 1876 item). The collection contains 51 letters (1823-1876), 83 bills/receipts (1824-1833), 15 legal documents (1824-1837), 2 promissory notes (1826; 1829), 4 graphic items, 1 printed bibliography, and 6 autographs, notations, and miscellaneous items.

Beginning with a letter to Ira Barton, in which he praises Barton's oration at the previous year's Independence Day celebration (March 20, 1823), the forty-eight outgoing letters of Horace Mann cover a variety of topics. Eloquently written, these letters provide information about Mann's own thoughts and perspectives. Many of them contain responses to requests to give lectures and others pertain to his perpetually full schedule. They include remarks regarding opposition to the Massachusetts Board of Education in the years following its formation, discussions with P.M. Upson (a Eutaw, Alabama teacher) about his annual reports and the Common Journal (1845), suggestions to J.B. Vandever for the construction of a school (1851), plans and details surrounding the formation of a teachers' institute at Fitchburg, Massachusetts (in correspondence with Charles Mason, 1845), comments on his nomination to the U.S. House of Representatives in 1848, efforts to procure funds to send Mr. Pierce to the World Peace Convention in 1849, friendly conversations with and advice to Samuel Downer, Jr. (from Antioch College, 1854-1857), and other subjects.

Horace Mann did not write two of the letters in this collection. One, by Edward Everett, nominates an unnamed person to a position on the Massachusetts Board of Education (to fill Edward A. Newton's vacant seat). The other, written in 1876 by Mary Mann to Miss Jacobson (who was inspired by Horace Mann's work), encloses a fragment from one of his manuscripts.

The 83 bills/receipts include itemized fees for Horace Mann's services as prosecuting attorney for clients in Norfolk County. Each of these financial documents include fees for writs, entry and court dues, travel expenses, trial attendance, and individual tasks, such as receiving and swearing in the complainant and summoning witnesses.

The 15 legal documents are miscellaneous, related to almost as many different court cases. Most of them regard financial claims and are signed by Horace Mann as attorney for the plaintiffs. One document stands out above the others: the appointment of the first Massachusetts Board of Education, dated May 25, 1837. Signed by Edward Everett and Secretary John P. Bigelow, this item names James G. Carter, Emerson Davis, Edmund Dwight, Horace Mann, Edward A. Newton, Robert Rantoul, Jr., Thomas Robbins, and Jared Sparks to the Board. It bears the seal of the Commonwealth of Massachusetts.

Four graphic items in the collection include three portraits of Horace Mann and a single negative. These images are: one reproduction of an illustration; one hand-colored and mounted albumin print (oval vignette); and one modern photographic reproduction of an earlier touched-up reproduction of a daguerreotype (with an accompanying negative).

The collection contains a printed 31-page "Bibliography of Horace Mann," prepared by Horace Mann's son, Benjamin Pickman Mann, December 9, 1896. This bibliography was published in the US Bureau of Education, Report of the Commissioner for 1896-1897, vol. 1 (Washington, D.C., 1898).

A small selection of quotations, notations, autographs, and miscellany completes the collection. One signed quotation reads: "I would rather imitate the actions of one good man than to possess the autographs of all the great men in the world." Another small sheet contains the autographs of several Massachusetts Congressmen. Other miscellaneous items include fragments of papers on the responsibilities and jurisdiction of a town's school committees and rules for proper behavior.

Biographical / Historical:

Horace Mann was born on May 4, 1796, in Franklin, Massachusetts, to a poor farming family. He was raised as a Calvinist, though he later rejected the doctrines of the faith and eventually favored Unitarianism. His father died when he was 13 years old. Financial limitations were such that, until the age of 15, Mann was only able to attend school 8-10 weeks per year. Nevertheless, his dedicated use of the small Franklin Town Library and attendance at Williams Academy in Wrentham supplied him with sufficient knowledge to enter Brown University in 1814. He graduated as valedictorian in 1819.

Two years later, in 1821, Mann was admitted as one of about 30 students to the law school of Judge James Gould at Litchfield; he was admitted to the Norfolk County bar in December 1823. Mann lived in Dedham, Massachusetts, where he worked as an attorney until his election as a State Representative in 1827. He used this political position to advocate civil and religious liberty, temperance, and education. While achieving public and professional eminence, he also experienced several tragic events during the next 10 years. His marriage to Charlotte Messer (the daughter of Brown University President, Dr. Asa Messer) in 1830 lasted only two years before her death of tuberculosis. In 1833, the grieving Mann moved from Dedham to Boston, following which he suffered the loss of his mother and two close friends (Silas Holbrook and his father-in-law, Dr. Messer).

In Boston, he lived at the boarding house of preacher James Freeman Clarke's mother, where he met Unitarian minister Jared Sparks and the Peabody sisters, Elizabeth and Mary. He married Mary Tyler Peabody in 1843. From 1833 to 1837, Horace Mann served on the state senate. After voting to establish the first Massachusetts Board of Education, he became its first secretary in 1837. In this capacity, he profoundly influenced the educational system within Massachusetts and the rest of the United States.

Horace Mann wrote 12 annual reports, in which he propounded (among other subjects) the economic value of having an educated populous, the right of every child to an education, and the value of funding education through taxes. Among the many educational reforms attributed to Mann are the extension of the school year to a minimum of six months, the establishment of normal schools for the education of teachers, an increase in government financial support for public schools, and the establishment of free school district libraries. His advocacy of non-sectarian religious education caused discontent among both advocates of secularized education and Christian conservatives.

In 1848, Mann accepted John Quincy Adams' former position in the United States House of Representatives. During his congressional service, he continued to interest himself in educational matters and maintained a strong anti-slavery position. In collaboration with Edward Everett, he helped implement the Prussian educational system in Massachusetts in 1852.

From 1853 until his death, Horace Mann served as the first President of Antioch College in Yellow Springs, Ohio. Antioch, founded in 1852, had relatively high academic standards and offered equal instruction to members of both sexes. One of the teachers employed by Horace Mann, Rebecca Pennell (Mann's niece), is considered to have been the first female faculty member to receive equal pay with her male colleagues. In addition to his role as President, Mann also instructed courses in economics, theology, and philosophy. For the entire length of his service, the college suffered from various troubles, resulting in part from sectarian disagreements between administrative bodies. Sickness prompted Horace Mann to cease work at the college. He gave his last public speech to Antioch's graduating class of 1859, which included the often quoted line: "I beseech you to treasure up in your hearts these my parting words: Be ashamed to die until you have won some victory for humanity." He died two months later on August 2, 1859.

Acquisition Information:

Donated by D. N. Diedrich, 1985-2009. M-2211, M-2258, M-2321, M-2376, M-2443g, M-2710g, M-3093, M-3198.5, M-3222.3, M-3222.4, M-3222.5, M-3222.6, M-3222.7, M-3246, M-3396.2, M-3396.3, M-4191.5, M-4600.10, M-4782.3 .

Arrangement:

The Horace Mann papers have been organized into the following series:

Series I: Correspondence
Series II: Documents and financial papers
Series III: Photographs, quotations, and miscellaneous manuscripts

Rules or Conventions:

Finding aid prepared using Describing Archives: A Content Standard (DACS)
Related
Additional Descriptive Data:

Related Materials

Horace Mann, Jr., Papers at the Clements Library contain materials related to the eldest son of Horace Mann, a noted botanist who was best known for his work on Hawaiian plants.

Delia Bacon Collection, William L. Clements Library, The University of Michigan. The Delia Bacon Collection contains letters written by Elizabeth Palmer Peabody, the sister of Horace Mann's second wife, Mary Tyler Peabody. Elizabeth is best known for her work in elementary education and the American Transcendentalist movement.

Letters, Documents, & Other Manuscripts, Duane Norman Diedrich collection at the Clements Library includes one letter written by Samuel Gridley Howe to an unidentified recipient on May 14, 1860, in which he expresses his frustration with fund-raising efforts for a statue of Horace Mann.

The Book Division of the Clements Library holds a large selection of publications (approx. 40) by or about Horace Mann.

Bibliography

Mann, Mary [Peabody]. Life of Horace Mann. Boston: Walker, Fuller, and Company, 1865.

Mitchell, Martha. Encyclopedia Brunonia: Mann, Horace (http://www.brown.edu/Administration/News_Bureau/Databases/Encyclopedia/search.php?serial=M0070, accessed October 2007)

Ritchie, Susan. Dictionary of Unitarian and Universalist Biography: Horace Mann (http://www25.uua.org/uuhs/duub/articles/horacemann.html, accessed October 2007)
Contents
Using These Materials
---
RESTRICTIONS:

The collection is open for research.

USE & PERMISSIONS:

Copyright status is unknown.
PREFERRED CITATION:

Horace Mann Papers, Duane Norman Diedrich Collection, William L. Clements Library, The University of Michigan.