Back to top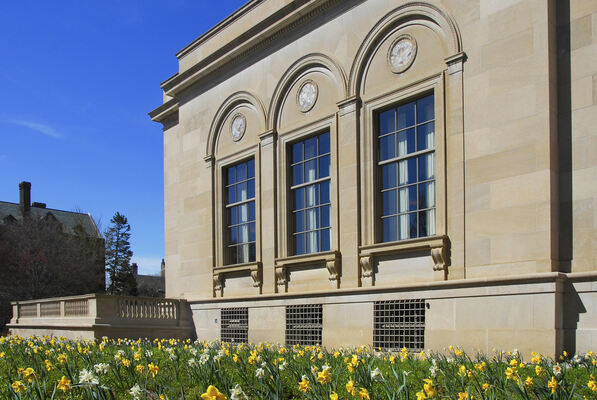 Address

:

909 South University Avenue

Ann Arbor, MI 48109, USA
Benjamin Franklin collection, 1766-1788
Using These Materials
---
Restrictions:

The collection is open for research.
Summary
Creator:

Abstract:

The Benjamin Franklin collection is made up primarily of letters that Franklin wrote to Joseph Galloway, when Franklin was an agent for the Pennsylvania Provincial Assembly in Great Britain from 1764 to 1775.

Extent:

22 items

Language:

English

Authors:

Collection processed and finding aid created by Cheney J. Schopieray, November 2011, and Patrick Galligan, February 2012
Background
Scope and Content:

The Benjamin Franklin collection is made up of 21 letters, 17 of which Franklin, as agent for the Pennsylvania Provincial Assembly in Great Britain, wrote to Joseph Galloway from 1764 to 1775. Franklin addressed numerous political issues, including the Stamp Act, Galloway's appointment to the Pennsylvania Provincial Assembly, the Currency Act, and other Parliamentary discussions. The letters contain evidence of Franklin's frustration with British taxation leading up to the Revolution. Four additional letters by Franklin and one document signed by him comprise the remainder of the collection.

The box and folder listing below contains notes respecting contents of each item in the collection.

Biographical / Historical:

Benjamin Franklin was born on January 6, 1706, in Boston, Massachusetts, the youngest of fifteen children of soap maker and tallow chandler, Josiah Franklin, and his second wife, Abiah Folger. A self-educated man, Franklin signed a nine-year indenture to work in his brother James's printing shop in 1718. Franklin was a prolific writer, and he published his first series of essays in 1721. He started his first publishing house in Philadelphia in 1728. Franklin married Deborah Read in 1730, and they raised his illegitimate son William, as well as their two children: Francis, who died of smallpox at four, and Sarah.

In 1732, Franklin began printing his Poor Richard almanacs, which became the backbone of his publication business until 1757. His extensive political writings led him to civil service, and he began working as a clerk for the Pennsylvania Provincial Assembly in 1736. He retired from publishing in 1748, and became an assembly member in 1751.

The Pennsylvania Provincial Assembly first sent Franklin to England in 1757 to lobby against proprietary government in Pennsylvania; in his absence, Joseph Galloway became the leader of the anti-proprietary party. The anti-proprietary party was opposed to the hereditary rule of the Penn family and their power to appoint members to the local government. This system allowed proprietors in England to control facets of American government and profit off their lands in America without paying taxes equal to other Pennsylvania property. After successfully arguing for the taxation of proprietary land, Franklin returned to America, at which time the Assembly elected him Speaker in 1764. However, some Pennsylvanians continued to feel restless about proprietary power in their province, and Franklin returned to England (1764-1775) to petition for a royal government, oppose the Stamp Act, and report on British policies of interest to Pennsylvania. Royal government in Pennsylvania would turn the land into a royal province, and undercut the proprietors' economic and political power, as the crown would have control of lands and political appointments.

Benjamin Franklin's letters to Galloway constitute a running commentary on the events and political climate leading up to the Revolution. On this second visit to England, Franklin vocally opposed the Stamp Act, the Salt Duty, and argued for the adoption of paper currency in America. He met with the most influential statesmen in England, and even his staunch opponent Lord Grenville was willing to hear his ideas. During Franklin's absence, the Pennsylvania Provincial Assembly elected Galloway as Speaker (1766-1775).

Throughout his tenure as Speaker, Galloway argued that the colonies and Britain could arrive at an amicable agreement that would provide America the representation it wanted under British rule. His friendship with Franklin ended in 1775 when Galloway resigned his post as Speaker because of his Loyalist sympathies. In 1776, he joined the British Army and worked as superintendent general in William Howe's occupied Philadelphia (1777-1778), before moving to England permanently and becoming a spokesman for Loyalists in Britain. After relocating to Britain, Galloway published multiple accounts of the Revolution and its origins before his death in 1803.

Benjamin Franklin attended the Second Continental Congress, drafted articles of confederation, and served on the committee to draft the Declaration of Independence. From 1776 to 1785, Franklin served as envoy and later minister plenipotentiary to France. He drafted preliminary terms of peace between Britain and America, which both sides revised and signed in 1782. On his return to America, he was elected the president of the supreme executive council of Pennsylvania (1785-1788). He argued for extending the right to vote regardless of land ownership status, and was an early supporter of the antislavery movement. He died in 1790 at his house in Philadelphia.

Acquisition Information:

1923-1970. M-209, M-1028, M-1525, M-4799 .

Processing information:

Cataloging funded by the National Endowment for the Humanities (NEH) and the "We the People" project.

Arrangement:

The collection is arranged chronologically.

Rules or Conventions:

Finding aid prepared using Describing Archives: A Content Standard (DACS)
Related
Additional Descriptive Data:

Related Materials

Other Benjamin Franklin letters and documents (including contemporary manuscript copies) may be found in the following collections at the William L. Clements Library:

Earlier letters between Benjamin Franklin and Joseph Galloway are located at the Yale University Library.

The bulk of the letters are published in The Papers of Benjamin Franklin, ed. Leonard Larrabee, et al. [New Haven : Yale University Press, 1959-].).

Bibliography

Baker, Frank. "Galloway, Joseph." American National Biography Online.

Lemay, J. A. Leo. "Franklin, Benjamin." American National Biography Online.

Warden, G. B. "The Proprietary Group in 1754-1764." The William and Mary Quarterly, Third Series, Vol. 21, No. 3 (Jul., 1964), pp. 367-389.

Alternative Form Available:

The bulk of the letters are published in The Papers of Benjamin Franklin, ed. Leonard Larrabee, et al. [New Haven : Yale University Press, 1959-]).
Subjects
Click on terms below to find any related finding aids on this site.
Subjects:

Formats:

Names:

Places:
Contents
Using These Materials
---
RESTRICTIONS:

The collection is open for research.

USE & PERMISSIONS:

Copyright status is unknown
PREFERRED CITATION:

Benjamin Franklin Collection, William L. Clements Library, The University of Michigan