Back to top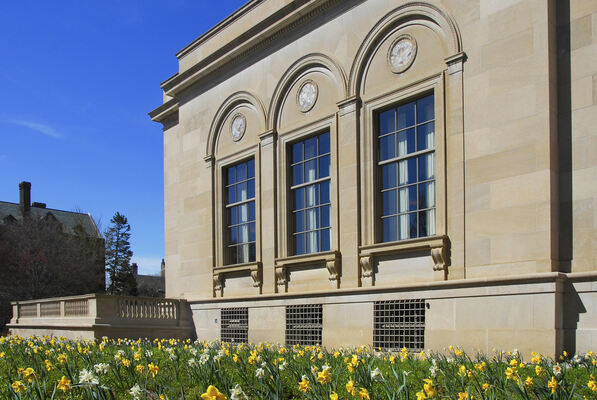 Address

:

909 South University Avenue

Ann Arbor, MI 48109, USA
Reed-Blackmer family papers, 1848-1936
Using These Materials
---
Restrictions:

The collection is open for research.
Summary
Creator:

Abstract:

The Reed-Blackmer family papers consist of the correspondence from an extended family including many settlers in New York, Michigan, and Western America.

Extent:

444 items

Language:

English

Authors:

Collection processed and finding aid created by Rachel K. Onuf, 1998
Background
Scope and Content:

This collection consists of the correspondence of the Reed and Blackmer families spanning a period from the mid-19th century to shortly after World War I. The greatest strengths of this collection are the early letters pertaining to education in New York State, and the letters written from family members in the west to their New York State relations. Letters from Michigan in the 1850s, Kansas and Indian Territory in the 1880s and 90s, and the smattering from Illinois and Wisconsin, all give expression to the emigrants' specific experiences.

Many of the early letters are from students and young teachers in New York State, where there were many pockets of culture and education. Lucinda Green, a student at the academy in East Bloomfield, was taking intellectual philosophy in 1849. One of the lectures she described was delivered by photographer John Moran, who "exhibited some pictures with the magic lanterns some of which were very comical" (1850 January 26). Another correspondent, James Bigelow, detailed his professors, particularly the female ones, and activities at Alfred University in Allegany County. James Cole, a medical student, taught school in Ontario County, and Scott Hicks was a student at the Buffalo Medical College. Lizzie, Martha, and Marshall Reed attended the seminary and academy in Canandaigua, and Lizzie described such highlights as the infant drummer's concert: "he drummed beautifully, he was only three years old," and hearing a Jew preach: "His dialect was so different from ours that I could scarcely understand a word he said" (1851 [November] 7, 1852 November 21). Harriet Pennell's cousin Paul taught in Naples, and Harriet herself probably attended the Genesee Wesleyan Seminary in Lima, Livingston County.

Of all the letters from the west, the handful from Lynus Tyler to Dudley Reed are the most entertaining. Tyler was an enthusiastic, but less-than-eloquent correspondent from rural Macomb County, where he had a 200 acre farm. He tried to entice Reed to migrate with descriptions of the abundance of women and deer: "Mary Bennet is not married yet but she wants to bea dud come and get her for you cannot doo enny better her post adress is Romeo Macomb Co. Mich" (1851 June 22). He assured Dud he would "keep the girls from a hurting you" when he came out (1851 February 9). After Dudley married "Miss Anna," Tyler, who now had an 80 acre farm in Barry County, toned down his enthusiasms for the local women, but still tried to get his friend to come farm in Michigan by praising the land as well as the game (1852 August 1).

The other Michigan correspondents also urged their relations to join them, and discussed farming, hunting, and family news in great detail. During their early years in Michigan, enthusiasm for their adopted home flowed through every line, but this waned somewhat after 1857, when a barn burned, a child died, and crops failed. Samuel even spent some time in the Jackson jail in the 1870s.

Frank Blackmer's letters written while he worked as a sheep drover in 1880 are unfortunately brief, but his brother John's fairly regular letters over a twelve-year span provide an excellent portrait of a man permanently poised between home and the great unknown. For over a decade, he worked in Kansas and the Indian Territory, never making quite enough money, and never making up his mind whether to head further west, as he dearly wanted to, or to head home to New York, which was also a powerful draw. He wrote repeatedly that he had been "a blamed fool for staying around these parts for the last two years when I might have seen a good deal of country last spring I started out & went several counties west when I might have gone to California just as well..." (1886 November 7). Even as he complained about the hardships of his peripatetic, single life, and berated himself for not moving, he continued to linger in that part of the world.

The letters written back home by New Yorkers visiting western relations are as important as those written by the transplants themselves. In the mid-1880s, Bess Blackmer spent her school holidays visiting her Michigan relatives -- Pennells, Wilmarths, and Clarks -- in Grand Rapids and the surrounding area. By writing to her mother about her trip, she reacquainted her with people whose images had undoubtedly dimmed over the years. In 1891, Harriet took her own first trip west, stopping in Kansas, Illinois, and Michigan to spend time with family she had not seen in decades. She might have thought this first trip would also be her last, but her daughter Hattie was stricken with typhoid in Grand Rapids two years later, and her mother again traveled west, to nurse her and escort her home. These visits reaffirmed the bonds between long distance kin that otherwise might have withered, as letters full of local news grew less and less relevant to those far away.

One of the many fascinating single letters in this collection was written by Orren Short, from Michigan. In the 1850s, there was a fairly commonly held view that handwriting analysis was a means of diagnosing health complaints. After receiving -- and analyzing -- a letter from his sister Anna, Orren wrote to her husband Dudley Reed, and effectively requested that they stop having sex.

I also should judge by her writing that she is very poor. that there is difficulty by irregularity of the female organs. Great care should be taken to avoid overworking, or to great an excess of any indulgence that might irritate the female private organs. But few females ever recover wholly after becoming irregular in their monthly purgations, or by to great a flow, without abstaining wholly from sexual intercourse with their husbands for a length of time. Perhaps my views are not right in regard to Anna's case, if not please pardon me. If correct, please give it a trial (1856 September 7).

Reverting to his true calling, farmer Orren went on to discuss his wheat crop.

Other caches of correspondence include the letters Bess wrote home to her mother from Ohio-Wesleyan (1884-1886), detailing her classes, activities, and clothing needs; Lizzie Reed's sporadic letters to her brother Dudley, exhorting him to strop drinking and save his soul; and the 20th century material. This last portion of the collection consists of letters written to (the somehow related) Newton C. Rogers (A.E.F. Air Corps, France) from family members in New York and air corps friends in France. In patriotic and optimistic tones, these letters discuss news of friends and family "over here" and a bit of bravado and news of the fates of comrades from elsewhere "over there."

Biographical / Historical:

The dozens of Reeds, Blackmers, and Pennells represented in this collection are too numerous to get specific mention. All three families had been early settlers of Richmond, in Ontario County, New York. The Reed patriarch, Wheeler, was born in Vermont in 1788, and moved with his brothers and father Phillip to Ontario County in 1795. Wheeler had four children by his first wife and fifteen by his second wife, Hannah Risdon Reed (1798-1877), whom he married about 1817. Although fellow settlers John Pennell and Levi Blackmer may not have been quite so prolific in their production of offspring, by the mid-19th century there was a boggling number of blood and marriage relations among the families.

Many of Wheeler Reed's children appear as correspondents. Lizzie Reed was a student in Canandaigua, and probably continued to live in New York after marrying a man named Chambers. Dudley Reed was married to Anna Short by 1852 and they probably remained in Ontario County. They were the exceptions, however, for many of the siblings moved westward. Several settled in Lenawee County, Michigan, in the 1850s. Anna Short Reed's brother, Orren L. Short, and his wife Sarah, Samuel P. Reed and his wife Rhoda, Byron Reed, George Reed, and Warren and Fitch (who might have been Reeds), all farmed in the county. The most prominent was Marshall Reed (1833-1891), who settled in Rome, Michigan in 1854, and moved to a farm in Cambridge, Michigan in 1866. He married Julia A. Barrus in 1855, and together they had three children. Marshall held several important local offices, including Justice of the Peace, and was elected to the State Legislature as a Republican in 1874.

Although the precise connection has not been unraveled, the Pennell family was related to the Reeds, and they followed a similar westward trajectory. George W. Pennell worked at a logging camp on the Black River in Wisconsin before settling down as a lumber man in Atchison, Kansas, with his wife Millie. By 1852, Delia Pennell Bartlett was living on the outskirts of Chicago with her husband John and child Cyrus. Wesley Pennell and his wife Celia, who might have been a Reed, were living in Grand Rapids, Michigan by the 1880s, with their children Hattie and Wettie. Wesley's sister Harriet Pennell, who remained in New York, is in some ways the focal point of this collection. She was the recipient of much of the correspondence, and through her marriage to Myron Blackmer on September 14, 1854, she linked the two families.

Harriet and Myron Blackmer had several children -- Frank P., John B., Carl, Bess S., Hattie, and twins, Tom and George. Frank drove a herd of sheep from Texas to San Diego in 1880, but ended up farming back home. Carl went to school briefly in Rochester and then returned to help on his father's farm, where he died while still a young man. John went to Kansas in 1881, where he worked as a sheep rancher, a book agent, and a walnut logger, before filing a claim in the Cherokee Strip in 1893. Their sister Bess Blackmer went to Ohio-Wesleyan University as a "senior prep" (1884-86) and married Spencer Sisson in 1889.

Acquisition Information:

1983. M-2089 .

Rules or Conventions:

Finding aid prepared using Describing Archives: A Content Standard (DACS)
Related
Additional Descriptive Data:

Bibliography

Knapp, John I. and R. I. Bonner. Illustrated History and Biographical Record of Lenawee County, Michigan. (Adrian, Mich., 1903).

Primary Correspondents

Blackmer, Carl, d.1892
Blackmer, Harriet, b.1869
Blackmer, Harriet Newell Pennell
Blackmer, Frank P.
Blackmer, John B.
Chambers, Lizzie Reed
Goodrich, Lulie Gage
Green, Lucinda M.
[Green?] Paul
Pennell, George W.
Pennell, John Jr.
Pennell, Kate
Pennell, Millie
Reed, Anna Short
Reed, Betsey
Reed, Byron
Reed, Charles
Reed, Dudley
Reed, George
Reed, Marshall, 1833-1891
Reed, Samuel P.
Short, Orren L.
Short, Sarah [Reed?]
Sisson, Elizabeth Blackmer S., b.1868
Tyler, Lynus

Secondary Correspondents

Baldwin, M.L.
Barnard, S. E.
Bartlett, Delia
Bartlett, John G.
Beadle, Libbie
Bigelow, James B.
Blackmer, Myron H., d.1898
Brackett, James
Brown, Mary
Brown, William
Bullock, A.C.
Bullock, Mary B.
Carley, L. M. G.
Chappell, Paul
Church, E. Chapin
Cole, James M.
Crosby, Harriet
Curtis, Grace
Curtis, Mildred
Curtiss, Emeline S.
Denton, Mary
Dougherty, James T.
Douglass, Maria
Fisk, E.
Friedell, Helen
Green, Leslie F.
Greene, D.
Hicks, W. Scott
Huntington, Katie
Jennings, Edward
Kinneur, Susan M.
Kinney, Mary
Lowry, J.
Martin, Frank
Mayer, Esther
Miller, Frank
Osborne, T.M.
Pennell, Abraham
Pennell, Mrs. Dennis
Pennell, John Jr.
[Pennell?], Lorinda
Pennell, Lucinda
Pennell, Sally
Pennell, George
Pitts, Emily
Ray, S. B.
Reed, Elmira
[Rogers], F.E.
[Rogers], Helen
[Rogers], Mabel
Rogers, Lt. Newton Chauncey
Russ, Christopher
Russ, O. M[artha?] Reed
Simmons, Edward W.
Stoddard, Emily
Sutherland, Ralph S.
Terry, George W.
Tracy, Anna E.
Underhill, L. F.
[Wallory], Elda
[Wallory], Spencer
Williams, Amy
Williams, L. L.
Williams, O. F.
Williams, Thomas
Woman's World Magazine
Woodworth, Mr. and Mrs. M.
Wright, Lucinda

Partial Subject Index

Aged women
Alfred University (Alfred Centre, N.Y.)
Agriculture--Kansas
Agriculture--Michigan--Barry County
Agriculture--Michigan--Lenawee County
Agriculture--Michigan--Macomb County
Agriculture--New York (State)--Ontario County
Arson--Michigan
Arson--New York (State)
Atlanta (Ga.)--Social conditions
Bagpipers
Baptism--Methodist Church
Barry County (Mich.)
Beggars
Blackface entertainers
Blackmer family
Body, Human--Religious aspects
Breast cancer
Buffalo Medical College (Buffalo, N.Y.)
Canandaigua Academy (Canandaigua N.Y.)
Canandaigua Seminary (Canandaigua N.Y.)
Cancer--Surgery
Children--Diseases
Cholera--New York
Clothing and dress
Contests

1897 July 25
1897 October 12

Conversion

1886 January 31
1886 February 7
1886 February 28

Clay, Henry, 1777-1852
Courtship
Coverlets
Creek Indians
Daguerreotype
Dansville Seminary (Dansville, N.Y.)
Dansville Model Water Cure (Dansville, N.Y.)

1854 January 8
1854 November 1

Dating (Social customs)

1886 February 21
1886 March 7

Death

1888 February 6
1888 March 4

Deer--Michigan
Depression in women
Depressions--1893

1894 March 20
1894 August 3

Dogs--Diseases

1851 April 5
1853 January 16

Domestic relations
Douglass, Frederick, 1817-1895

1884 January 27
1884 July 27

Draft
Electricity--19th century

1851 January 29
1884 February 6

Family--Michigan
Family--New York (State)
Female friendship

1885 December 3
1886 March 7

Fire engines
Fires--New York (State)--Canandaigua
Frontier and pioneer life--Illinois
Frontier and pioneer life--Kansas
Frontier and pioneer life--Michigan--Barry County
Frontier and pioneer life--Michigan--Lenawee County
Frontier and pioneer life--Michigan--Macomb County
Frontier and pioneer life--Oklahoma
Generative organs, Female
Grapes--New York (State)--Yates County
Graphology--Diagnostic use
Hop pickers
Horses--Breeding

1884 February 3
1888 December 17

Hydrotherapy--New York (State)

1854 January 8
1854 November 1

Immigrants--Wisconsin
Infants--Weaning
Iowa County (Wisc.)
Jewish sermons, American
Kansas--Description and travel
Kent County (Mich.)
Lace and lace making
Land grants--Oklahoma
Land settlement--United States
Lenawee County (Mich)
Logging--Oklahoma

1890 September 18
1892 December 8

Logging--Wisconsin
Macomb County (Mich.)
Marriage--Psychological aspects
Menopause
Menstruation

1856 September 7
1885 December 3

Mental illness

1854 July 9
1865 April 15
1885 December 25

Michigan--Description and travel
Michigan--Prisons
Michigan--Social life and customs
Migration, Internal--United States
Moran, John, 1831-1903
New York (State)--Social life and customs
Ohio Wesleyan University
Oklahoma--Description and travel
Ontario County (N.Y.)
Parent and child
Pennell family
Personal property
Pitts, Helen

1884 January 27
1884 July 27

Poor aged

1883 December 9
1884 March 18

Presidents--United States--Election--1856
Prisoners--Michigan--Jackson

1871 February 26
1871 March 20

Rabies
Railroad accidents
Railroad bridges
Reed family
Religious newspapers and periodicals
Republican party (Mich.)
Richmond (N.Y.)
Rochester (N.Y.)--Description and travel
Roller-skating

1883 October 24
1890 January 5

Salvation
Samples (Commerce)
San Diego (Calif.)--Description and travel
Schools--New York (State)
Sewing
Sheep-California
Sheep--Diseases
Sheep ranchers--Kansas

1882 May 28
1883 April 24
1883 October 2
1884 February 20

Sheep ranchers--Texas
Smallpox--New York (N.Y.)
Social calls
Students--New York (State)
Teachers--New York (State)
Teeth--Extraction
Temperance and religion
Textile fabrics
Ticks
Toothache--Treatment
Tricycles
Twins
Typhoid fever
United States. Army. Air Corps
Widowers
Wild dogs
Windmills--Michigan
Woman's World Publishing Company

1897 July 26
1897 October 12

Women--Education--New York (State)
Women--Education--Ohio
Women--Education (Secondary)
Women and religion

1875 June 25
1881 September 20
1883 December 28

Women hunters
Women pioneers--Michigan
Women pioneers--Wisconsin
Women teachers--New York (State)
World War, 1914-1918
World's Columbian Exposition (1893 : Chicago, Ill.)

1891 October 18
1893 May 25

Yates County (N.Y.)
Subjects
Click on terms below to find any related finding aids on this site.
Subjects:

Formats:

Names:

Places:
Contents
Using These Materials
---
RESTRICTIONS:

The collection is open for research.

USE & PERMISSIONS:

Copyright status is unknown.
PREFERRED CITATION:

Reed-Blackmer Family Papers, William L. Clements Library, The University of Michigan