Back to top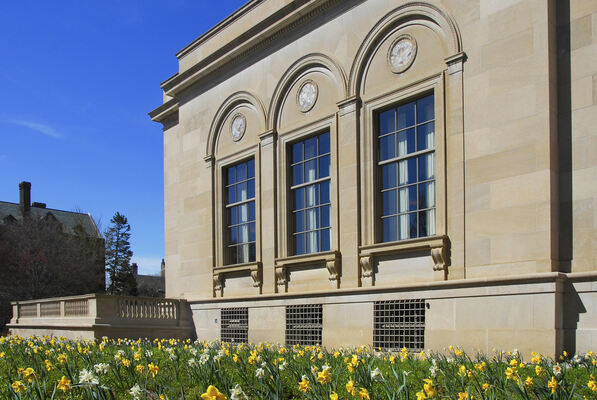 Address

:

909 South University Avenue

Ann Arbor, MI 48109, USA
Hamilton-Schuyler family papers, 1820-1924 (majority within 1820-1877)
Using These Materials
---
Restrictions:

The collection is open for research.
Summary
Creator:

Abstract:

The Hamilton-Schuyler family papers contain correspondence, a diary, and documents related to the family of James Alexander Hamilton, including his daughter, Eliza Hamilton Schuyler; son-in-law, George Lee Schuyler; and granddaughter, Louisa Lee Schuyler. The material pertains to upper-class life in New York during much of the 19th century.

Extent:

0.5 linear feet

Language:

English
Spanish

Authors:

Collection processed and finding aid created by Galen Wilson, April 1987, and Naomi Herman-Aplet and Meg Hixon, October 2011
Background
Scope and Content:

The Hamilton-Schuyler family papers (approximately 110 items) contain material related to the family of James Alexander Hamilton, including his daughter, Eliza Hamilton Schuyler; son-in-law, George Lee Schuyler; and granddaughter, Louisa Lee Schuyler. The papers provide insight into upper-class life in New York throughout much of the 19th century.

The Correspondence series (78 items) makes up the bulk of the collection. George Lee Schuyler composed much of the earliest correspondence in the collection, informing his brother William of his experiences while away at school in Bloomingdale, New York; one of these is written in Spanish. Other early material in the collection describes Hamilton family vacations, including several letters by James A. Hamilton written while he toured Europe in 1836 and 1837. These letters are notable not only for their descriptions of 19th-century Europe, but also for Hamilton's opinions on the financial crisis that developed in the United States during the Panic of 1837. Later correspondence includes letters written to Louisa Lee Schuyler concerning her charitable work, particularly focusing on her advocacy of humane care for the mentally ill. In addition to loose correspondence, the collection includes a letterbook outlining the contents of "Correspondence between Mrs. G. L. Schuyler (Eliza Hamilton) & Rev. Orville Dewey" (1848-1863). Many of these letters are represented by excerpts, and include Schuyler's reactions to the Civil War.

Louisa Lee Schuyler composed the collection's Diary from January 1-June 3, 1861, about the opening stages of the Civil War. She witnessed sermons by Henry Bellows and Henry Ward Beecher, and attended several theater performances by Edwin Booth.

The Documents and Photograph series (4 items) includes a military commission signed by Lewis Cass (June 30, 1832), a detailed household inventory for the Schuyler family farm (1848), a marriage certificate (March 1, 1856), and a photograph of Julia Boggs Livingston (Undated).

The School Papers series (15 items) is made up of two subseries, both related to the education of George Schuyler. The first subseries, Marks and Rewards of Merit (4 items), contains accolades for high performance. School Exercises (11 items) in language and mathematics comprise the second subseries, reflecting work in French and trigonometry.

The Writings series consists of 4 political essays by various authors, with occasional comments by George Schuyler; 5 typed memoirs and reminiscences, including an outline for an autobiographical sketch by Eliza Hamilton Schuyler; a typed copy of a poem by Washington Irving (to Rebecca McLane, beginning "There's a certain young lady"); an acrostic poem entitled "The Heron to the Ibis, with the Compliments of the Season: A Key to Egyptian Hieroglyphics" (1868); and a notebook containing genealogical and correspondence information, 1830-1863.

Biographical / Historical:

James Alexander Hamilton was born in New York on April 14, 1788, the third son of Alexander Hamilton (1755-1804) and Elizabeth Schuyler Hamilton (1757-1854). He graduated from Columbia College (now Columbia University) in 1805 and was admitted to the New York bar in 1809, after which he established a legal practice in Hudson, New York. Hamilton married Mary Morris, the daughter of Robert Morris, in October 1810 and served in the military during the War of 1812. Andrew Jackson later appointed him district attorney for the Southern District of New York, though Hamilton's political sympathies later moved from the Democratic Party to the Whig and Republican Parties. James Alexander Hamilton died on September 24, 1878.

George Lee Schuyler was born in Rhinebeck, New York, on June 9, 1811. Following his graduation from Columbia College, Schuyler married Eliza Hamilton, the daughter of James Alexander Hamilton. They had three children: Philip, Louisa Lee, and Georgina. After Eliza Hamilton's death in 1863, Schuyler married her sister, Mary Morris Hamilton. He worked as a civil engineer and his hobbies included yacht racing. He died on July 31, 1890.

Louisa Lee Schuyler was born on October 26, 1837, the daughter of George Lee Schuyler and Eliza Hamilton Schuyler. In her early twenties, Schuyler found herself drawn to charitable work and volunteered as a teacher for the Children's Aid Society. During the Civil War, she assisted in organizing the Women's Central Association of Relief (later the United States Sanitary Commission). Schuyler recuperated from postwar exhaustion in Europe and Egypt, and continued her charitable service upon her return to New York in 1871, working with organizations such as the State Charities Aid Association and creating the first training school for nurses in the United States at Bellevue Hospital in 1875. She took a special interest in humane care for the mentally ill, and, in later years, worked for the prevention of blindness. She was awarded an honorary LL.D. degree by Columbia University in 1915. Louisa Lee Schuyler died on October 10, 1926.

Acquisition Information:

1983, 2009. M-2081, M-4756 .

Processing information:

Cataloging funded by the National Historical Publications and Records Commission (NHPRC). This collection has been processed according to minimal processing procedures and may be revised, expanded, or updated in the future.

Arrangement:

The collection is arranged in the following series:

Series I: Correspondence
Series II: Diary
Series III: Documents and Photograph
Series IV: School papers

Subseries I: Marks and rewards of merit
Subseries II: School exercises

Series V: Writings

The correspondence series is arranged chronologically.

Rules or Conventions:

Finding aid prepared using Describing Archives: A Content Standard (DACS)
Related
Additional Descriptive Data:

Related Materials

The Clements Library holds several additional items by James A. Hamilton, including the following:

Hamilton, James A. An Address Delivered Before the Students of the United States Naval Academy: At Newport, June, 1864. Boston: Ticknor and Fields, 1864.
Hamilton, James A. The Constitution Vindicated: Nationality, Secession, Slavery. New York: Loyal Publication Society, 1864.
Hamilton, James A. Reminiscences of James A. Hamilton, Or, Men And Events At Home And Abroad During Three Quarters of a Century. New York: C. Scribner & Co., 1869.

Bibliography

"James Alexander Hamilton." Who Was Who in America: Historical Volume, 1607-1896. Revised Edition. Chicago: Marquis Who's Who, 1967.

"Our History." Schuyler Center for Analysis and Advocacy. Web.

Schuyler, George W. Colonial New York: Philip Schuyler and his family. New York: Charles Scribner's Sons, 1885.
Subjects
Click on terms below to find any related finding aids on this site.
Formats:

Names:

Livingston, Julia Augusta Boggs, 1817-1884.
Hamilton, James A. (James Alexander), 1788-1878.
Schuyler, George Lee, 1811-1890.
Schuyler, Eliza Hamilton, 1799-1863.
Schuyler, Louisa Lee, 1837-1926.

Places:
Contents
Using These Materials
---
RESTRICTIONS:

The collection is open for research.

USE & PERMISSIONS:

Copyright status is unknown
PREFERRED CITATION:

Hamilton-Schuyler Family Papers, William L. Clements Library, The University of Michigan