Back to top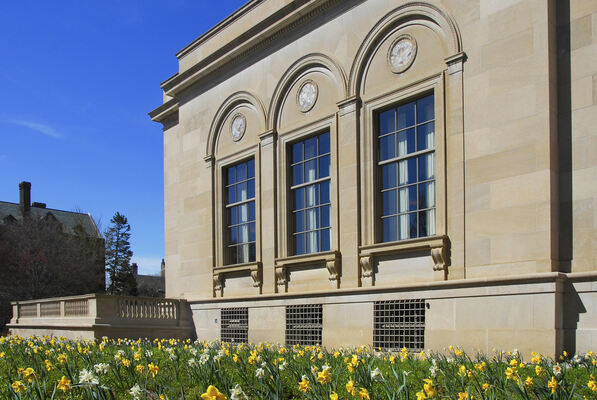 Address

:

909 South University Avenue

Ann Arbor, MI 48109, USA
Joseph Patterson notebooks, 1786-1803
Using These Materials
---
Restrictions:

The collection is open for research.
Summary
Creator:

Abstract:

The Joseph Patterson notebooks document Patterson's education with the Presbyterian minister Joseph Smith in Washington County, Pennsylvania (1786), Patterson's missionary work with the Shawnee Indians in 1802, and Robert Patterson's diary describing his life as an itinerant preacher (1803).

Extent:

3 volumes

Language:

English

Sponsor:

Blandina Diedrich Collection

Authors:

Collection processed and finding aid created by Philip Heslip, December 2010
Background
Scope and Content:

Joseph Patterson's notebooks (3 volumes) concern Patterson's theological education in Western Pennsylvania and his missionary work with the Shawnee Indians. The first two volumes document the curriculum at Reverend Joseph Smith's Presbyterian log school, in Washington County, Pennsylvania (1786), while the third contains mathematical equations, Patterson's journal while a missionary with the Shawnee Indians in 1802, and a brief diary by his son, Robert Patterson, of his life as an itinerant preacher (1803).

The first Volume (232 pages) contains Patterson's 1786 notes kept while studying with Reverend Joseph Smith to become a Presbyterian minister. The notes, all taken at "Reverend Smith's Schoolhouse," primarily concern theoretical questions on theology.

The volume is divided into the following sections, all with individual page numbering systems:

"Questions of Ontology or Metaphysic" (pages 4-42: March 25, 1786)
"Some Examples of Syllogism" (pages 1-4)
"An Extract from Discourse on Death, by Rev. Mr. Bolton" (pages 1-3)
"A Compend of Rhetoric" on invention, disposition, and elocution: elegance, metaphor, allegory, metonymy, synecdoche, irony, and hyperbole (pages 1-7)
"Questions in Ethics of Moral Philosophy" (pages 1-83: February 24, 1786)
"Questions on Pneumatology," interactions between humans and God, and "Natural Theology" (pages 1-30: August 24, 1786)
"Questions on Divinity" (Pages 1-15 and pages 1-48)

Volume 2 (107 pages) consists of 344 questions and answers on metaphysics, followed by 25 pages of unnumbered definitions, questions, and answers. Among the topics covered are the creation of the universe, the concepts of perfection and imperfection, the philosophies of Descartes and Aristotle, the limits of human's knowledge of God, the nature of divinity, and the condition of the body and the soul. A sample question is: "107 Q. Are our ideas of infinite space merely negative? A. No it implies a positive extension; so great in every direction, as to exhaust all possible measures" (page 87).

Volume 3 (94 pages) contains Latin and mathematical exercises and journals kept by Joseph Patterson and his son Robert. The first two pages consist of Latin exercises. These are followed by 19 pages of 52 "Problems In Equations of the First Degree With one Unknown Quantity." These are math questions with calculations and answers. Next are 9 pages of algebraic calculations, possibly referencing an algebraic text by Charles Davies.

The bulk of the volume contains Patterson's 58-page journal, kept from April 29-July 2, 1802, documenting his missionary work teaching the gospel to the Shawnee Indians in Chillicothe, Ohio. Patterson missionary work was commissioned by the Synod of Virginia and he was accompanied by Mr. Matthews, who taught reading and agriculture, and George Bluejacket, a Christian Indian who served as their interpreter. Typically, Patterson recorded his daily activities and observations, his interactions with Indians and other missionaries, travel details, and the topics of his sermons.

Other notable entries:

Pages 9-11: Patterson arrived at a Shawnee village and met their chiefs.
Pages 17-19: Patterson described the Indians' contempt for associating with white people "especially ministers," and reported on a drunken party in the council house where men, women, and children danced, sang, and played instruments.
Pages 35-37: While visiting Detroit, Patterson prayed and interacted with several black men, women, and children.
Page 49: Patterson provides an account of child rearing responsibilities and reports on the Potawatomi tribe, which, allegedly, practiced a "barbarous custom of biting off each others noses."
Pages 57-58: In his final entry, Patterson reflected on his failure to teach and convert the Indians, and prayed that they learn to read and find salvation.

The "Journal of a Missionary" (6 pages), kept by Robert Patterson from November 5-27, 1803, is the last item in Volume 3. Robert recounted his trips around rural western Pennsylvania and New York State near Lake Erie, and described preaching to crowds at people's homes. He often recorded distances traveled, sights and people encountered on each trip, sleeping conditions, and the content of his sermons.

Biographical / Historical:

Presbyterian minister Joseph Patterson (1752-1832) was born to Robert and Jane Patterson in Northern Ireland. He married Jane Moak in February 1772, and in early 1773 emigrated to America, stopping briefly in Pennsylvania and settling in Saratoga County, New York. In 1774 he and his family moved to Germantown, Pennsylvania, where Patterson worked as a teacher. At the outbreak of the American Revolution, Patterson enlisted as a private. Upon leaving the army in 1777, Paterson moved first to the County of York, Pennsylvania, and in 1779 to remote Washington, Pennsylvania. Beginning in 1785, he studied for the ministry under revivalist preacher Reverend Joseph "Hell Fire" Smith (1736-1792), founder of the Redstone Presbytery. After three years of study, Patterson was ordained in 1789 and preached in Raccoon and Montour's Run churches until 1802. He spent some of that year as a missionary to the Shawnee Indians in Chillicothe, Ohio. For the next 14 years (1802-1816), he focused his energies on the Montour's Run church. He retired to Pittsburgh in 1816. Throughout his ministry, Patterson was an active supporter of missionary societies, Bible distribution, and Sunday schools, and was a trustee of Jefferson College (now Washington and Jefferson College). On February 4, 1832, Patterson died at his home in Pittsburgh.

Patterson and his wife Jane Moak had eight children, the eldest of which was Robert Patterson (b.1773) who also became a Presbyterian minister.

Acquisition Information:

1981. M-1944 .

Processing information:

Cataloging funded by the National Endowment for the Humanities (NEH) and the "We the People" project.

Rules or Conventions:

Finding aid prepared using Describing Archives: A Content Standard (DACS)
Related
Additional Descriptive Data:

Related Materials

The following list represents some of the Clements Library collections concerning religious revivalism in the early 19th century and Native American missionary work in Western Pennsylvania:

Native American History collection
Quaker collection

From the Book Division:

Bibliography

Sprague, William B. Annals of the American Pulpit. New York: Arno Press & the New York Times, 1969.
Subjects
Click on terms below to find any related finding aids on this site.
Subjects:

Formats:

Names:

Places:
Contents
Using These Materials
---
RESTRICTIONS:

The collection is open for research.

USE & PERMISSIONS:

Copyright status is unknown
PREFERRED CITATION:

Joseph Patterson Notebooks, Blandina Diedrich Collection, William L. Clements Library, The University of Michigan