Back to top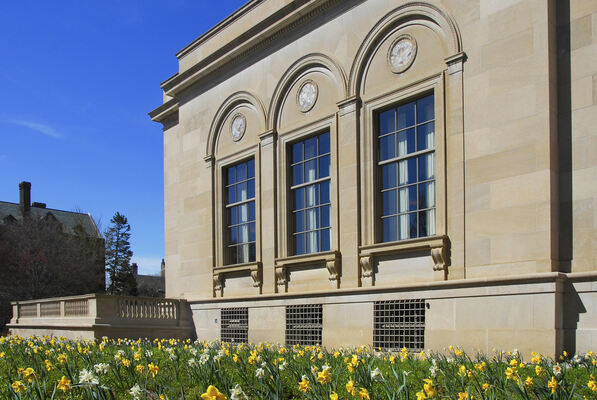 Address

:

909 South University Avenue

Ann Arbor, MI 48109, USA
Starbird family papers, ca. 1845-1864
Using These Materials
---
Restrictions:

The collection is open for research.
Summary
Creator:

Abstract:

The Starbird family papers contain the incoming and outgoing correspondence of three of the Starbird siblings: Solomon and George, who served in the Civil War in the 127th New York Infantry and 1st New York Mounted Rifles respectively, and Marianne, who operated a struggling art school in New York City.

Extent:

0.75 linear feet

Language:

English

Sponsor:

James S. Schoff Civil War Collection

Authors:

Collection processed and finding aid created by Shannon Wait, February 2011
Background
Scope and Content:

The Starbird family papers contain approximately 345 items, spanning ca. 1845 to 1864. The Correspondence series contains approximately 331 letters, arranged chronologically, with undated items at the end; the letters cover 1848 to 1864. Thirty letters in the collection predate the Civil War; these primarily concern the schooling and careers of the Starbird siblings, Marianne Starbird's health, social visits, religious observations, and various family matters. The bulk of the collection centers on the years 1862 to 1864, when Solomon and George served with the 127th New York Infantry and the 1st New York Mounted Rifles, respectively. George wrote to Marianne quite frequently during his service, at which time he was mainly stationed in Virginia and North Carolina. He participated in a number of skirmishes in southern Virginia, as well as the Siege of Suffolk, but otherwise did not see much heavy fighting. His outgoing letters, as well as those he received from fellow soldiers, are notable for their frankness about camp life and the war experience, as well as for their content regarding African Americans. Solomon Starbird wrote less frequently to his siblings, but produced very lengthy letters, which cover numerous topics, including the war camp activities, and duties.

The war-era letters open with a discussion of George's enlistment in the 1st New York Mounted Rifles, including his own rationale for enlisting (July 30, 1862). George's early letters primarily document his daily activities at Camp Dodge in Suffolk, Virginia, and a few skirmishes nearby. He frequently gave accounts of his participation in scouting parties and pickets, as well as his pastimes during quiet periods. Among the skirmishes in which he participated are one near Blackwater, Virginia (October 5, 1862); an attack by "bushwhackers" (December 28, 1862); and a skirmish at Providence Church (December 29, 1862) near Windsor, Virginia. He also gave a lengthy description of being fired on during a picket, when, at the same time, a sergeant was mortally wounded (January 15, 1863). In a letter of September 2, 1862, he described the capture of 112 Confederate prisoners on their way to Richmond, and noted that they were given coffee and generally treated well by their Union captors. He also mentioned the explosion of ordnance stored at Yorktown, Virginia, (December 17, 1863) and the search for a Confederate spy near Williamsburg (January 16, 1864).

George's letters are especially significant for the attention that they give to African Americans. He found himself in frequent proximity to slaves near Suffolk, Virginia, where he recorded their stories and noted the assistance that they provided to his company. On October 10, 1862, he recounted a conversation with the slave whom he paid to wash his clothes and cook sweet potatoes for him. The "old negro" told Starbird about his master, Nathaniel Redden, a member of the Congress of the Confederate States. Redden had left Suffolk, but tried to persuade his slaves to stay on his plantation by telling them that northerners would work them three times as hard as southerners and deny them food. According to the unnamed slave, Redden also told him, "Lincoln is going to take you to Cuba and sell you off to pay off his soldiers." In another letter, dated October 25, 1862, Starbird told his sister about a slave Tom, who "lays awake nights heaps worrying for fear the rebels have carried off his wife he left down in Carolina." Starbird also noted the work performed by contraband, such as building stables (January 15, 1863), and the assistance given to Union troops by African Americans, which included giving them corn and making them coffee (October 14, 1862).

George provided descriptions of camp life, including the soldiers' enjoyment of the barracks at Camp Suffolk, their roughhousing, and their heavy drinking. In a letter of January 1, 1863, he noted that the officers got "beastly drunk" and could barely stay on their horses; indeed, several had fallen and could not perform their duties later in the day. He also described a soldier who was nearly 60 years old and had dyed his hair and beard to appear young enough to enlist (February 9, 1863). Other topics covered in his letters include the lack of pay to the soldiers (January 18, 1863), his duties (which included compiling the monthly returns, November 5, 1863), and the hiring of substitutes (August 18, 1863). He also called his fellow soldiers a "Hard Crowd" and described their vicious brawls with one another (August 9, 1862).

George received correspondence from friends in other regiments. One man in particular, Jesse Kimball, who called himself "Barnes," wrote very frankly about the sex available to soldiers from white and black women. He mentioned rampant venereal disease (March 3, 1863), whores in Virginia (November 17, 1863), and sex with girls in his hometown (March 11, 1864).

Solomon Starbird wrote less frequently, but his letters tended to be long, rambling, and filled with details of camp life. On January 23, 1863, he wrote to Marianne concerning the lack of pay to soldiers and the slovenliness of the privates. In his letter of August 21, 1863, he described a military gathering on Folly Island and Union positions in South Carolina. In other letters he gave accounts of being fired on during picket duty (September 30, 1863) and Christmas celebrations in camp (December 22, 1863). A talented sketcher, he included in a letter of October 8, 1863, a penciled map of Cole's Island, South Carolina, labeled with the "old fort;" the 127th Regiment's camp; and the surrounding marshes.

Marianne's letters to her brothers are notable for their accounts of the administration of a struggling art school in New York City during the period. On March 8, 1863, she described her studio and enclosed a flier for the school. In another letter, she shared the necessity of supporting herself by painting portraits, though her greater talent lay in other areas (March 29, 1863). Her later letters reveal increasing health problems, and the difficulty of attracting pupils (February 22, 1864), as well as her attendance at a Sanitary Commission Fair in Brooklyn (February 7, 1864).

The Essays and Poetry series contains 14 essays and poems covering 92 pages. Marianne wrote many of these items, and submitted them in the 1840s to a Norridgewock, Maine, journal called the Social Repository. Of particular interest is an essay, likely written by Marianne, entitled "My School Days," which describes the small schoolhouse that she had attended as a girl. Also included are poems on the topics of love, autumn, the death of a mother, and friendship, and a piece by "C.B.E." entitled "The Mission of Woman." The latter defends the education and ambitions of women and notes that their rightful place in life is as "the equal, not the toy of men," but urges them to dismiss "the sneers, the prejudice, the conventionalities of the world."

Biographical / Historical:

Starbird, Solomon

Rank: Sgt.

Regiment: 127th New York Infantry Regiment. Company B. (1862-1865)

Service: 1862 September 8-1864 October 31

Rank: Lieut.

Regiment: 55th Massachusetts Infantry Regiment (1863-1865)

Service: 1864 October 31-1865 August 29

Starbird, George

Rank: Lieut.

Regiment: 1st New York Mounted Rifle Regiment (1861-1865)

Service: 1862 July 7-1865 September

On March 28, 1826, John Starbird (1791-1846) of Fairfield, Maine, married Mary Bates (ca. 1805-1856). They had four known children: Marianne Macomber Starbird, Solomon Bates Starbird, Silas Bates Starbird, and George Bates Starbird.

Marianne Starbird (1829-1864), often known as "Annie," never married, and during the Civil War, she operated an art school at 553 Broadway in New York City. Although she offered daily classes in drawing, watercolors, pastels, and painting, Marianne struggled to support herself financially and to keep the school solvent. She died of an illness in 1864.

After working for several years as a lawyer in New York City, Solomon Starbird (1832-1889) was mustered into Company B, 127th New York Volunteers on September 8, 1862, at the rank of sergeant and served with that regiment until October 31, 1864. He then served as a 1st and then 2nd lieutenant in the 55th Massachusetts Volunteers, an African American regiment, from October 31, 1864 to August 29, 1865. After the war, he married Hannah Judkins and moved to Nebraska and then Colorado, where he continued to work as a lawyer. He died in Denver, Colorado, in 1889.

Silas Starbird (1834-1898), a teacher, hired a substitute upon being drafted in August 1863.

George Starbird (1843-1907) served with several companies of the 1st New York Mounted Rifles from July 7, 1862, to September 1865. He mustered in as a private, but later served as commissary sergeant, quartermaster sergeant, and 2nd lieutenant. In 1866, he married Eleanor Sargent Learned and they moved to Buffalo, New York, where he was employed as an iron worker. He died in 1907.

Acquisition Information:

1979. M-1869 .

Processing information:

Cataloging funded by the National Endowment for the Humanities (NEH) and the "We the People" project.

Arrangement:

The Starbird family papers are arranged into two series: Correspondence and Essays and Poetry.

Rules or Conventions:

Finding aid prepared using Describing Archives: A Content Standard (DACS)
Related
Additional Descriptive Data:

Bibliography

McGrath, Franklin. The History of the 127th New York Volunteers, "Monitors," In the War for the Preservation of the Union--September 8th, 1862, June 30th, 1865. [n.p.], 1898.

Phisterer, Frederick. New York in the War of the Rebellion, 1861 to 1865. Albany: Weed, Parsons and co., 1890.
Subjects
Click on terms below to find any related finding aids on this site.
Subjects:

Formats:

Names:

Places:
Contents
Using These Materials
---
RESTRICTIONS:

The collection is open for research.

USE & PERMISSIONS:

Copyright status is unknown
PREFERRED CITATION:

Starbird Family Papers, James S. Schoff Civil War Collection, William L. Clements Library, The University of Michigan