Back to top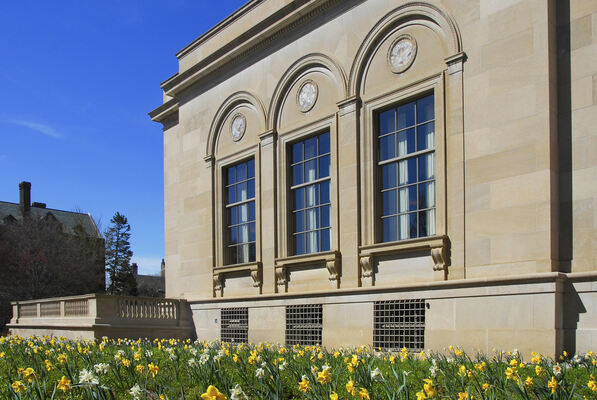 Address

:

909 South University Avenue

Ann Arbor, MI 48109, USA
Thomas Paine papers, 1776-1811
Using These Materials
---
Restrictions:

The collection is open for research.
Summary
Creator:

Abstract:

The Thomas Paine papers at the Clements Library consist of twelve manuscript items either by, to, or about the noted 18th century radical.

Extent:

12 items

Language:

English
French

Authors:

Collection processed and finding aid created by Rob S. Cox, 1998
Background
Scope and Content:

The Thomas Paine collection at the Clements Library is comprised of a small number of extraordinary manuscripts documenting the life of the most feared radical in Europe during the late 18th century. Although the collection does not comprise a coherent whole -- beyond its reflection of Paine's all-encompassing radicalism -- it contains numerous highlights. The two manuscript essays are classic examples of Paine's intellect. Le Sens Commun is noteworthy as the manuscript from which the first French-language edition of Common Sense was prepared for publication. Based on Almon's London edition of 1776, Le Sens Commun was published in Rotterdam the same year. Paine's essay "To the Citizens of the United States... Letter the Sixth," is a powerful attack on Federalist Party politics in the wake of discussions of French-American foreign relations, the Jay Treaty, and Thomas Jefferson's policies.

The correspondence in the collection includes three letters written by Paine, six to him, and one about him. In his letter to William Petty, Lord Shelburne (1787 September 21), Paine claims an affinity with the earl, arguing that both opposed the war in America on principle. But Paine goes on to argue that the anti-French sentiment prevailing in England, and particularly the "clamor for war" are incomprehensible, based upon false ideas of France. Paine's letter to John Breckinridge (1803 August 2) includes an extended analysis of the constitutional issues raised by the Louisiana Purchase, with Paine arguing that Federalist attempts to derail the purchase by insisting upon Senate approval were legally insupportable.

The letters to Paine are equally interesting, including a letter from a supporter offering financial assistance (1798 March 20), a fascinating letter from an old friend in Bordentown, N.J., regarding the impact of the Rights of Man and events in the states since Paine's departure for Europe (1792 September 10), and a letter from Thomas Cooper, imprisoned in Philadelphia for his opposition to the Sedition Law, bemoaning the rightward turn in American politics under the Adams administration (1800 August 4).

The final item in the collection is an "obituary" of Paine written by the otherwise unidentified, T.H. A vicious assault on the man and his ideas, the obituary gloats over Paine's alleged turn to God on his deathbed, and even more at the failure of Paine's ideas to leave any legacy: "The blow he aimed at our constitution fell to the ground leaving no trace of its effects behind. The notions he propagated respecting religion (or rather, his endeavour to extirpate religion from the land), I am fearful still pervade the minds of too many" (1811 October 16).

Biographical / Historical:

The "citizen of the world," Thomas Paine rose from a lower class Quaker home in England to become one of the most influential radical minds of the late 18th century. After working as a corset maker -- his father's trade -- and as a tax collector, Paine immigrated to Philadelphia in 1774, and quickly immersed himself in revolutionary agitation. A naturally persuasive writer, his pamphlet, Common Sense (Philadelphia, 1776), became a siren call for American independence. In eminently clear, straightforward language, it outlined an argument for the superiority of republican government over a monarchy and demanded legal and political equality for all citizens. Furthermore, Paine asserted that his argument extended beyond the narrow conditions of colonial America, envisioning an international struggle for civil and human rights. Common Sense sold as many as 150,000 copies in 1776, and within a year, had been translated into French.

Although clearly articulating a revolutionary position, Paine was not enamored of the violence spawned by the Revolution. "I joined in the defense of America," he wrote after the war, "on the ground that a Country invaded is in the condition of a house broke into, and on no other principles than this, can a reflective mind, at least such as mine, justify war to itself" (1787 September 21). Yet Paine never wavered from the radical cause, writing consistently in support of independence and, later, taking part in the movement that produced the highly democratic constitution of the state of Pennsylvania.

Returning to England in 1787, Paine enlisted his pen in the French Revolution, earning even greater renown with his essay, The Rights of Man. A more mature work than Common Sense, and even more popular, the Rights of Man was an effective counterweight to Edmund Burke's counter-revolutionary attacks, linking demands for political reform with a social program to ameliorate the conditions of the lower classes. In the political climate of the day, it ensured Paine's status as anathema in Britain, and after being charged with seditious libel for calling for an end to the monarchy, he took flight to France.

There, in the maelstrom of revolutionary France, Paine won election to the National Assembly, one of the few foreigners so honored, but he no longer found himself seated on the most radical pole of the political spectrum. Instead, after criticizing the Jacobin decision to execute the king, Paine found himself seated in prison. Released in 1794, he published both the Age of Reason, which defended Deism while attacking Christianity, and Agrarian Justice, calling for land reform.

Paine's return to America in 1802 completed his change of fortune. As the Rights of Man had made him infamous in Britain, so the Age of Reason made him infamous in the United States. Once adored by the American masses, the "taint" of Paine's "irreligion" (Deism) marked him for derision during the first phases of the American evangelical settlement. He died in 1809, nearly bereft of support, leaving only his powerful legacy of republican revolutionary tracts.

Acquisition Information:

1927-1998. M-184, M-209, M-3467, M-3477 .

Rules or Conventions:

Finding aid prepared using Describing Archives: A Content Standard (DACS)
Related
Additional Descriptive Data:

Related Materials

The Book Division of the Clements Library houses a nearly exhaustive collection of Paine's printed works, including major and minor editions of all of his works.

Partial Subject Index

Adams, John, 1735-1826
Catholic Church--Louisiana
Federalist Party
Finance, Personal
Fourth of July celebrations
France--Foreign relations--Great Britain
France--Foreign relations--United States
France--History--Revolution, 1789-1799
Great Britain--Foreign relations--France
Great Britain--Politics and government--1760-1789
Great Britain--Politics and government--1789-1820
Jay's Treaty, 1794
Jefferson, Thomas, 1743-1826
Kentucky
Louisiana Purchase
Paine, Thomas, 1737-1809--Alcohol use
Paine, Thomas, 1737-1809--Death
Paine, Thomas, 1737-1809--Homes and haunts

1792 September 10
1808 April 27

Paine, Thomas, 1737-1809--Religious views
Paine, Thomas, 1737-1809. Age of Reason
Paine, Thomas, 1737-1809. Rights of Man
Radicals
Radicals--Pennsylvania
Republicanism
Tooke, John Horne, 1736-1812
United States--Foreign relations--France
United States--History--Revolution, 1775-1783
United States--Politics and government--Constitutional period, 1789-1809

1803 April 21
1803 August 2

United States. Constitution
United States. Senate
War
Subjects
Click on terms below to find any related finding aids on this site.
Contents
Using These Materials
---
RESTRICTIONS:

The collection is open for research.

USE & PERMISSIONS:

Copyright status is unknown.
PREFERRED CITATION:

Thomas Paine Papers, William L. Clements Library, The University of Michigan