Back to top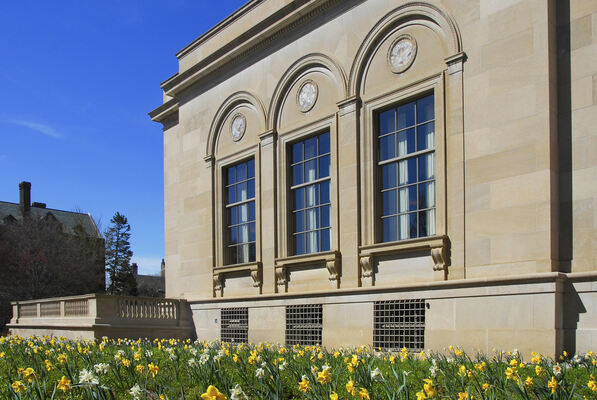 Address

:

909 South University Avenue

Ann Arbor, MI 48109, USA
Helen Curtis Annan journal, 1840-1853
Using These Materials
---
Restrictions:

The collection is open for research.
Summary
Creator:

Abstract:

This collection contains the journal of Helen Curtis Annan, which records notes on Presbyterian sermons and religious studies, as well as personal journal entries regarding the writer's travels and religious musings.

Extent:

1 volume

Language:

English

Authors:

Collection processed and finding aid created by Rachel K. Onuf, July 1998
Background
Scope and Content:

Helen used this volume as religious text book, journal, copy book, travel journal, and book list, and the result is a hodge podge of scattered entries. Chronic "indisposition and unsettled habits" add to the discontinuity of the volume as a whole, but there are still a few excellent parts; namely her record of Presbyterian sermons during and after the separation, her journal entries recording her struggles with religion, and a small travel journal recording her tour up the Mississippi to view the "natural" world and its "natural" inhabitants in the summer of 1845.

Initially, Helen used the volume to record outlines of the sermons and other religious addresses she heard at lectures, prayer meetings and bible classes. Typically she identified the pastor and the text on which the address was based. Often she also outlined the argument, and very occasionally she included her own opinions about the speaker's success, or some indication of her own state of mind -- "Attended church in the morning but my deep depression & intense anxiety prevented my retaining even the text" -- without any explanation. Helen kept this text book up on a fairly regular basis for over a decade.

Helen considered her textbook and her journal separate things, and she wrote journal entries throughout the rest of the volume without much regard for chronological order. Unfortunately she later cut out four pages on which she had apparently recorded her "disquietude" about something that at the time, had deeply affected her. In the next entry she wrote, "in reviewing what is there written I can't but wonder at the state of mind I then was in -- strange excitable being that I am" (1843 September 18). Many of Helen's entries deal with her constant personal strivings to be closer to God, and how this closeness often proved to be frustratingly elusive. Helen rarely even alluded to her husband, family or friends, and her primary emotional and intellectual relationship, at least as viewed through this volume, appears to have been with God.

The forty numbered penciled pages recording a quick trip up the Mississippi and back down again show that when she chose to be, Helen was as adept an observer of the physical world as she was of her spiritual condition. This travel journal also provides a fascinatingly detailed account of an early tourist jaunt to St. Anthony's Falls and Indian lands. Sadly, Helen wrote notes about English history over the first few pages, rendering the pencil illegible, but we catch up with her before she has gone too far up river. The steamboat's speed impressed the traveler, who commented, "I find it hard to keep pace with all the interesting scenes that crowd upon me" (pp. 12-13). She passed judgment on towns, houses, and islands as she passed them by, and described quick side trips on land and shipboard activities.

When the boat passed the Wisconsin border, things started to get real interesting: "we found ourselves beyond the reaches of civilization surrounded on both sides by the hunting grounds of the Indians" and fierce "moschettoes" [mosquitoes] (p. 15). First they came across Cassville, a white settlement already becoming a ghost town, and an Indian burial ground, which they investigated closely -- some too closely: "they must have been buried very shallow as several of the ladies whose curiosity led them to pry rather closely discovered an unpleasant effluvia" (p. 16). Each view from the river seemed more wild and beautiful than the last, and added to the scenery were a variety of Indian encampments, which the travelers visited as if they were living exhibits. At the first encampment, for instance, she wrote, "after satisfying our curiosity here were walked on & soon joined a more interesting group" (p. 21).

This first visit was to three tents occupied by Winnebagoes, who "presented a specimen of filth & poverty & degradation greater than I could imagine" (p. 19). Helen also observed great "delicacy of feeling" and many similarities with "civilized" people. A hand bag that caught one squaw's eye was passed among the Indians, while the visitors "stood grouped around them enjoying their evident pleasure" (p.22). Meanwhile, a drunken Indian had climbed a bluff and was prepared to hurl a log down on the intruders: "quick as thought the young [Winnebago] man darted up the hill and arrested his arm -- two of them held him to prevent his throwing at the same time making signs to us to withdraw -- we soon took the hint and made good our retreat" (p. 22).

When the boat arrived at Fort Snelling all of the public conveyances, needed to take them to the falls, were in use, so the party improved the time by touring the prison. They shook hands with some Sioux, "rigged out with eagle feathers & embroidered robes beads medals & painted faces," who had been accused of murdering a party of cattle drovers, but would probably be acquitted due to a lack of evidence (p.26). Helen was more deeply moved by the sight of these men than anything she had yet witnessed and "could not refrain from sheddings of deep commiseration for their vices and their degradation -- Far less guilty are they than their more enlightened oppressors" (p.27). Also in the prison were two Chippeways, being held (safely) hostage until the Chippeway who murdered a Sioux was produced and handed over to the dead man's tribe for trial -- possibly, Helen feared, to be "torn in pieces" ( p. 27).

The visit the falls of St. Anthony was not quite The Moment Helen had been anticipating -- being "surrounded by so much mirth and gaiety tending to check the feelings of sublime adoration and praise which the whole scene was calculated to awaken" -- but she soaked up as much sublimity as she could ( p. 30). Soon after, when she heard the Sabbath sermon dryly delivered, Helen was disappointed that the scenery had not "elevated the mind and fired the imagination" of the preacher (p. 35).

The passengers started to get irritated with Captain Backus for constantly hurrying them along, and were peeved when he broke his promise and turned around in the night, instead of taking the St. Croix River up to Lake Superior. Helen mentioned that they took tobacco in on one of the return stops, suggesting that the steamboat was transporting goods as well as forty-odd passengers, and that the commercial timetable was more compelling to the captain than the tourists' desires.

Victimized by the quicker homeward pace, the passengers only got half an hour to visit the Crow village of the Sioux. Helen was enchanted by a group of young women she met, and wanted very badly to take a young Sioux girl home with her, even though her shipmates "pronounced it a romantic whim and wondered at my taste" (p. 34). The steamboat speeded on toward St. Louis with few additional stops, and Helen was back home a mere ten days after departing, having traveled about 1700 miles.

Biographical / Historical:

Little is known about Helen Curtis Annan, beyond the few clues found in this volume. She lived in St. Louis with her husband, Roberdean Annan, who was often away from home. In the fall of 1842, Helen noted that they had finally moved into a house of their own again, after living with all sorts of people for the past six years. It is unclear what her husband's profession was, or whether or not he accompanied Helen when she traveled.

Helen made a couple trips to Cincinnati, once going on to Virginia, but she did not record who she was visiting. At one point she mentioned that "Curtis" was at school in Jeffersonton, Va., which indicates that she might have been visiting relations who still lived in the east. She also took a couple steamboat trips up and down the Mississippi River, apparently for pleasure.

Helen was a devout Presbyterian. She initially attended the Second Presbyterian Church, where William S. Potts served as pastor from 1839 to 1852. The Presbyterian separation in Missouri occurred in 1841, and Potts was the recognized local leader of the old school. In 1844, a fourth Presbyterian Church was organized by 32 members of the Second Church, and they chose Alexander Van Court as their pastor. He was well loved, and deeply mourned by church members, including Helen, when he died during the cholera epidemic of July 1849. Samuel Anderson succeeded him as pastor, and served until 1868. Nathan Rice succeeded Rev. Potts at Second Presbyterian Church in 1853. Helen recorded the sermons of these pastors, and several more, suggesting that she attended services at more than one church.

Helen was involved with charitable work, serving as secretary of an organization that was incorporated in 1853 as the Home of the Friendless. She also served as manager of the Orphan Asylum and House of Industry, and helped with various poor relief efforts.

Acquisition Information:

1977. M-1801 .

Rules or Conventions:

Finding aid prepared using Describing Archives: A Content Standard (DACS)
Related
Additional Descriptive Data:

Bibliography

Hyde, William and Howard L. Conrad. Encyclopedia of the History of St. Louis. 4 vols. (N.Y., 1899).

Scharf, J. Thomas. History of St. Louis City and County. 2 vols. (Philadelphia, 1883). (see page 1760).
Subjects
Click on terms below to find any related finding aids on this site.
Subjects:

Dakota Indians--Social life and customs.
Indians of North America--Social life and customs.
Ojibwa Indians--Social life and customs.
Presbyterians--Missouri--St. Louis.
Steamboats--Mississippi River.
Winnebago Indians--Social life and customs.
Women--Diaries.
Women and religion.
Women in charitable work--Missouri--St. Louis.
Women travelers.

Names:

Anderson, Samuel James Pierce, 1814-1873.
Davenport, George, 1783-1845.
Potts, William Stephens, 1802-1852.
Rice, Nathan Lewis, 1807-1877.
Van Court, Alexander, d. 1849.

Places:
Contents
Using These Materials
---
RESTRICTIONS:

The collection is open for research.

USE & PERMISSIONS:

No copyright restrictions.
PREFERRED CITATION:

Helen Curtis Annan journal, William L. Clements Library, The University of Michigan