Back to top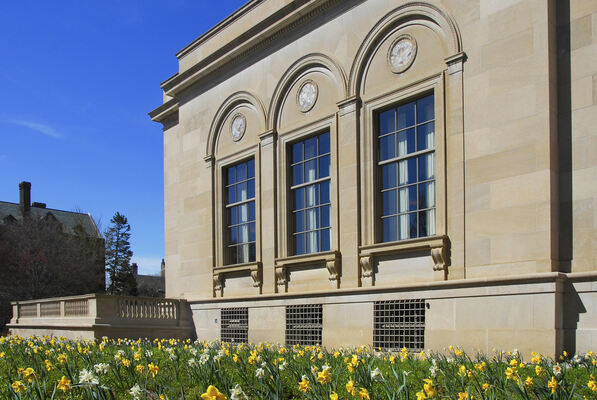 Address

:

909 South University Avenue

Ann Arbor, MI 48109, USA
Joseph Hooker collection, 1862-1865
Using These Materials
---
Restrictions:

The collection is open to research.
Summary
Creator:

Abstract:

The Joseph Hooker Collection is comprised of 22 letters dating from May 10, 1862, to February 12, 1865. They describe Hooker's involvement in the Peninsula Campaign and the Western Theater. Additionally, this collection covers Hooker's leave from the army in Watertown, New York (September 1864), and administrative duty in Cincinnati, Ohio (1864-1865). Roughly half of the letters are addressed to Dr. Bela Nettleton Stevens, a physician at the Government Hospital for the Insane in Washington, D. C.

Extent:

22 letters

Language:

English

Sponsor:

James S. Schoff Civil War Collection

Authors:

Collection processed and finding aid created by Nicole Sobota
Background
Scope and Content:

The Joseph Hooker Collection is comprised of 22 letters dating from May 10, 1862, to February 12, 1865. They describe Hooker's involvement in the Peninsula Campaign and the Western Theater. Additionally, this collection covers Hooker's leave from the army in Watertown, New York (September 1864), and administrative duty in Cincinnati, Ohio (1864-1865). Roughly half of the letters are addressed to Dr. Bela Nettleton Stevens, a physician at the Government Hospital for the Insane in Washington, D. C.

Of twenty-two letters, nineteen were authored by Hooker. U.S. Senator of New Jersey John Conover Ten Eyck wrote the remaining three. Hooker sought Ten Eyck's help with repairing his reputation after the Battle of Williamsburg in May 1862.

The collection contains official battle reports, including two letters to Chauncey McKeever, one a report on the Battle of Williamsburg, and a report on the Battle of Fair Oaks. The collection includes one letter to L. Sherman and one to Samuel Wylie Crawford. Three letters to William Denison Whipple contain reports on Mill Gap and the Battle of Kolb's Farm.

A majority of the letters are of a personal nature, including one to William Pitt Fessenden and ten letters addressed to Dr. Bela N. Stevens, a physician at the Government Hospital for the Insane in Washington, D.C.

Biographical / Historical:

Joseph Hooker was born in Hadley, Massachusetts, on November 13, 1814. He was the fourth child and only son of Joseph Hooker and Mary (née Seymour) Hooker. His grandfather, the third Joseph Hooker, fought in the War of Independence as a Captain in George Washington's Continental Army.

Hooker attended the Hopkins Academy in Hadley, where he excelled in public speaking. In July 1837, he graduated from the United States Military Academy at West Point. He ranked twenty-ninth in a class of fifty on account of multiple demerit marks. During furlough visits to Hadley, he was known to the townspeople as "the beautiful cadet," owing to his striking appearance in uniform. He was tall, blue-eyed, clear-complexioned, and bronze-haired. According to biographer Walter H. Hebert, "photographers in New York City sold more portraits of Fighting Joe than of all other military chieftains put together" (Hebert, 1999, p. 148).

Upon leaving West Point, Hooker received a commission as 2nd lieutenant in the 1st Artillery. He served under Lieutenant Colonel B. K. Pierce in Florida during the Second Seminole War. In July 1838, he supported British and loyalist Canadian forces during Canada's Patriot War. He was promoted to lieutenant for his service.

On July 1, 1841, Hooker returned to West Point for a three month period where he served as an adjutant of the Academy. In October, he went to Maine and spent the next four years as an adjutant of his regiment.

During the Mexican-American War, Hooker was brevetted three times for gallantry. He was promoted to the rank of captain at Monterey, a major at the National Bridge, and lieutenant colonial at Chapultepec. He served as chief-of-staff for five generals, including Persifor F. Smith, Thomas Lyon Hamer, William Orlando Butler, and Gideon Johnson Pillow. Near the end of the war he testified in favor of General Pillow at a court of inquiry to investigate a dispute between Pillow and Winfield Scott.

After the fall of Mexico City in 1847, Hooker served in the peacetime army at Sonoma, California. He applied for a two-year leave of absence in 1851. During this time, he tried his hand at farming grapes and potatoes, and he built a house on 550 acres of land to the northwest of Sonoma. Both crops proved unsuccessful and he contracted with the army as a supplier of cordwood. He resigned from the army on February 21, 1853, after his leave of absence expired.

In the ensuing years, Hooker entered politics and was elected Sonoma County Road Overseer. In the summer of 1853, he unsuccessfully ran for State Assemblyman on the Democratic ticket. In 1858, he was appointed Superintendent of Military Roads in Oregon. He returned to California and from 1859 until 1861, he served as a colonel in the California militia.

Following the outbreak of the Civil War in 1861, Hooker offered his services to the Federal Army. His plans were almost thwarted by his old enemy Winfield Scott, but he was eventually appointed brigadier general in the Army of the Potomac. On May 17, he was assigned a brigade comprised of four volunteer regiments: the 1st Massachusetts, 11th Massachusetts, 2nd New Hampshire, and 28th Pennsylvania. In September, the 1st Michigan Volunteers were added to his command. On October 11, he gained the leadership of a division. He acquired General Daniel Sickles' "Excelsior" brigade, consisting of the 70th, 71st, 72nd, 73rd, and 74th New York.

On May 5, 1862, Hooker participated in the Battle of Williamsburg. Under his leadership, the second Division of the III Corps attacked Fort Macgruder, an earthen fortification situated at the junction of Yorktown and Mill roads. Hooker's division bore the brunt of Confederate counterattacks under Major General James Longstreet before the arrival of reinforcements, led by Brigadier General Philip Kearny. The battle was inconclusive, but the Northern press portrayed it as a victory for the Federal Army. The press also dubbed Hooker with the moniker "Fighting-Joe Hooker," a title he detested.

Hooker participated in the Battle of Fair Oaks (Seven Pines) from May 31-June 1, 1862, along the Chickahominy River. On June 1, he led two brigades from his division against Generals Huger and Longstreet. Hooker also took part in battles at Williamsburg Road, Glendale, Malvern Hill, Bristoe Station, Manassas, and Chantilly.

On September 17, 1862, Hooker was wounded by a bullet to his foot at the Battle of Antietam near Sharpsburg, Maryland, and was carried off the field. On September 20, he was appointed brigadier general in the regular army. On September 21, he was admitted to the Government Hospital for the Insane in Washington D. C., whose east wing was outfitted as an army hospital (also known as St. Elizabeths Army General Hospital). He recovered from his injury under the care of his friend and hospital superintendent Dr. Charles Nichols. Hooker interacted with other physicians, including naval hospital manager Dr. Ninian Pinkney in the west lodge, and Dr. Bela Stevens, head of the army hospital in the east wing. Hooker returned to duty on November 11, but frequently lodged at the hospital on subsequent visits to Washington.

On November 16, Hooker assumed command of the Center Grand Division (totaling 40,000 men). In December, he was involved in the Fredericksburg Campaign. The Union defeat at Fredericksburg and the ensuing Mud March demoralized the already-downtrodden Army of the Potomac. Under this climate, Hooker was appointed to command the Army of the Potomac in 1863, replacing Major General Ambrose E. Burnside. Although the troops supported this choice, President Lincoln had reservations. This is evidenced in his two-page letter to the newly-promoted general, dated January 26, 1863. In this letter, he berated Hooker for his disrespect of Burnside. He went on to say, "I have heard […] of your recently saying that both the Army and the Government needed a Dictator. Of course it was not for this, but in spite of it, that I have given you the command. […] What I ask of you is military success, and I will risk the dictatorship" (Lincoln, 2001, p. 693-694).

Notwithstanding the president's apprehension, Hooker proved to be a skilled administrator. He boosted army moral by improving sanitation, granting furloughs, and building hospitals. He provided his troops with better provisions, replacing hardtack with soft bread four times a week. He reorganized the army by cutting grand divisions and consolidating the cavalry into a single corps under a single command. Previously, the cavalry was distributed by regiments throughout the army.

Hooker also established a Bureau of Military Information to assemble more accurate intelligence about the enemy. He infiltrated the Confederate army with spies and employed aerial reconnaissance via hot air balloon. He also squelched information leaked to the Confederates about Union movements by threatening the Northern press for printing military secrets.

Despite winning the support of the troops, he was not well received by many officers. His biting tongue and propensity for criticizing his superiors were notorious. His relationship with General-in-Chief Henry Halleck was so vitriolic, Hooker asked to deal with President Lincoln directly. Hubris was also one of his features. While visiting the army camp in April 1863, Lincoln called Hooker's overconfident attitude, "about the worst thing I have seen since I have been down here" (Hebert, 1999, p. 183). Hooker also had a reputation for heavy drinking, gambling, and womanizing. In his autobiography, Colonel Charles Francis Adams, Jr., described Hooker's headquarters as "a combination of bar-room and brothel" where "no self-respecting man liked to go, and no decent woman could go" (Adams, 1916, p. 165).

Hooker's military career is best-known for his army's crushing defeat at Chancellorsville (May 1-5, 1863), a crossroads in an area known as the Wilderness, south of the Rappahannock River. Although once overconfident about taking Richmond, Hooker chose to fight defensively and ordered a retreat when the tide of battle was in his favor. The odds were also to his advantage with 138,000 men against Robert E. Lee's 62,500, outnumbering Lee 2 to 1. During the action, he was struck in the head by a pillar hit by enemy fire. Although he remained conscious, he was dazed for the remainder of the day.

In June 1863, Hooker requested to be relieved of his command after Halleck refused to send him 10,000 troops from Harper's Ferry in preparation for a battle at Gettysburg. He was replaced three days before the battle by George G. Meade, who led the Army of the Potomac to victory at Gettysburg.

In September, Hooker traveled by rail to Alabama to join the Army of the Cumberland. He took command of XI and XII Corps, and protected the Stevenson and Bridgeport depots on the Tennessee River. His orders were to strengthen the army's line across Lookout Valley, from Raccoon Mountain to the Tennessee River, and to protect the supply road from Kelly's Ferry to Brown's Ferry. He participated in the "Battle Above the Clouds" on November 24, 1863, and became major general by brevet in the regular army.

On May 4th, 1864, Hooker's XI and XII Corps were consolidated and rechristened the Brigade of the XX Corps. Hooker participated in the Atlanta Campaign under General William T. Sherman. He asked to be relieved of duty and left the Army of the Cumberland in 1864 after he was overlooked for promotion.

On September 28, 1864, Lincoln appointed Hooker to the Northern Department, encompassing Indiana, Illinois, Michigan, and Ohio. He spent two months visiting Niagara Falls, his sisters in Watertown, and New York City before taking up administrative duty in Cincinnati, Ohio.

On March 4, 1865, Hooker attended Abraham Lincoln's Second Inaugural Ball. One week later, he appeared before the Congressional Committee on the Conduct of the War and was exonerated for his loss at Chancellorsville. Shortly after his return to Cincinnati, he participated in celebrations related to the fall of Richmond and of Petersburg. In May 1865, Hooker led Abraham Lincoln's funeral cavalcades, including the final procession in the President's hometown of Springfield, Illinois. On July 8, 1865, Hooker took command of the Department of the East, comprised of New England, New York and New Jersey.

At the age of fifty, on October 3, 1865, Hooker married Olivia Augusta Groesbeck, the daughter of Cincinnati banker John H. Groesbeck and the sister of U.S. Congressman William Slocum Groesbeck. The following month, Hooker suffered a stroke in New York City during a reception for General Ulysses S. Grant. He never recovered full control of his right leg and arm, and required the constant assistance of a valet. He was unable to grasp a pen without the aid of both hands, making writing difficult.

Despite his physical setbacks, Hooker took command of the Department of the Lakes at Detroit on August 23, 1866. In early 1867, he had a second stroke, forcing him to apply for a leave of absence. During this time he and his wife, who was also ill, traveled to Europe. After their return to Watertown, Olivia died from tuberculosis (July 15, 1868). Three months later, on October 15, 1868, Hooker retired from the army. He continued to live in Watertown until November 1874, when he took up residence at a hotel in Garden City on Long Island. He died on October 31, 1879, and is buried in Spring Grove Cemetery in Cincinnati.

Bela Nettleton Stevens, M.D., was born December 22, 1832. He graduated from Dartmouth Medical College in 1854 and spent two years in the Marine Hospital at Chelsea, Massachusetts. He spent five years as the first assistant physician at the Government Hospital for the Insane in Washington D.C. In 1863, he declined an appointment to the chair of anatomy in the National Medical College at Washington. He is credited with the invention of several surgical instruments whose purpose was to probe for and extract bullets. These were used by surgeons throughout the duration of the war.

He died unmarried on July 5, 1865 from an illness contracted at the hospital.

Acquisition Information:

1974, 1984. M-1730, M-2178 .

Arrangement:

The collection is arranged chronologically.

Rules or Conventions:

Finding aid prepared using Describing Archives: A Content Standard (DACS)
Related
Additional Descriptive Data:

Bibliography

Adams, Charles Francis, Jr. Charles Francis Adams 1835-1915: An Autobiography. Boston: Houghton Mifflin Company, 1916.

Conn, Granville Priest.History of the New Hampshire Surgeons in the War of Rebellion . Concord: New Hampshire Association of Military Surgeons, 1906.

Hebert, Walter H. Fighting Joe Hooker. Lincoln: University of Nebraska Press, 1999.

Otto, Thomas. St. Elizabeths Hospital: A History. Washington, D. C.: United States General Services Administration, 2013.

Sears, Stephen W. Chancellorsville. Boston: Houghton Mifflin Company, 1996.
Subjects
Click on terms below to find any related finding aids on this site.
Subjects:

Formats:

Names:

Places:
Contents
Using These Materials
---
RESTRICTIONS:

The collection is open to research.

USE & PERMISSIONS:

Copyright status is unknown.
PREFERRED CITATION:

Joseph Hooker Collection, James S. Schoff Civil War Collection, William L. Clements Library, The University of Michigan