Back to top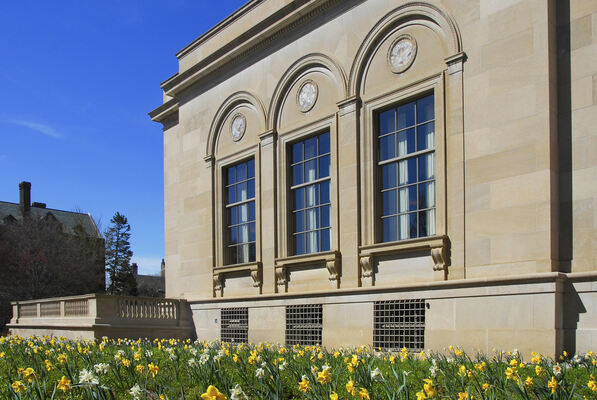 Address

:

909 South University Avenue

Ann Arbor, MI 48109, USA
Winfield Scott collection, 1809-1862
Using These Materials
---
Restrictions:

The collection is open for research.
Summary
Creator:

Abstract:

A miscellaneous collection of letters and documents by or relating to Winfield Scott, 1818-1862.

Extent:

99 items

Language:

English

Authors:

Collection processed and finding aid created by Shannon Wait, June 2011
Background
Scope and Content:

The Winfield Scott collection is a miscellaneous collection of letters and documents written by or related to Scott, spanning 1818-1862. The items cover much of Scott's long military career, including his involvement in the War of 1812, the Second Seminole War, the Anglo-American dispute over the Canadian border, the Mexican-American War, and to a lesser extent, the Civil War. Also present are letters documenting Scott's ideas concerning politics, temperance, army discipline, and his presidential ambitions.

The earliest material in the collection primarily pertains to the War of 1812 and includes a warrant issued by Scott to pay the Seneca Turnpike for toll charges incurred by troops (October 25, 1813) and a note with a brief discussion of supply abuses in the Army (May 27, 1814). In the note Scott wrote, "The expenditures of the war have already been four times greater than they should have been." Somewhat later items include a prolonged discussion of army rank (January 19, 1826), and Scott's observations on the conduct of Col. George Croghan: "I heard of his having drawn a prize; of his being drunk in the street--scattering money to the crowd &c &c. On Saturday he was seen dead drunk in a hackney coach driving up Broadway" (October 4, 1830). Also present is a recommendation of Brevet Major Mann Page Lomax to Secretary of War Lewis Cass (January 21, 1832).

Several items of interest in the collection relate to military actions against Native Americans. On June 22, 1832, Scott wrote to William J. Worth explaining that he was en route to Chicago, where he was to assume command of the army in the Black Hawk War. The letter also includes a discussion of securing supplies from Watervliet, New York (June 22, 1832). In another item, Scott wrote from the headquarters of the Army of the South at Columbus, Georgia, calling for two regiments to be placed under his command for three months "to act against the Seminole Indians in Florida." He also noted that he would be at Picolata, Florida, by February 10, and would confer with William Schley about the Creeks at the borders of Georgia, whom he considered "unquiet, if not in a state of hostility" (January 31, 1836). A letter of June 17, 1836, also concerns the Second Seminole War, particularly regarding general strategy and the logistics of equipping the Georgia Volunteers with rifles (June 17, 1836).

A handful of letters concerns Scott's presidential ambitions and his thoughts on political matters. In a letter of November 16, 1839, he wrote of his desire to be the Whig nominee for president, debated whether to claim Virginia or New Jersey as his home, and noted that he had support in Ohio and Michigan. In other letters, he discussed several prominent Whigs and their politics, his "agitated" reaction to election results (October 12, 1844), and his tactics for gaining the presidential nomination of his party. On the last subject, he noted his attempts to silently bide his time and "become as perfect a non-entity as my best advisors can wish" (June 28, 1845). Other letters reveal Scott's efforts to gather intelligence concerning "Canadian patriots," (July 8, 1841) and his views that a "humble Tract" that he wrote about the abuses of alcohol "led to the formation of the early temperance societies, under pledges to abstain from the use of all intoxicating drinks" (February 17, 1842). However, Scott did not shun all alcoholic beverages, and several items document his wine orders (November 15, 1844; October 29, 1847).

The collection closes with a few items related to the Mexican-American War and the Civil War. Items concerning the former conflict include Scott's orders to Brigadier General John Anthony Quitman (May 6, 1847) and a discussion by Brigadier General David Emanuel Twiggs of the scarcity of water and shelter for troops under him (September 23, 1847). Also of interest is Scott's statement that he had "no expectation of a change of feeling on the part of Mexico in favour of peace until we shall have taken Vera Cruz harbour & have the Capitol in extreme peril of capture" (November 30, 1846). Several items relate to the Civil War, including a memorandum entitled "Views," which Scott wrote in 1860 concerning the threat of southern secession and future divisions within the United States (October 29, 1860). He also noted, "From a knowledge of our southern population, it is my solemn conviction that there is some danger of an early act of rashness, preliminary to secession." In a letter dated May 17, 1862, Scott revealed his deeply optimistic view that the war would end soon: "Thank God this unnatural Rebellion is likely to be crushed & terminated in a few weeks, perhaps days."

The Printed Items series (1 item) includes Memoir of General Scott, From Records Cotemporaneous with the Events. (Washington: C. Alexander, 1852).

Biographical / Historical:

Winfield Scott was born June 13, 1786, at the Laurel Branch plantation near Petersburg, Virginia, the son of William Scott (1747-1792) and Ann Mason (1747-1803). He was educated for two years at a Quaker school and in 1805 entered the College of William and Mary, where he studied for only a year; he then briefly studied law at the office of David Robinson in Petersburg. Scott joined the military in 1807 as a Virginia militia cavalry corporal, and the next year he was commissioned a captain in the artillery. During the War of 1812, he rose up the ranks, serving as lieutenant colonel, colonel, and brigadier-general, and receiving a commission as major-general for his valorous service in 1814. At the Battle of Lundy's Lane, he was seriously wounded and left active duty for the remainder of the war. In 1815, he headed a board assembled to write the first standardized set of American drill regulations, Rules and Regulations for the Field Exercise and Manoeuvres of Infantry. Thereafter, Scott served in both the Black Hawk War and in the campaign against the Seminole and Creek Indians. He also worked as a peacemaker in the Anglo-American dispute over the Canadian border in 1838. He was appointed general-in-chief of the United States Army in 1841 and commanded the southern of the two U.S. Armies during the Mexican-American War.

The Whig party nominated Scott for the presidency, but Franklin Pierce defeated him in the 1852 election. He again served as negotiator between the United States and Great Britain in the 1859 dispute over San Juan Island in Puget Sound, Washington. Although a Virginian by birth, Scott remained loyal to the Union when the Civil War broke out. Despite his advanced years, he continued as commander of the army, making the initial preparations for the defense of Washington, D.C., and proposing the "Anaconda Plan" of isolating the Confederacy through blockading southern ports and gaining control of the Mississippi and Tennessee Rivers. He resigned in November 1861, and died five years later at West Point.

In 1812, Scott married Lucy Baker, with whom he had a son, John Baker Scott (b. 1816). After her death in 1816, he married Maria DeHart Mayo (1789-1862), the daughter of John Mayo and Abigail DeHart of Richmond, Virginia. The couple had seven children: Maria (1818-1833), John (1819-1820), Virginia (1821-1845), Edward (1823-1827), Cordelia (1825-1886), Marcella (1825-1886), and Adeline (1834-1882).

Acquisition Information:

1967-1994. M-1423, M-1427, M-1430, M-1433, M-1446, M-1453, M-1460, M-1473, M-1485, M-1493, M-1494, M-1528, M-1547, M-1592, M-1598, M-1605, M-1617, M-1630, M-1637, M-1643, M-1644, M-1645, M-1646, M-1652, M-1656, M-1666, M-1668, M-1669, M-1676, M-1678, M-1680, M-1690, M-1691, M-1698, M-1708, M-1715, M-1732, M-1799, M-1800, M-1828, M-1875, M-1898, M-2015, M-2399, M-3015.1, M-3025

Processing information:

Cataloging funded by the National Endowment for the Humanities (NEH) and the "We the People" project.

Arrangement:

The items are arranged chronologically, with printed items at the end.

Rules or Conventions:

Finding aid prepared using Describing Archives: A Content Standard (DACS)
Related
Additional Descriptive Data:

Alternate Locations

Two engravings of Winfield Scott are housed in the Graphics Division.

Related Materials

The Graphics Division holds a photograph of Winfield Scott's estate dated April 5, 1862 (located at F.8.62) as well as photographs of Scott (located at C.3.12).

The West Point collection within the Duane Norman Diedrich collection contains a letter by Scott dated January 3, 1842, in which he extolls the benefits of West Point.

The G. E. Densmore collection within the Duane Norman Diedrich collection contains a speech by Gen. Roger Jones with pencil corrections by Winfield Scott, dated [January or February] 1841.

The David P. Harris collection contains a letter from Scott to H.P. and W.C. Taylor, dated March 14, 1863.

The Clinton H. Haskell Civil War collection contains a letter dated November 1, 1865, from Scott to J.M. Drake.

Schoff Civil War letters and documents contain a letter from Scott to Lt. Col. Van Buren, dated November 23, 1860.

Other manuscript collections containing Scott materials include the Lewis Cass papers, the Christopher Van Deventer papers, the Jacob Jennings Brown papers, and the David B. Douglass papers.

Bibliography

Beringer, Richard E. "Scott, Winfield." In American National Biography Online. Accessed June 2, 2011.

Alternative Form Available:

A portion of the Winfield Scot collection has been microfilmed.
Subjects
Click on terms below to find any related finding aids on this site.
Subjects:

Formats:

Names:

Places:
Contents
Using These Materials
---
RESTRICTIONS:

The collection is open for research.

USE & PERMISSIONS:

Copyright status is unknown
PREFERRED CITATION:

Winfield Scott Collection, William L. Clements Library, The University of Michigan