Back to top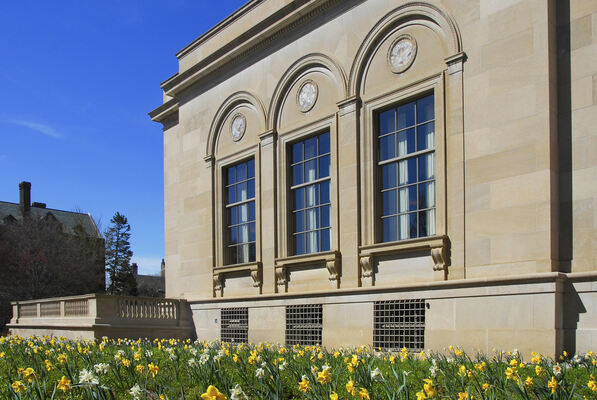 Address

:

909 South University Avenue

Ann Arbor, MI 48109, USA
Joseph Story papers, 1794-1851
Using These Materials
---
Restrictions:

The collection is open for research.
Summary
Creator:

Abstract:

The Joseph Story papers contain the incoming letters of Joseph Story, a Massachusetts state representative, United States Supreme Court justice, and Harvard Law School professor. The papers deal with a wide range of political and legal issues concerning Massachusetts and the United States in the first half of the 19th century.

Extent:

2 linear feet

Language:

English

Authors:

Collection processed and finding aid created by Philip Heslip, February 2011
Background
Scope and Content:

The Joseph Story papers (685 items) consist of the incoming letters of Joseph Story, a Massachusetts state representative, United States Supreme Court justice, and Harvard Law School professor. The collection contains 672 letters, 7 financial bills, and five printed items. Included are nine letters written by Story, and four by wife Mary Story. The rest were all addressed to Joseph Story, with the exception of two that were addressed to his daughter Sarah Wetmore Story and 15 written to his son William Wetmore Story. Forty-three items are undated. The papers deal with a wide range of national and state political issues and legal matters.

The collection covers the years 1794-1806, 1819-1825, and 1839-1843, with only a few items representing the remaining years. Included are letters from United States representatives related to congressional news; letters from prominent lawyers, judges, and jurors concerning legal matters and cases; and letters concerning Harvard Law School.

In addition to the letters are three drafts of Story's Supreme Court decisions:

October 1833: Antoine F. Picquet v. Charles P. Curtis, administrator of James Swan
October 1843: Augustus H. Fiske v. Lyman Hunt
October 1843: Bankruptcy case against B____.

The 1794-1806 letters document Story's early days as a Massachusetts lawyer and the beginning of his career as a state representative. Of particular interest are 10 letters from Samuel Sewall, a Massachusetts representative and later Supreme Court chief justice, under whom Story studied law. These mainly deal with Sewall's law office in Salem, Massachusetts, but also contain advice to Story on his reading of the law. Also of note are 14 letters from Jacob Crowninshield, a congress member and later secretary of the navy, concerning legislation affecting Massachusetts, policies regarding the fishing industry, and the presidential election of 1804. Prominent Boston lawyer James Sullivan contributed five letters related to various legal matters of the day.

The 1819-1825 letters document Story's activities as overseer of Harvard University and Supreme Court justice, during which time he split his residency between Salem and Washington D.C. Of special interest are 18 letters from Massachusetts congress member John Davis, in which he discussed international maritime law. Other notable contributors include Simon Greenlead (12 items), who discussed court decisions in Maine; Isaac Parker (6 items), who wrote about legal cases in Boston; Bushrod Washington (4 items), who reported on his legal cases before the Philadelphia circuit court; and Henry Wheaton (10 items), who shared judicial matters about New York. Also of note are letters from 1825 that relate to the need for altering instructional methods at Harvard, and a controversial election of members to the Corporation of Harvard College.

The Story papers contain only 27 items that date from 1826 to 1838. Of these, six are from French jurist Jean-Jacques Gaspard Foelix containing requests for Story to contribute to his journal Revue du droit français et étranger.

The 1839-1842 letters document the end of Story's career as an active justice, scholar, and law professor. Story received letters from prominent lawyers and judges from Portland, Boston, Providence, New York, Philadelphia, and Baltimore. Story also received requests for speeches and was given honors from scholarly institutions throughout New England.

Other prominent contributors include:

John C. Calhoun (1 item)
Henry A.S. Dearborn (9 items)
William Fettyplace (7 items)
Joseph Hopkinson (5 items)
Susan Ledyard (12 items)
Francis Lieber (10 items)
Jeremiah Mason (10 items)
Theron Metcalf (5 items)
Richard Peters (15 items)
John Pickering (8 items)
John Pitman (20 items)
William Prescott (5 items)
Jared Sparks (5 items)
Charles Sumner (8 items)
George Ticknor (10 items)
Bushrod Washington (4 items)
Daniel Webster (3 items)
Stephen White (16 items)
Nathaniel Williams (15 items)

Items of note include:

September 12, 1796: Leonard Woods to Story concerning religion and containing maxims on happiness
February 12, 1799: Samuel Sewall to Story concerning advice for reading law
January 15, 1800: Samuel Sewall to Story concerning the death of George Washington
April 3, 1800: Sewall to Story concerning advice for reading law
February 13, 1804: Jacob Crowninshield to Story concerning the Louisiana Purchase
February 26, 1804: Jacob Crowninshield to Story concerning the presidential and vice-presidential elections of 1804
March 23, 1804: Jacob Crowninshield to Story concerning the sinking of the Ship Philadelphia off the coast of Tripoli and the Barbary conflict
November 3, 1804: James Sullivan to Story concerning probate court decisions from 1776-1779
January 28, 1806: Jacob Crowninshield to Story concerning Napoleon's victories in Europe
April 13, 1819: Henry Wheaton to Story concerning an "Ann Act to protect Banks against embezzlement by their agents, Clerks, or servants, and for other purposes."
January 15, 1821: Elizabeth H. Walker to Story concerning arguments against slavery in congress
July 9, 1821: Henry Dearborn to Story concerning a military officer's trial before a Boston circuit court
August 25, 1821: Theodore Lyman to Story concerning the constitutionality of new laws concerning slaves and abolition in Massachusetts
December 10, 1821: Elijah Paine to Story concerning the selection of a president of Dartmouth College
June 1, 1822: Benjamin Livingston to Story concerning William Johnson's Sketches of the Life and Correspondence of Nathaniel Greene
June 11, 1822: Francis Scott Keys to Story, concerning Ralph Randolph Gurley and the American Colonization Society
August 15, 1822: Ralph Randolph Gurley to Story concerning American Colonization Society and the "African cause"
February 23, 1823: Sarah Dunlap to Story requesting help with her son will soon disgrace her family by marrying a divorced wife and profligate actress
August 22, 1823: William J. Spooner to Story concerning Phi Beta Kappa
December 7, 1823: John Mason to Story concerning the national debt and the Monroe Doctrine
June 5, 1825: Massachusetts Governor John Davis to Story concerning the Corporation of Harvard College
July 7 and October 24, 1825: Justice Smith Thompson to Story providing legal summaries of important cases appearing before Story
August 20, 1828: Joseph Hopkinson to Story regarding thoughts on the presidential election between Jackson and Adams and on becoming a federal judge
March 18, 1839: Charles Sumner to Story concerning Lord Brougham gifting Sumner his wig
August 26, 1839: Charles P. Curtis to Story, proposing the appointment of Edward G. Loring as a master in chancery of the United States Circuit Court.
January 7, 1842: H.G.V. Colby to William Wetmore Story concerning Colby's remarks in the case of Sampson vs. Stoddard
March 19 and May 13, 1842: Alexander Maxwell & Son of London to Story concerning a bill for books
June 7, 1842: Artist Augustin Edouard to Story concerning making a "silhouette likeness" of Story
December 31, 1845: Harriet Martineau to Sarah Wetmore Story, concerning Joseph Story's death

Biographical / Historical:

Joseph Story (1779-1845) was born in Marblehead, Massachusetts, to Dr. Elisha Story (1743-1805) and his second wife Mehitable Pedrick (1758-1847). Story graduated from Harvard in 1798, and studied law under Samuel Putnam and Chief Justice Samuel Sewall. Admitted to the bar in 1801, he began practicing law in Salem, Massachusetts. Story allied himself with the Jeffersonian Republicans, and from 1805-1808 he served in the Massachusetts state legislature. Upon Jacob Crowninshield's death, Story completed his office in the United States House of Representatives from 1808-1809. He served briefly as the speaker of the house in Massachusetts in 1811, but in November of that year, President James Madison appointed Story justice of the United States Supreme Court. He remained in this position until his death.

As justice, Story advocated expanding the power of the judiciary branch. He was a close political ally to Justice John Marshall, and exerted great influence over the court. His decisions in admiralty cases during the War of 1812 became landmarks in international law, and he was involved in several other significant decisions, such as Dartmouth College v. Woodward (1819) and Swift v. Tyson (1839).

Story was elected as an overseer of Harvard University in 1818, and in 1829 the Harvard Law School appointed him Dane Professor of Law. Story, a prolific writer, made major scholarly contributions to the legal profession with his works Commentaries on Conflicts of Laws (1834) and Commentaries on Equity Jurisprudence (1836), among others. As a professor, Story mentored a generation of prominent lawyers and politicians, including Rutherford B. Hayes and Charles Sumner.

Story married Mary Lynde Oliver (1781-1805) in 1804, and shortly after his first wife's death, married Sarah Waldo Wetmore (1784-1833) in 1805. With Sarah, Story had seven children, though only two of them, Mary and William Wetmore, lived to adulthood. Story died in Cambridge, Massachusetts, in 1845.

Acquisition Information:

1966, 1969, 1972, 1985, 1987, 1992, 1999, 2003, 2004, 2017. M-1387, M-1469, M-1592, M-2207, M-2336, M-2891, M-4146.6, M-4318.4, M-4409.16, M-7024.2 .

Processing information:

Cataloging funded by the National Endowment for the Humanities (NEH) and the "We the People" project.

Arrangement:

This collection is organized chronologically with undated items at the end, which are ordered alphabetically by author.

Rules or Conventions:

Finding aid prepared using Describing Archives: A Content Standard (DACS)
Related
Additional Descriptive Data:

Alternate Locations

The following broadside and book are housed in the Clements Library Book Division:

Related Materials

The following Clements Library collections contain letters from Story or are related to Joseph Story's family:

The Horace Holley papers
The Isaac Story papers, which are the letters of Joseph's younger brother

The following institutions contain Joseph Story collections:

The Harvard University Archives
Library of Congress
Harry Ransom Center, humanities research library and museum at the University of Texas at Austin

Bibliography

Dunne, Gerald T. Justice Joseph Story and the Rise of the Supreme Court. New York: Simon and Schuster, 1970.

Finkelman, Paul. "Story, Joseph." American National Biography. Oxford University Press: 2000.

Story, Joseph. Law and Miscellaneous Books: Catalogue of Law and Miscellaneous Books, Belonging to the Library of the Late Mr. Justice Story ... To Be Sold At Auction, by Phillips & Sampson ... April 3d & 4th, 1846 ... Boston: Alfred Mudge, 1846.

Books, Pamphlets, and Printed material written by Joseph Story, held by the Clements Library. Many of these items have inscriptions from the author. The list is ordered chronologically by publication date:

Below is a list of contributors to the collection. See the Clements Library card catalog for more details.

Adams, Charles, 1785-1861.
Allen, Frederick.
Allen, Thomas.
Anstatt, P.
Appleton, Nathan, 1779-1861.
Apthorp, Robert.
Aspinwall, Thomas, 1786-1876.
Austin, William, 1778-1841.
Bacon, Ezekiel, 1776-1870.
Bailey, John, 1786-1835.
Bainbridge, William, 1774-1833.
Baldwin, Henry, 1780-1844.
Barker, Richard.
Barstow, Gideon, 1783-1852.
Bartlett, John.
Batcheller, James B.
Bates, Isaac Chapman, 1779-1845.
Beardsley, Samuel, 1790-1860.
Berrien, John Macpherson, 1781-1856.
Betts, Samuel Rossiter, 1786-1868.
Bissell, Clark, 1782-1857.
Blake, George, d.1841.
Bouvier, John, 1787-1851.
Boyd, William.
Brazer, John, 1789-1846.
Brigham, William.
Brune, F.W., Jr.
Burgin, Hall.
Burns, James.
Burton, Hutchins Gordon, 1774-1836.
Butler, Benjamin Franklin, 1795-1858.
Calhoun, John Caldwell, 1782-1850.
Catron, John, 1786-1865.
Chandler, Peleg Whitman, 1816-1889.
Channing, William Francis, 1820-1901.
Chase, William Henry, 1798-1870.
Chipman, Daniel, 1765-1850.
Choate, Rufus, 1799-1859.
Christy, George W.
Clifford, John Henry, 1809-1876.
Clive, Edward.
Colby, H.G.V.
Colman, Henry, 1785-1849.
Convers, Charles C.
Cozzens, Benjamin, Jr.
Cranston, Henry Young, 1789-1864.
Crowninshield, Jacob, 1770-1808.
Curtis, Benjamin Robins, 1809-1874.
Curtis, Charles P.
Cushing, Luther Stearns, 1803-1856.
Cushing, Thomas C.
Daggett, David, 1764-1851.
Dane, Nathan, 1752-1835,
Daniel, Peter Vivian, 1784-1860.
Davis, Daniel, 1762-1835.
Davis John, 1787-1854.
Davis, John Brazer, 1798-1832.
Day, Jeremiah, 1773-1867.
Day, Thomas, 1777-1855.
Dearborn, Henry, 1751-1829.
Dearborn, Henry Alexander Scammell, 1783-1851.
Denison, John Evelyn, 1st viscount Ossington, 1800-1873.
Dexter, Franklin, 1793-1857.
Dixon, George C.
Doane, George Washington, 1799-1859.
Dougherty, Addison.
Drayton, John, 1766-1822.
Dunlap, Sarah.
Dunnell, Thomas L.
Du Ponceau, Peter Stephen, 1760-1844.
Durfee, Job, 1790-1847.
Dutton, Warren.
Edouard, Augustin.
Edwards, J.D.
Eliot, William, H.
Ellery, Edmund.
Evans, George, 1797-1867.
Fay, Harriet.
Fay, Samuel P.
Ferreira, L.
Fessenden, Thomas Green, 1771-1837.
Fessenden, William Pitt, 1806-1869.
Fettyplace, William.
Fisher, Augustus, L.
Foelix, Jean Jaques Gaspard, 1791-1853.
Folsom, Charles, 1794-1872.
Foster, Thomas Flournoy, 1790-1848.
Franklin, Benjamin C.
Freeman, E.D.B.
French, Daniel.
Gassett, Henry, Jr.
Gaston, William, 1778-1844.
Gates, Alexander R.
Giles, Jemima.
Giles, John.
Goddaed, Charles B.
Goodacre, Robert.
Gordon, Cuthbert C.
Gore, Christopher, 1758-1827.
Gouraud, Francis.
Gray, Francis Calley, 1790-1856.
Greene, Benjamin.
Greene, Catharine A.
Greene, R.W.
Greenleaf, Simon, 1783-1853.
Gurley, Ralph Randolph, 1797-1872.
Gurny, David.
Hall, John Elihu, 1783-1829.
Hammond, Timothy.
Harrington, Joseph.
Harvey, Matthew, 1781-1866.
Hillard, George Stillman, 1808-1879.
Hoffman, David, 1784-1854.
Hopkins, Joseph, 1770-1842.
Hunter, William, 1774-1849.
Ingersoll, Charles Jared, 1782-1862.
Jackson, Charles, 1775-1855.
Jay, William, 1789-1858.
Johnson, Henry, 1783-1864.
Johnson, Samuel Lee.
Johnson, Thomas I.
Johnson, William, 1769-1848.
Jordan, Dillon.
Kent, James, 1763-1847.
Kent, William, 1802-1861.
Key, Francis Scott, 1779-1843.
Kimball, Edmund.
King, Augusta G.
King, James Gore, 1791-1853.
Kirkland, John Thornton, 1770-1840.
Lawrence, Abbott, 1792-1855.
Ledyard, Susan.
Lee, Edmund J.
Lee, Jeremiah.
Legare, Hugh Swinton, 1797-1843.
Lieber, Francis, 1800-1872.
Lincoln, Levi, 1782-1868.
Little, Edward.
Livermore, Edward St. Loe, 1762-1832.
Livingston, Carroll.
Livingston, Catherine Keteltas
Livingston, Edward, 1764-1836.
Livingston, Henry Brockholst, 1757-1823.
Longfellow, Stephen, 1776-1849.
Loring, Charles Greeley, 1794-1868.
Loring, Edward G.
Loring, George Bailey, 1817-1891.
Lothrop, Samuel Kirkland, 1804-1886.
Lowell, Charles, 1782-1861.
Lowell, John, 1769-1840.
Lyman, Joseph, 1749-1828.
Lyman, Theodore, 1792-1849.
MacDonald, David.
McKinley, John, 1780-1852.
Mackintoch, R.J.
McLean, John, 1785-1861.
McRea, Charles.
McVickar, Archibald.
Magrath, Andrew Gordon, 1813-1893.
Mann, Herman, 1772-1833.
Marsh, Charles, 1765-1849.
Martineau, Harriet, 1802-1876.
Mason, Jeremiah, 1768-1848.
Mason, William Powell, 1791-1867.
Maxcy, Virgil, 1785-1844.
Maxwell, Alexander.
Mellen, Prentiss, 1764-1840.
Mercer, Charles Fenton, 1778-1858.
Metcalf, Theron, 1784-1875.
Morehead, James Turner, 1797-1854.
Norton, Andrews, 1786-1853.
Norvell, D.
Ogbourne, William H.
Ogden, David Bayard, 1775-1849.
Oliver, B. Lynde.
Oliver, Daniel, 1787-1842.
Oliver, Sarah.
Orne, Henry.
Otis, Harrison Gray, 1765-1848.
Owen, Allen Ferdinand, 1816-1865.
Paige, Harriet.
Paine, Elijah, 1757-1842.
Parker, Isaac, 1768-1830.
Parris, Albion Keith, 1788-1857.
Parsons, Theophilus, 1750-1813.
Parsons, Theophilus, 1797-1882.
Peirce, Miss.
Peirce, Mrs.
Perkins, Cyrus.
Perkins, John.
Peters, Richard, 1780-1848.
Petigru, James Louis, 1789-1863.
Pickering, John, 1777-1846.
Pickering, Timothy, 1745-1829.
Pickman, Benjamin, 1763-1843.
Pike, Albert, 1809-1891.
Pitman, John, 1785-1864.
Porter, Robert M.
Preble, William Pitt, 1783-1857.
Prescott, George W.
Prescott, William, 1762-1844.
Preston, Mrs.
Putnam, Daniel.
Putnam, Samuel, 1768-1853.
Richardson, James, 1817-1863.
Rivers, George.
Robinson, Conway, 1805-1884.
Rockwell, Julius, 1805-1888.
Rodgers, John, 1773-1838.
Rotch, William.
Rowand, Charles E.
Savage, James, 1784-1873.
Sedwick, Henry Dwight, 1785-1831.
Sergeant, John, 1779-1852.
Sergeant, Thomas, 1782-1860.
Sewall, Samuel, 1757-1814.
Shepley, Ether, 1789-1877.
Shelburne, John Samuel, 1757-1830.
Silliman, Benjamin, 1779-1864.
Southard, Samuel Lewis, 1787-1842.
Sparks, Jared, 1789-1866.
Spinner, A.
Spooner, William J.
Sprague, Jeremiah.
Sprague, William Buell, 1795-1876.
Storer, J.P.B.
Story, Horace C.
Story, J.H.
Story, Mary.
Story, William.
Stuart-Wortley, James Archibald, 1805-1881.
Sturgis, William, 1782-1863.
Sullivan, James, 1744-1808.
Sullivan, Richard.
Sullivan, William, 1774-1839.
Sullivan, William B.
Sumner, Charles, 1811-1874.
Taliaferro, John, 1768-1852.
Taney, Roger Brooke, 1777-1864.
Taskerman, Joseph.
Thatcher, Benjamin Bussey, 1809-1840.
Thompson, Smith, 1768-1843.
Thorndike, Israel, 1755-1832.
Ticknor, George, 1791-1871.
Tillinghast, Joseph Leonard, 1791-1844.
Todd, Charles Stewart, 1791-1871.
Torrey, D.
Tuckerman, Joseph, 1778-1840.
Tudor, William, 1779-1830.
Updike, Wilkins, 1784-1867.
Usher, Ellis B.
Van Cott, J.M.
Walker, Elizabeth H.
Wallenstein.
Walley, Samuel Hurd.
Walsh, Michael, 1763-1840.
Walsh, Robert, 1784-1859.
Ward, A.G.
Ware, Ashur, 1782-1873.
Ware, Henry, 1764-1845.
Warner, William A.
Washington, Bushrod, 1762-1845.
Wayland, Francis, 1796-1865.
Webster, Daniel, 1782-1852.
Welsh, Thomas.
Weston, Nathan.
Wetmore, Augusta.
Wetmore, William, 1749-1830.
Wheaton, Henry, 1785-1848.
Wheelwright, J. Warren
White, Daniel Appleton, 1776-1861.
White, Stephen.
Wickes, Q.
Willard, Joseph, 1798-1865.
Williams, Nathaniel.
Williams, William.
Wolcott, C.P.
Woods, Leonard, 1774-1854.
Woodward, Thomas.
Worchester, Samuel Thomas, 1804-1882.
Yanders, Simon.
Contents
Using These Materials
---
RESTRICTIONS:

The collection is open for research.

USE & PERMISSIONS:

Copyright status is unknown
PREFERRED CITATION:

Joseph Story Papers, William L. Clements Library, The University of Michigan