Back to top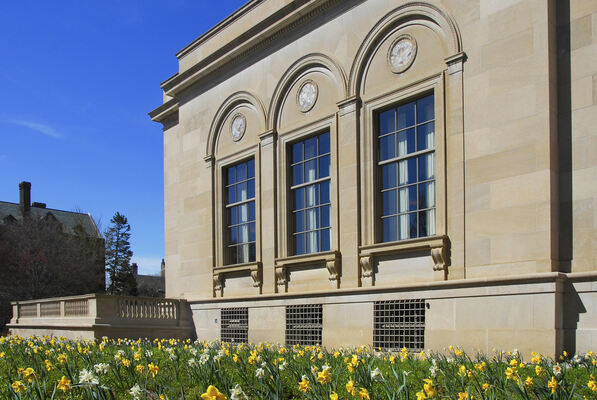 Address

:

909 South University Avenue

Ann Arbor, MI 48109, USA
Croghan family papers, 1794-1855
Using These Materials
---
Restrictions:

The collection is open for research.
Summary
Creator:

Abstract:

This collection holds the family and business papers of George Croghan, a hero in the War of 1812 and the inspector general of New Orleans from 1825-1845.

Extent:

101 items

Language:

English

Authors:

Collection processed and finding aid created by Philip Heslip, September 2009
Background
Scope and Content:

The Correspondence series holds the family and business papers of George Croghan. The earliest item is a brief letter from Christopher Clark to Francis Meriwether, May 26, 1794, regarding land. The items from 1814 to 1840 are primarily official missives to Croghan, when he served in military and governmental capacities as a major, postmaster, and inspector general. These concern enlistments, operational expenses, and debts. Beginning in 1837, many of the letters are addressed to George's brother, Dr. John Croghan, including 27 letters written by George. Another personal item is a brief letter from Croghan to his mother, dated 1837.

The Documents and Financial records series consists primarily of Croghan family land purchases and transactions in Ohio, Indiana, Illinois, and Kentucky. An item from May 28, 1817, contains a small map of a plot of Kentucky land being sold. Other documents include receipts for baggage transportation; an account for the income and expenses of the New Orleans Post office, dated 1825; and a number of debtors' notes and bank receipts that document his money problems from 1825 until his death.

The Printed Material series contains three items: a memorial pamphlet printed by Croghan Bank, Fremont, Ohio, honoring Colonel Croghan for his heroism at Fort Stevens, with a portrait of Croghan as a young man; an informational circular, addressed to Dr. John Croghan (1846), from Lyman C. Draper, advertising his book, Lives of the Pioneers, a biography of prominent pioneers of Ohio, Kentucky, Tennessee, and the western borders of Pennsylvania, Virginia, the Carolinas, and Georgia; and a brief from the Edmonson Circuit Court on George Croghan's petition for the removal of Nicholson and others as trustees of the Mammoth Cave estate, 1902.

Biographical / Historical:

George Croghan, son of Major William Croghan and Lucy Clark, was born near Louisville, Kentucky, on November 15, 1791. His mother was the sister of William Clark, the famous explorer, and George Rogers Clark, the Revolutionary War General. George graduated from the College of William and Mary in Williamsburg, Virginia, in 1810 and studied law briefly before volunteering as a dragoon to fight Indians in the Northwest Territory. He joined the U.S. Army in 1812 and was quickly promoted to major. In 1813, at the age of 21, Croghan gained national acclaim from his successful defense of Fort Stephenson in northeastern Ohio, when he repelled a large British force lead by General Proctor.

Croghan left the military in 1816 and traveled east to New York, where he met and married Serena Eliza Livingston, daughter of J. R. Livingston. Together, they had seven children. The family moved to New Orleans in 1824, where Croghan worked first as postmaster, and then, in 1825, as inspector general of the U.S. Army, a position he kept until 1845. Croghan often gambled and was perpetually in debt. To pay off his debts, he worked, for a time, managing construction near Mammoth Cave on a lot owned by his brother, Dr. John Croghan. He escaped a court martial for repeatedly requesting double payments for his wages, and left New Orleans to fight in the Mexican War. After contracting cholera in Monterrey, Mexico, he returned to New Orleans and died soon after in 1849.

Acquisition Information:

1965. M-1363 .

Custodial History:

This collection was originally part of a 1935 donation to the University of Michigan Library. The Croghan family papers were transferred to the Clements Library in 1965.

Processing information:

Cataloging funded by the National Endowment for the Humanities (NEH) and the "We the People" project.

Arrangement:

This collection is organized into three series:

Series I: Correspondence
Series II: Documents and Financial Records
Series III: Printed Materials.

Rules or Conventions:

Finding aid prepared using Describing Archives: A Content Standard (DACS)
Related
Additional Descriptive Data:

Alternate Locations

Six Croghan family papers documents are located in oversize manuscripts:

Deed granting land on the Virginia State Line to Patrick Simpson by military warrant, signed by Kentucky Governor James Garrand; September 12, 1791.
Copy of indenture transferring land from William and Lucy Croghan to the heirs of [Nathaniel Mafrie] for the sum of ten dollars; August 1821.
Copy of indenture transferring land in Louisville, Kentucky, from Daniel McCallister and his wife to John Croghan; April 20, 1831.
Testimony of John Doe on the demise of John Croghan vs. Benjamin McFarland and Others: plat and report; September 1848.
Copy of indenture between George Croghan, Serena E. L. Croghan, and John R. Livingston, regarding the property of Serena E. L. Croghan; January 1845.
List of lands in the disposal of George Clark [of] Lexington; [1800s].

Two maps were separated from this collection and are in the Clements Map Division:

Related Materials

The following collections in the Clements Library include additional Croghan-related materials:

Bibliography

Thomas, Samuel W. "Croghan, George", American National Biography Online . Oxford: Oxford University Press, 2000.

Alternative Form Available:

The Croghan family papers have been microfilmed.
Subjects
Click on terms below to find any related finding aids on this site.
Subjects:

Formats:

Names:

Places:
Contents
Using These Materials
---
RESTRICTIONS:

The collection is open for research.

USE & PERMISSIONS:

Copyright status is unknown
PREFERRED CITATION:

Croghan Family Papers, William L. Clements Library, The University of Michigan